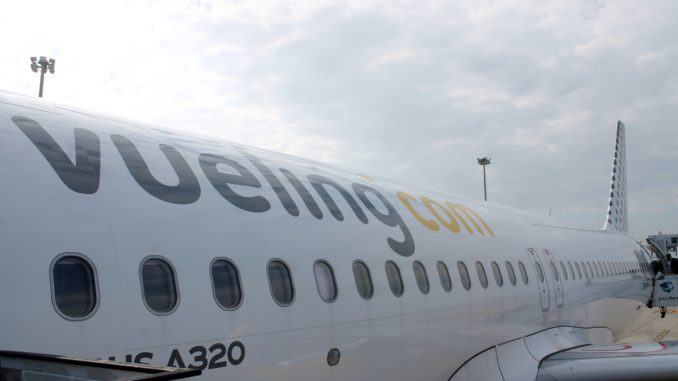 Vueling is a Spanish low-cost airline based in Barcelona with hubs in Barcelona and Rome. It is owned by IAG, the International Airlines Group, but in contrast to British Airways and Iberia (also part of IAG) Vueling is not a member of the OneWorld alliance.
For frequent travellers collecting miles Vueling has its own frequent flyer program called Punto. The only other option to collect miles has been through the Iberia Plus program. However in late 2014 a codeshare agreement was signed between Vueling and British Airways, which was further extended in 2015. It is now possible to book most Vueling flights through British Airways with BA-prefix. These flights qualify for both Avios and Tier Points which count towards a higher status level in the BA Executive Club. The tickets booked through British Airways also include one piece of checked luggage for free.
Departure experience
Vueling uses terminal 1 at Barcelona El Prat airport and has its own check-in island in the departure hall with a large number of check-in desks. This morning the lines were long and slow.
As a British Airways gold card holder flying on a ticket booked through British Airways I tried using the premium counter but was promptly refused. It is only accessible when travelling on a Vueling Excellence ticket (a type of premium economy on Vueling) or when having a Premium card in the Vueling Ponto program. This is really a major drawback of choosing Vueling as a frequent traveller, and it is strange that the benefit does not extend to British Airways frequent flyers given that both airlines are in the same company group and now have a close co-operation.
The self-service machine did not manage to find my booking with any of the booking references I had so there was no other option but to join the long line. I arrived at the airport more than two hours before departure so there was plenty of time, but it still took around 15 minutes before I reached the check-in counter.
The check-in agent was friendly and double-checked that the frequent flyer number was correct in the system. I had one bag to check and surprisingly 'Priority' was automatically printed on the baggage tag in capital letters. A nice surprise, but it really made no sense when I had been refused priority check-in 15 minutes earlier. I had already reserved a seat for the flight in advance, another benefit of booking through British Airways.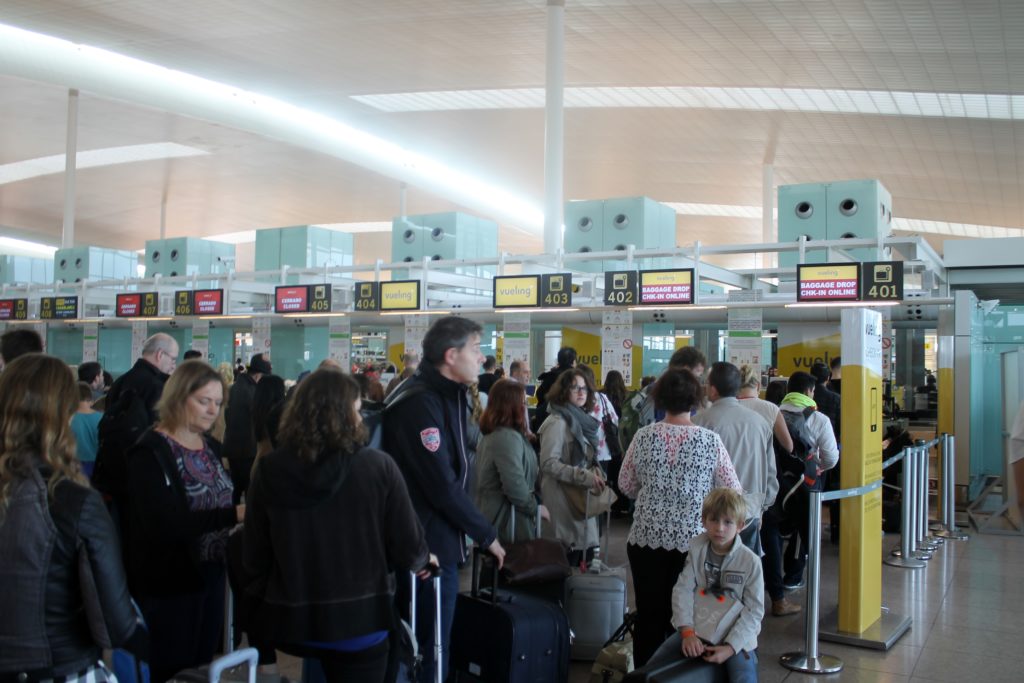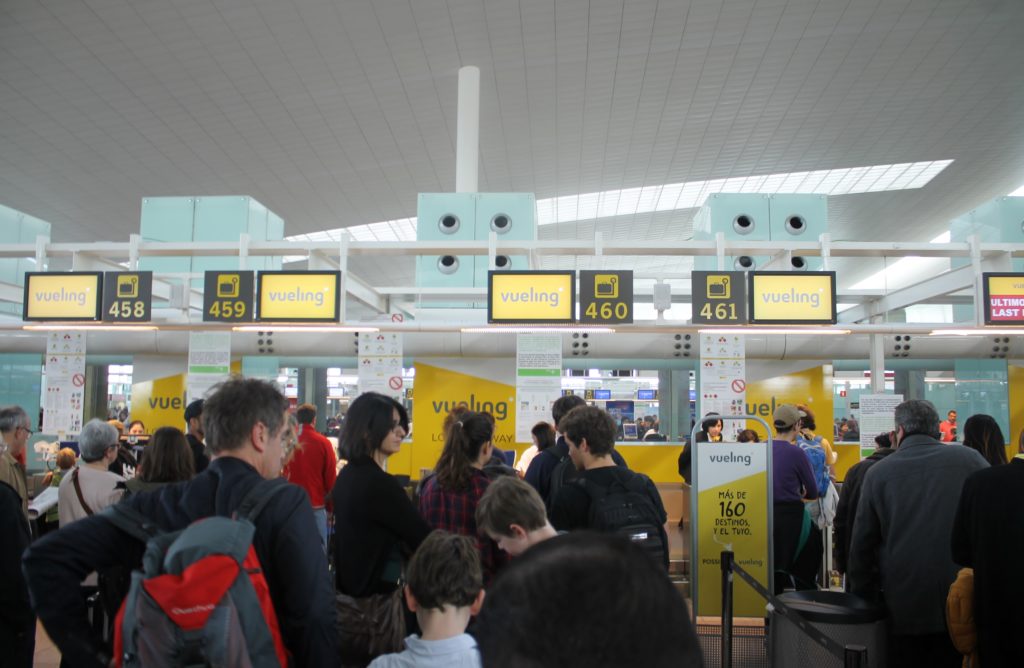 With a Vueling Excellence ticket you get both fast track and lounge but my ticket and gold card gave no extra benefits flying Vueling. However the regular line at security moved surprisingly quickly and I could access the lounge anyway with Priority Pass.
There is only one main lounge in the Schengen area of terminal 1 called Sala VIP Pau Casals, used by virtually all airlines. A nice and modern interior with some sandwiches and pastries to eat and of course some nice Spanish wines and tasty cava. Not exceptional, but not bad for a third-party lounge.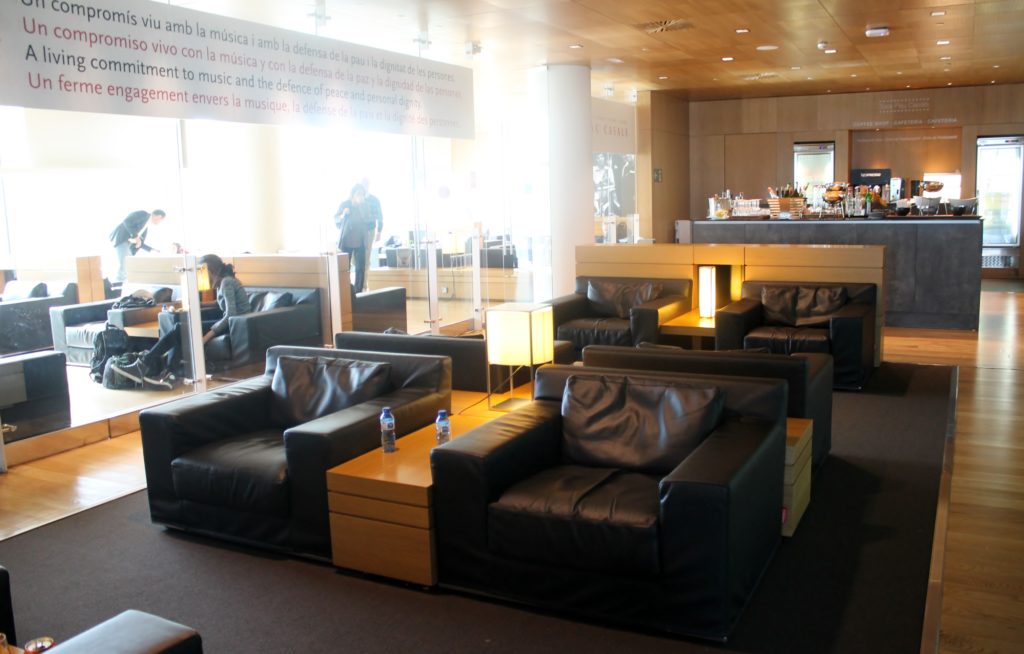 Read the full lounge review here!
Barcelona-Stockholm Arlanda
Vueling flight VY 1265
Departure: 12.20
Arrival: 16.00
Economy Class
Airbus A320
Seat: 06D
Boarding started early at gate B29 about 35 minutes before departure. Priority was given to Excellence passengers and then the general boarding started. At the end it made little difference as we were taken to the aircraft by bus.
First impression
Vueling uses almost exclusively Airbus A320 aircrafts, which was also the case on the flight to Stockholm this afternoon. Two stairs were used to make the boarding process as quick as possible. A young female purser greeted at the door. The cabin itself felt new and fresh, with glass walls between the main cabin and the galley.
Seat and cabin
Vueling has many different seating options based on the low-cost airline model. The better the seat you want, the more you have to pay. With some fares you can prebook a seat, with some fares you can prebook a seat with several options, and with some fares you have to wait until check-in to be assigned one by the system, or pay extra.
The first row of the cabin is used for the Excellence passengers, the premium econony product of Vueling, with more legroom. Rows 2-4 are called 'Priority seats' as you can get off the aircraft quickly after landing. Then there are 'XL seats' with more legroom, which also include priority boarding. And final there are 'Seats in the front rows' and 'Seat in the back rows', basically the main cabin. If you fly on a Vueling 'Basic Fare' or 'Optima Fare' you will be seated here. With a 'Basic Fare' you are not able to prebook a seat, but you can buy it as an extra option. A seat in a 'front row' will then be more expensive than a seat in a 'back row'. A bit complicated perhaps.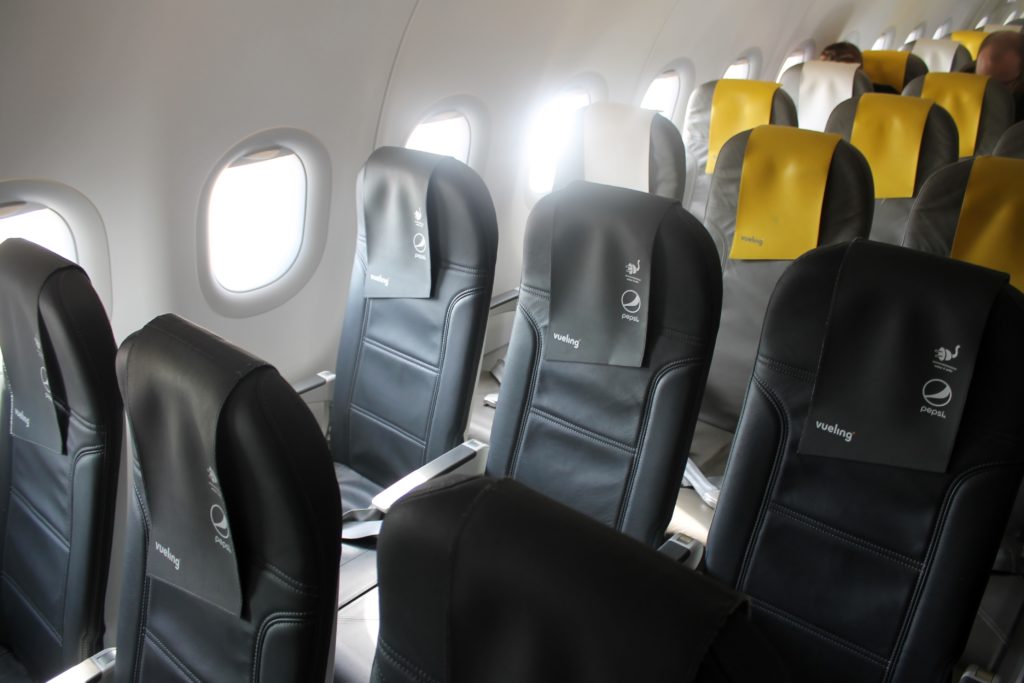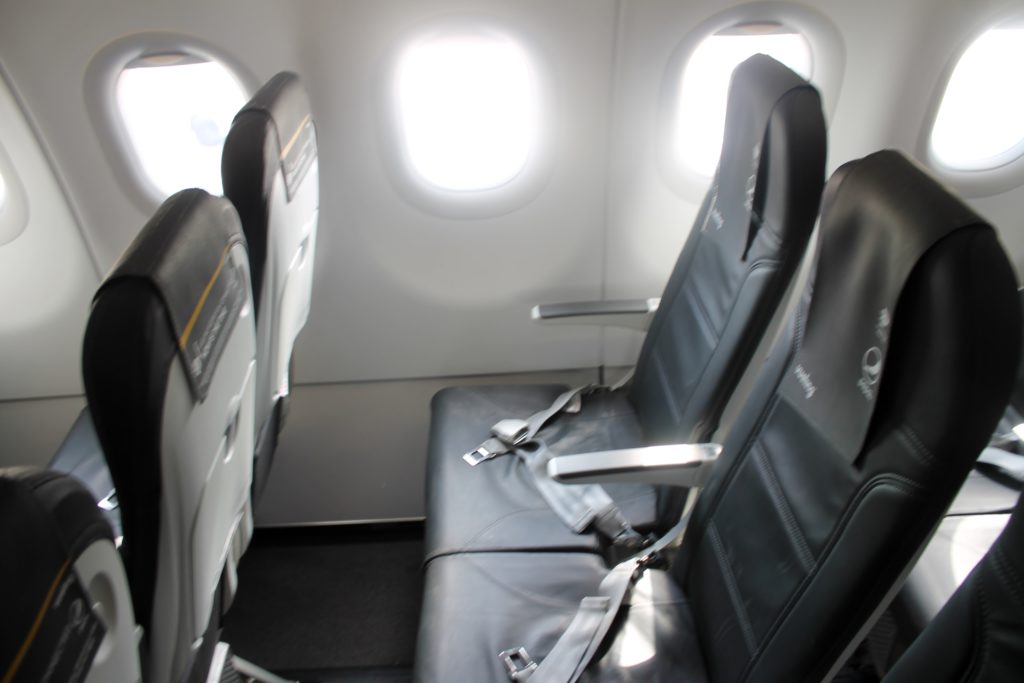 I was able to prebook a seat on the sixth row, an aisle seat 06D. It seemed to be the first row of the main cabin with the seats on row 2-5 being either 'Priority seats' or 'XL seats' with more legroom. These seats had different seat covers and also had power sockets.
The seat itself was a thin Recaro seat. The legroom in the main cabin was quite limited and I was happy I chose an aisle seat so I could easily stretch my legs on this rather long intra-European flight with an expected flight time of three hours and 22 minutes. The flight was completely full.
Food and drinks
Passengers in Excellence can order food and drinks free of charge from the menu, all other passengers need to pay, including for water, coffee and tea.
The assortment was available in the Sky Menu located in the seat pocket. A rather wide selection with sandwiches and some hot food options, pastries, snacks, chocolates as well as wine, beer, spirits, cava, coffee, tea and soft drinks.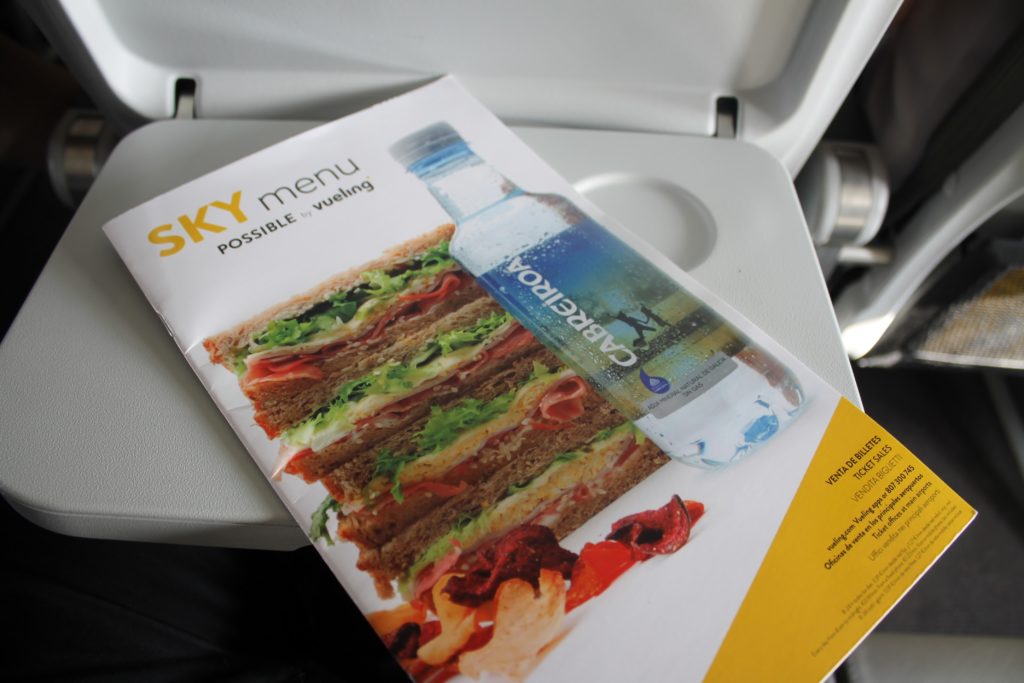 I ordered a cup of coffee and a croissant which cost 4.50 euro. A nice feature is that they provide table covers to those ordering food, which helps keeping the tray table clean. As far as I know no other European airline does this in economy class on shorthaul flights. As I was using my laptop during the flight it was appreciated.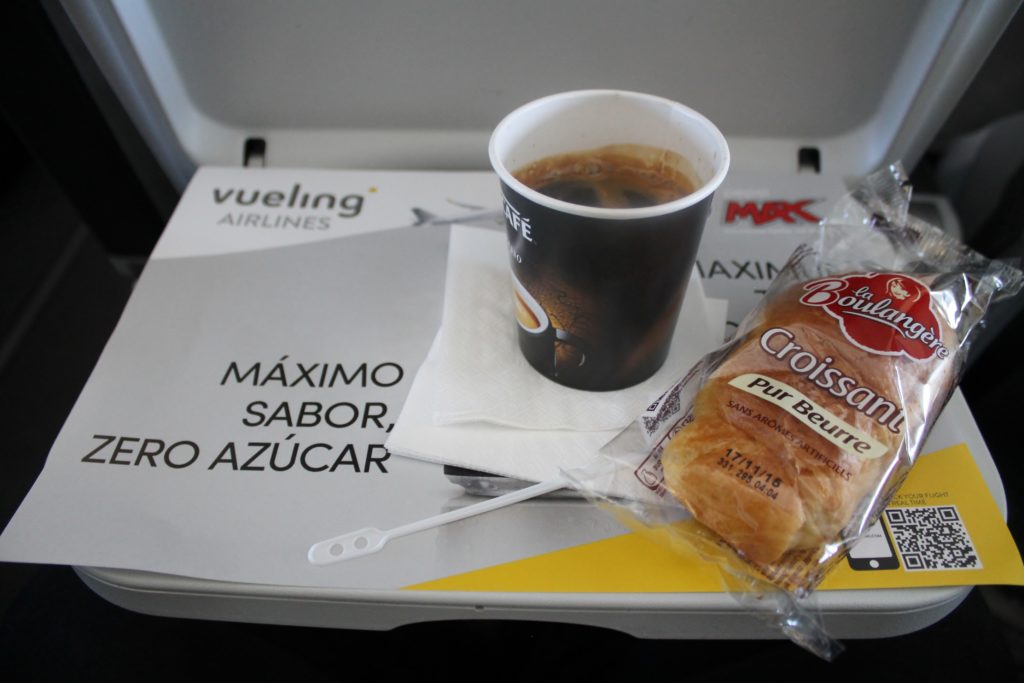 The service
The staff were friendly, most of them quite young, but there is one thing in particular to say about the service, it was slow. It took over two hours for the trolley to pass through the cabin, unbelievable! Although it was a long flight with no rush the passengers at the back had to wait a long time before they even had the chance to order something, and it obviously took even more time before the rubbish was collected. I sat with my empty cup for well over an hour.
Arrival experience
There were strong head winds which meant a long flight time. Even though we departed punctually we arrived ten minutes late in Stockholm at 4.10 pm. The checked luggage arrive within a couple of minutes, but the 'Priority' text written on my tag made absolutely no difference. Not that I expected it.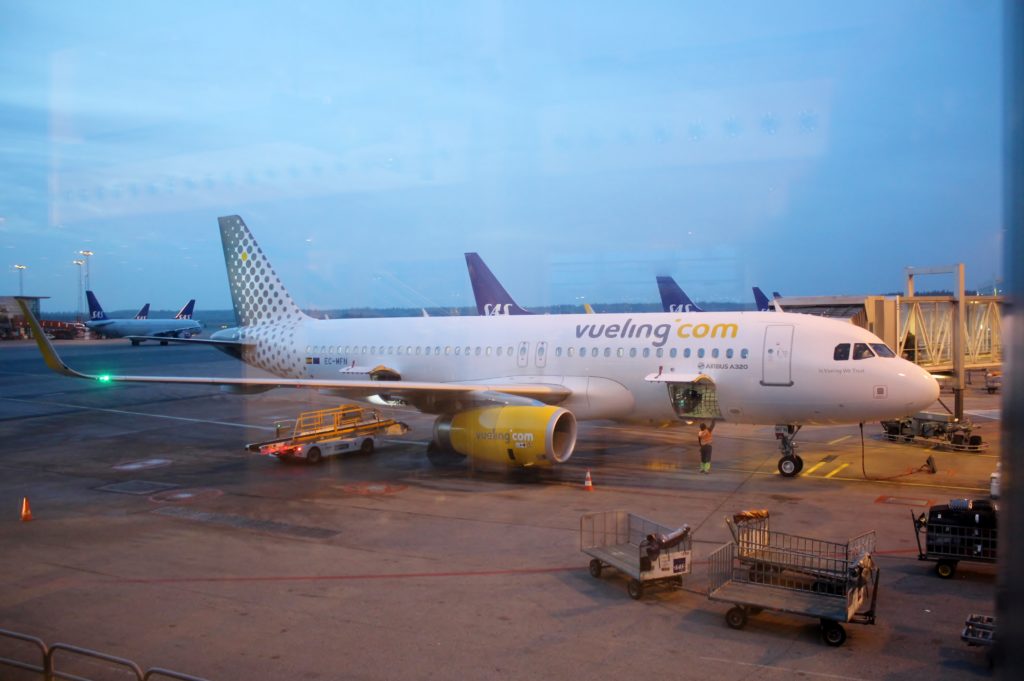 Final impression
The flight was very much as expected, a low-cost carrier with no frills, but without taking it too far. There was still some kind of decency in the experience, however next time I will pay to get a premium seat as the extra inches of legroom do make a difference on a longer flight like this one.
But I hope they sort out the co-operation with British Airways so top-tier members get the same status benefits on Vueling. It all feels rather inconsistent at the moment when you get tier bonus and priority printed on the luggage tag but no other benefits such as priority check-in and lounge. On the positive side though the points were in my account just 12 hours after landing. Well that's impressive.