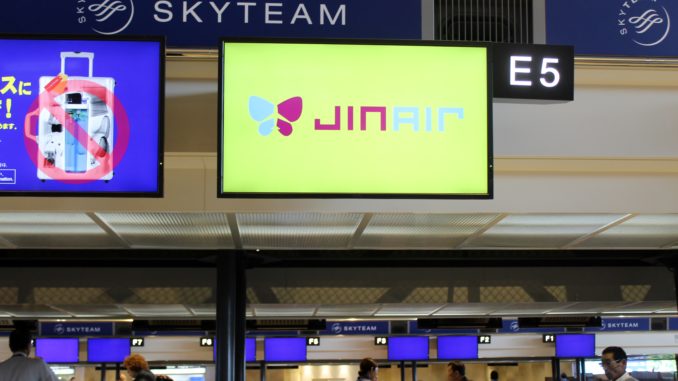 Jin Air is the low-cost subsidiary of Korean Air. They operate flights from Seoul Incheon and Gimpo airports to around 30 destinations in Korea as well as destinations throughout eastern and south-eastern Asia such as China, Japan and Thailand. Most flights are operated as codeshare flights with Korean Air, however Jin Air is not a member of the Skyteam alliance.
Departure experience

I was booked on the morning flight from Tokyo Narita to Seoul Incheon. This particular departure was until recently operated by Korean Air and there have also been departures with Japan Airlines around the same time. Now Jin Air was the only suitable flight departing in the late morning.
I arrived at Narita airport on a JAL flight from Europe. JAL and most OneWorld carriers use terminal 2, while Korean Air and Jin Air operate out of terminal 1. I only had two hours between flights, on separate tickets, with a change of terminal landside, however with the Japanese efficiency and punctuality this turned out to be plenty of time. Terminal 1 and terminal 2 are not within walking distance, so you have to take a transfer bus, but it was all very easy.
Check-in for Jin Air in terminal 1 was handled by Korean Air, perhaps not very surprising. There was just one line for everybody, but it moved fairly quickly.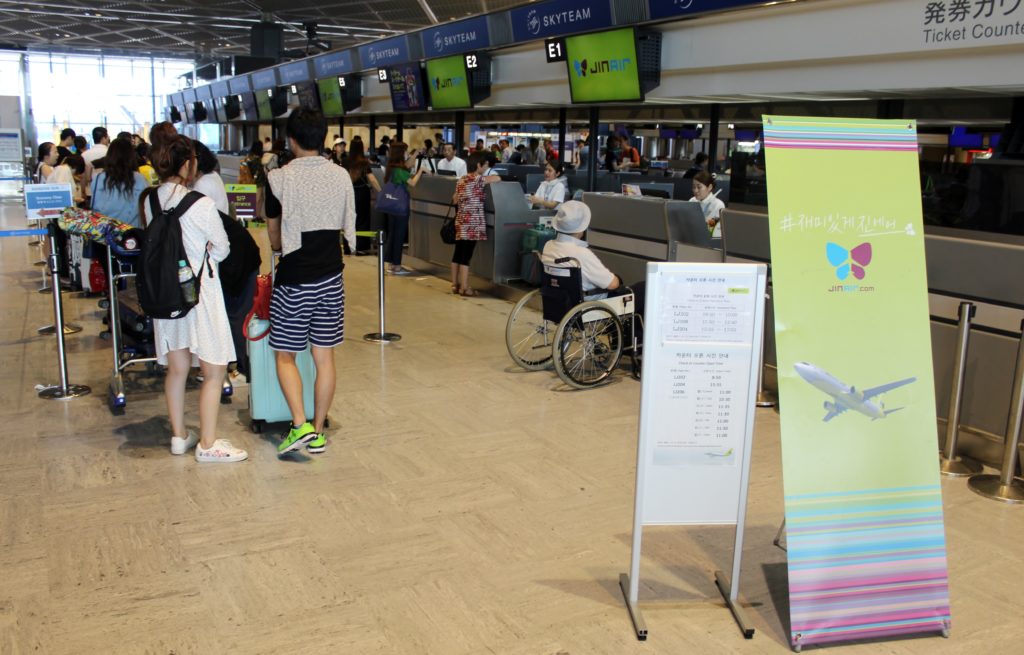 As I got to the check-in desk the agent wanted to see proof of onward ticket from Korea. When she saw that my next flight was on Korean Air, and even in first class, she offered to tag my suitcase all the way, so apparently this is also possible on Jin Air. However as I wanted to experience the full Korean Air first class departure experience at Seoul Incheon airport I declined her offer.
When I booked the ticket I also decided to purchase their Smart Plus package, which cost only 30 USD extra. It included a free checked bag of 15 kg, priority baggage delivery and a front-row seat confirmed in advance. With transfers both before and after the flight, on separate tickets, it was easily worth the money.
My bag was indeed tagged with a neon green priority tag and I received a boarding pass with my pre-booked seat.
Both security control and passport control were very quick, and of course with the Japanese friendliness and courtesy.
There is no lounge access flying Jin Air, however I could access the Korean Air Lounge in terminal 1 using Priority Pass. It was also rather conveniently located on the way to the gate.
The lounge is really nothing special. Although clean and tidy, as expected of a Japanese lounge, the interior is nothing to write home about. Also there is little to eat, mostly snacks, and the drinks selection is very standard as well. But for a visit of 25 minutes at 10 am, to have a cup of coffee to fight the jetlag, it was acceptable.
Read the full lounge review here!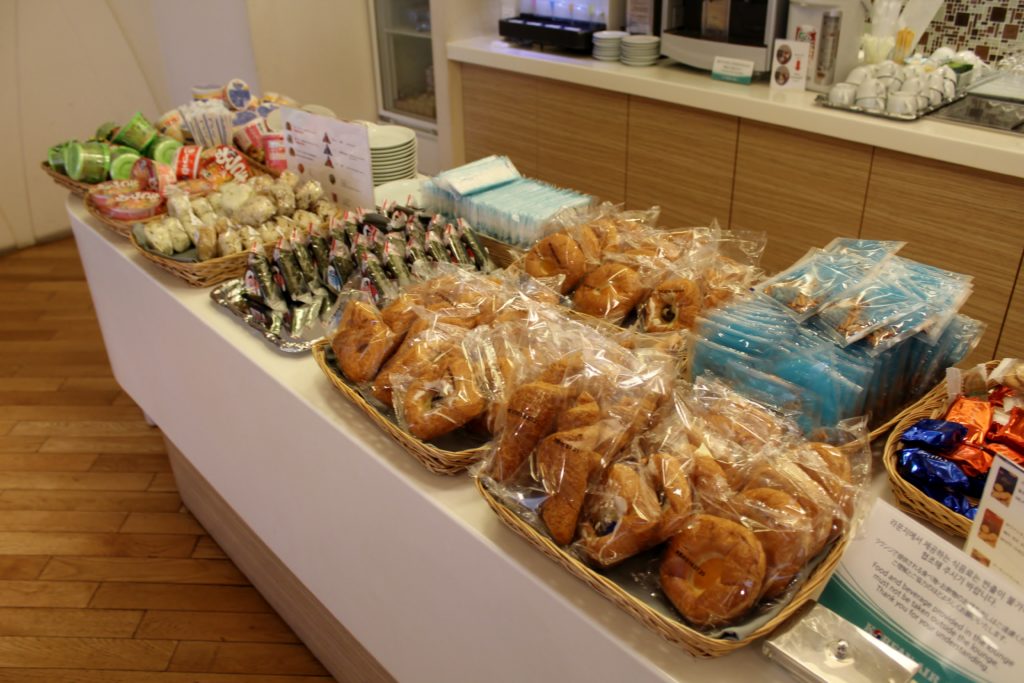 The flight
Tokyo Narita-Seoul Incheon
Jin Air flight JL 202
Departure: 10.50
Arrival: 13.10
Economy Class
Boeing 737
Seat 29F

Boarding took place at gate 12 around 20 minutes before departure. As there was no premium cabin there was no priority boarding, just a general boarding announcement for everyone.
First impression

A Boeing 737-800 was used to Seoul. I had picked a window seat on the first row, which for some reason was called row 29. So I had 29F, which was really as far at the front of the cabin you could get. I have no idea why they do not call it row 1 or 2.
The cabin crew were generally very young, I would guess none of them were older than 35, but they were all very friendly and accommodating. It was also a bit strange to see that they were all wearing blue jeans, which is part of the Jin Air uniform, together with a neon green shirt or polo shirt. Perhaps this is supposed to reflect Jin Air being a hip, young and modern airline, giving a more contemporary feel to the inflight experience, and perhaps I am old-fashioned, but I really do not think jeans should be part of an airline uniform, or any other uniform for that matter.
Punctual pushback with a flight time of two hours to Seoul.
Seat and cabin

I had seat 29F on the first row with a young Korean couple seated in 29D and 29E. The flight was completely sold out.
Sitting on the first row, a bulkhead seat, meant a good amount of extra legroom but also that all cabin luggage had to be placed in the bin. The seat was fairly comfortable in blue cotton, at least it was not the thin Recaro seats for a change. The cabin configuration was 3-3.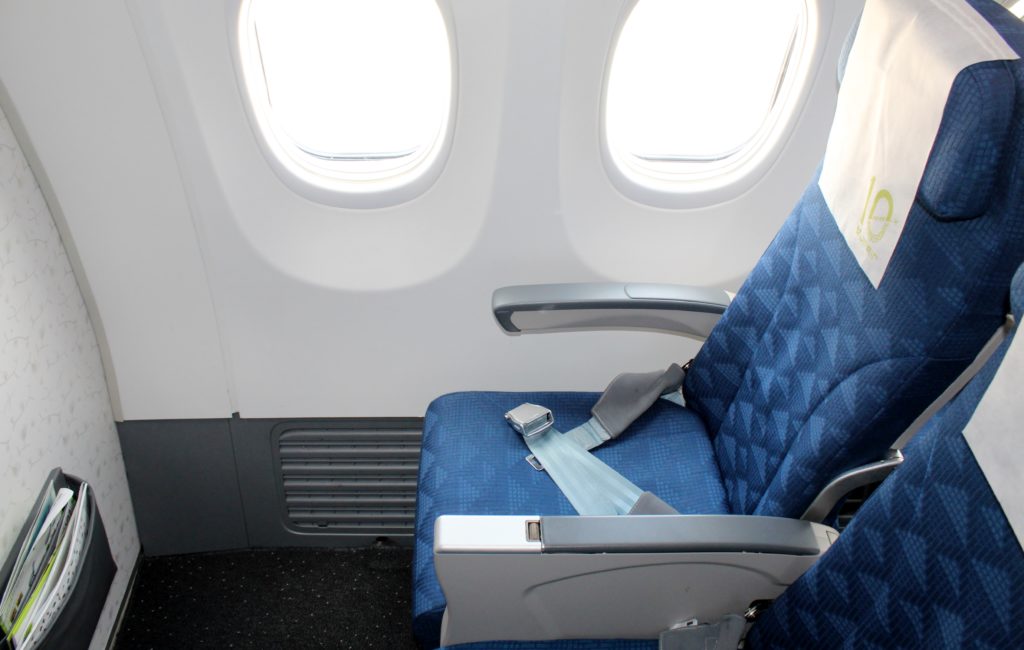 Food and drinks

In contrast to Europe, where a low-cost airline would mean a no-frills experience, i.e. you need to buy exactly everything you want to eat or drink onboard, including water, in Asia a low-cost airline does not necessarily mean no-frills, but rather less frills.
After takeoff a snack box was handed out.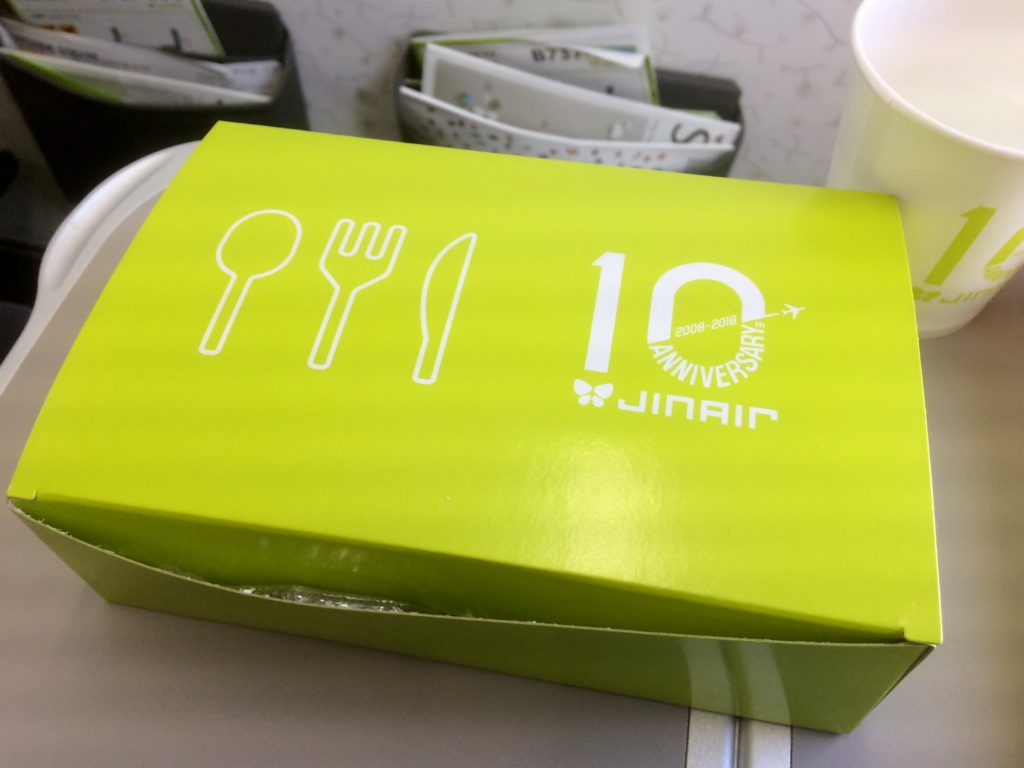 The box included a pastry and a fruit jelly dessert.
Apparently my Smart Plus ticket also included a coke and a box with chocolate wafers, which were handed out to me at the same time as the box. I was completely unprepared for this and it was not mentioned on the Jin Air webpage when I made the booking.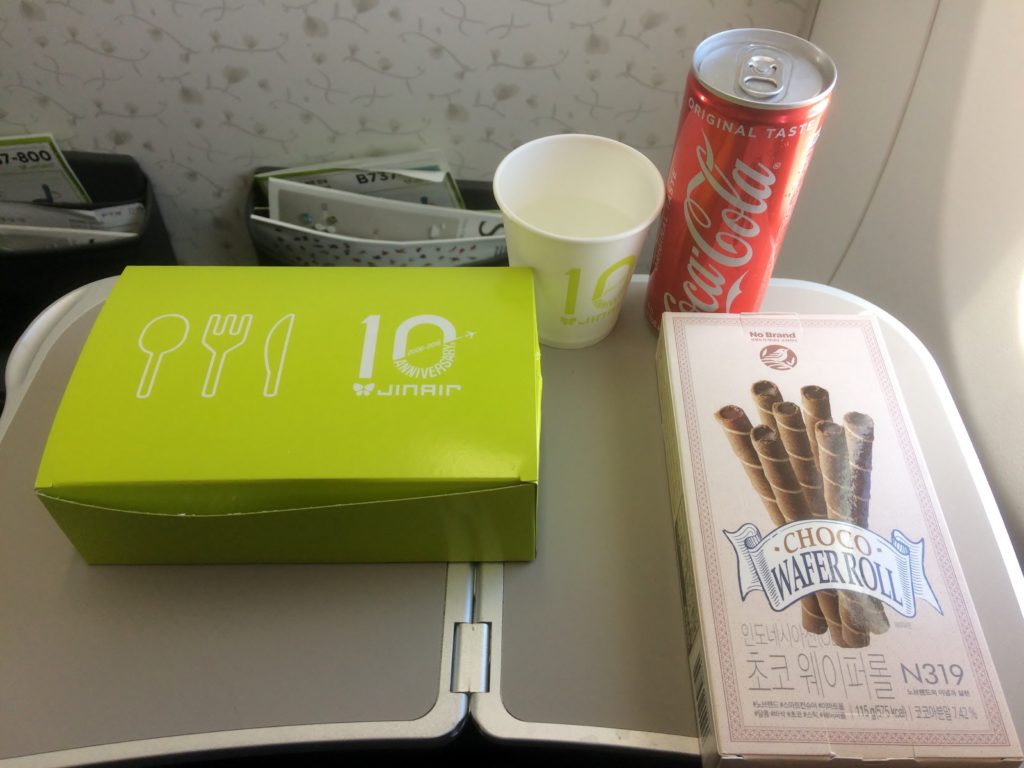 Although the snack box was not particularly healthy, to be honest I really would have preferred a decent sandwich, at least I got plenty to eat onboard for a two-hour flight on a low-cost airline.
The service

The cabin crew were friendly and spoke good English, but of course being a full all-economy class flight the service was nothing special.
Arrival experience

We landed on time at Seoul Incheon airport. In contrast to the parent company, Korean Air, which has moved to the new terminal 2, Jin Air still uses terminal 1.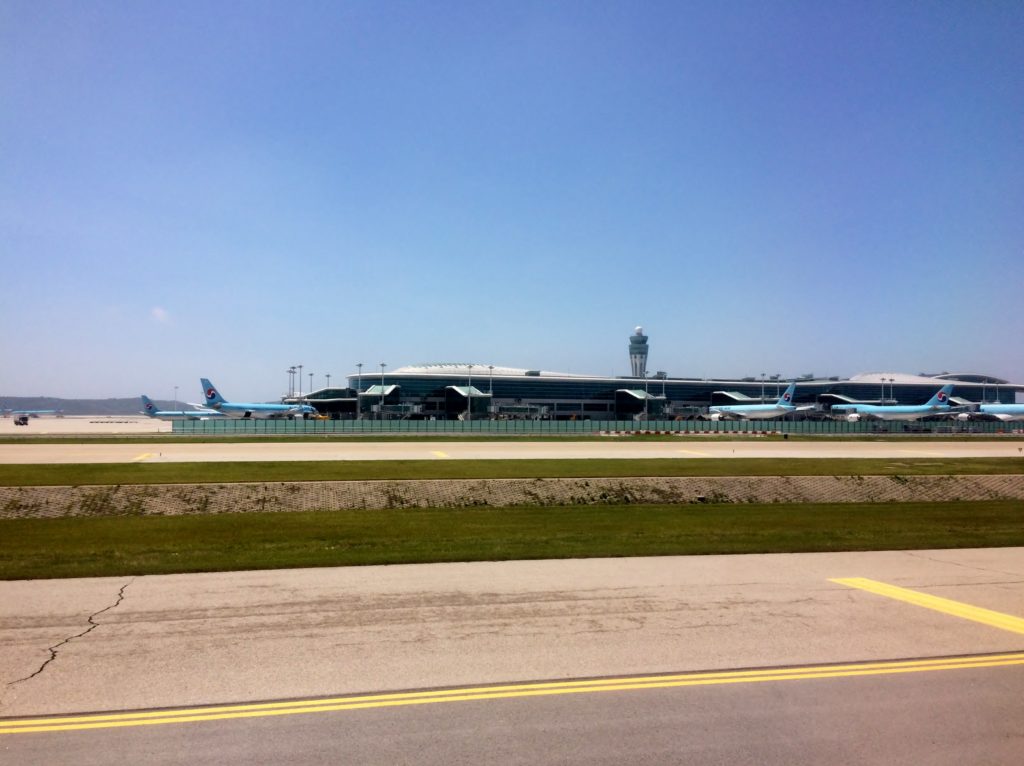 We parked at the satellite building, which meant a train ride to get to the immigration and baggage reclaim. But the priority tag worked like a dream. My bag was the first to arrive on the belt, just about the same time as I reached the baggage hall.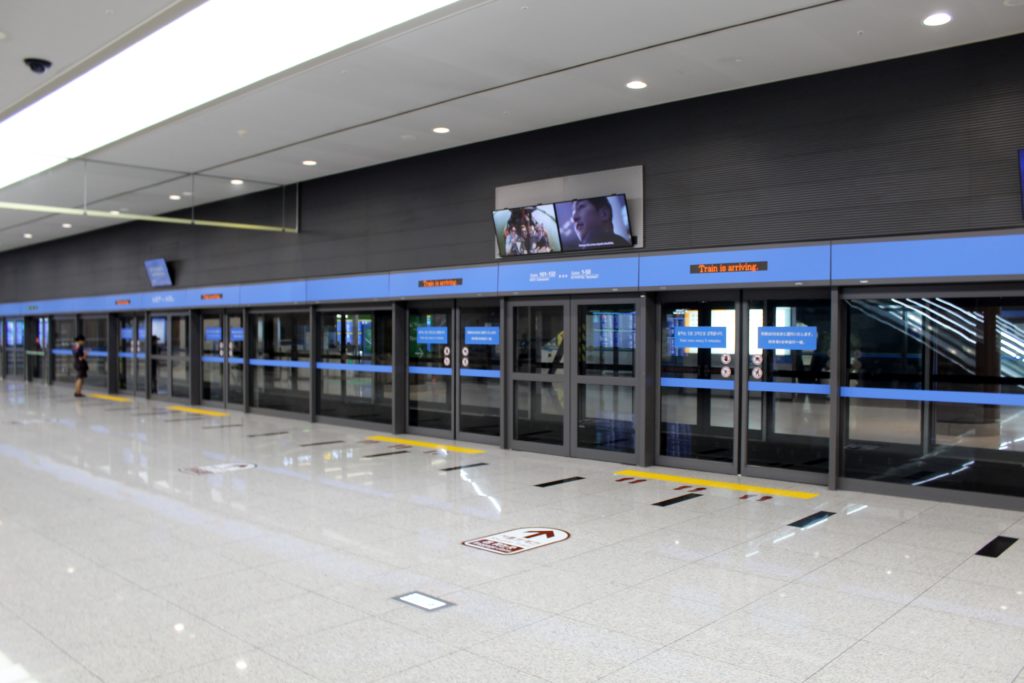 Final impression

For the price of the ticket, including the Smart Plus package with some extra benefits, this was actually not bad at all. Flying on a low-cost airline in Asia is very different from flying on a low-cost airline