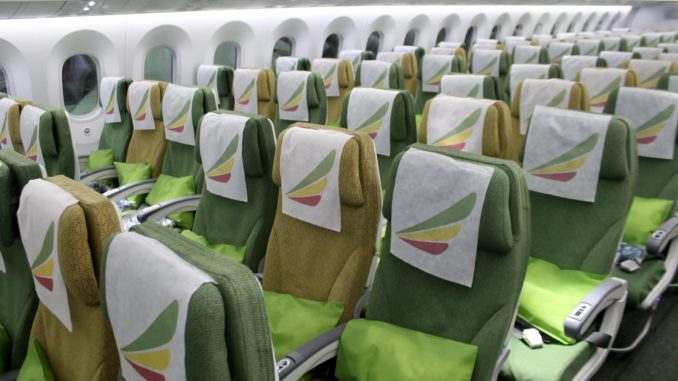 Ethiopian Airlines, the flag carrier of Ethiopia, operate flights to a large number of European cities, however as some of the cities do not have sufficient demand to fill a full widebody aircraft in some cases two destinations are combined.
One of these examples is Scandinavia where Ethiopian Airlines operate Addis Abeba-Stockholm-Oslo with a night flight in both directions. They also have traffic rights between Stockholm and Oslo which means it is possible to book tickets for the morning flight Stockholm-Oslo and for the evening flight Oslo-Stockholm. Especially in economy class these tickets can be quite cheap.
Departure experience

As I booked the ticket through a travel agency I was not able to select a seat myself on the Ethiopian Airlines webpage, which is usually the case. Online check-in was possible though starting 36 hours before departure and I chose an aisle seat on one of the first rows in economy class. I could also see that the adjacent seat immediately got blocked thanks to my Star Alliance gold card.
As I did not have access to a printer I visited the check-in desk at Oslo Gardermoen airport to have my boarding pass printed. There were four desks open with one desk for business class and premium passengers which I could use with a Star Alliance gold card. My boarding pass was quickly printed and I received an "Approved hand baggage" tag to put on my bag.
The security control was quick. Being a member of Star Alliance, Ethiopian Airlines obviously use the SAS Lounge, which is divided into the standard SAS Lounge for business class passengers and the SAS Gold Lounge for gold card holders. The latter is located inside the SAS Lounge and can be accessed by scanning the boarding pass a second time at an automatic gate.
In the SAS Gold Lounge a cold buffet was available and there is usually some hot food in the late afternoon and in the evening, which turned out to be hamburgers this time. Hot and cold drinks were available for self service including beer, wine and spirits.
Read the full lounge review here!
The flight
Oslo-Stockholm Arlanda
Ethiopian Airlines flight ET 715
Departure: 18.45
Arrival: 19.50
Economy Class
Boeing 787 Dreamliner
Seat 15C

Although both Norway and Sweden are located in the Schengen area (they actually abolished passport checks between the two countries already in 1958 as a consequence of the Nordic Passport Union) since the Ethiopian Airlines flight has Addis Abeba as final destination it leaves from the non-Schengen area at Oslo Gardermoen airport and arrives at the non-Schengen area at Stockholm Arlanda airport. This means that passengers have to bring a valid passport and go through passport control both upon departure and arrival. Most likely a national ID card will not be sufficient.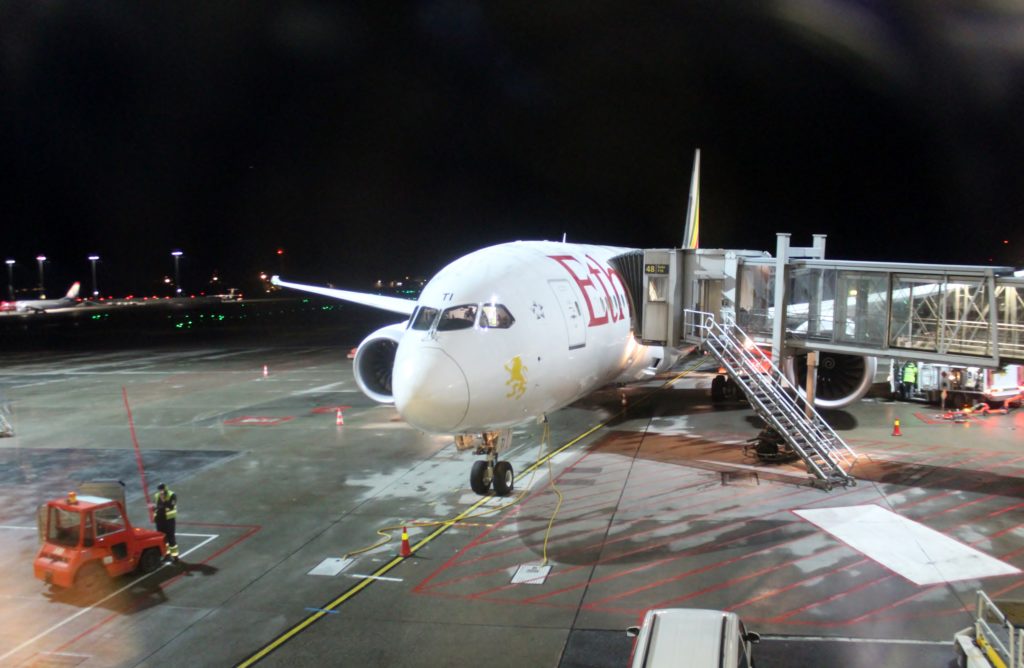 I had remembered to bring my passport and fortunately the passport control was virtually empty.
Boarding started very early, more than 30 minutes before departure time with priority boarding for business class and Star Alliance Gold. I was the very first person to board the aircraft.
First impression

The aircraft was one of the newer Ethiopian Airlines Dreamliners with the newer cabin products in both business class and economy class. I had tried the new Dreamliner business class seat in the past and it is quite decent, although it still has a 2-2-2 configuration instead of 1-2-1.
My seat was located on the third row of economy class, seat 15C. When looking at various seat maps for the flight I could see that the adjacent seat 15B had been blocked and it turned out I actually had the whole row to myself. The load to Stockholm was quite light in both classes.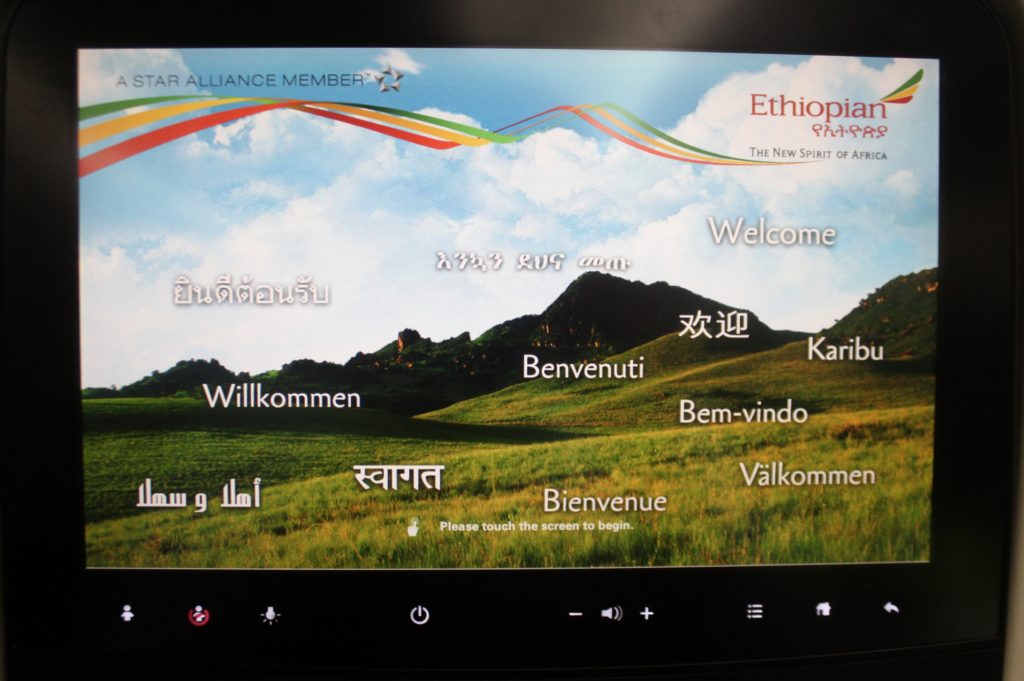 The aircraft gave a fairly good first impression. Everything looked new in different green colours and the economy class cabin looked very tidy and well-maintained.
With an early start of the boarding process and a light load we finished boarding well ahead of scheduled departure time. After a safety video had been shown on the screen we left Oslo with an estimated flight time of 45 minutes to Stockholm.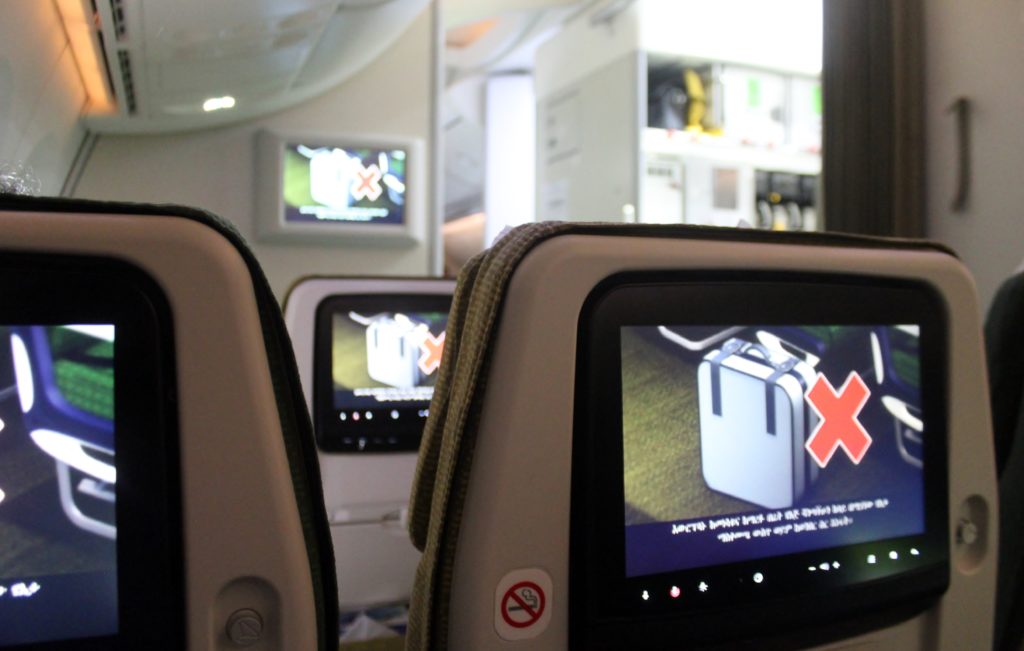 Seat and cabin

The economy cabin was 9-abreast with a 3-3-3 configuration. The seat pitch was quite decent at 33 inches. I have certainly experienced tighter legrooms on other aircrafts.
The best seats in the house seemed to be the bulkhead seats on the first row with plenty of legroom.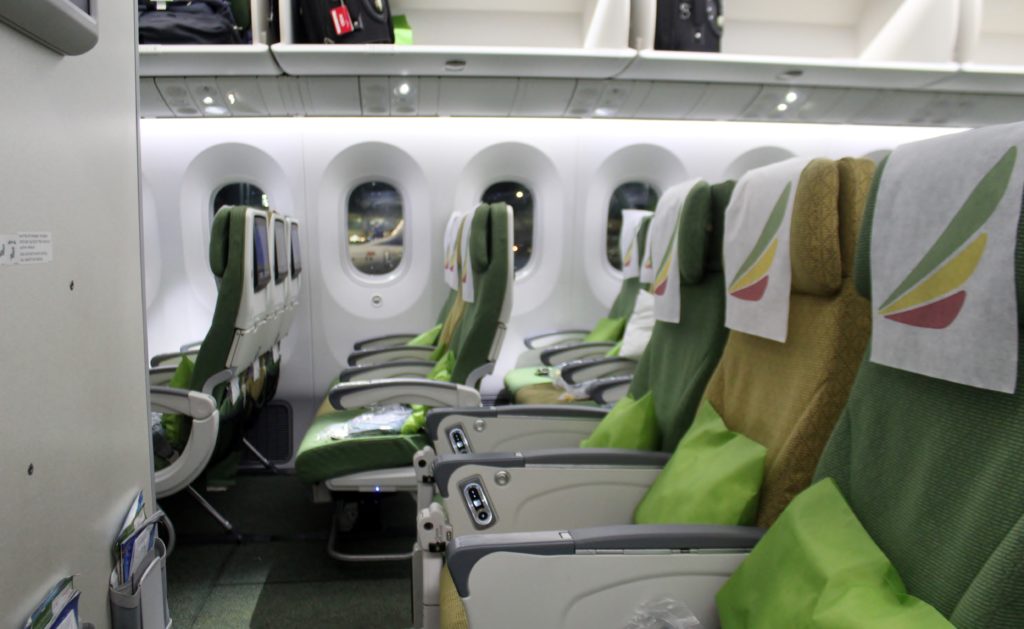 Food and drinks

With a short flight time of only 45 minutes, of which 20 minutes were used for climb and descent, I did not expect much onboard. I was pleasantly surprised to be offered a selection of drinks from a tray with different juices. I choose a glass of pineapple juice. On some flights biscuits or crisps are also served.
I could see parts of the business class cabin from my seat (as the curtains had not been closed) where drinks were also served and it seemed like some passengers were served wine. But just like in economy class there was no food.
Inflight entertainment
The inflight entertainment was turned on for the duration of the flight. A rather modern on-demand system with blockbuster movies, tv-series, documentaries, games, music albums and a flight map. The economy class screen was also quite decent with touch-screen functionality although there was also a small remote control in the armrest to use for the system.
I watched a documentary about chocolate on the flight, or at least parts of it.
The service

There was very little interaction with the cabin crew other than a greeting at the door and a quick offering of beverages, so it is hard to give a fair opinion about the service and the crew. There was no recognition of me as a Star Alliance Gold card holder.
Arrival experience

With an early departure from Oslo we also landed slightly early at Stockholm Arlanda airport just before 8 pm. More passengers than I expected actually deplaned in Stockholm.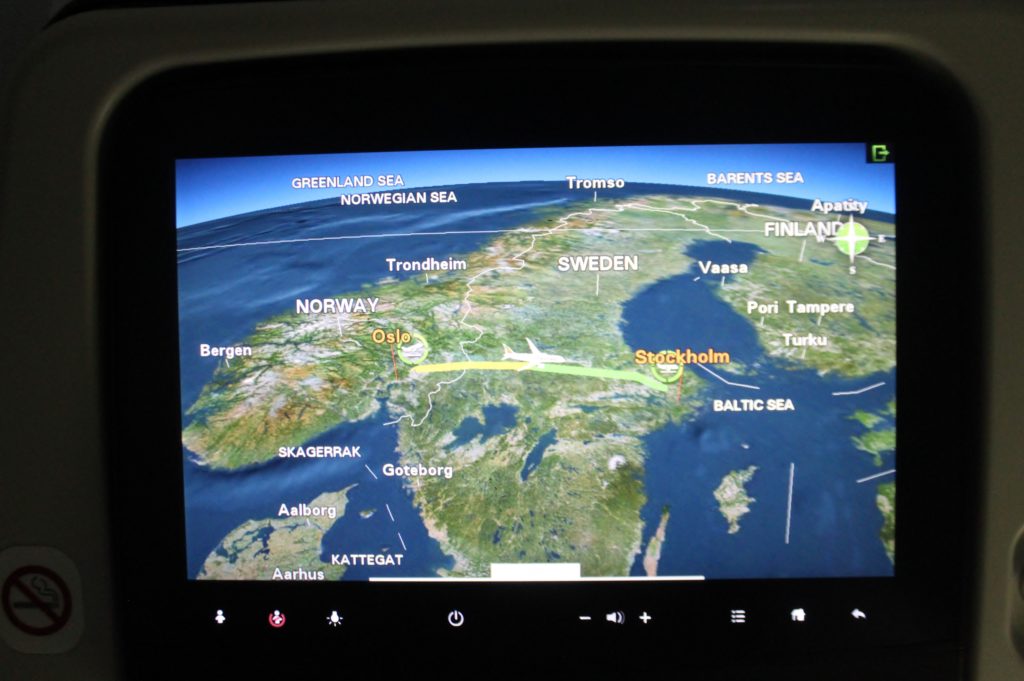 As expected a passport control was needed but it was very quick and I was on my way from the airport within minutes of landing.
Final impression

A refreshing change to fly on a widebody airport on an intra-European flight with a longhaul seat with slightly more legroom than normal and a proper inflight entertainment system to enjoy. The ticket was very cheap and the timetable works well for business travellers. For travellers looking for some food and drinks the competitors are much better though.