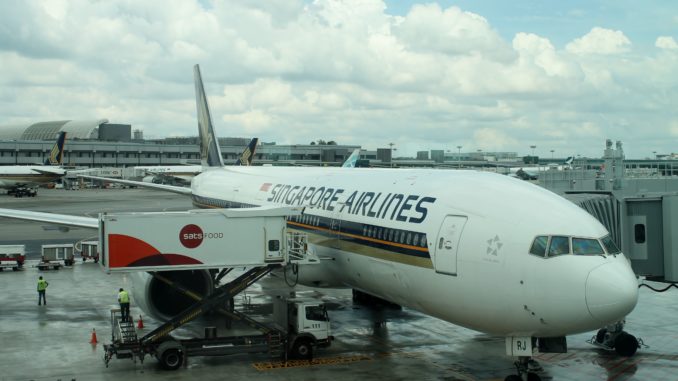 Departure experience
Check-in for Singapore Airlines at Bangkok Suvarnabhumi airport opens three before the first departure of the day and I arrived at the airport roughly at that time in the very early morning hours, skipping the hotel breakfast at the hotel. In contrast to what I am used to in Europe, where you are almost always expected to use a self-service check-in machine when travelling in economy class (except when you are lucky enough to hold a gold card), in Bangkok it is rather the standard procedure to go to a manned desk to check in, no matter if you have checked luggage or not and irrespective of travel class or frequent flyer card. And it is nice to be able to interact with another human being during the check-in process for a change.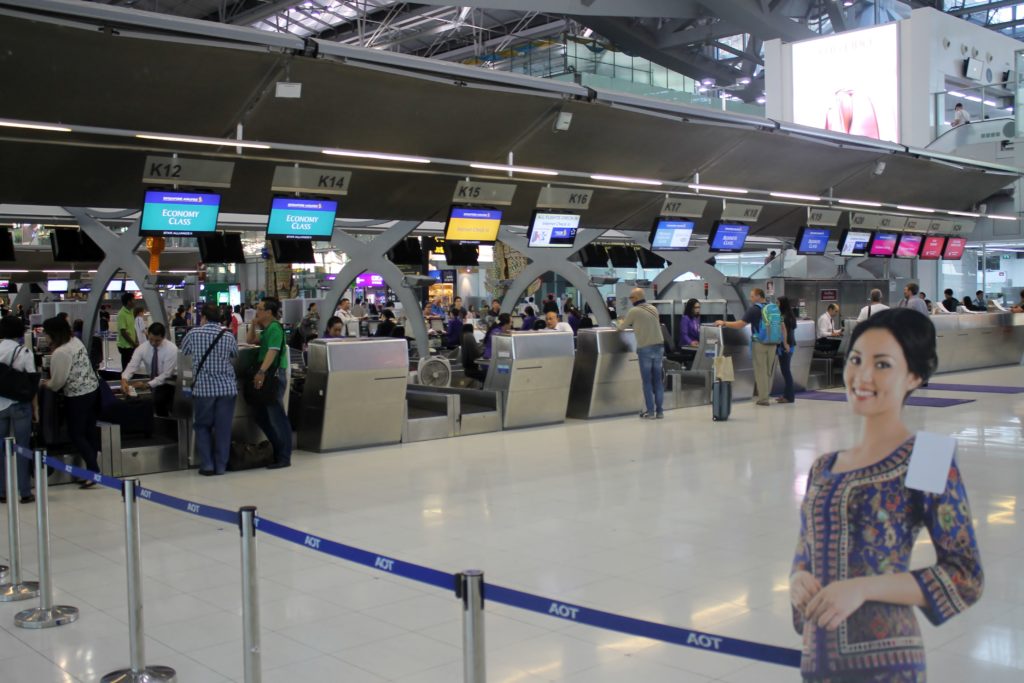 Even though I was travelling in economy class I could use the business class check-in due to my Star Alliance gold card. There were two desks open with no line.
I was quickly checked in by a friendly young woman. I had not been able to prebook a seat but my indicated choice of a window seat had been met and they had given me a seat on the second row of economy class. The first row, with bulkhead seats, seemed to be reserved for passengers with infants. Fair enough.
My suitcase was tagged to Singapore with a blue business class priority tag and I was informed I could use the Singapore Airlines Silverkris lounge in the transit hall. Unfortunately, travelling in economy class, means no access to the fast track channel through passport control and security and no fast track invitation was given to me this time either. I had to line up behind for the long line of people, which in all fairness moved fairly quickly with several checkpoints open.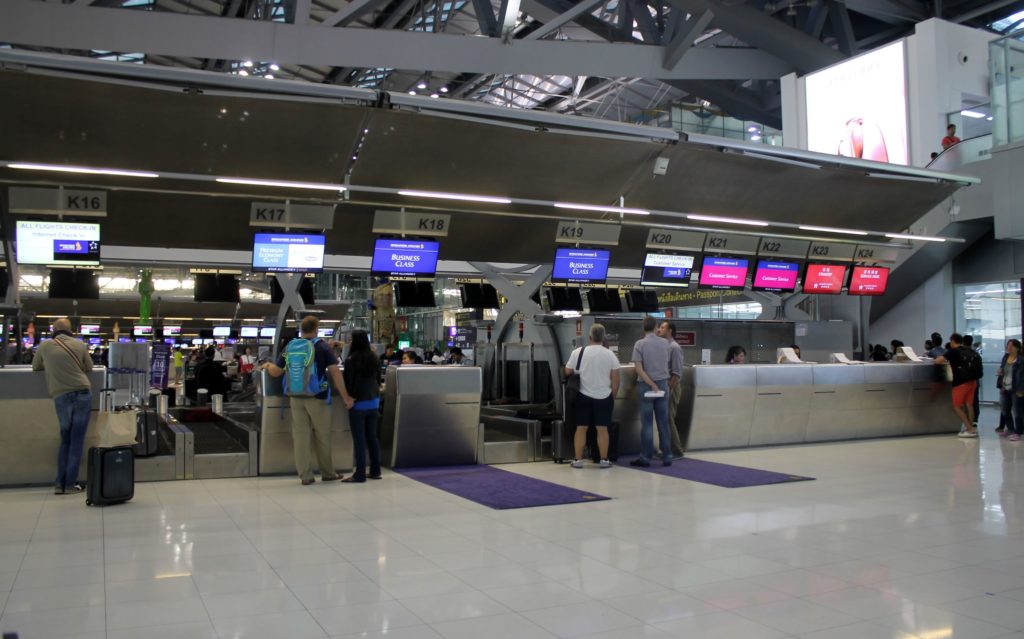 I made my way to the Singapore Airlines Silverkris lounge for some breakfast. As I had not eaten anything at all so far this morning, I never even had time for a cup of coffee, I was craving to get something to eat. The Silverkris lounge at Suvarnabhumi is not particularly large but they have managed to make it feel larger than it really is by placing glass walls in the lounge to create different seating areas.
It was also impressive to see the selection of food and drinks which was not bad at all for a small lounge at an outstation. In the morning there were several hot breakfast items, including both Asian and western dishes. I could easily make myself a rather extensive breakfast, of course accompanied by a much needed cup of coffee.
Read the full lounge review here!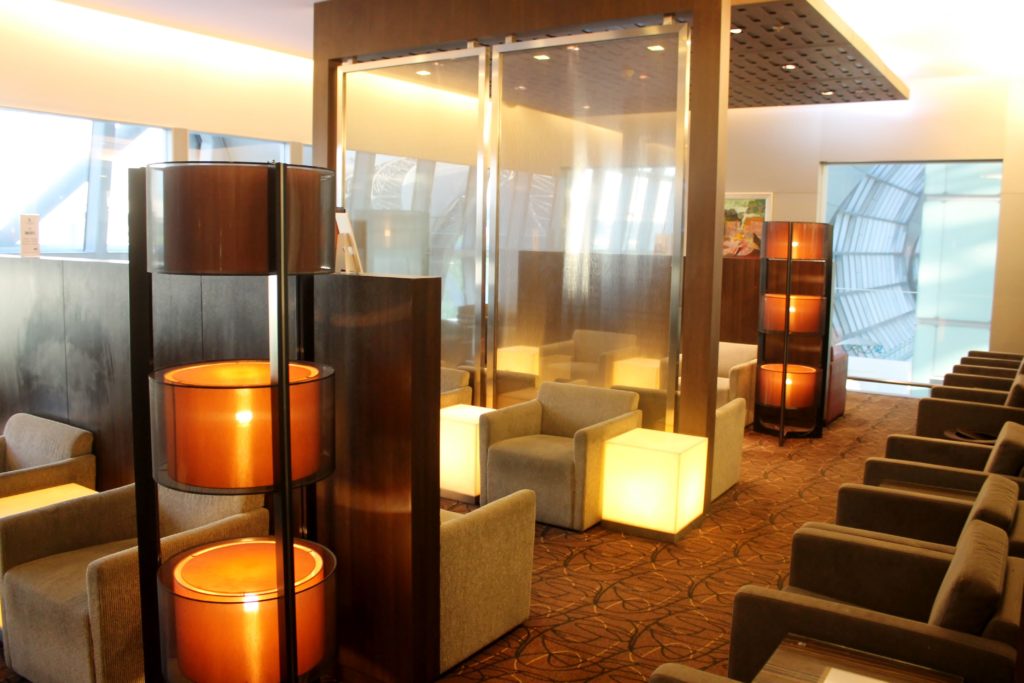 Passengers travelling with a Star Alliance gold card also have several other lounge options, including the newly refurbished Eva Air lounge (which I had time to visit, fortunately it opened earlier than indicated on the Star Alliance webpage) as well as several Thai Airways lounges, the largest one being the one in the D-pier, not far from the Singapore Airlines lounge and the gates used for the Singapore Airlines flights. For passengers with a Priority Pass there are also several Louis Tavern CIP lounges.
The flight
Bangkok-Singapore Changi
Singapore Airlines flight SQ 973
Departure: 09.45
Arrival: 13.15
Economy Class
Boeing 777-200
Seat 32A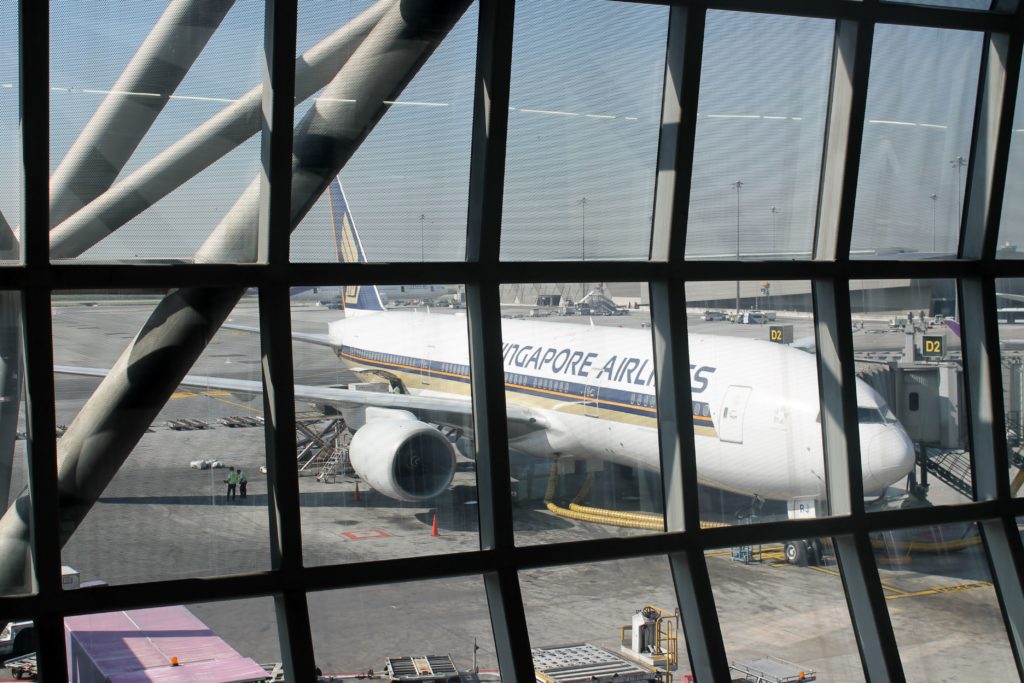 Boarding started very early, almost 45 minutes before scheduled departure time, and the gate area was completely empty when I arrived from the lounge.
Proper priority boarding was offered (although it made no difference in my case) with two lanes. One for first class (not offered on this flight) and business class passengers, and another lane for premium economy (also not offered on the flight) as well as Star Alliance and Singapore Airlines gold card holders. The one for first and business class was indicated as "Priority Lane for Premium Passengers" making it clear business class passengers are ranked higher than gold card holders in the Singapore Airlines world.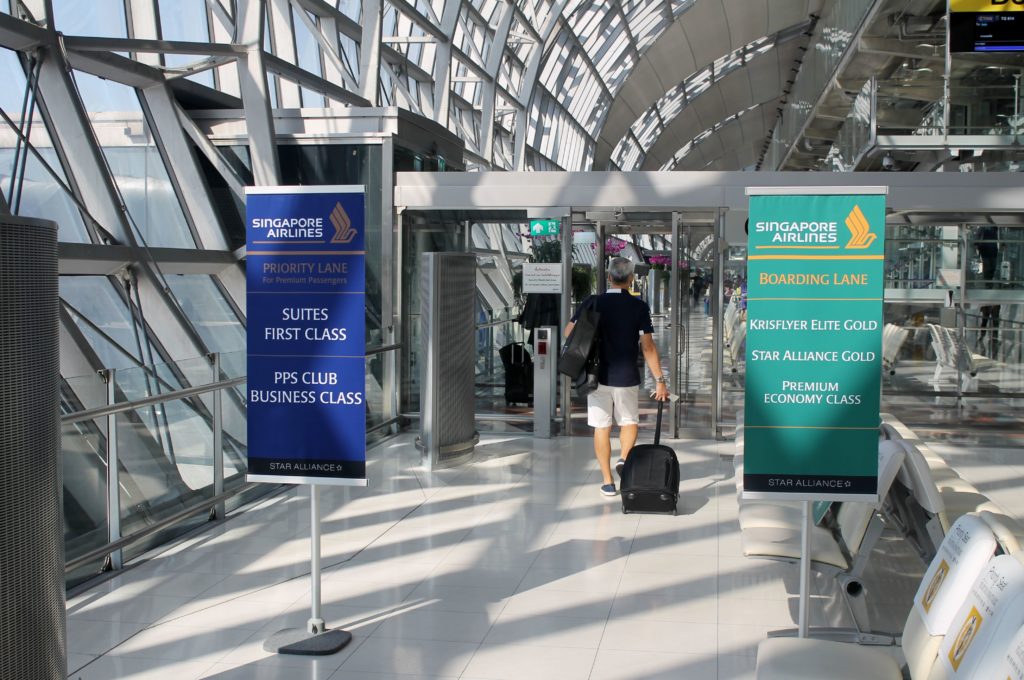 First impression
I used the second door to board the aircraft where there were newspapers available from a table, to all passengers. I quickly found my seat 32A on the second row of economy class where there were already two passengers seated. The load onboard was good, nearly 90 percent in economy class.
With the early start of the boarding process we pushed back a few minutes ahead of timetable with an estimated flight time to Singapore of one hour and 50 minutes.
Seat and cabin
The aircraft used to Singapore was a Boeing 777-200, which is a fairly standard aircraft type on this route. The configuration in economy class is 3-3-3 with a seat pitch between 32 and 34 inches depending on the exact aircraft used, which is not bad and slightly above average.
The seats were comfortable but they do start to show their age, just like the cabin. Still it was by no means a bad experience for a two hours economy class flight in year 2015.
Food and drinks
A breakfast service was offered on this morning departure to Singapore with an Asian option with noodles and a Western option with ham, potatoes and scrambled eggs. I chose the latter.
I was very impressed to see the tray offered, which not just included a proper hot breakfast but also a bowl with fresh fruits and a dessert. Bread rolls were offered from a basket as well as coffee, tea and juices, served in proper coffee cups and glasses. Soft drinks, wine and beer were also available from the trolley.
The food was of a very decent quality with a surprisingly nice presentation for economy class, and last but not least, it actually tasted good. In Europe, with a different china and a slightly better presentation, this could have been served in business class. More drinks were later offered before the trays were collected.
Inflight entertainment
The aircraft featured Singapore Airlines very extensive Krisflyer inflight entertainment system with a very wide selection of movies, TV-series, music and games. The screen was small but did its job, it could also be adjusted in case the person in front decided to recline his or her seat.
I never made use of the inflight entertainment system on this flight except for looking at the flight map. Before landing connecting flights with Singapore Airlines and Silkair were shown with appropriate departure gates.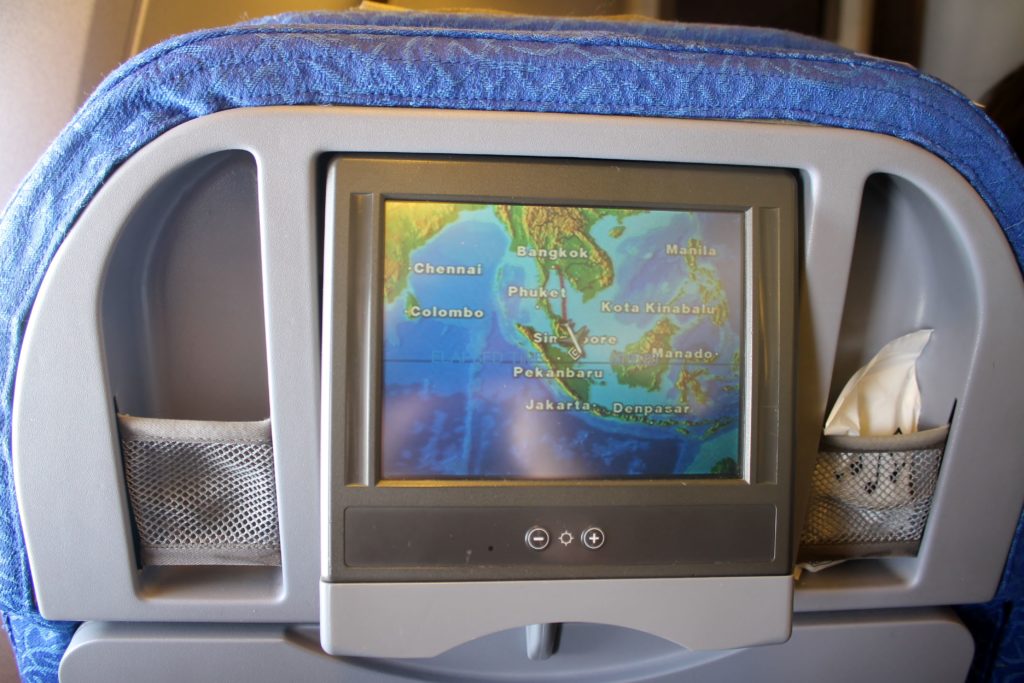 The service
Friendly service from the staff even though it was obviously not as attentive as in business class. I was quite impressed though by their cabin procedures onboard which were quite advanced, for example putting stickers on the seats of those with infants and those who had requested special meals.

However there was no recognition whatsoever of me as a Star Alliance gold card holder onboard. I got business class check-in, lounge and priority boarding but once onboard there was no difference whatsoever. A few passengers in the economy class cabin were personally greeted by the inflight manager, I presume they were Singapore Airlines PPS members of some sort.
Arrival experience
After a beautiful approach over Batam and Bintan we made the final approach to the north over the strait with a lovely view of downtown Singapore for me sitting on the left hand side. This is one of my favourite approaches in the world with the view of the city centre and all the ships anchored.
We touched down a few minutes ahead of timetable at Changi airport. Singapore Airlines uses both terminal 2 and terminal 3 at Changi and although it is crystal-clear which terminal you should head to upon departure,  there is very little logic which one is used for which arriving flight (the only exception being Airbus A380 flights which always arrive at terminal 3). This time we arrived at terminal 2, the older one of the two.
Immigration was quick as usual in Singapore but the baggage delivery was surprisingly slow, it took quite a few minutes before even the first bags appeared, much slower than on previous arrivals.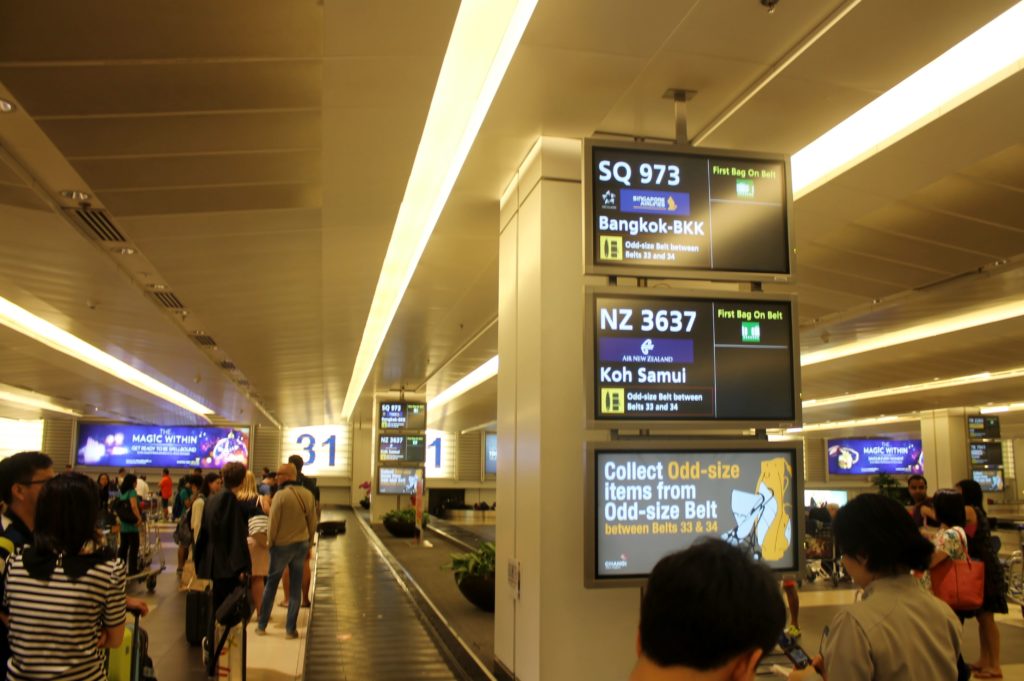 Final impression
Singapore Airlines keeps a very high standard even in economy class on a flight of less than two hours. Proper check-in desks for all passengers, newspapers at the gate, a hot meal with two choices and a full inflight entertainment system. Especially the meal service was impressive and with a different presentation this meal could have been served in business class in some other parts of the world. No recognition of me as Star Alliance Gold, but otherwise there was nothing whatsoever to complain about.