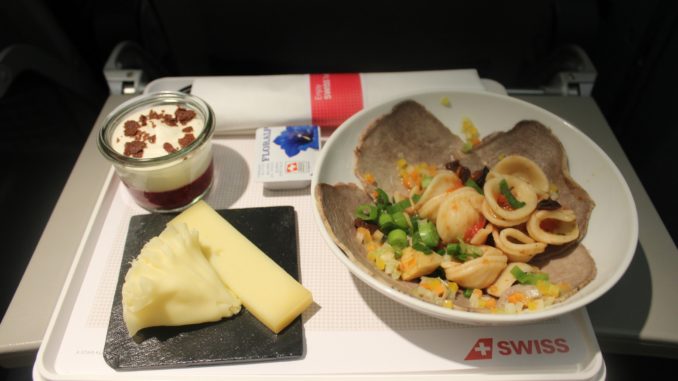 Departure experience

I arrived at Zürich Kloten airport around noon, well ahead of the departure time of my flight at 5 pm. The plan was to spend some time at the airport to get some work done before the flight.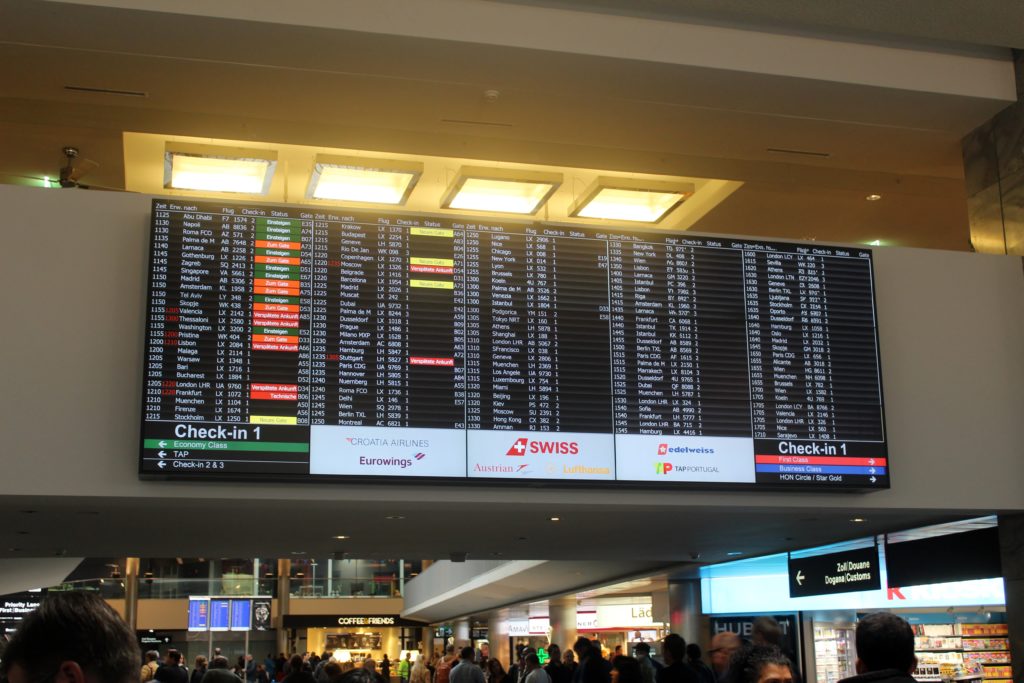 The retro-style departure hall at Kloten airport is actually quite nice. The economy class check-in is located in check-in area 1 and the business class and first class check-in is located in check-in area 2. Star Alliance Gold members are allowed to check in at the first class counters, although there is also a proper lobby-style first class check-in area for Swiss first class passengers, in what can best be described as a small house.
I could have checked in either at the business class check-in, as a business class passenger, or at the first class check-in, as Star Alliance Gold, but as I only had hand luggage I decided to check in using a self-service machine instead.
Business class passengers also have access to a fast track channel through security, which was quite quick.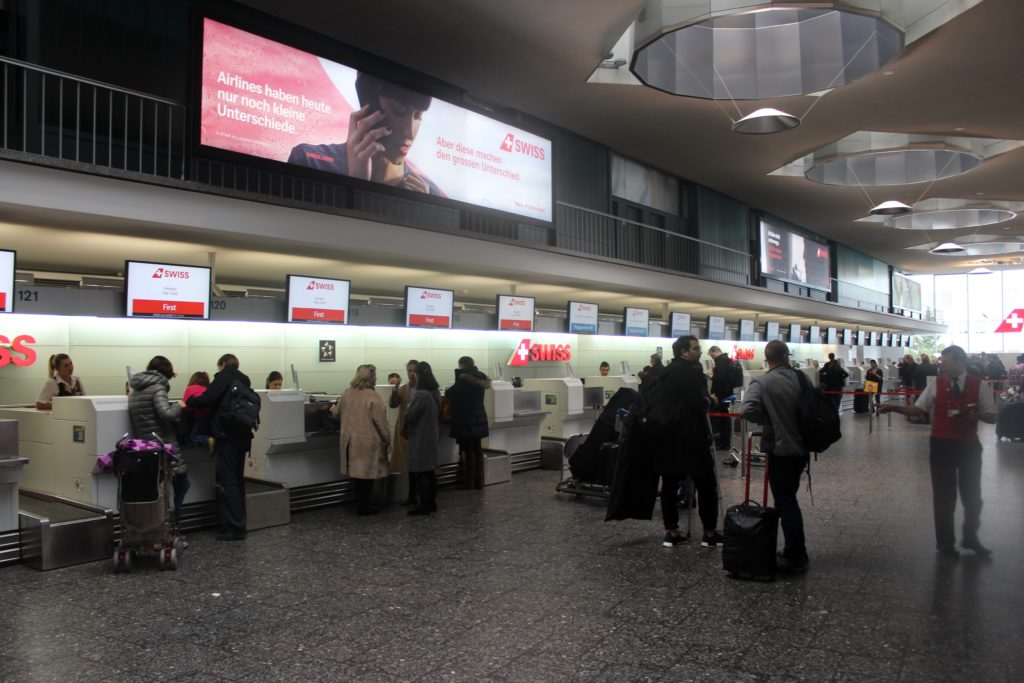 The Swiss Schengen lounges are located one floor above the shopping area with a Senator Lounge for gold card holders to the left of the reception desk and a Business Lounge for business class passengers to the right of the reception desk. I was invited to use the Senator Lounge which especially has a better selection of food and drinks.
Just after the reception desk there is a small self-service buffet area with snacks and drinks and several seating areas. The main lounge is located upstairs after the staircase. At peak times it can be packed with a line of passengers waiting to find an empty seat, this early afternoon is was very quiet.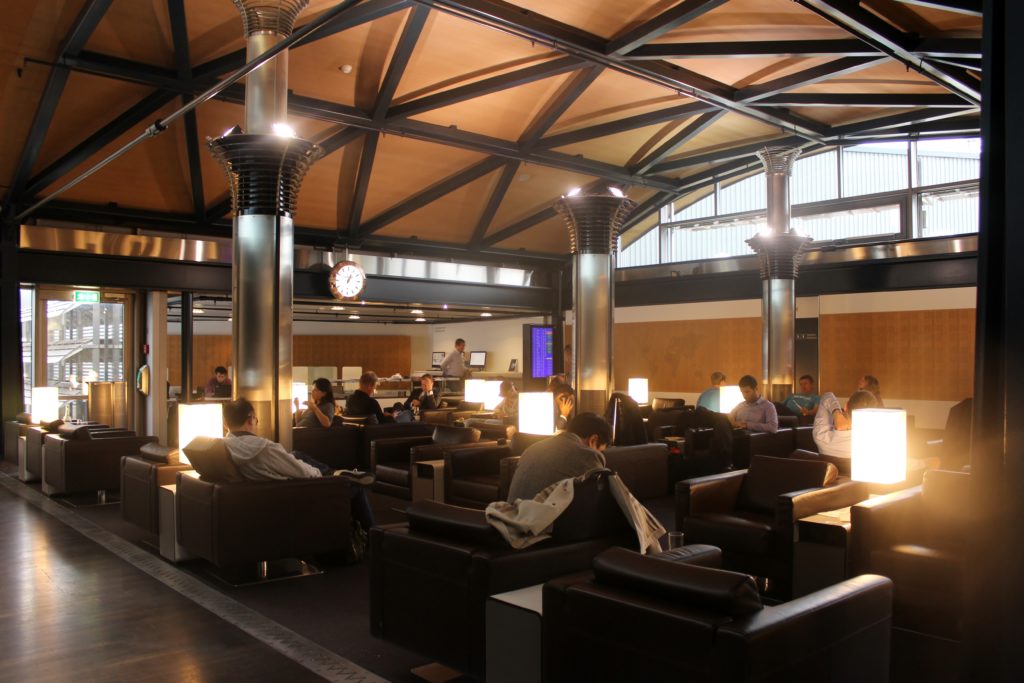 A selection of sandwiches was available in the self-service buffet area as well as some salads. There was also some hot food available, including some kind of Swiss pork speciality with leak. A full drinks selection was also available with red, white and sparkling wine, beer, spirits and soft drinks.
A fun feature in the lounge is the cocktail bar, which is shared with the business lounge. A few years ago this was marketed as the world's longest lounge bar. Not sure if this is still the case, but it is pretty long indeed. Nowadays it is rather marketed as the smoking lounge, and the smell of smoke is heavy and rather bothersome, especially if you are not a smoker yourself. A reason why many passengers nowadays avoid going there.
But the manned bar is still fully operational with bartenders mixing cocktails. I did not find any of the cocktails particularly inspiring when looking at the cocktail list so I just ordered a gin & tonic instead, especially as I noticed they had the Hendrick's gin available, which is a nice one.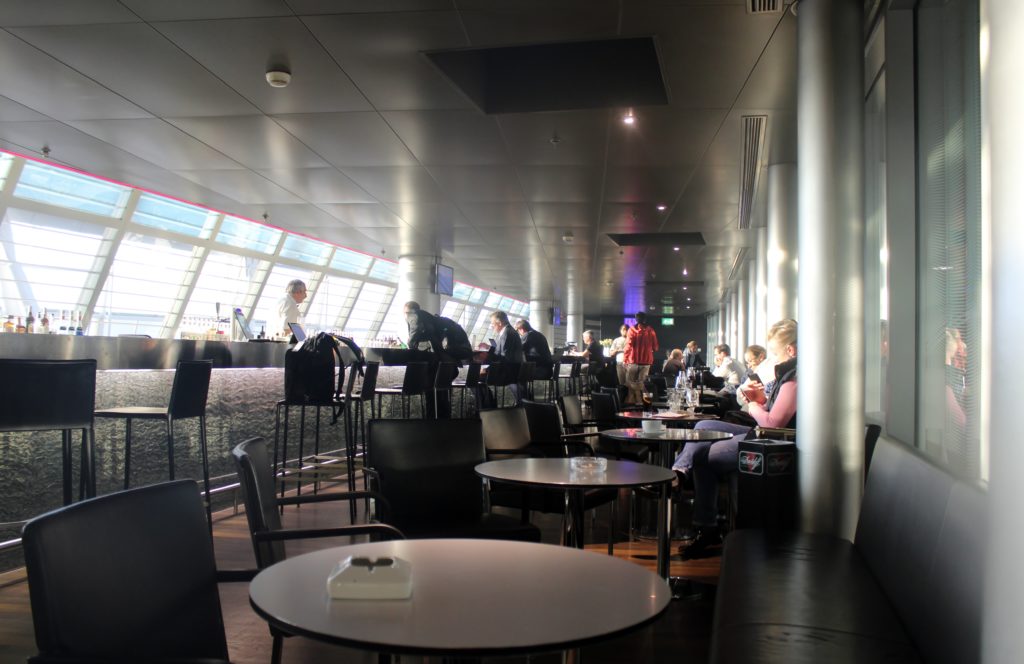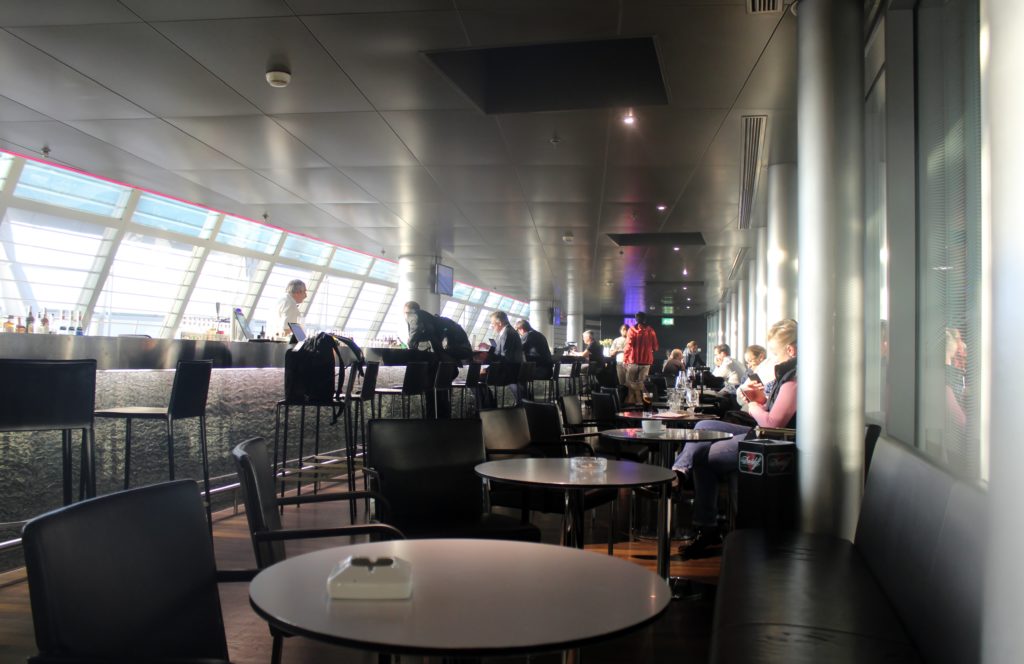 I also ventured out to concourse E, used for mainly for non-Schengen longhaul flights, where Swiss recently opened brand new Senator and Business lounges. In the Senator lounge there is a whisky bar with over 200 types of whisky. There was also a very knowledgeable bartender working and as there was no one else in the bar during the afternoon I was given a full one-hour tasting session of some of the unusual brands they had. A terrific afternoon.
The flight
Zürich-Barcelona
Swiss flight LX 1956
Departure: 17.20
Arrival: 19.10
Business Class
Airbus A321
Seat 02C

Boarding was delayed by nearly 45 minutes due to late arrival of the incoming aircraft so I made a new visit to the Schengen Senator lounge rather than having to hang around at the gate.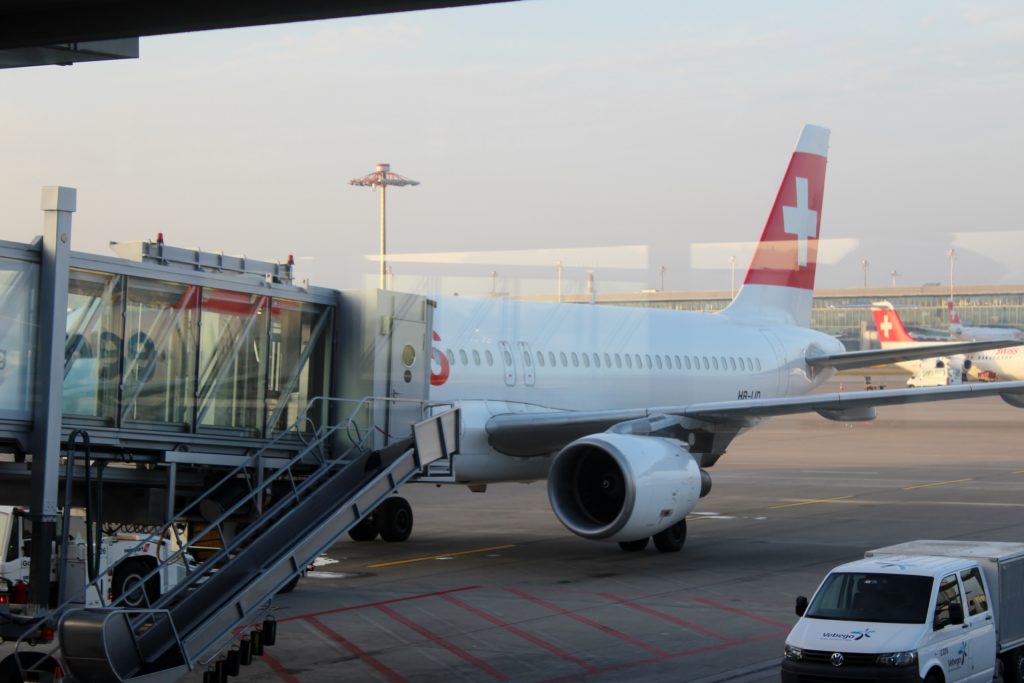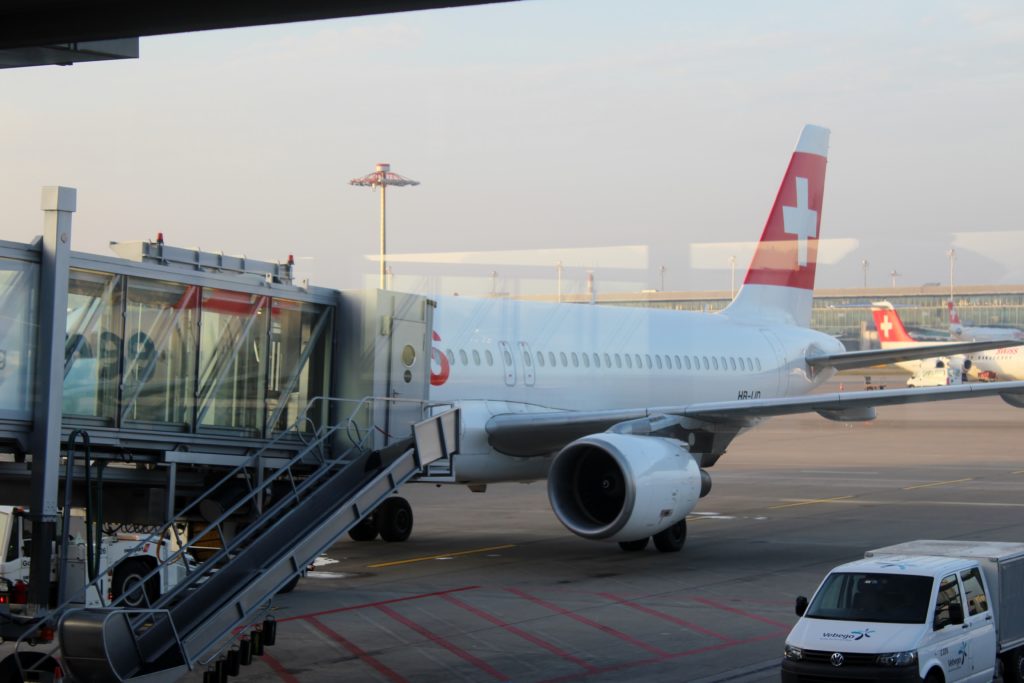 Boarding eventually started around at 5.45 pm at gate A81 with priority boarding for business class passengers as well as Miles & More Senators, HON Circle and Star Alliance Gold members. Based on the number of passengers at the gate the flight seemed to be almost completely full.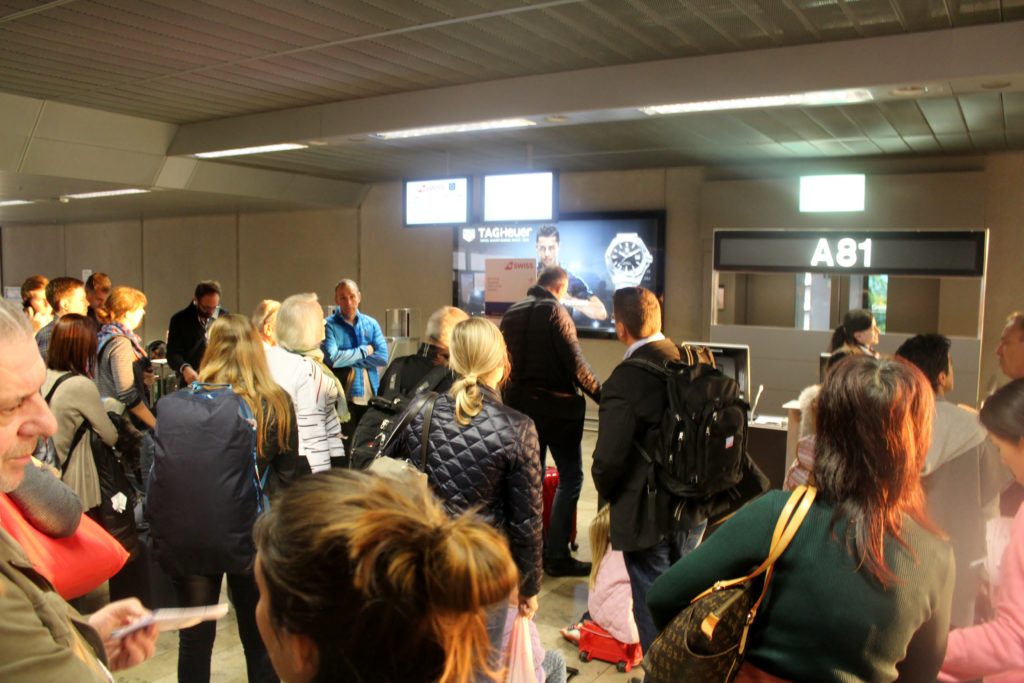 First impression

The aircraft used to Barcelona was an Airbus A321. Three rows were used for business class, which ended up being completely full. I was seated in 02C, an aisle seat on the second row.
The interior was the standard Swiss cabin design with seats in brown leather. The crew worked hard to get everyone onboard as quickly as possible to minimise the delay, but it was not easy with a full aircraft. Also there was a lot of hand luggage, too much hand luggage, and as they could not find storage space for all the bags some of them had to be loaded in the hold. This obviously took even more time and some of the last passengers to board were not too happy about this.
After boarding was completed each passenger in business class was given a bottle of water and a refreshing towel. Newspapers and magazines were also offered.
We pushed back at 6 pm, 40 minutes behind timetable, and took off almost immediately with an expected flight time of one hour and 20 minutes to Barcelona.
Seat and cabin

The seat was the traditional Recaro seat used on most Swiss Airbus A320 and Airbus A321 aircrafts with a brown design and an acceptable legroom. The seats were the same as in economy class but in business class the middle seats remain empty. The seat was perfectly fine for a short flight.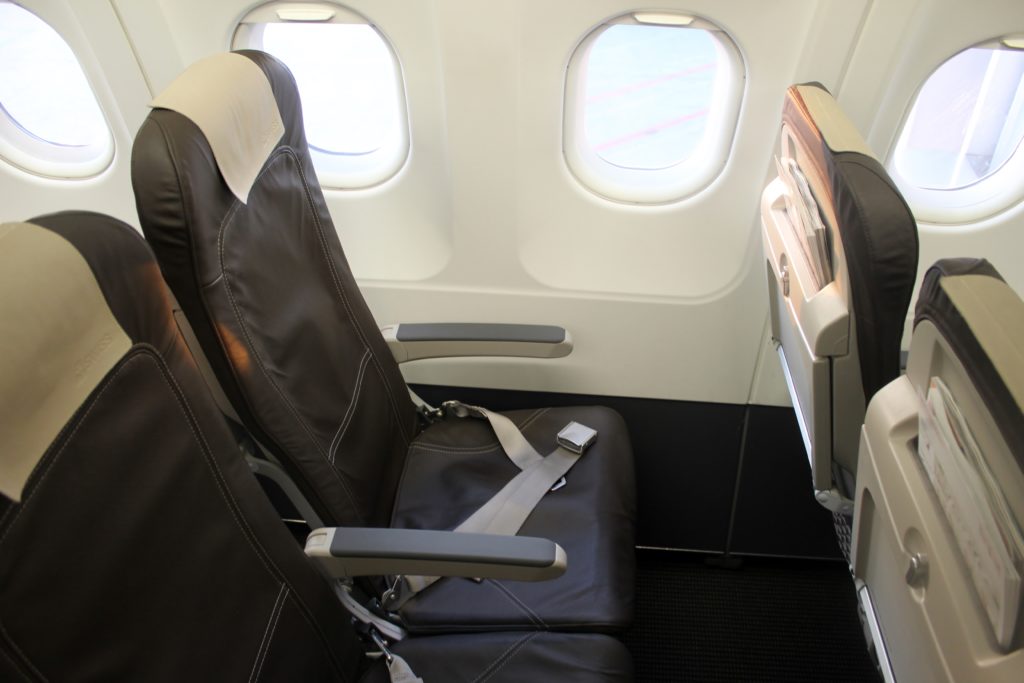 Food and drinks
As soon as we were airborne the inflight service started. One flight attendant was assigned to business class and she was lovely, addressing each passenger by name when passing through the cabin, with a smile. She was also very good at languages and spoke German, English, French and Spanish.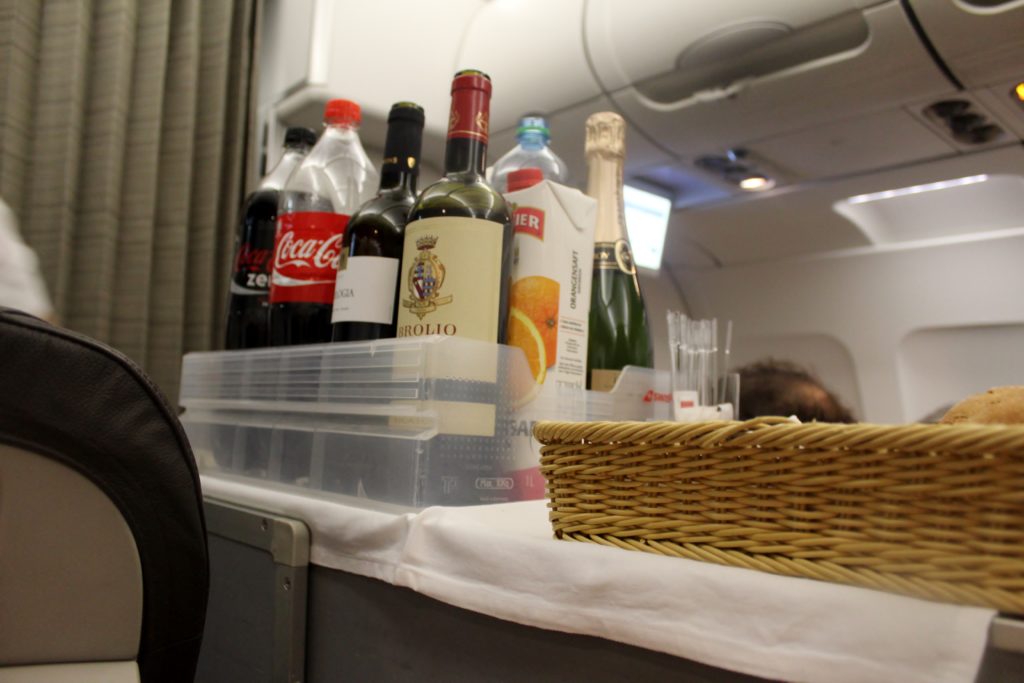 A cold meal was served to Barcelona including some kind of roast beef with pasta and vegetables. This time there was no choice, on longer flights there are usually two choices.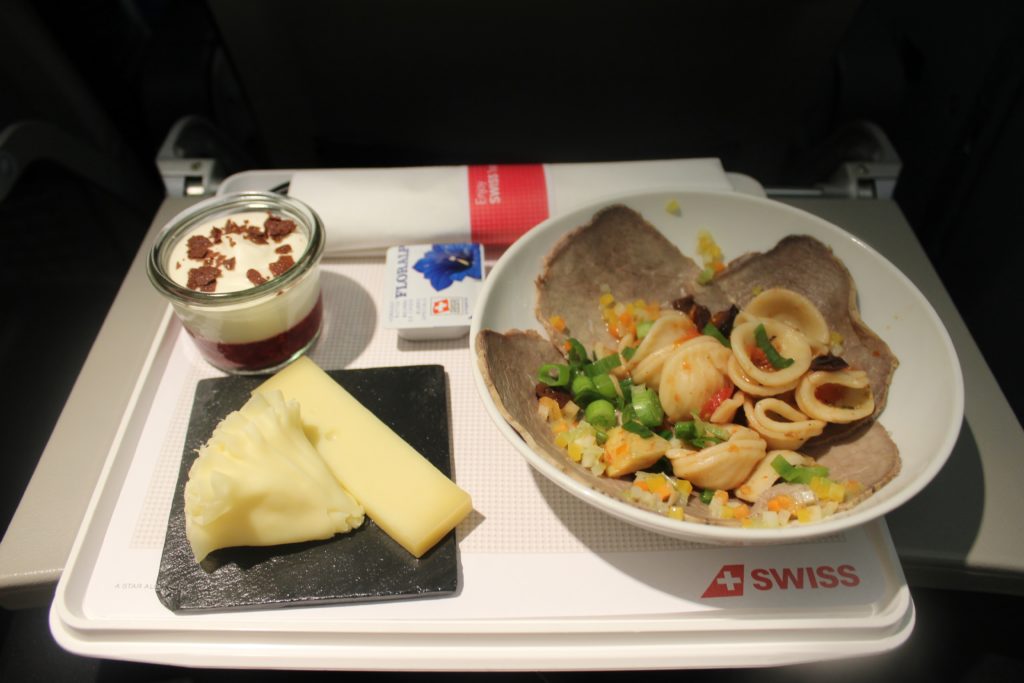 Bread rolls were offered from a basket and on the tray there was also a cheese plate and a mousse dessert.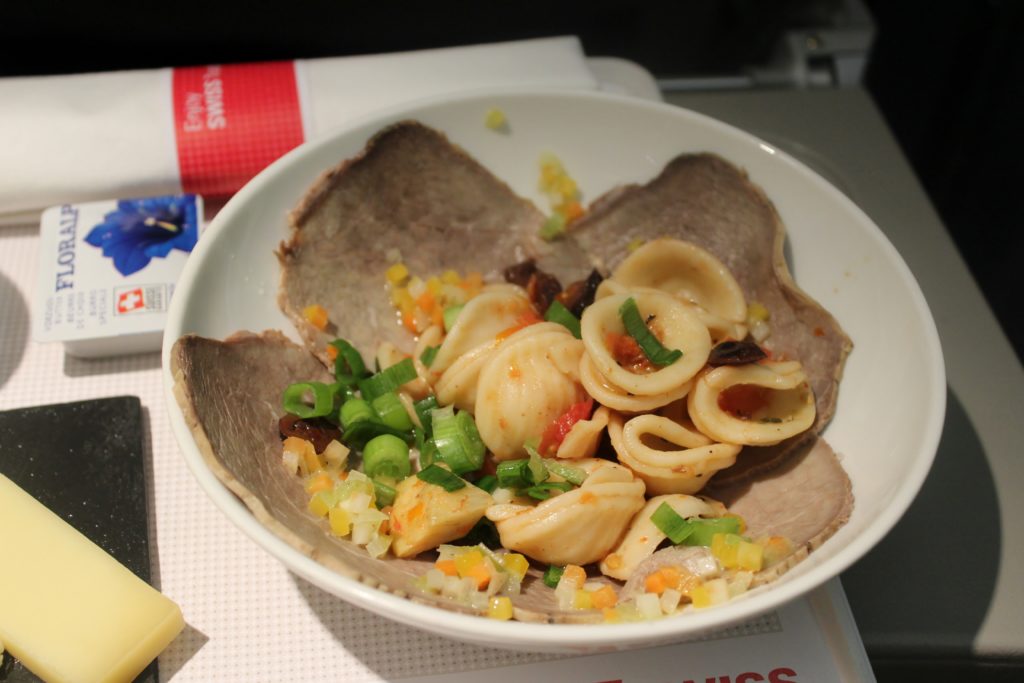 A very nice thing about Swiss business class is that the wines are different from the ones offered in economy class, also on shorthaul flights. In business class they are served from large bottles and there is a choice, two reds and two whites, and there is champagne on offer as well. In economy class the wines are served in miniature bottles, and there is no choice.
While the flight attendant was serving the passengers on the first row I had a look at the bottles and decided to try the Italian Chianti wine. I also asked for a glass of still water.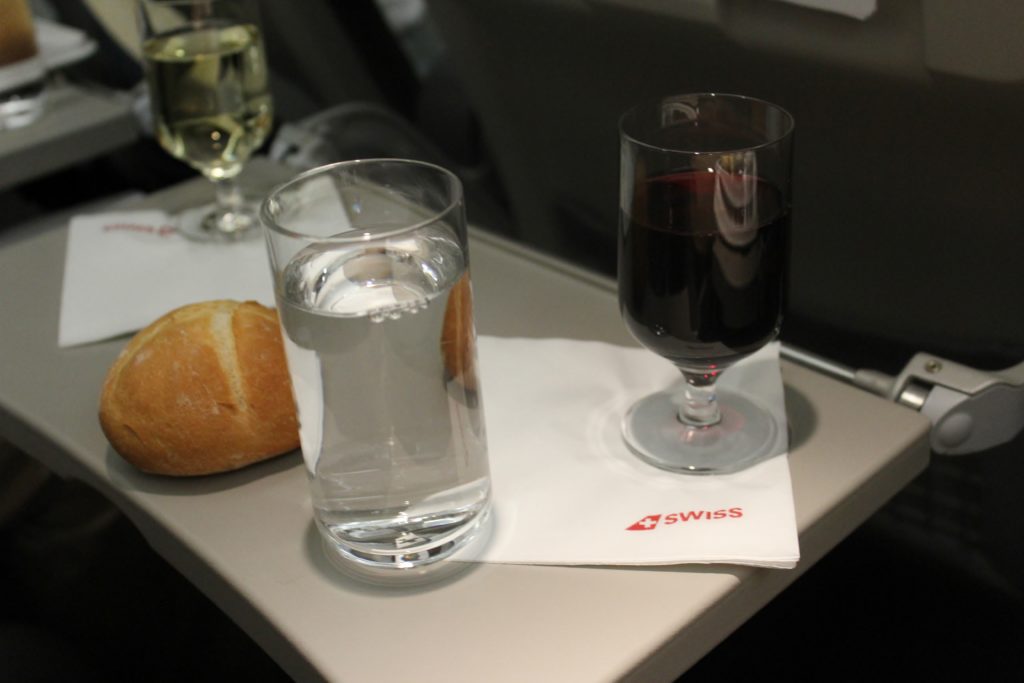 More bread rolls were offered before the tables were cleared. Next coffee and tea were offered, served in large rather nice coffee cups. And of course the standard Swiss milk chocolates were offered.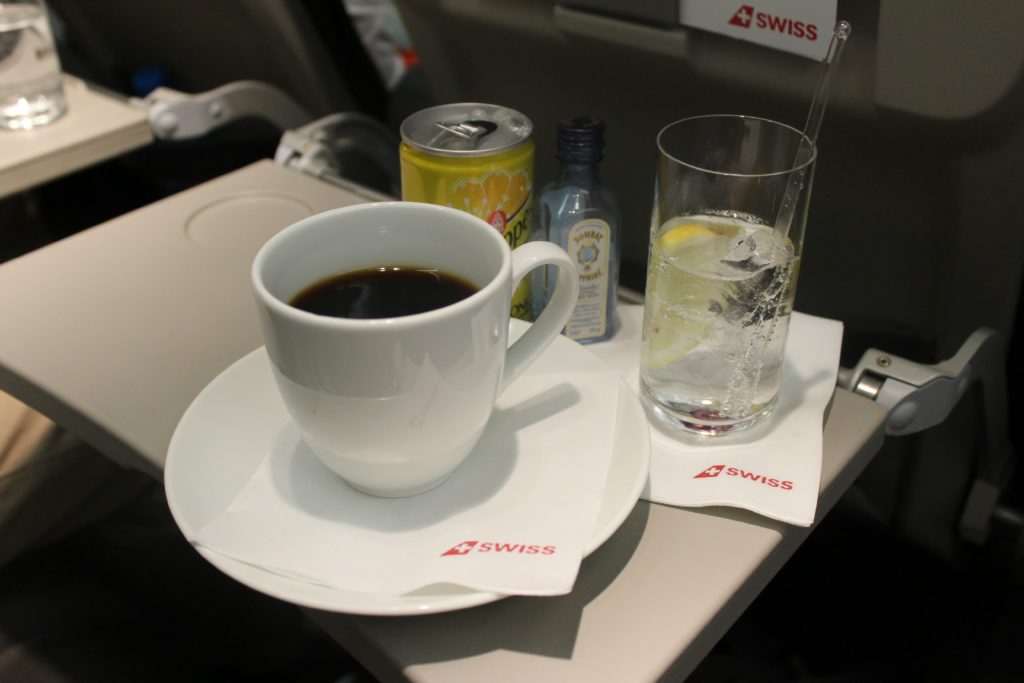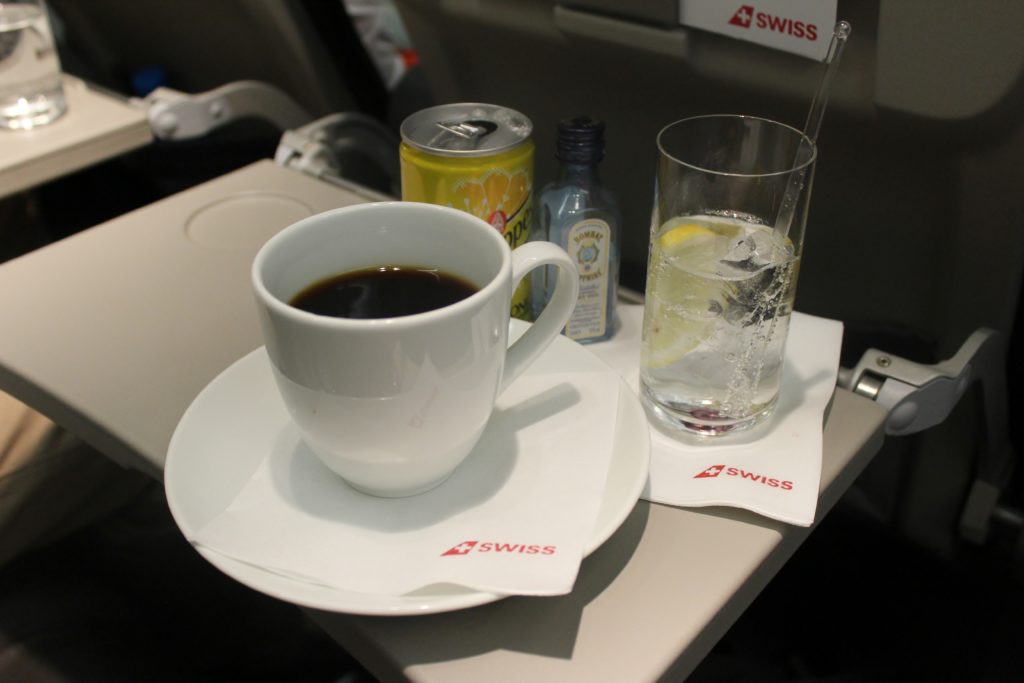 I asked if they had any spirits onboard. She did not know but went to the galley and returned with a selection of miniature bottles. I saw she had Bombay Sapphire gin so I asked for a gin& tonic.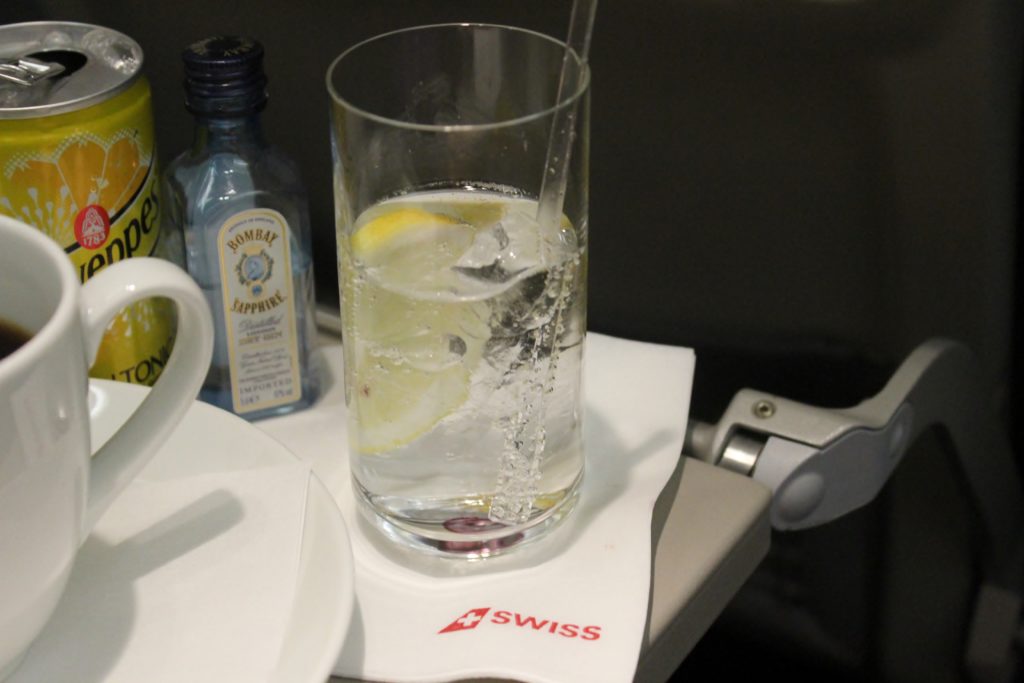 The service

The service onboard was excellent, the female flight attendant did a terrific job. The service was very polite and elegant but at the same time friendly and down-to-earth and I was really impressed by the number of languages the flight attendant spoke. Most passengers in the business class were addressed in their native language.
Arrival experience

Refills were offered during the remaining part of the flight. The flight attendant really had to work hard to manage a full business class cabin with a flight time of only 80 minutes.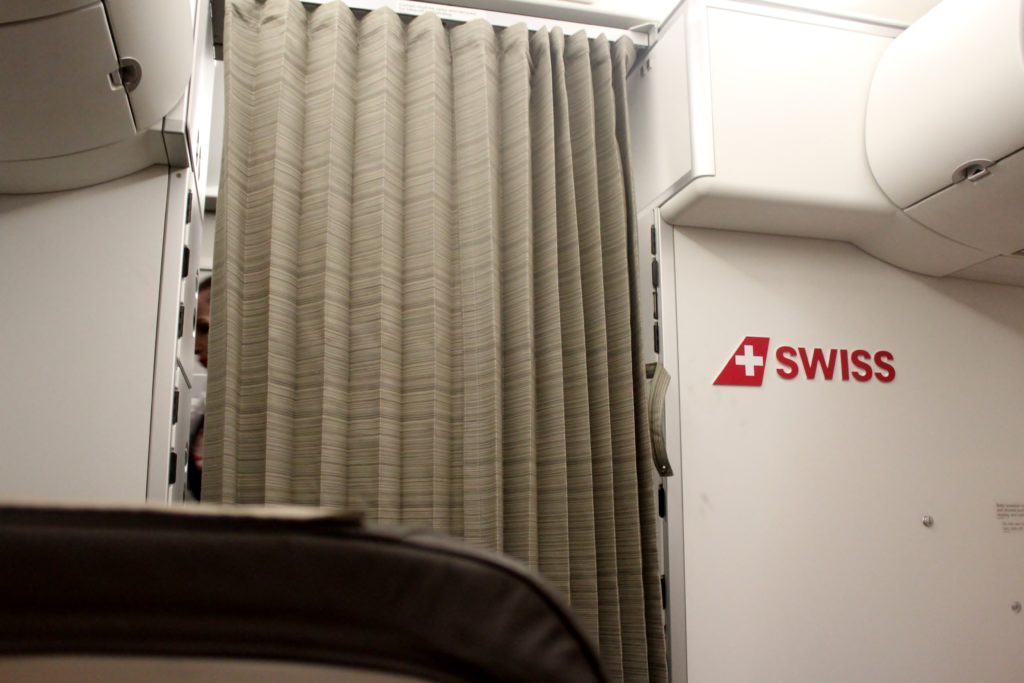 We landed at Barcelona El Prat airport at 7.30 pm, around 20 minutes late. With only hand luggage I was quickly on my way to downtown Barcelona.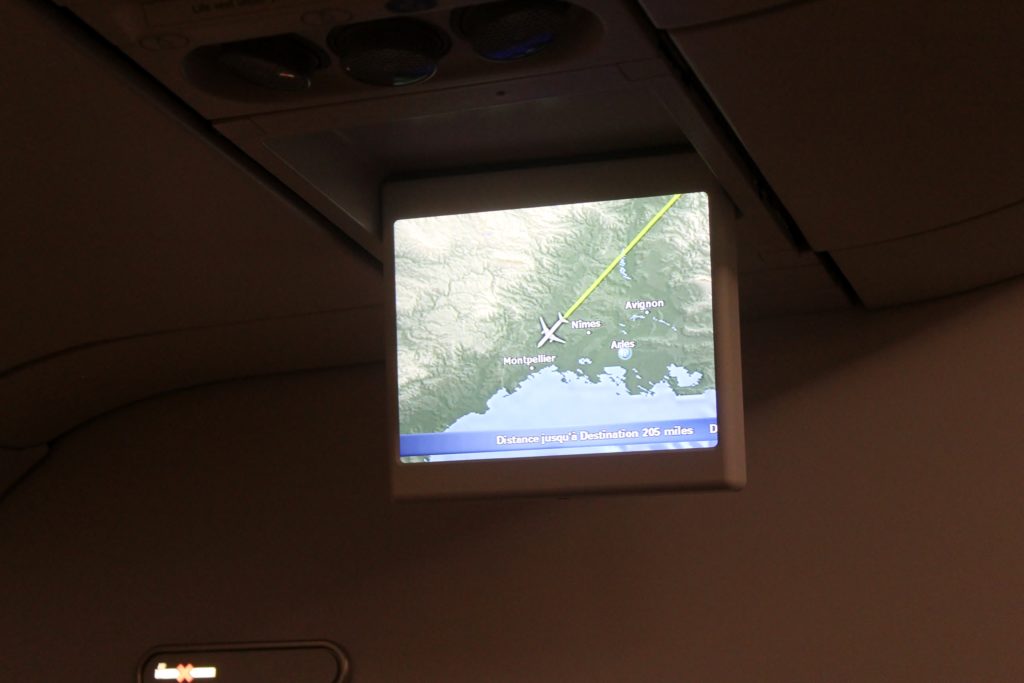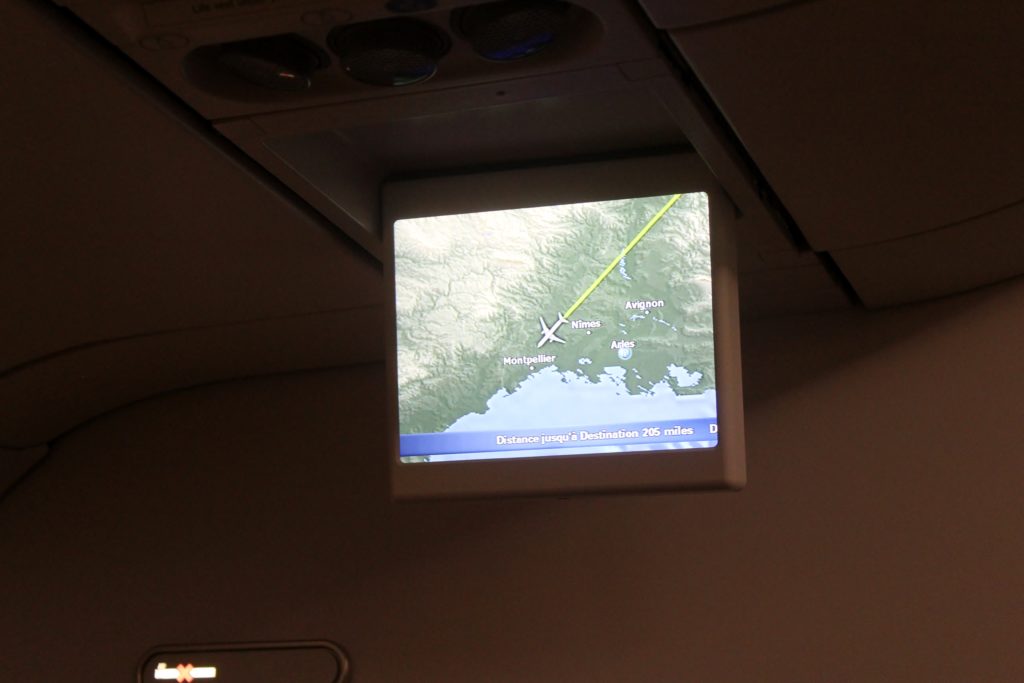 Final impression

Swiss delivers a solid business class product, even on shorter European flights. Nice cold dinner, excellent drinks selection and a fantastic service. Not much to complain about.