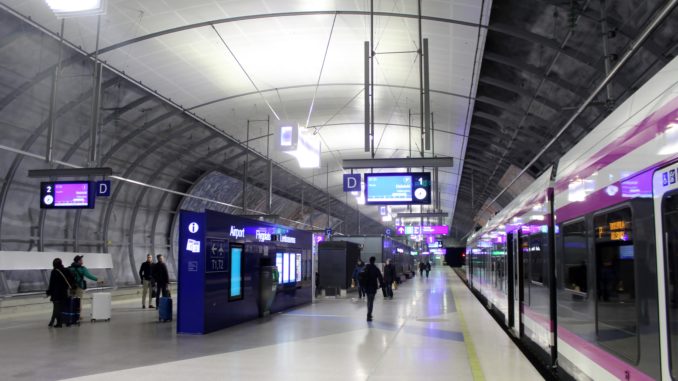 In July the new train service was inaugurated between Vantaa airport and downtown Helsinki and for the first time there is now a rail link between the airport and the city centre. The airport station is part of the new Ring Rail Line connecting several suburbs (including a rather new areas) in Greater Helsinki with the city centre.
There are two train lines to the airport called P and I which operate the same service clockwise and anti-clockwise respectively. The "I" westbound service runs from the airport to Helsinki Central station in just over 30 minutes while the eastbound "P" service makes the journey in slightly less than 30 minutes.
So the "I" service is the quickest line to the airport while "P" is the quickest line from the airport (even though the difference is fairly small).
The airport station is quite impressive, located 45 metres below the surface with several escalators (or lifts, for passengers with luggage) and corridors to reach the terminals. The main entrance and exit to the station is located right between terminal 1 and terminal 2 on the arrivals level and it takes less than five minutes from the station platform to reach the check-in desks.