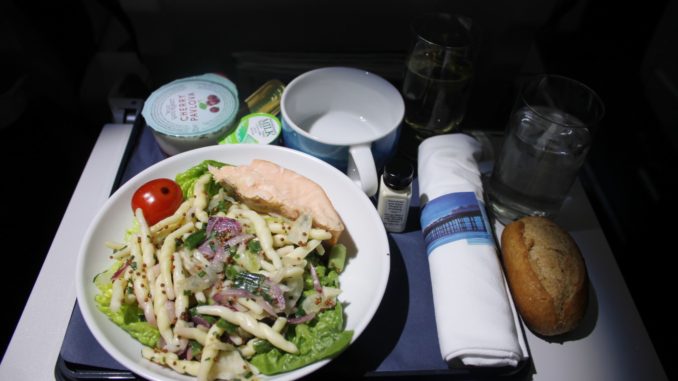 Although I travel a fair bit to and from London nearly all my flights are from Heathrow airport. This was my first visit to Gatwick for many years and I was looking forward to try the British Airways ground services and lounges available at Gatwick airport.
Departure experience
British Airways use the north terminal at London Gatwick. If you arrive by train from central London, for example on the Gatwick Express from Victoria Station, you arrive at the south terminal an need to take an automatic train to reach the north terminal.
I found the British Airways check-in area in the southern part of the north terminal. Although it feels rather modest compared to the huge terminal 5 at Heathrow airport it does have all the components of a hub, including baggage drop counters, economy class check-in and a priority check-in area, even with a proper first class check-in area with comfortable armchairs. So far so good. As a gold card holder I could have used the first class check-in area but as I was only travelling with hand luggage I checked in using a machine.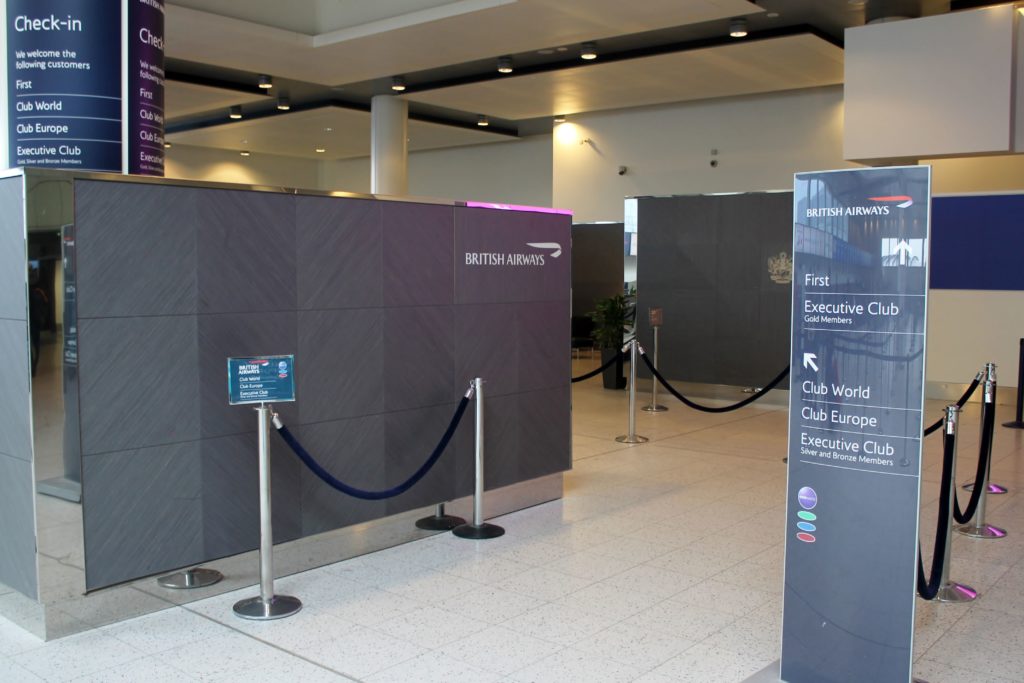 There is a fast track channel through security in the north terminal called 'Premium Gatwick'. It is not exclusive to British Airways but other premium passengers have access to it. There were only a handful passengers in line so it all went very quickly.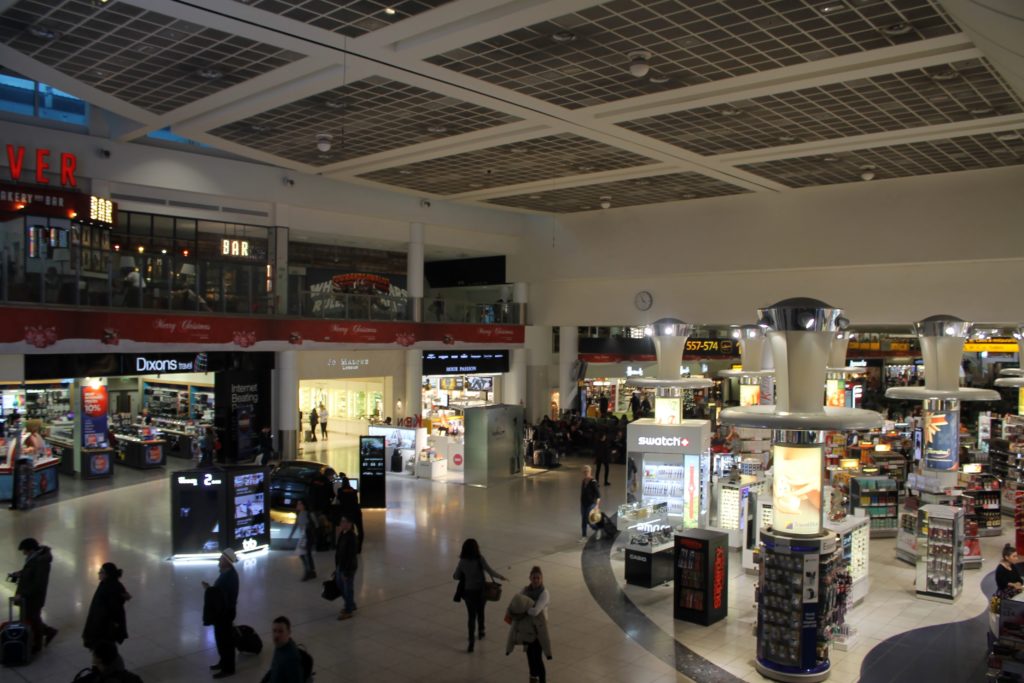 British Airways operate two lounges at London Gatwick – a business class lounge and a first class lounge. The lounges will close in January 2016 for refurbishment and during the rest of 2016 passengers will use the No 1 Lounge instead until the new British Airways lounges open in the south terminal.
First stop was the British Airways first class lounge. The lounge is quite small and the interior rather old and worn, a far cry from the excellent Galleries First lounges at Heathrow. But the lounge is due to close very soon anyway. The first class lounge also closes already at 3 pm, which is due to the fact that there are no flights with a first class cabin after that time. In the late afternoon and in the evenings all passengers (including Emeralds and BA Gold cardholders) are directed to the business lounge located opposite the first class lounge.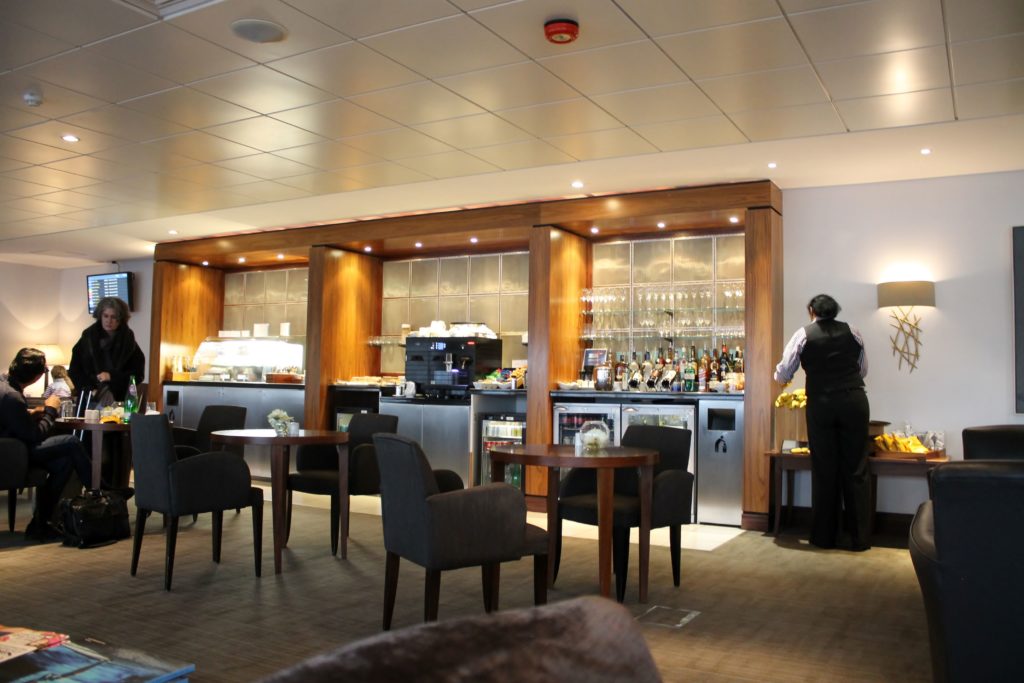 The food offerings in the lounge were limited to sandwiches, different types of pies, salads, snacks and cakes for dessert. In the morning they have hot food for order but in the afternoon there is nothing hot to eat. The offerings were actually rather disappointing for a first class lounge. But the drinks selection was at least a bit better, although not exceptional, but it did have some premium red and white wines, white and pick Taittinger champagne for self service, and not to forget, Johnnie Walker Blue Label.
Read the full lounge review here!
The business lounge opposite the first class lounge called Terraces Lounge (not Galleries Club, as it still has the old lounge concept) was significantly larger and while the first class lounge was nearly full this lounge was almost empty. The interior had the old style Terraces Lounge concept, which is actually not bad. It does make you feel like you are about to go on holiday. It also felt less worn than the first class lounge.
The food offerings were virtually the same as in the first class lounge with sandwiches and cold snacks to eat. There was also a self service bar with a very extensive selection of spirits, but without the premium brands.
Read the full lounge review here!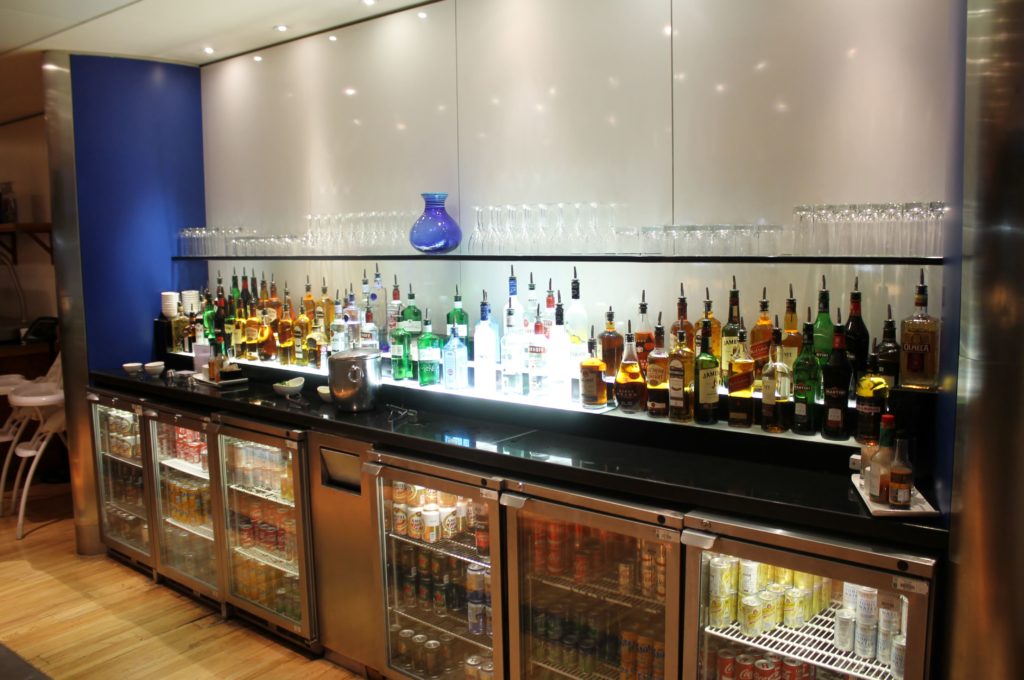 The last lounge visit was the No 1 Traveller Lounge, which will be used by all British Airways passengers during 2016. All lounges in the north terminal are located in the same area, on four different floors, so it is very easy to do some lounge hopping.
The No 1 Traveller Lounge is large and spacious with a bright design and has a nice apron view. The interior is not very different from the one at Heathrow terminal 3. The concept is also familiar with some food for self service, some drinks served for free at the bar while some premium brands are available at a fee.
Read the full lounge review here!
Boarding started 30 minutes before departure at gate 567. I was booked to fly in economy class on a cheap hand baggage only ticket, but at the gate a pleasant surprise was waiting, the flight was full and I had been upgraded to business class. The gate agent exchanged my boarding pass with seat 06D for a new business class one indicating seat 02C.
After the podium newspapers were available to all passengers from a rack.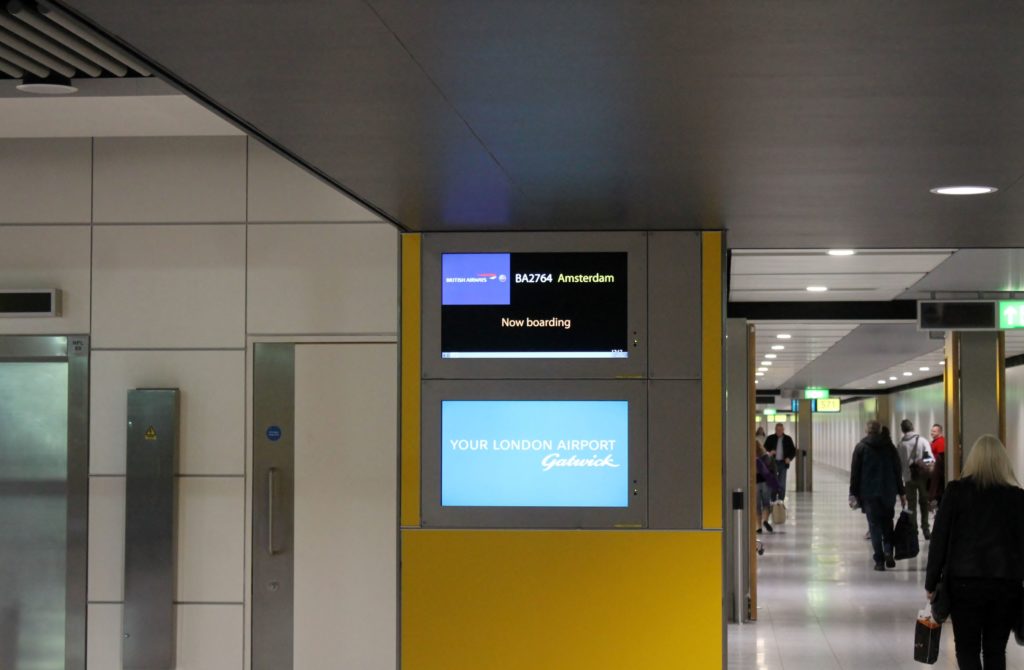 The flight
London Gatwick-Amsterdam Schiphol
British Airways flight BA 2764
Departure: 17.40
Arrival: 19.55
Business Class
Airbus A319
Seat 02C

First impression
The Airbus A319 did not have the new cabin design but rather an older one, which I did not mind at all. The seats were thicker and more comfortable and there was more legroom. There are definitely pros and cons of the new cabin design.
There were three rows of business class with only five passengers. As usual the middle seats were kept empty and a grey cocktail table had been installed. I was seated in 02C with a man in 02A. I could have moved to an empty row but it was only a short flight anyway.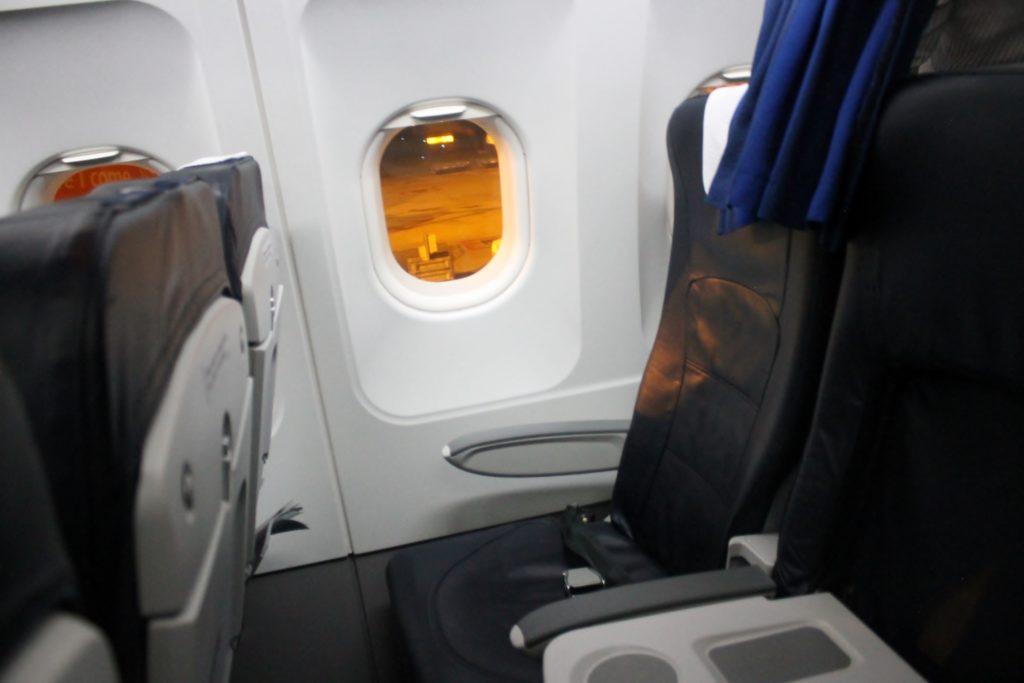 After boarding had been completed the purser came to greet me, welcoming me onboard again, asking me if I had a good day and if there was anything he could do for me. No other passenger in business class was addressed so this was surely because of my gold card. A terrific initiative that happens all too rarely on British Airways nowadays and a wonderful start of the flight.
Punctual pushback from the gate with an expected flight time of 50 minutes to Amsterdam.
Food and drinks
When the seatbelt sign had been switched off the meal trays were handed out. The dinner to Amsterdam consisted of a pasta salad with salmon and vegetables and a cherry pavlova for dessert. Bread rolls were offered from a tray followed by drinks. I asked for a bottle of champagne and a glass of water.

Later on more bread was offered as well as more drinks. I declined more champagne but asked for a Baileys with ice with the coffee.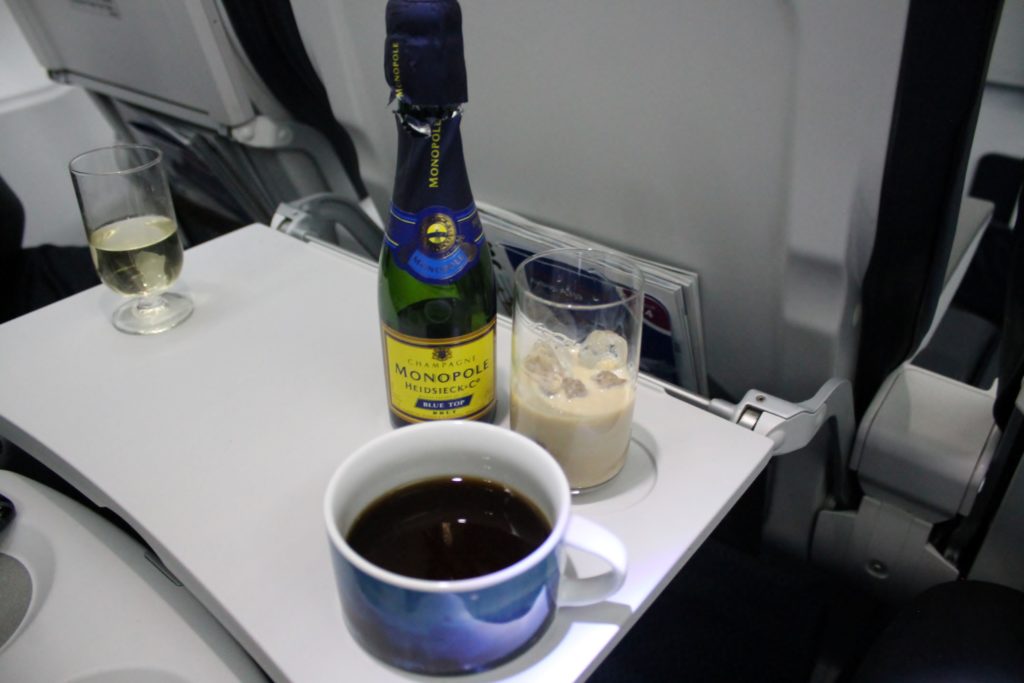 The service
Purser Keith did a fantastic job. I was well looking after all the way from boarding to disembarkation and even though the flight time was short nothing was too much trouble. The service was perfect and absolutely flawless. It is quite incredible how a shorthaul flight of less than an hour sometimes can be better and more memorable than a longhaul flight lasting 9-10 hours.

Arrival experience
We landed right on time at Amsterdam Schiphol, on the infamous Polderbaan with a ten minutes taxi to the gate. Purser Keith bid a friendly farewell and with no line at passport control I was quickly on my way to the hotel.

Final impression
A very nice flight and I certainly cannot complain about the upgrade. It is not often you get any recognition onboard British Airways nowadays, but this flight just proved they do know how to do it properly. If they could only provide this level of service every time.