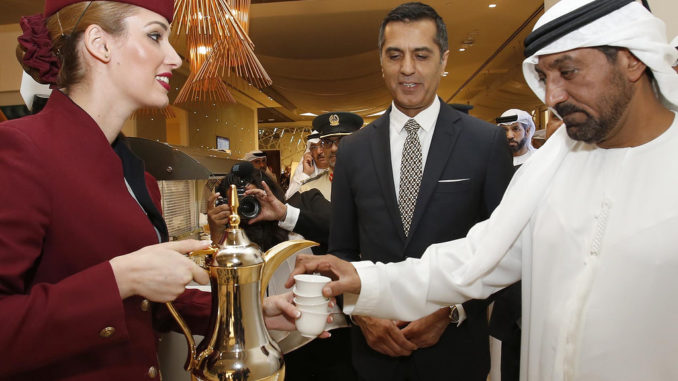 On 27 April Qatar Airways formally inaugurated its new lounge in the new Concourse D at Dubai airport. For the first time Qatar Airways now operates its own lounge in Dubai, which subsequently becomes the third airport in the world with a Qatar Airways l0unge after Doha and London Heathrow.
The new Premium Lounge is located in Concourse D, in the lounge corridor on the first floor near gate 15. It is available to Qatar Airways first class and business class passengers as well as Gold and Platinum members of Qatar Airways Privilege Club. As per OneWorld rules the lounge should also be available to first class and business class passengers travelling on other OneWorld airlines and most likely also to OneWorld Sapphire and Emerald passengers. This in contrast to the other Qatar Airways lounges in Doha and London which are limited to first and business class passengers while gold and platinum cardholders are directed to other lounges.
The lounge design is very similar to the Qatar Airways Premium Lounge in London with an oriental design decorated with artistic Arabic calligraphy, Mediterranean-style tiles and calming water fountains.
The lounge features a restaurant serving international cuisine, showers, private family zones and several seating areas.
The lounge was officially inaugurated by Qatar Airways Group Chief Executive, His Excellency Mr. Akbar, who welcomed His Highness Sheikh Ahmed bin Saeed Al Maktoum, Chairman of Dubai Airports, President of the Dubai Civil Aviation Authority, Chairman and CEO of Emirates Group.