In April 2015 SAS opened its first cafe lounge, a new lounge concept offered at regional airports in Scandinavia where the passenger numbers are too small to justify a proper full-service lounge, but where a large number of the passengers using the airport are frequent flyers. The very first cafe lounge to open was this one, in Trondheim in Norway.
Where is it?
The lounge is located in the domestic/Schengen transit hall close to gate 30. However it is also possible to visit the lounge when departing on non-Schengen flights before passing passport control.

How do I get in?
Passengers travelling in SAS Plus or holding a Widerøe Flex ticket get in. Access is also given to EuroBonus Gold and Diamond members as well as passengers with a Star Alliance Gold card travelling on SAS and Widerøe (and presumably other Star Alliance carriers, in case any others were to operate from the airport). 

What's it like?
The lounge is located at the very end of the transit hall. Access is given by scanning the boarding pass or swiping the frequent flyer card at a turnstile, which opens after the ticket has been checked, however there is usually also a lounge attendant nearby to assist in case of any problems.

The lounge measures 100 square metres and is basically just one large room with different seating areas. A combination of bar tables, sofas and a long centre table. All seating areas have power sockets and USB-ports. The design follows the standard SAS lounge design with the signature circular lamps but differs in terms of seating.
The larger armchairs available at the major airports are not used as they take up a lot of space. Also the idea with the cafe lounges is that the guests should spend (and usually do spend) less time inside, in contrast to the larger airports where guests may spend a long time waiting for a connecting flight. Therefore less focus has been placed on traditional comfort.
Food and drinks
In the small self-service buffet fruits, light snacks, cookies, wheat buns and cinnamon rolls are offered as well as soft drinks, coffee and tea. Both the food selection and the drinks selection are rather limited, lacking for example some proper sandwiches and alcoholic beverages.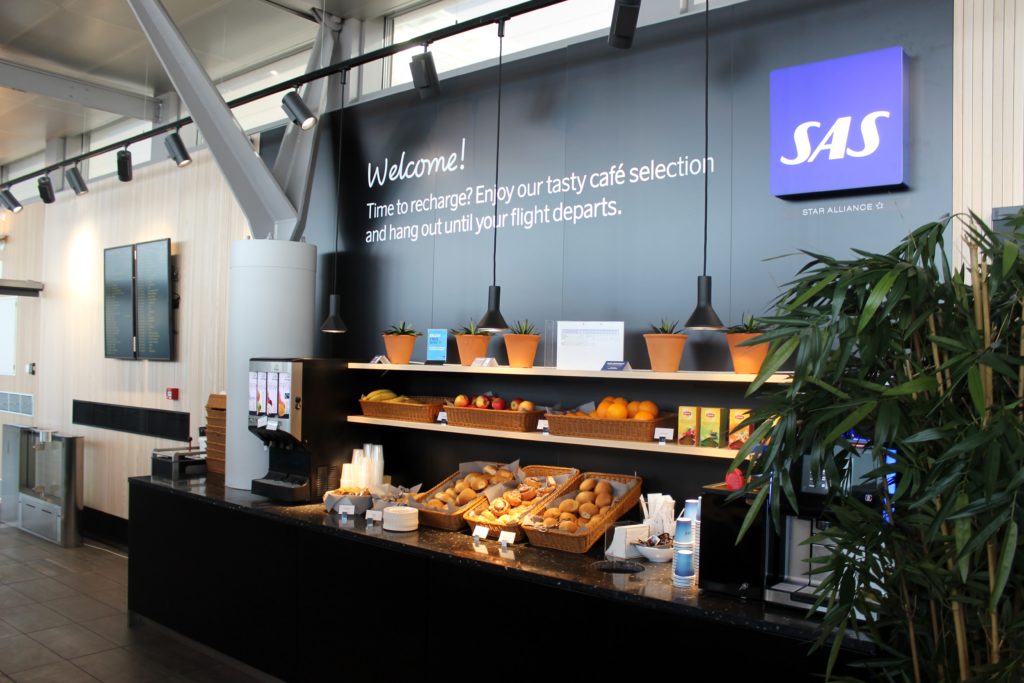 Facilities
Free wireless internet is offered, the password is available on signs throughout the lounge. Restrooms are located in the transit hall outside the lounge, but it is easy to leave and re-enter, however guests need to remember to bring their boarding passes, e-tickets or frequent flyer cards as the lounge may be unmanned.

Final impression
This is a small lounge at a regional airport and it is not comparable to the SAS lounges at the major Scandinavian and international airports. It lacks a decent food and drinks selection as well as facilities such as restrooms. However this was never the purpose with the lounge and given the fact that  there was nothing at all available for premium passengers in Trondheim just a year ago this is definitely a major improvement. The route Oslo-Trondheim is one of the most important ones in the SAS network with a large number of frequent travellers and being able to grab a coffee and get some work done while waiting for the flight is definitely appreciated.