Where is it?

The SAS Cafe Lounge is located airside in the transit hall between gate 3 and gate 5. After security control, continue straight ahead, past the large taxfree shop, and you will see the lounge in front of you to the left.
Most SAS flights to Stockholm leave from gate 3, which is a very short walk from the lounge when it is time for boarding.
How do I get in?

The lounge is accessible to passengers travelling in SAS Plus or holding a EuroBonus Gold or Diamond card, travelling on SAS the same day.
Most likely, being a Star Alliance lounge, passengers with a Star Alliance Gold card also have access when travelling on SAS. However as the lounge is unmanned during most of the day it will require having the gold card entered in the booking.
What's it like?

The lounge opened in February 2016 and follows the standard SAS Cafe Lounge concept. This means a smaller lounge with fewer facilities compared to the main SAS lounges at the major airports. The Cafe Lounges are mostly available at regional airports in the Nordics where there would not be enough space or where it would not be economically viable to operate a full-service lounge.
A Cafe Lounge is a place where premium passengers can have a seat, grab a coffee and check the e-mails while waiting for the flight but it is not the place to have a full meal, a shower or a nap.
The Cafe Lounge in Malmö measures 70 sqm. The entrance is through an automatic gate where passengers scan their boarding pass to enter the lounge. Therefore it is important the gold card (if not travelling in SAS Plus/Business) has been correctly entered in the booking as the lounge is unmanned during most of the day.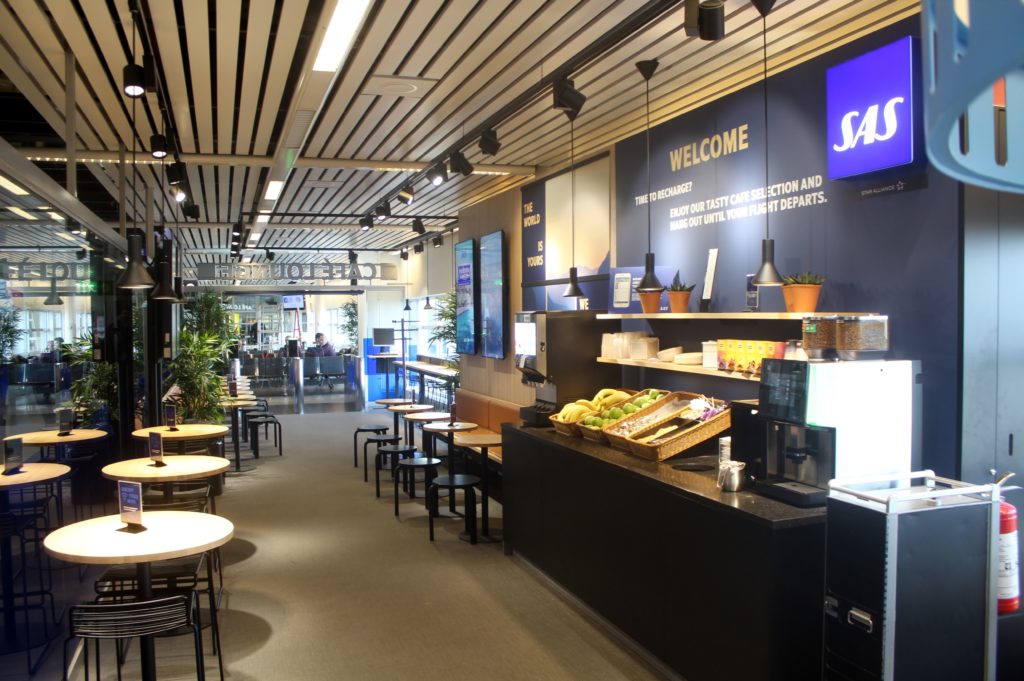 The design follows the standard SAS Cafe Lounge design in black, grey, beige and blue. There are sofas along the walls with small tables and also a few bar stools and bar tables.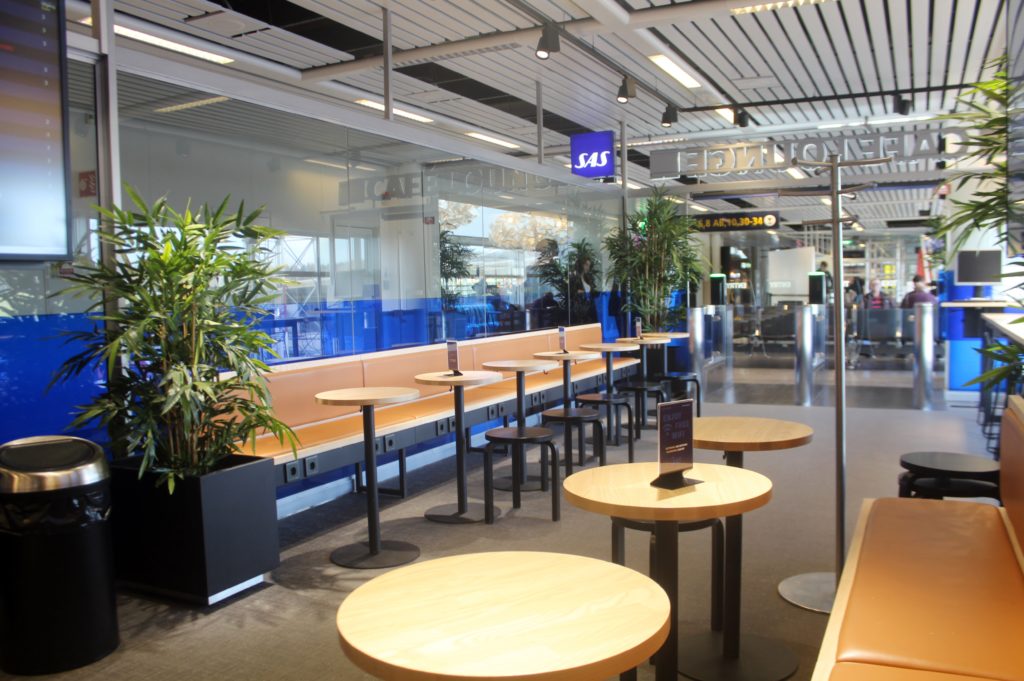 Food and drinks

The small buffet area is located right in the centre of the lounge and offers snacks and drinks for self service.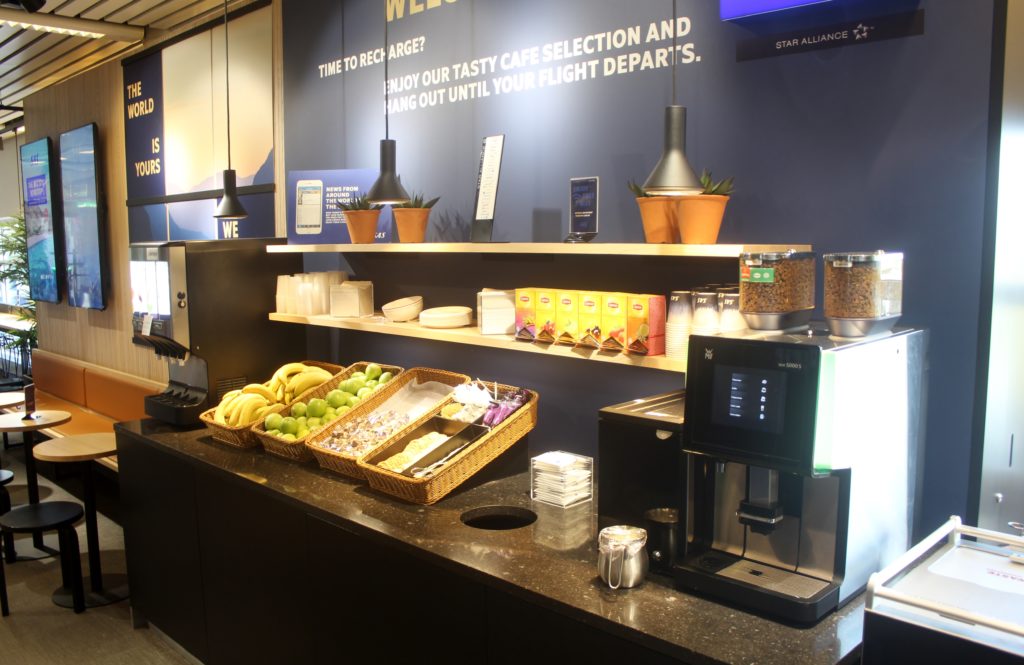 There are muffins, cinnamon rolls, different cookies and fresh fruits to eat. The drinks selection includes water, juices, coffee and tea. There is nothing substantial to eat, no sandwiches or cold cuts, and there are no alcoholic drinks.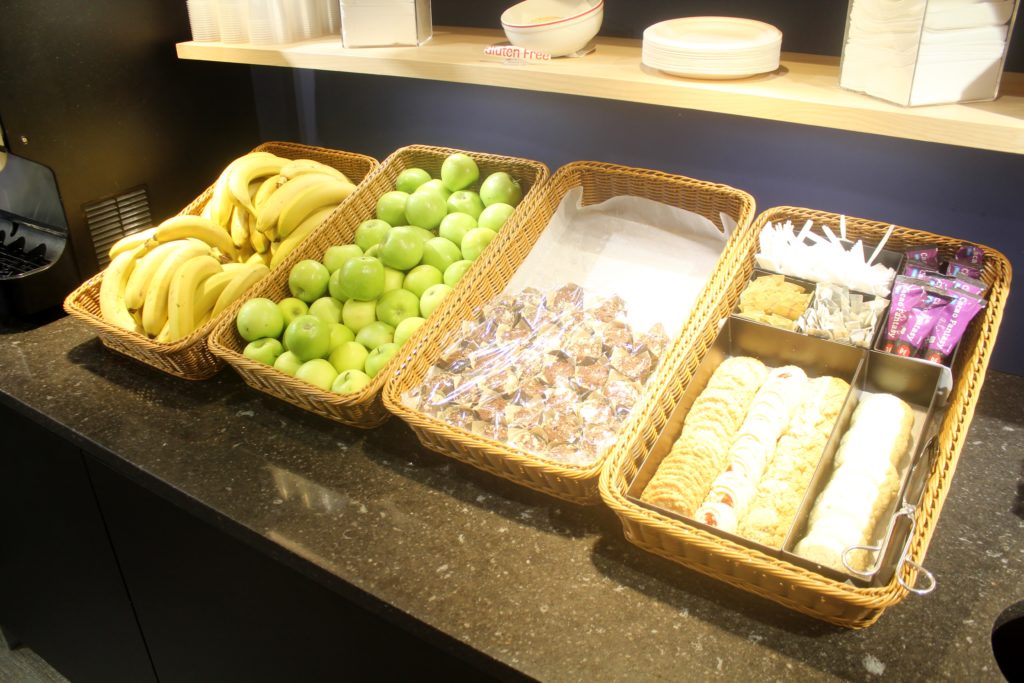 Facilities

Free wireless internet is available in the lounge and there are plenty of power and USB sockets.
There are no restrooms in the small lounge but the closest ones are right outside in the transit hall.
Final impression

This is a small lounge at a regional airport with mostly domestic flights. There is little to eat and drink and the facilities are limited. But it is still nice to see a lounge at a small regional airport like Malmö and there is a limited but good apron view.