Departure experience
I arrived in Amsterdam on a longhaul flight from Dubai. The whole non-Schengen setup has been completely changed now with a central transfer security checkpoint on the top floor of the terminal building, which all transit passengers have to pass before entering the transit hall. The only exception being passengers arriving from an EU destination (for example the United Kingdom) where the security requirements are the same and where there is no need to pass transfer security in Amsterdam.

The transfer security was virtually empty at 6 am but I was still happy to find a fast track channel for Sky Priority passengers, which includes business class passengers and those with a gold card (Skyteam Elite Plus). This can also be used for passengers with very short connections.
With the security control completed I followed the signs towards the Schengen transit area. Also at passport control there was a fast track channel but this morning they used it exclusively for passengers with short connections, but it turned out I was eligible anyway with a flight departing in less than one hour.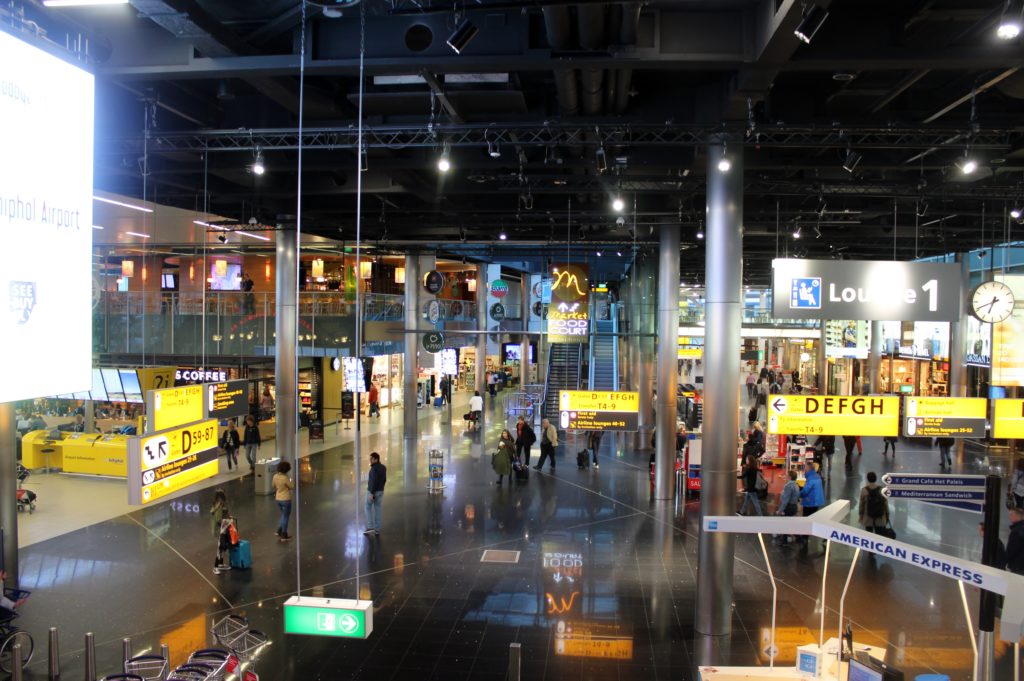 There was still time for a quick visit to the KLM Crown Lounge which was quite empty at 6.30 am, a huge difference compared to what it looks like later during the day. It is actually a rather stylish lounge when it is not too crowded.
The main self-service buffet has now been moved into the new area of the lounge where there is also a rather fun Heineken bar. The breakfast selection included bread rolls with ham and cheese, yoghurt, fruit salad and some hot items such as miniature pancakes. The old self-service buffet is now only used for drinks and snacks.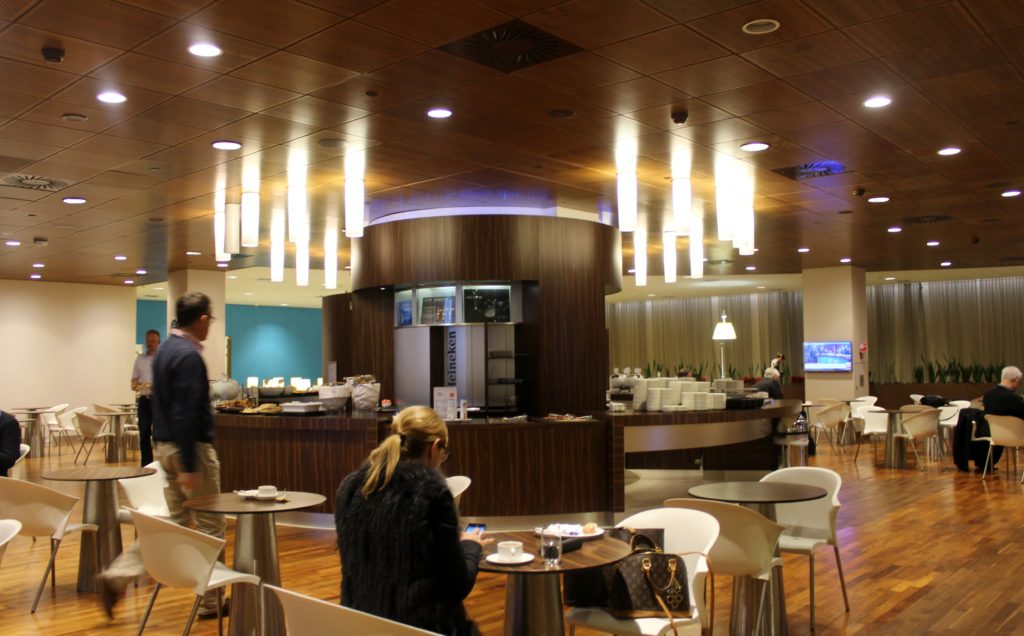 The flight
Amsterdam-Paris CDG
KLM flight KL 1227
Departure: 07.15
Arrival: 08.40
Business Class
Boeing 737
Seat 02F

The flight to Paris was departing from gate C5, next to another Paris-bound flight departing 40 minutes earlier. These gates have been used for some of my previous flights to Paris as well, so maybe this is standard procedure at Schiphol.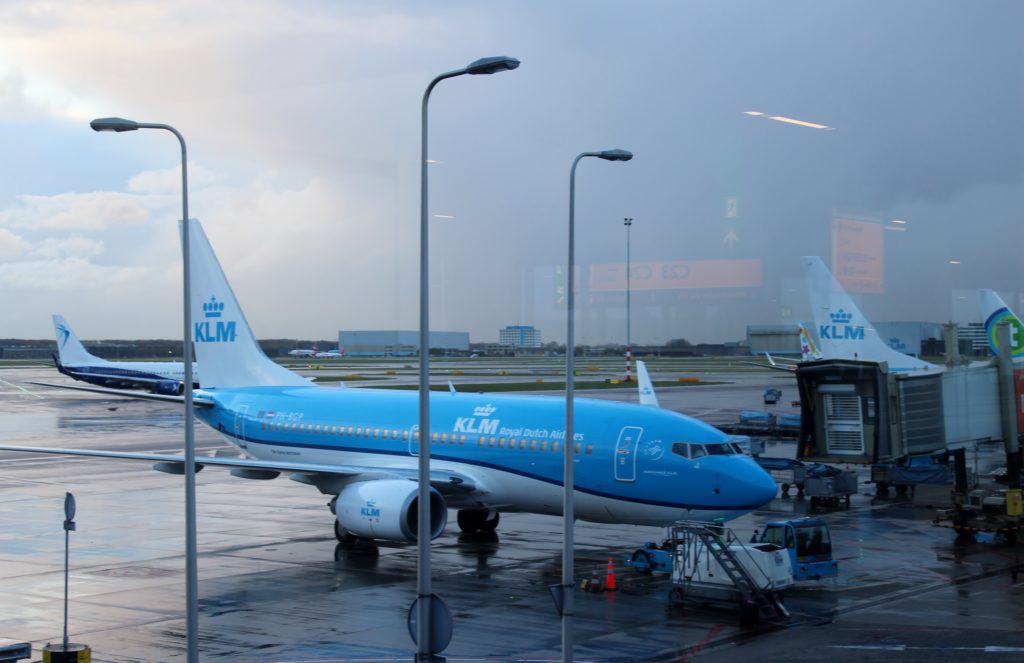 Boarding started already 35 minutes before departure time and was well underway when I reached the gate. Priority boarding was offered with the standard setup at Schiphol with a separate line next to the regular line, and whenever a priority passenger arrives they simply stop the general boarding and let that passenger pass before continuing. Although it is rarely fun to cut a line, even when allowed to do so, this setup works surprisingly well. Dutch, French and international newspapers were available from a stand at the aircraft door.
The flight turned out to be almost completely full in both classes, but due to the early start of the boarding most passengers were onboard well ahead of scheduled departure time. Unfortunately due to air traffic restrictions from the Eurocontrol in Brussels we were held at the gate for another 20 minutes before we were allowed to pushback, however due to a short flight time of only 45 minutes (the flight had a scheduled flight time of 1:25) we were to arrive ahead of timetable anyway.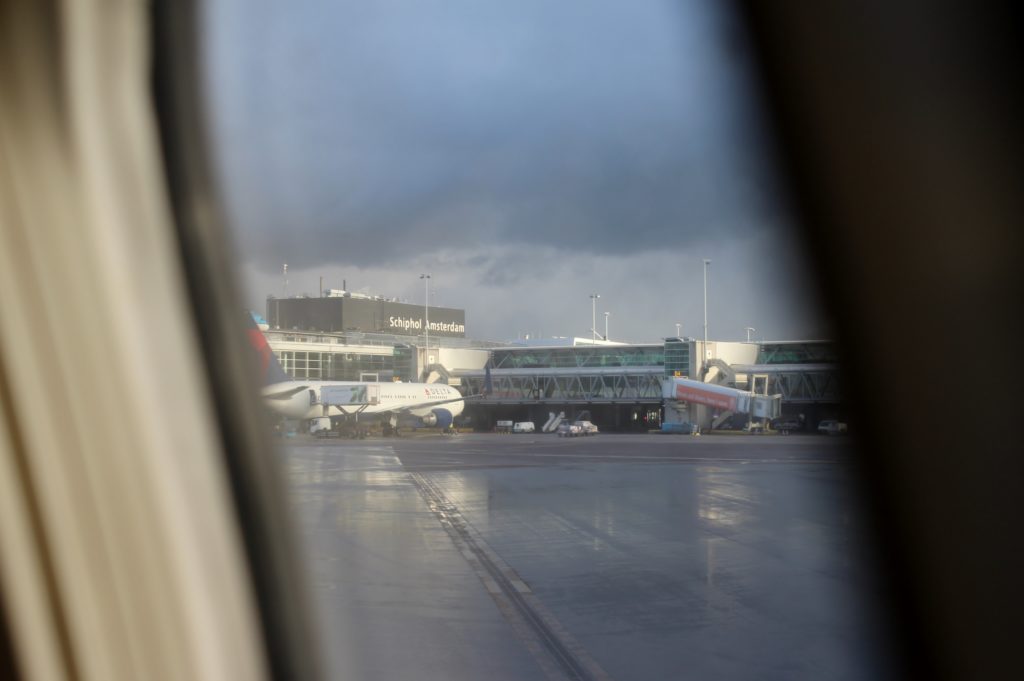 Seat and cabin
The flight was operated by a Boeing 737-700 with the standard European configuration with a six seats abreast in a 3-3 configuration but with a 2-2 configuration in business class with the middle seats blocked. On some aircrafts there is also sort of a cocktail table place above the middle seat, however this was not the case on this flight.

The seats were the standard blue ones with acceptable legroom for a 45 minutes flight. A very positive thing about KLM intra-Europe business class is that there are power sockets at the seats, which is a unique feature for KLM. As I was running out of battery power on my laptop I plugged it in as soon as the seatbelt sign had been switched off.
Food and drinks
The purser took care of the service in business class and started preparing the breakfast service even before the seatbelt sign had been switched off as she had a full cabin to take care of with a short flight time.

With a flight departure at 7.15 am breakfast was obviously served to Paris. A meal tray was handed out with some slices of ham and cheese, yoghurt, fruit salad and marmalade. Bread rolls and croissants were offered from a basket.
Coffee, tea, orange juice and water were also served by the purser from the trolley. Later refills were offered as well as some more bread. All-in-all this was a fully acceptable breakfast for a short flight, although something hot would of course have been a bonus.
The service
The service was very polite, friendly and attentive from the female purser and she was in a very happy and positive mood, which was nice for me who is usually very tired in the morning, and in particular after a night flight. The purser had to work hard to serve in a full cabin but the service never felt rushed and she never appeared to be stressed.

Arrival experience
With a very quick flight time we landed at Paris CDG 15 minutes ahead of timetable. KLM uses terminal 2F at Paris CDG, just like group partner airline Air France for most of their Schengen flights. I had a connecting flight from the same terminal and the transfer was very easy and straight-forward.

Final impression
A short flight of only 45 minutes but they still provided a decent inflight service with a nice breakfast service. Good priority boarding at Schiphol, punctual departure and early arrival in Paris. An extra thumbs up for providing power sockets in business class, which very few airlines to on shorthaul flights in Europe.