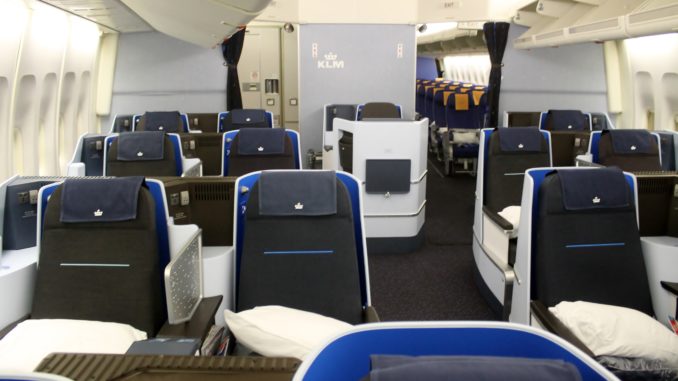 A review of the new KLM World Business Class product on the Boeing 747 in seat 01A, the best seat in the house for a single traveller. This flight was actually originally not planned but the result of some very strong winds at Amsterdam Schiphol and an involuntary rebooking as I missed my connecting flight. But it all turned out quite well anyway.
Departure experience

I arrived almost an hour late at Amsterdam Schiphol airport on a connecting flight. There were very strong winds in the Amsterdam area, they were so strong takeoffs and landings were considered unsafe unless taking off or landing in the almost exact direction of the wind and with a safe distance to the aircraft in front and behind. This of course meant plenty of delays and cancellations.
Already after landing when turning on my mobile phone there was an SMS from KLM informing me there had been a change in my itinerary. I was supposed to fly from Amsterdam to Paris and then on a Korean Air to Seoul. My flight to Paris was just about to leave and although there are flights between Amsterdam and Paris every hour the status of the next Paris flights was unknown.
In the terminal the departure boards were flashing red. Delays, cancellations, and many "please wait" and "new info soon". The line for the transfer desks stretched through most of the shopping area.
As I was travelling in business class I went to the KLM lounge instead. I was by no means the only affected passenger and they had a queue number system and were helping passengers in number order. But at least it meant I could have a seat and get a glass of wine while waiting.
It took nearly 20 minutes before it was my turn. I was assisted by a very friendly and helpful woman who seemed surprisingly calm. This was one of the days when you are incredibly happy to have lounge access. We both agreed there was no point trying to get me on a later flight to Paris in case that one would also be delayed or cancelled and I would miss my connection to Korea and get stucked in Paris. Instead I was rebooked onto the nonstop KLM flight to Seoul leaving at 9 pm. Of course they did not know for sure if that flight would really leave either, but at least it felt like a much better alternative.
I got a new boarding pass, gave the agent my baggage details and passed through passport control to spend the remaining five hours in the non-Schengen lounge instead which is larger. The non-Schengen lounge was also extremely busy when I arrived but it got a bit better later on as many stranded passengers probably decided to leave the airport.
The flight
Amsterdam Schiphol-Seoul Incheon
KLM flight KL 855
Departure: 21.35
Arrival: 14.40
Business Class
Boeing 747
Seat 01A

The flight was scheduled to leave at 9.35 pm. It was initially flagged as an hour late but at least the flight was operating as planned, which was certainly not the case for all flights in the evening. Many flights were cancelled, both longhaul and shorthaul.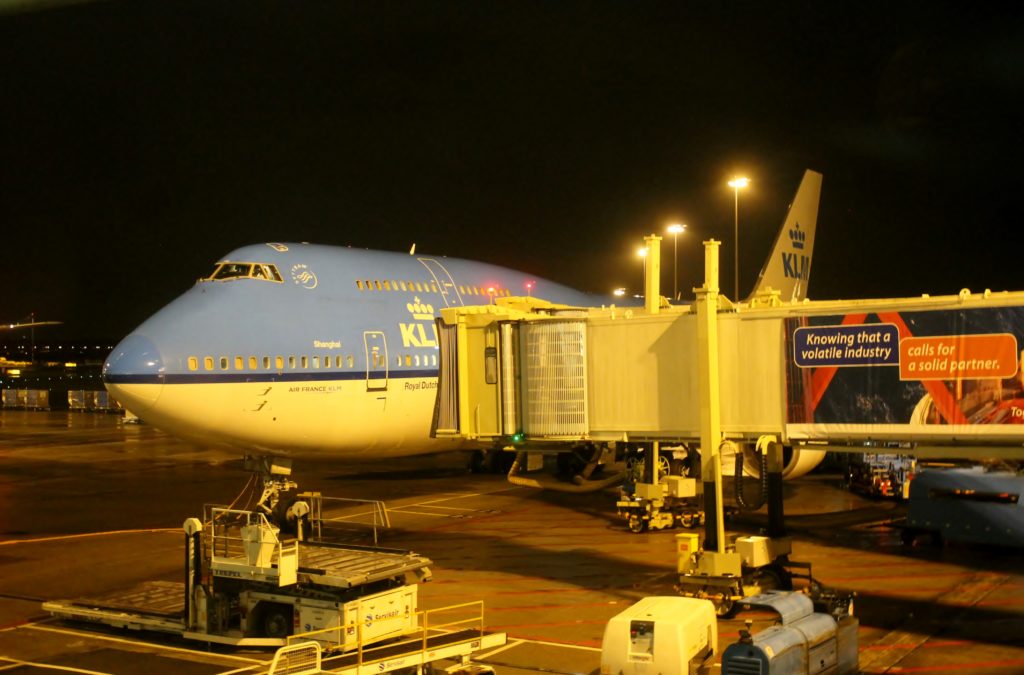 First impression

Boarding started just before 10 pm, 25 minutes behind scheduled departure time. After having spent over six hours at the airport I was very lucky to finally be onboard an aircraft.
Proper priority boarding was offered at the gate for Sky Priority passengers including business class and Skyteam Elite Plus using a dedicated lane.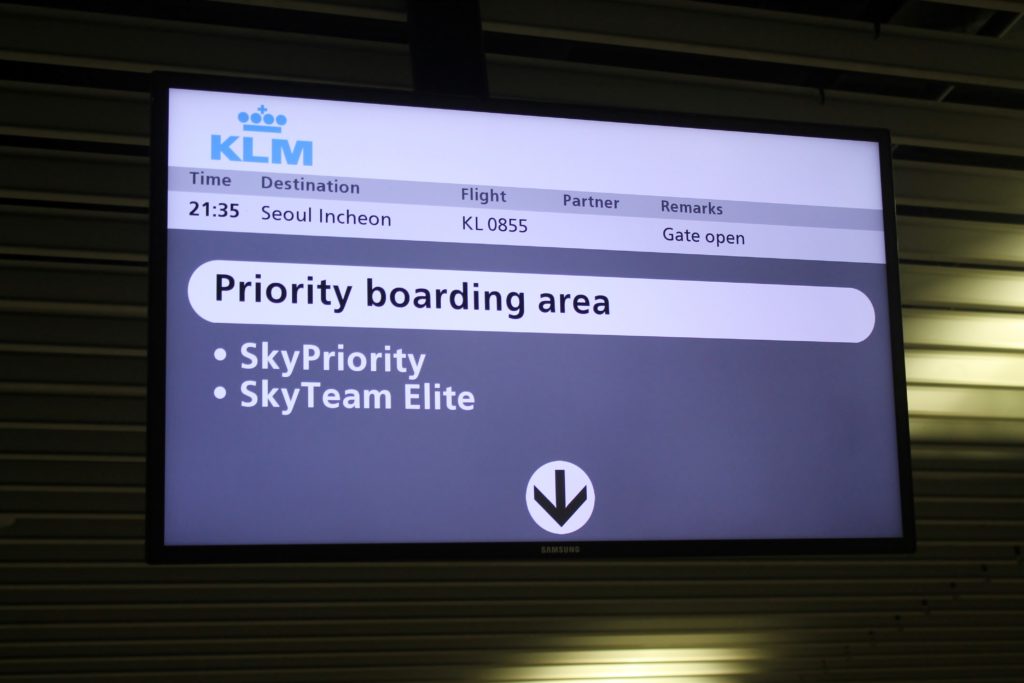 In the lounge I had asked the lady if the rebooking meant I was to fly on an aircraft with the new World Business Class cabin and after looking in the system she confirmed that was indeed the case. She had also given me seat 01A, one of the best seats on the aircraft at the very front of the cabin.
Boarding was done through door number 2 and after passing through the small premium economy cabin I made it into business class and my seat 01A. The cabin gave an excellent first impression. KLM was really starting to lack behind with its longhaul business class product and this was a much needed upgrade.
A flight attendant came to greet me, offered to take my jacket and then offered me a pre-departure beverage. Newspapers and magazines were also offered as well as an amenity kit and later also the menu and the breakfast card.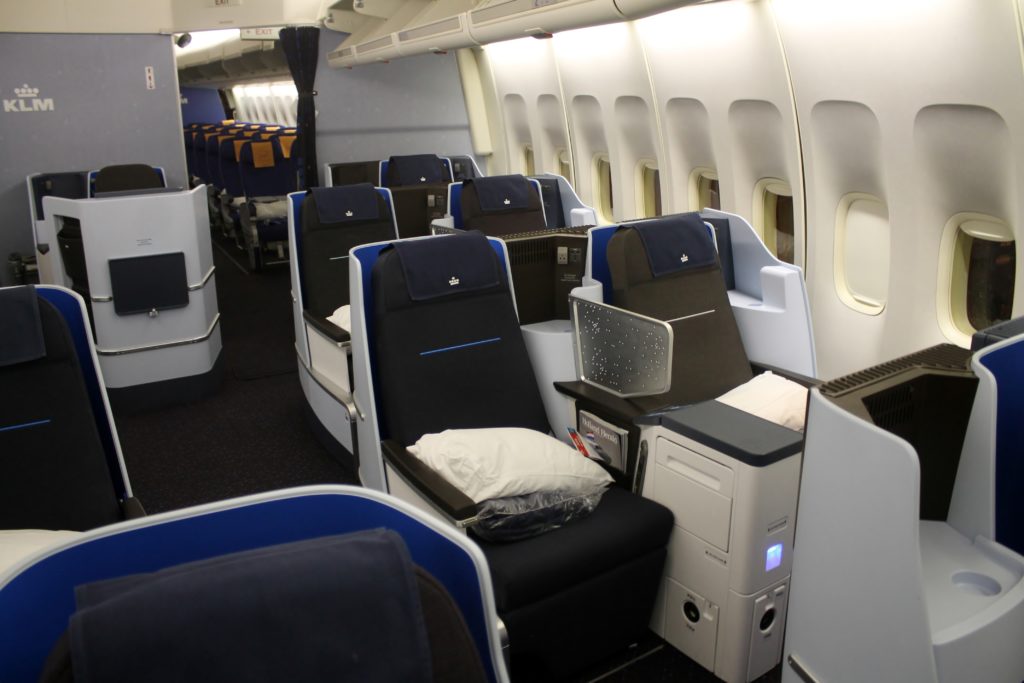 However the bad weather continued. The wind was so strong only one runway was in use for both departures and arrivals, the only runway facing the wind. The captain made frequent announcements in the cabin giving us updates about the airport and the weather situation. He managed the situation brilliantly even though there was not much he could do about the airport restrictions.
For half an hour there were also flashes around the airport which meant the ground staff had to stop their work on the apron for their personal safety. The winds were so strong you could feel the whole Boeing 747 shaking, moving from side to side. It was almost surreal for such a large and heavy aircraft.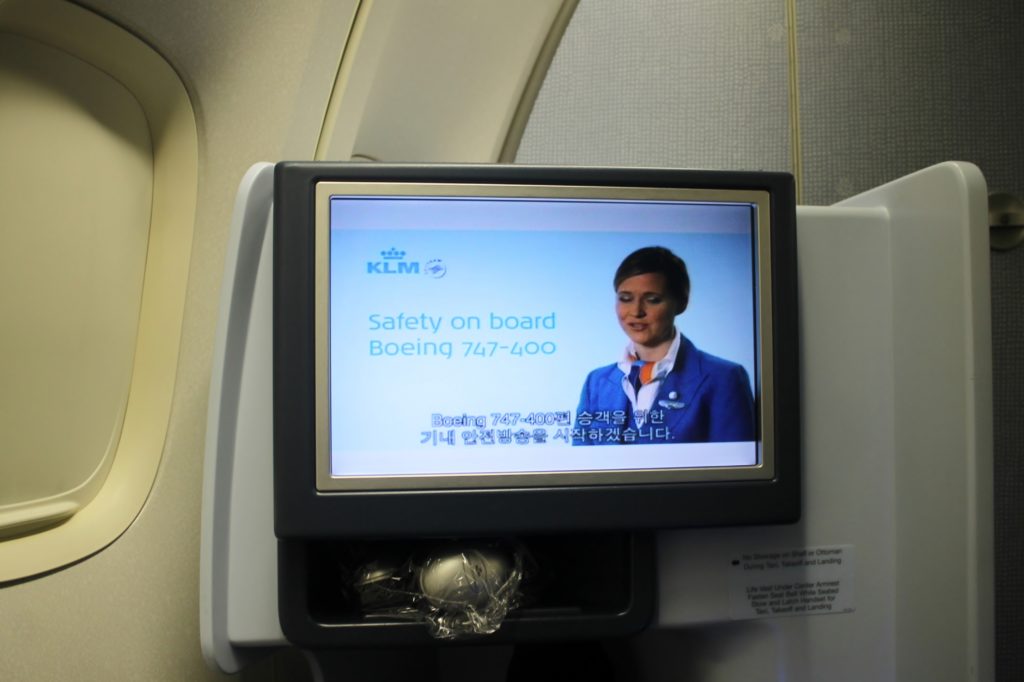 As it became clear nothing would happen for at least an hour the cabin crew started serving drinks in the cabin together with some nuts, including wines and cocktails from the bar. I had some more champagne to drink and had plenty of time for a refill.
Eventually, just before midnight, the captain informed us we were finally given clearance for pushback. Finally I was goint to leave Schiphol after nearly eight hours, and so we did a few minutes later with a very bumpy takeoff roll and plenty of engine power needed for the lift. Certainly not the smoothest takeoff experience of my life.
Seat and cabin

In the new KLM World Business Class on the Boeing 747 the seats are divided into two different cabins. 15 seats in the nose on the lower floor and 20 seats on the upper floor, which means 35 seats in total. The Boeing 747 also has a small premium economy (Economy Comfort) cabin between door 1 and 2, beside the large galley with a 3-2 configuration. The rest of the aircraft and the main floor is used for economy class with 337 seats in a 3-4-3 configuration.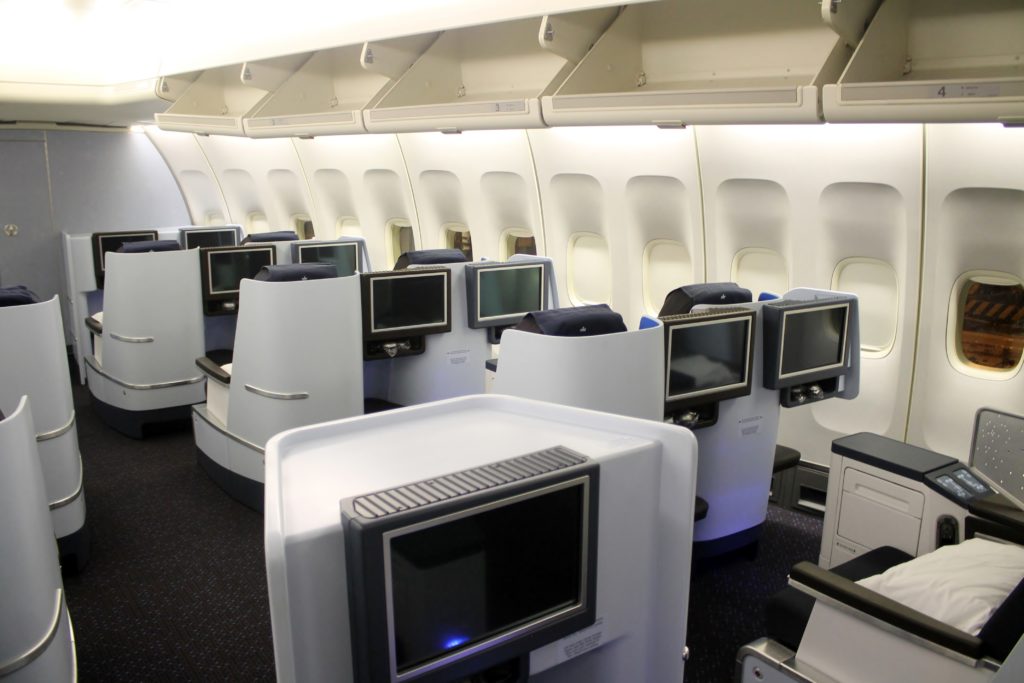 The new business class longhaul seat was a very nice experience, especially compared to the old products which were starting to feel very old. For the first time the business class seat now becomes fully flat. The cabin also has a new design with five colours – aubergine, dark brown, night blue, cobalt, and dark grey.
In the nose of the cabin there is a wide range of seating options with both seats for single travellers and seats for two passengers travelling together and also a mix of very private seats and those overlooking thecabin. The configuration is a mix of 1-2 and 2-2.
The best seats are the ones on the first row. 01A is easily the best one if you travel alone as you have no one in front of you, no one beside you and the nearest seat on the opposite side of the aisle is about two metres away. You will really not be disturb by anyone as you will have no passengers passing. If travelling with a companion then 01J and 01K are the best options, for the same reasons.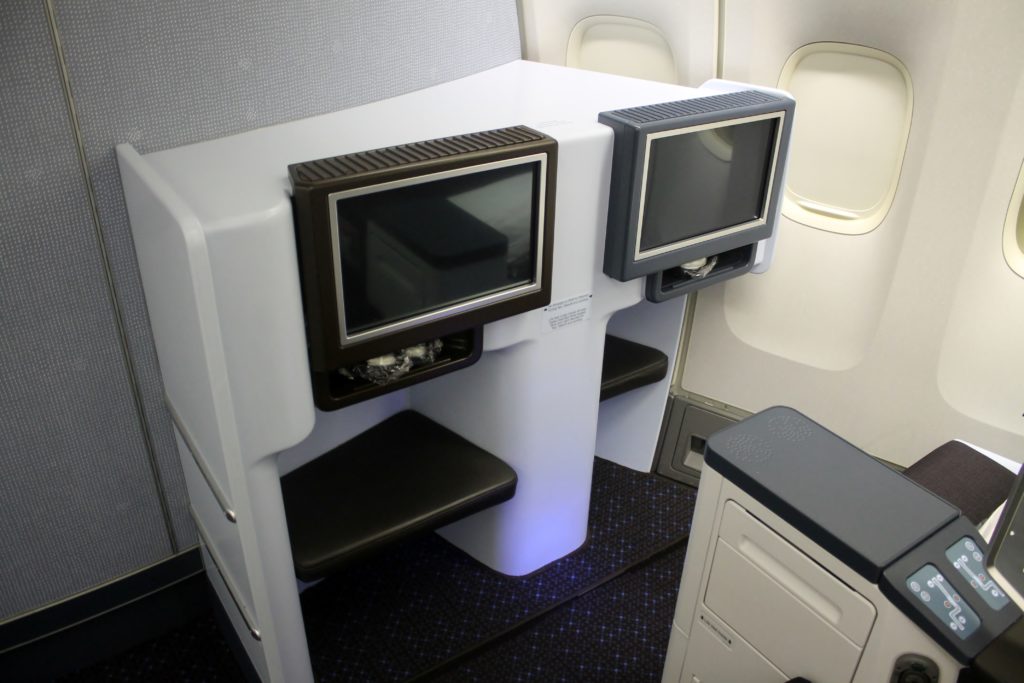 The cabin also has the odd single seat 04E which is located right in the middle of the cabin. Some people may actually like having this unusual seat, with a perfect overview of the cabin and the close proximity to the lavatories and the exit, but it is by far the least private seat in the cabin.
The seat has a seat pitch of 63 inches and becomes fully flat when reclined to a bed measuring 80 inches (203 cm).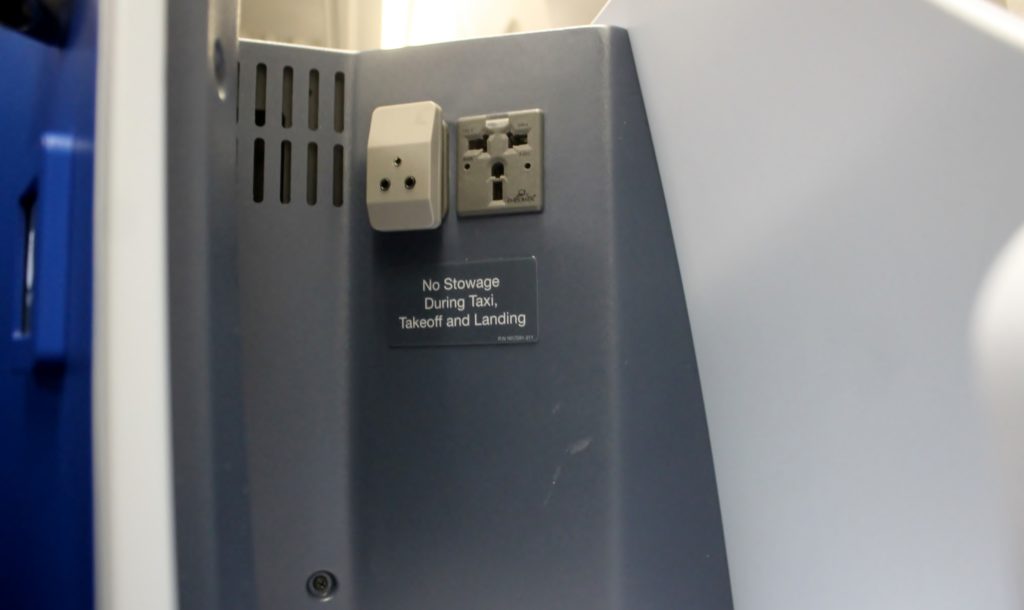 Right behind the seat there is a holder for a bottle of water and a small shelf for personal belongings and there is also a power socket. The seat control is available on the armrest and is very straight-forward to use with eight buttons.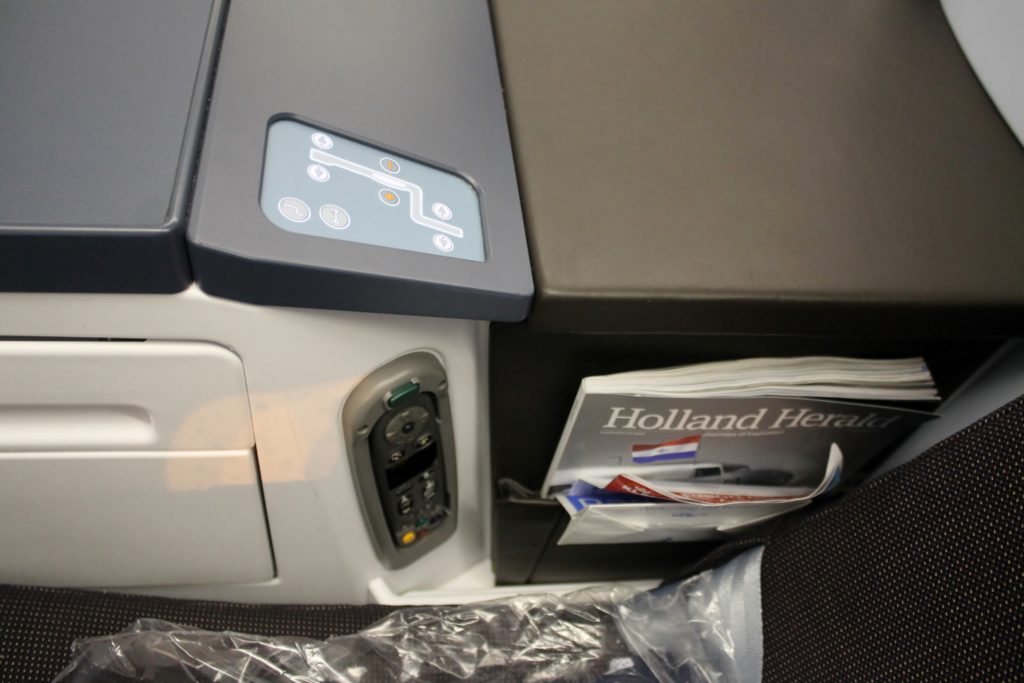 Food and drinks

Dinner was supposed to be served after departure from Amsterdam, which normally would have meant around 10 pm. However, as we departed after midnight many passengers decided to skip the dinner as it was simply too late for a full meal and they wanted to go straight to bed.
I was not particularly hungry either and it was indeed a bit strange to have a full dinner after midnight, but I really wanted to give the food a try.
The flight attendant did an excellent job to handle this odd situation, which was obviously quite unusual for the crew as well. Food and drinks orders were taken on the ground and once in the air the service was quicker than it usually is. The full dinner service on KLM usually takes between two hours and two hours and 30 minutes. On this flight the full dinner service was completed in just about an hour. It was efficient but not rushed. Of course the fact that many passengers decided to skip the dinner made the job far easier for the crew.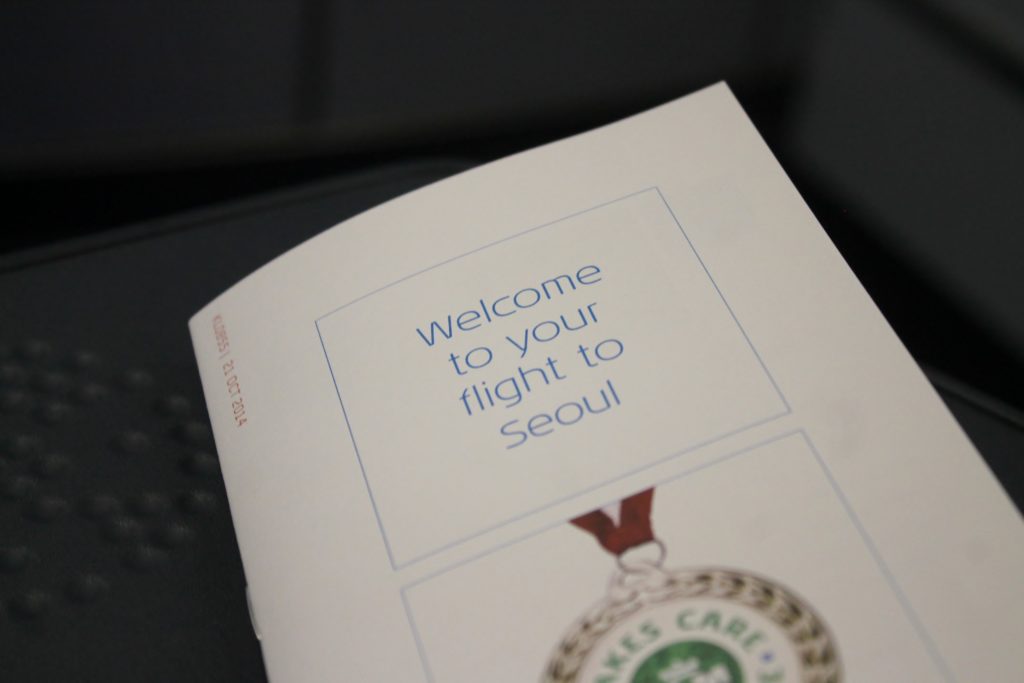 A fun thing is that the menu indicates the destination of the flight, so for the menu on this flight it said "Welcome to your flight to Seoul".
The meal service started with an appetiser with two choices. Smoked salmon tartare with cream of coconut and red chilis and a lime jelly, or a yellow pepper soup. Salmon seems to be a fairly common appetiser on KLM, I have had it several times in the past, usually with some rather tasty flavours.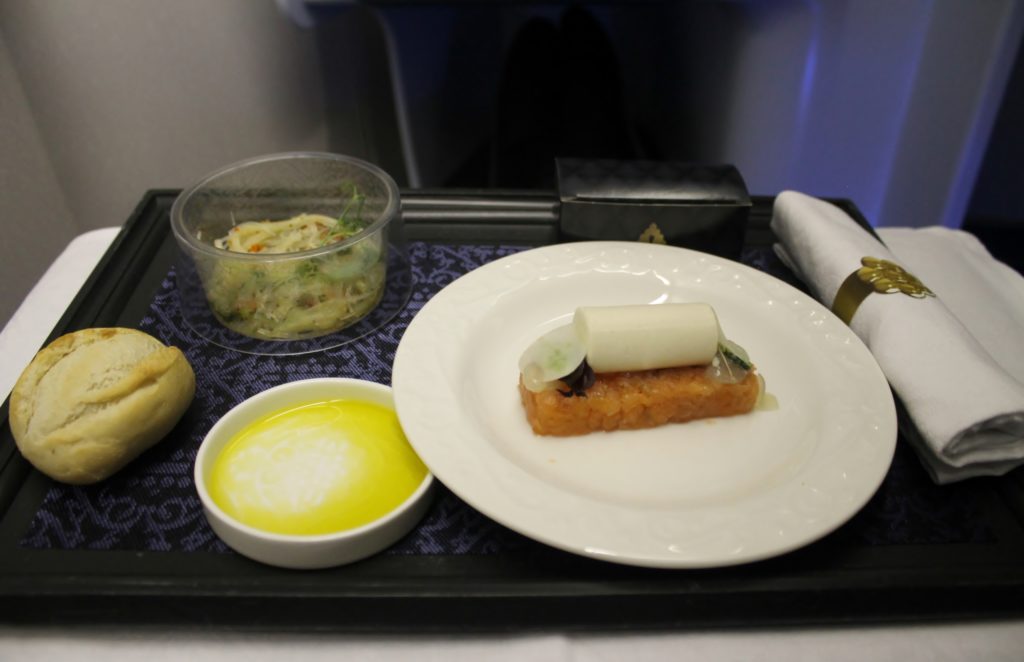 I asked for the salmon which was served on a tray together with a Thai papaya salad with daikon cress and cashew nuts.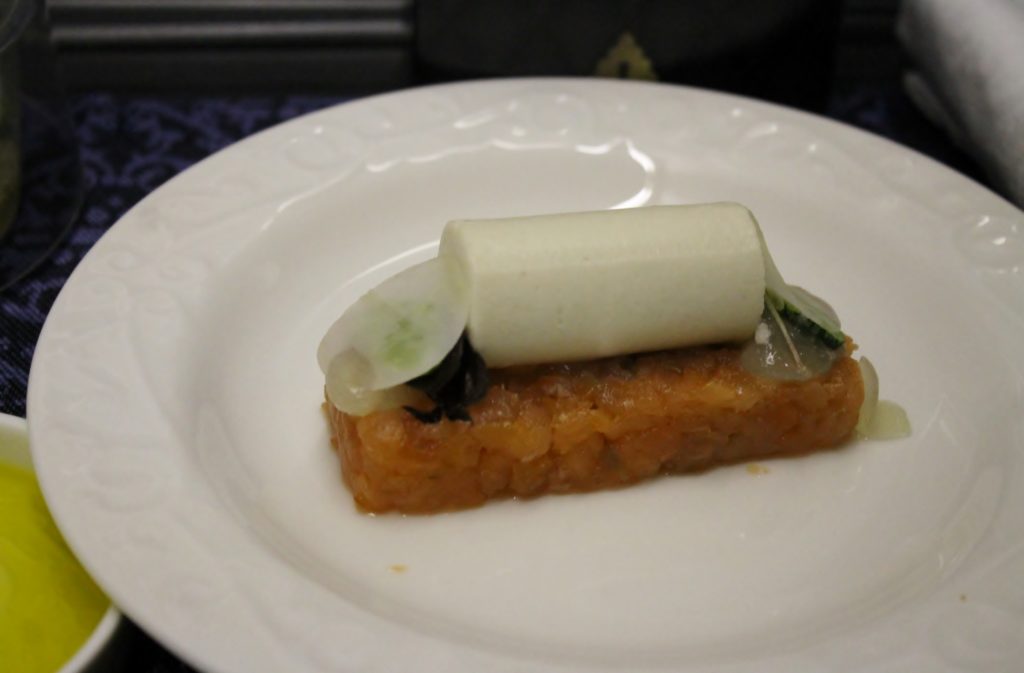 I also asked for a glass of wine to drink. They had three white wines, two red wines, champagne (Nicolas Feuillatte), dessert wine (from Chile) and two different port wines. I decided to try the South African white wine, De Verdwaalde Boer, Sauvignon Blanc 2013.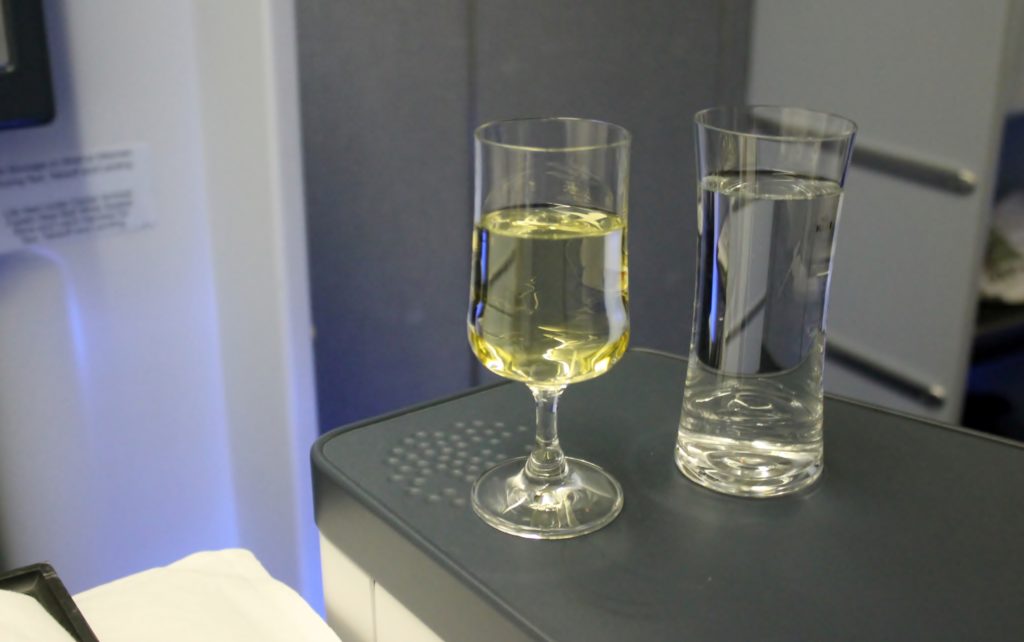 There were three choices of main course, two western options and one Asian option. The two western ones were Fish Tajine with pan-fried fillet of plaice with harissa, couscous, pickled red onions, chickpeas and olives, or a spinach and ricotta cannelloni topped with a cheese sauce and tomato compote, served with roasted courgette and olives.
Finally the Asian option was a beef bibimbap with Korean spinach, daikon, carrots, bean sprouts, shiitake, courgette, rice and a fried egg. And if you wanted it spicier they had hot pepper paste available. This is one of the most common and popular dishes in Korea and a signature dish if flying on fellow Skyteam carrier Korean Air.
I went for the cannelloni this time, which was very tasty. And a glass of red wine to drink this time, also a South African one called Aaldering Lady M Pinotage 2013 from Stellenbosch.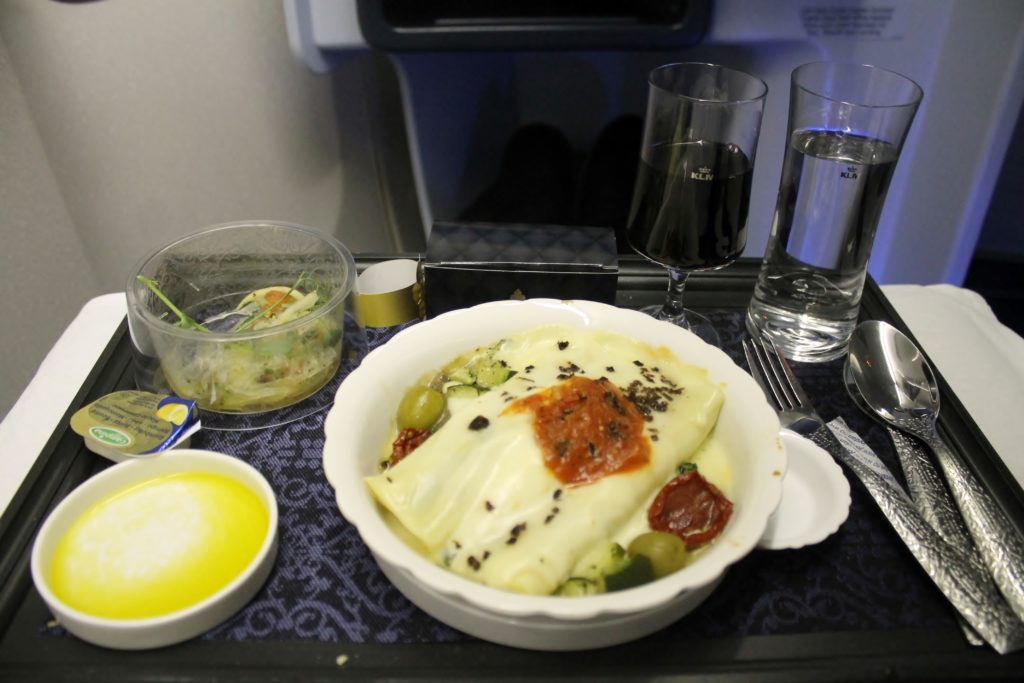 Finally the dessert cart passed through the cabin offering blood orange and raspberry mousse, chocolate cake with pecan nuts, a cheese plate with Moulin Bleu and Reypenaer and seasonal fruit.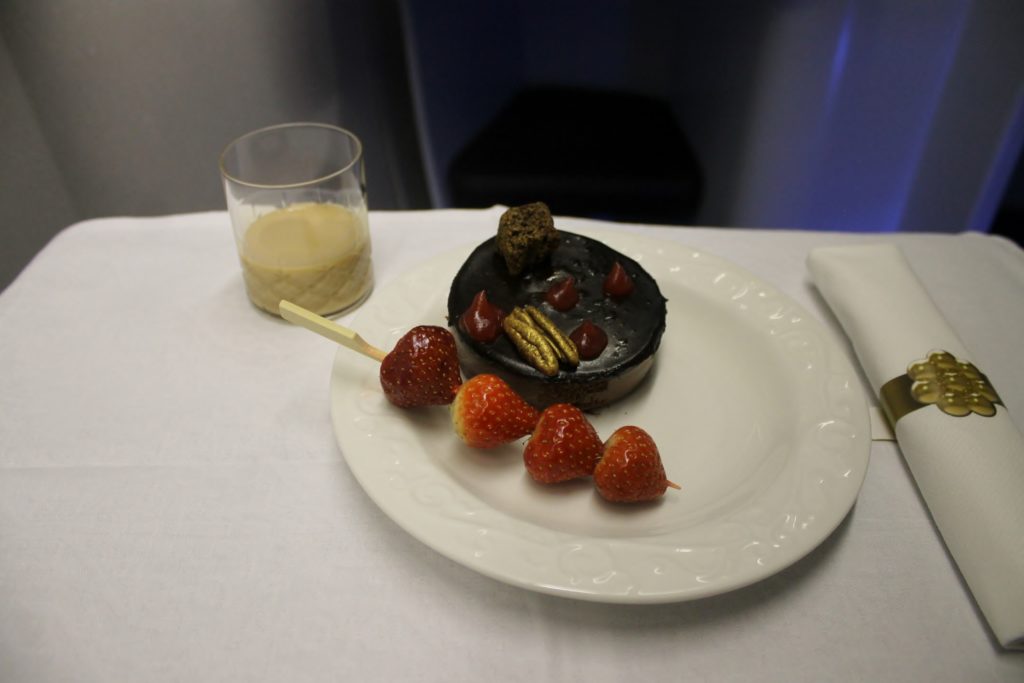 I tried the chocolate cake and asked for some strawberries but declined the cheese. They also had coffee and tea but it was way too late for that, however I accepted a glass of Baileys to drink with the dessert.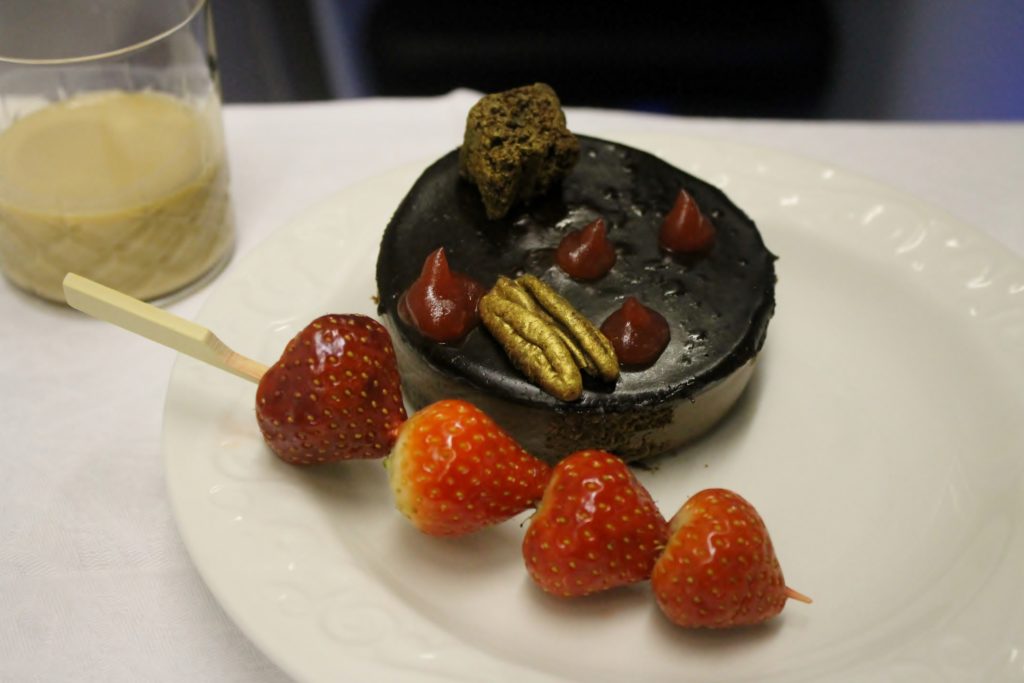 I really have to give the crew some credit for a perfect meal service with a perfect coordination for the very late departure. The food itself was also good, as it usually is on KLM longhaul flights in business class.
Inflight entertainment
The aircraft also had the newest inflight entertainment system which was AVOD (Audio Video On-Demand) with all kinds of movies, tv-series, documentaries, games and music albums. The screen quality was quite good measuring 17 inches. Noise-cancelling headphones were available in business class.
Due to the very late departure there was little time to enjoy the system properly.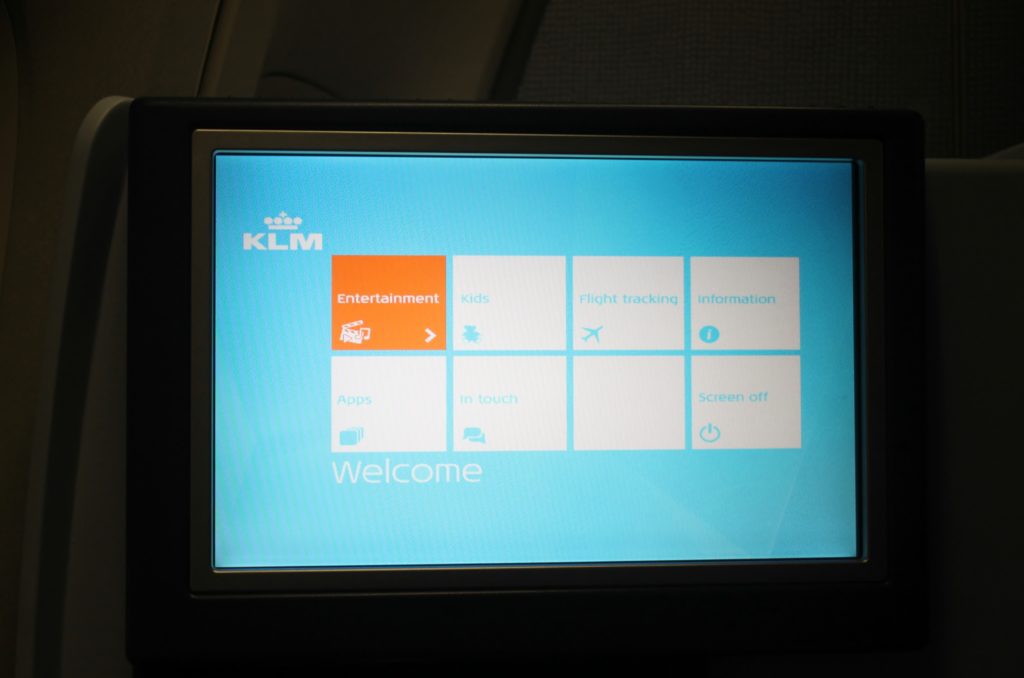 Sleeping

Just after 1 am it was finally time for some well-needed sleep after a very long day. The seat became fully flat when reclined and 01A was a brilliant choice for a night flight as it was so quiet at the front, being far from the engines and most fellow passengers.
A rather comfortable quilt was available as well as a large blue pillow. Overall the seat was very comfortable to sleep in and the quick meal service meant plenty of time for a proper night's sleep. But I wish they had offered a mattress as well.
The service

Although the service is usually good, polite and attentive on most airlines in business class a disruption like this one really shows what an airline is all about and how well they can handle an unplanned situation and adjust accordingly. And the crew really excelled on this flight.
Excellent updates from the captain during the long wait on the ground at Schiphol. Although it was very tiring to wait on the ground in the aircraft we were perfectly informed about what was going on and there were no doubts about anything.
The crew were also delightful, serving drinks on the ground and then adjusting the meal service after departure and generally doing their best to make the very tired passengers happy, passengers who could not even go to bed until we had taken off.
Arrival experience

Breakfast cards were handed out together with the menu before departure from Schiphol and were collected during the meal service (or in this case even on the ground). This meant that you could create your own full breakfast (or choose an express breakfast to get more sleep) and of course it also meant a quicker breakfast service as it could be served closer to landing.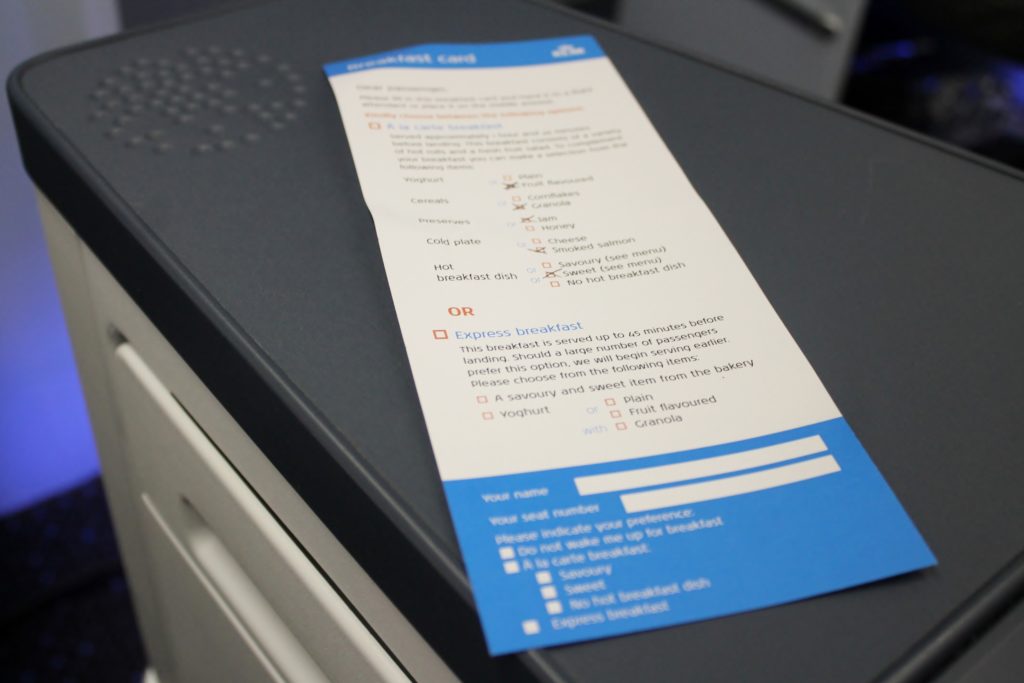 I ordered some fruit yoghurt with granola, bread rolls with jam and a cold plate with smoked salmon.
The breakfast service started with a small bottle of yakult, a kind of dairy product, orange juice and a hot towel.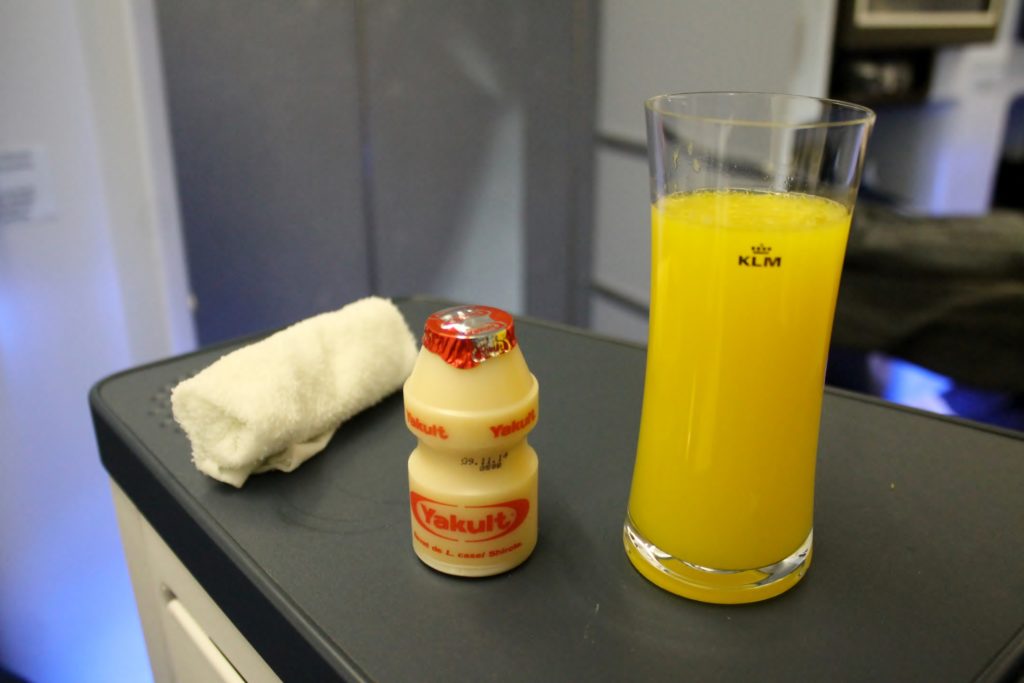 Afterwards the breakfast tray was handed out with the my breakfast orders.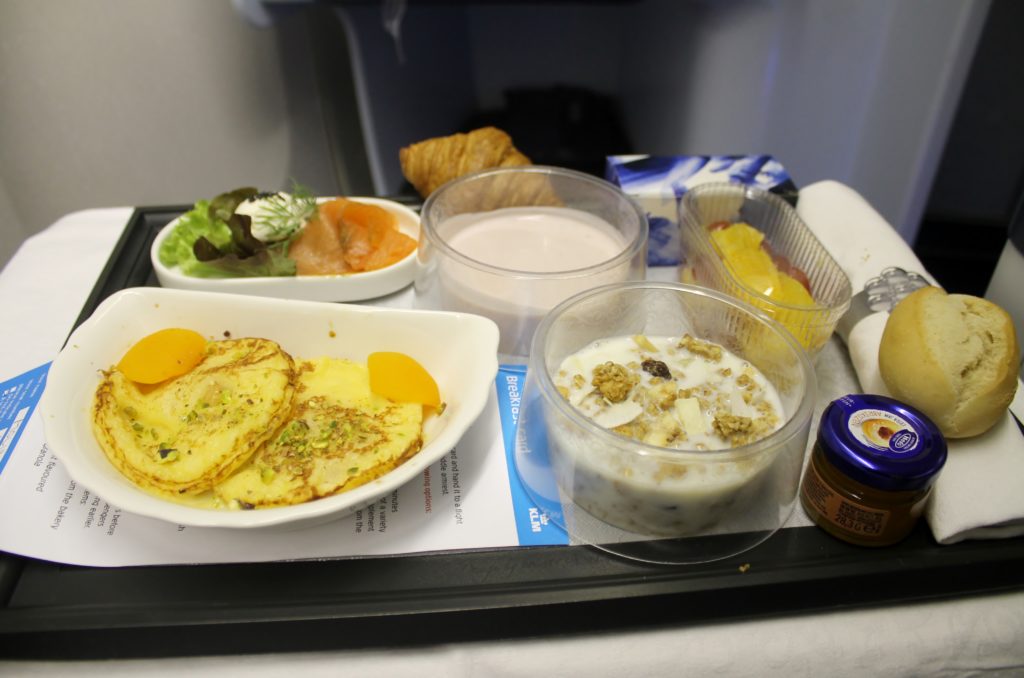 There were two hot breakfast options, savoury or sweet. These were indicated on a separate page in the menu (the brakfast card just referred to the menu). The savoury option was egg roll with gruyère cheese served with mushrooms and grilled tomato. The sweet one was apricot pancakes served with vanilla sauce and pistachio nuts. I went for the sweet one. Coffee, tea and more juice were also offered.
We made up a bit of time during the flight but still landed more than two and a half hours late at Seoul Incheon airport. As with all non-Korean airlines we were directed to the satellite terminal and had to take a train to the main terminal building where the immigration and the arrivals hall are located.
I had a connecting flight in Seoul on a separate ticket with four hours between flights. With the delay this was reduced to 90 minutes and it soon became clear that this was going to be very tight as I had checked luggage to reclaim and recheck.
However fortunately Incheon is a very efficient airport and the Koreans are good when it comes to priority handling. Immigration was very quick and my priority-tag bag was one of the first on the belt after just a few minutes. I was very relieved they had re-tagged the bag properly in Amsterdam and that it arrived properly in Seoul. After rushing through the airport I arrived at check-in for my connecting flight with 70 minutes to spare.
Final impression

The new KLM World Business Class is a great improvement, especially compared to the old products. A fully-flat and very comfortable seat with good legroom and good sleeping comfort. Nice food and drinks were offered and both the cabin crew and the ground staff handled the difficult weather situation exemplarily.