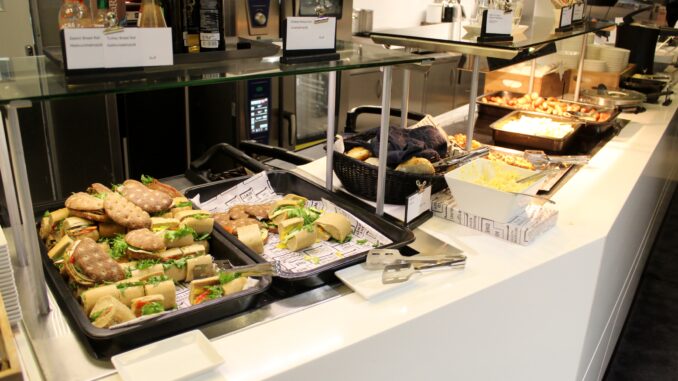 A morning visit to the Finnair Lounge in the Schengen section at Helsinki Vantaa airport. Since I had lounge access thanks to my OneWorld Emerald frequent flyer card and since breakfast was not included in my hotel rate I decided to skip the breakfast at the hotel to have breakfast in the lounge instead.
And I am rather impressed to see the breakfast spread in the Finnair Lounge. The breakfast in the old Finnair Premium Lounge used to be excellent and the breakfast in the new Finnair Platinum Wing is certainly not bad either (read a review here), but the Schengen lounge has been a completely different matter. On some of my previous visits it has not been bad in any ways, just fairly unremarkable.
But the breakfast spread in the Schengen lounge has certainly improved over the years. There is now a hot buffet with scrambled eggs, sausages, porridge and even some traditional Finnish pirogs. A far cry from some other airport lounges in the Nordic countries.
And there is a cold buffet as well with yoghurt with various cereals, fruit salad and a good selection of sandwiches.
And if you fancy something sweet in the morning they have a good selection of cakes and cookies, which becomes even better later during the day.
A hotel breakfast usually costs around 15-20 euro while I got in here for free thanks to my OneWorld frequent flyer card. It was definitely the right decision since there is really nothing whatsoever missing. And overall I really do like this lounge with the very Nordic design, designed by Vertti Kivi. And there are far less people here during weekends.