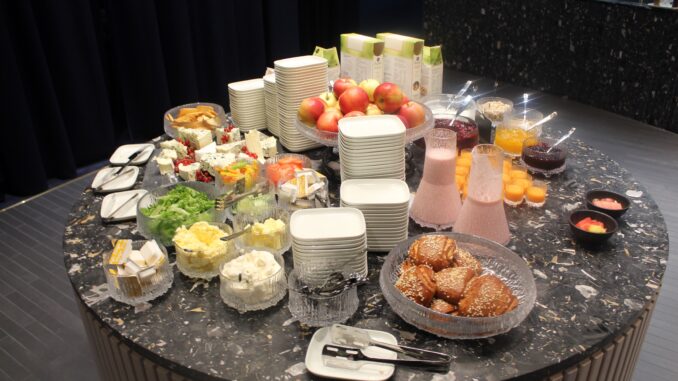 Second visit to the brand new Finnair Platinum Wing in Helsinki, which opened just five days ago. The first visit was in the afternoon with late lunch in the a la carte restaurant. This visit was in the morning with the chance to try the breakfast offerings.
First of all the facts. The Finnair Platinum Wing is located airside in the non-Schengen transit hall. In order to get in you need to have a Finnair Platinum, a Finnair Platinum Lumo or a OneWorld Emerald card, and you need to travel on a Finnair or a OneWorld flight the same day. Your ticket also needs to be for a longhaul flight or a shorthaul flight to a non-Schengen destination such as the UK or Russia. Presumably you will also get in when connecting from a longhaul flight to a shorthaul flight.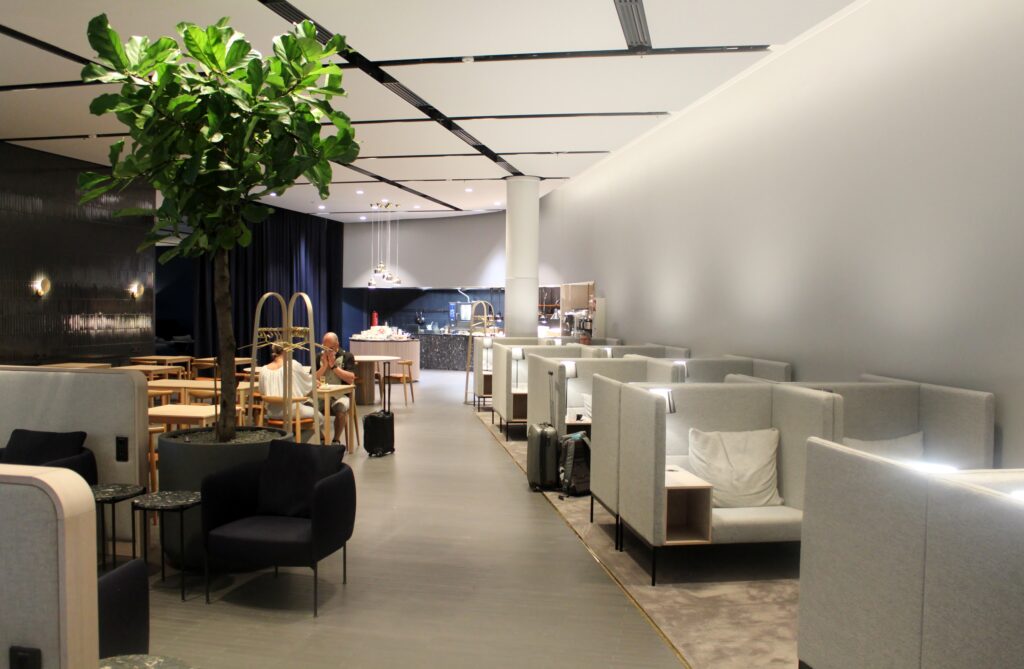 At 7 am the lounge was surprisingly quiet with only a handful of guests. Most people arriving on longhaul flights in the morning, connecting to shorthaul flights to somewhere in Europe, probably head straight to the Schengen area. And regarding lounge access, according to the rules that is exactly what you should do. However most likely you will be allowed inside the Platinum Wing if you connect from a longhaul flight, assuming you have sufficient time to make it through passport control after the visit.
I was rather hungry so I immediately went to the restaurant. By the way if you fancy a glass of champagne or something else alcoholic the manned bar is open already at 6 am in the morning. And of course if you would like to start the day with a few minutes in the sauna, that is also possible at 6 am.
There is no a la carte table service in the morning, only in the afternoon starting at noon. At breakfast time food and snacks are for self service. But the breakfast buffet turned out to be excellent with both different hot and cold dishes and even omelettes made-to-order. Easily equivalent to a reasonable hotel breakfast.
The circular-shaped table which is used for desserts later during the day is used for the continental breakfast buffet in the morning with fresh fruits, yoghurt, cereals, smoothies, different cheeses, bread rolls and pastries.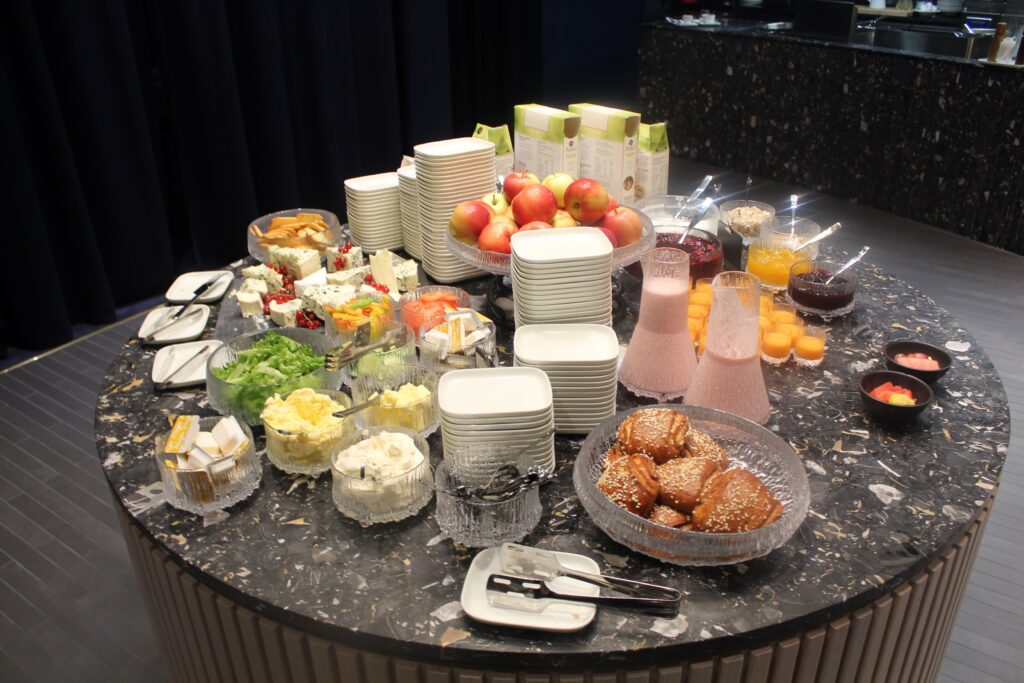 And what a great presentation. Elegant but with a very homey feeling. Almost like the breakfast table at home.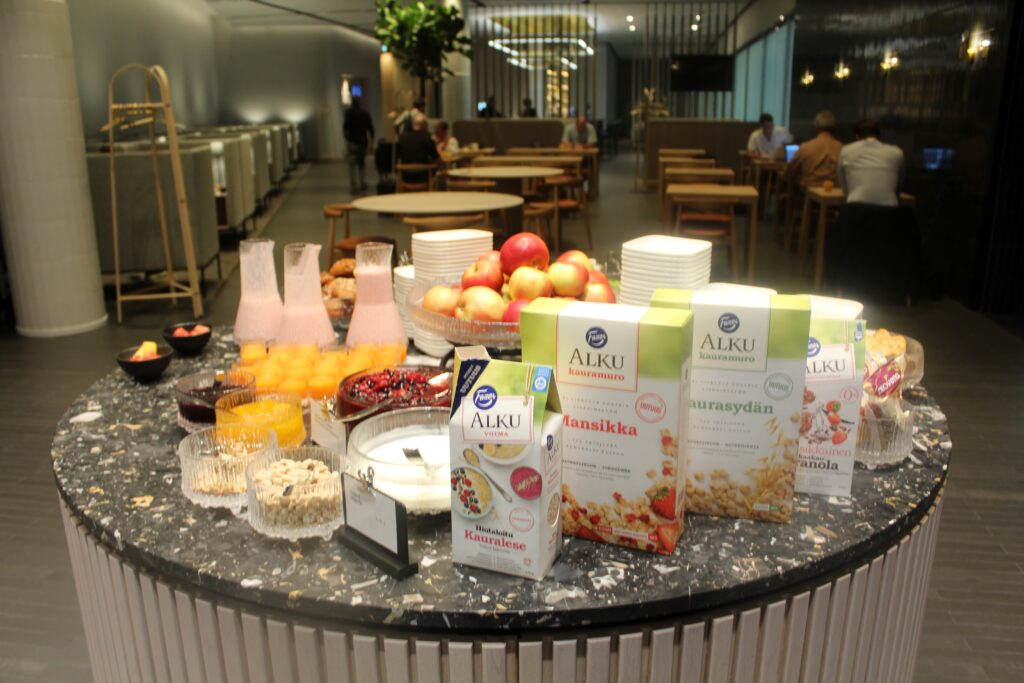 The hot buffet included sausages, frittata, hash brown, pasties, some kind of egg dish, some Asian dishes and a selection of cold cuts, including roast beef and salmon.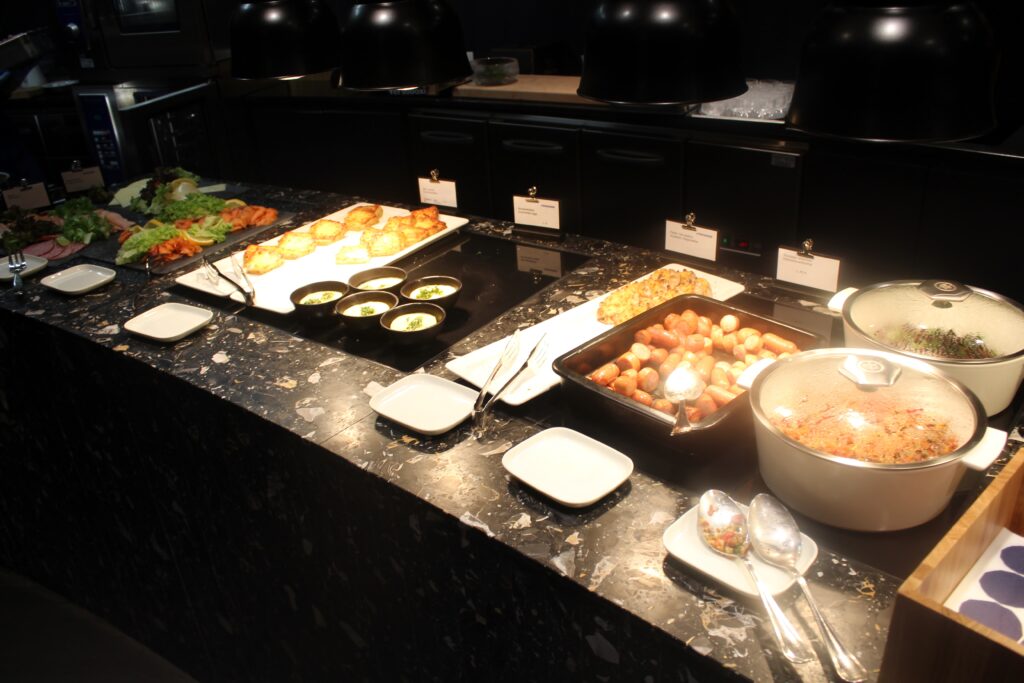 I was greeted by the friendly lounge attendant working at the buffet counter who wishes me good morning and then asked me if I would like an omelette. I was tempted to see what it would be like so I ordered a ham and cheese omelette which was prepared by the chef and delivered to my table a few minutes later.
And here is my breakfast for the day. This was really terrific. The Finnair Platinum Wing continues to impress.