Departure experience

I was in transit at Geneva airport and had received a boarding pass for the connecting flight to Frankfurt already at the departure airport.
Switzerland is now part of the Schengen area which means no transfer security check is required when transferring between two Schengen flights. The layout at Geneva Cointrin airport is a bit strange though as arriving and departing passengers are separated, also when arriving from another Schengen flight. But other than a long tunnel, a few stairs and escalators it was all quite straight-forward and not a major detour.
Swiss offers three lounges at Geneva airport. A Business Lounge for business class passengers, a Senator Lounge for gold card holders and a First Class Lounge for first class passengers and Miles & More HON Circle members.
There are also two pay-in lounges at the airport, the Dnata Skyview Lounge and the Swissport Horizon Lounge, accessible with various credit cards and lounge cards.
I had 90 minutes between flights so had plenty of time for a proper visit to the Swiss Senator Lounge and also a quick visit to the Swiss Business Lounge, both accessible thanks to my Star Alliance Gold Card, even when flying in economy class. In contrast to most lounges in the Lufthansa Group in Geneva there are separate entrances and reception desks for the Business and Senator Lounges with the Senator lounge located straight after the escalator on the right and the Business Lounge straight ahead at the end of a corridor.
The Swiss Senator Lounge is not particularly large, in fact it is basically just a small room, but I do like the lounge which is quite cozy with a rather stylish and elegant deisng with brown leather armchairs.
The selection of food and drinks was not bad either, especially considering the size of the lounge, with hot food, snacks, desserts and a good selection of wine and other alcoholic drinks.
The flight
Geneva-Frankfurt
Lufthansa flight LH 1219
Departure: 14.55
Arrival: 16.10
Economy Class
Boeing 737-300
Seat 11F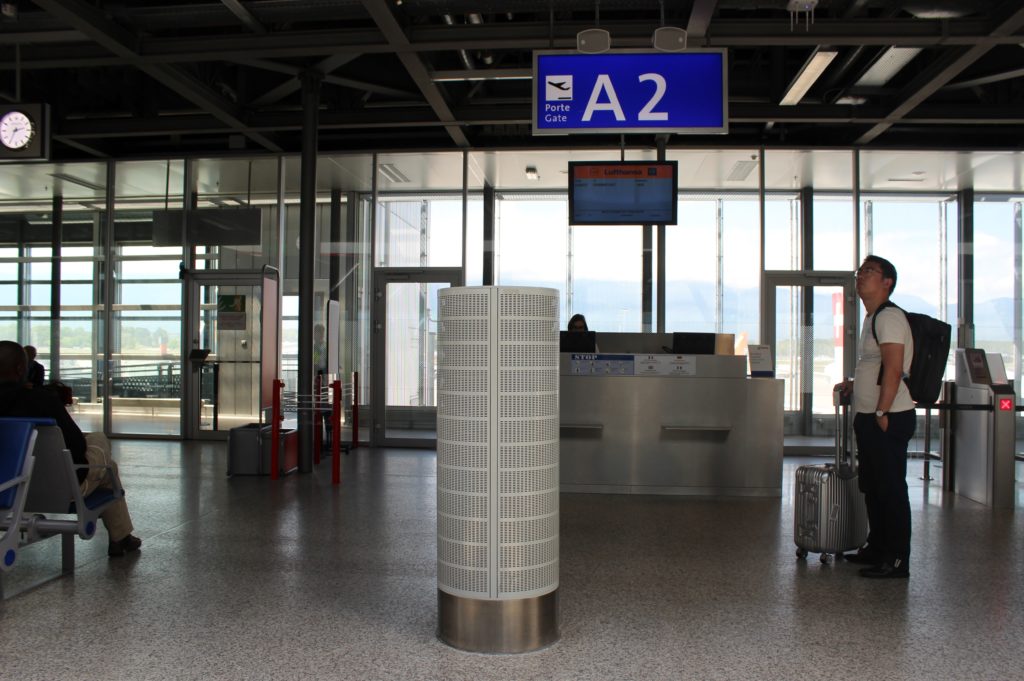 The Lufthansa flight to Frankfurt was to depart from gate A2 in the main terminal building but it took a bit of time before boarding started and we were getting closer and closer to the scheduled departure time at 14.55. However once announced at least proper priority boarding was offered for business class passengers and gold card holders.
First impression

The aircraft used to Frankfurt was a Boeing 737-300, one of the older aircraft types in the Lufthansa fleet with a rather old cabin interior but with the newer, and now standard, Recaro seats which are used on most Lufthansa shorthaul flights.
The cabin load this afternoon was very light, less than 50 percent full in both business class and economy class, which meant plenty of space for all passengers. I got a full row to myself.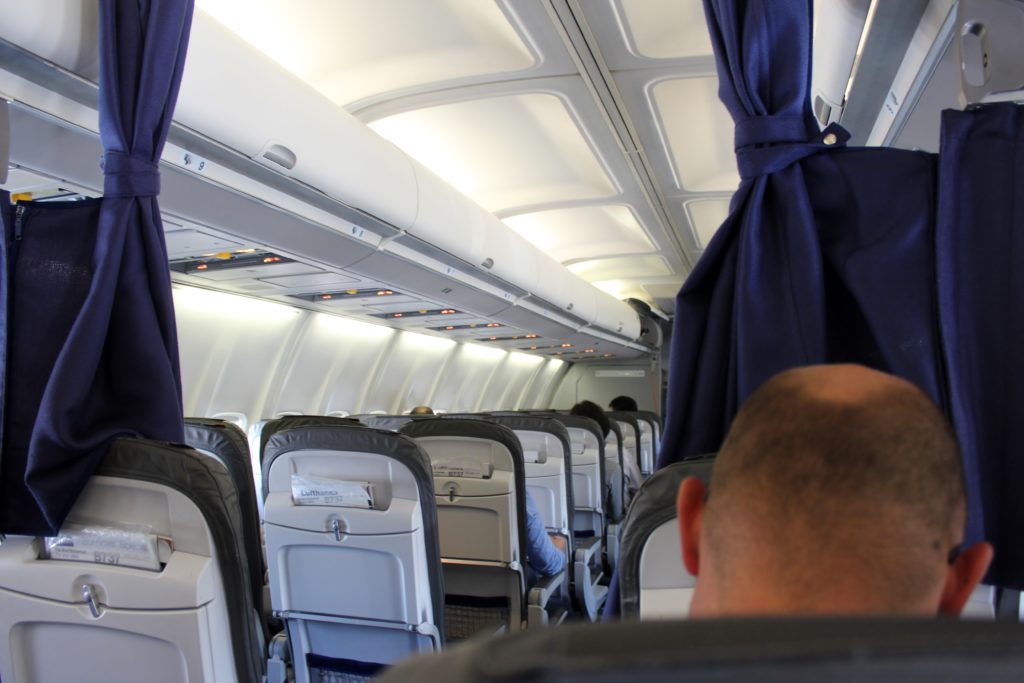 With few passengers the boarding process was completed in record time however once the doors had been closed the captain informed us we had been requested to stay at the gate for at least 30 minutes due to bad weather in Frankfurt. Apparently a bad thunderstorm was passing over the airport and the traffic had been completely halted for a few minutes. The traffic had resumed but was still reduced, obviously with delays to follow. Because of this air traffic control had asked us to stay on the ground in Geneva rather than having to hold somewhere around Frankfurt.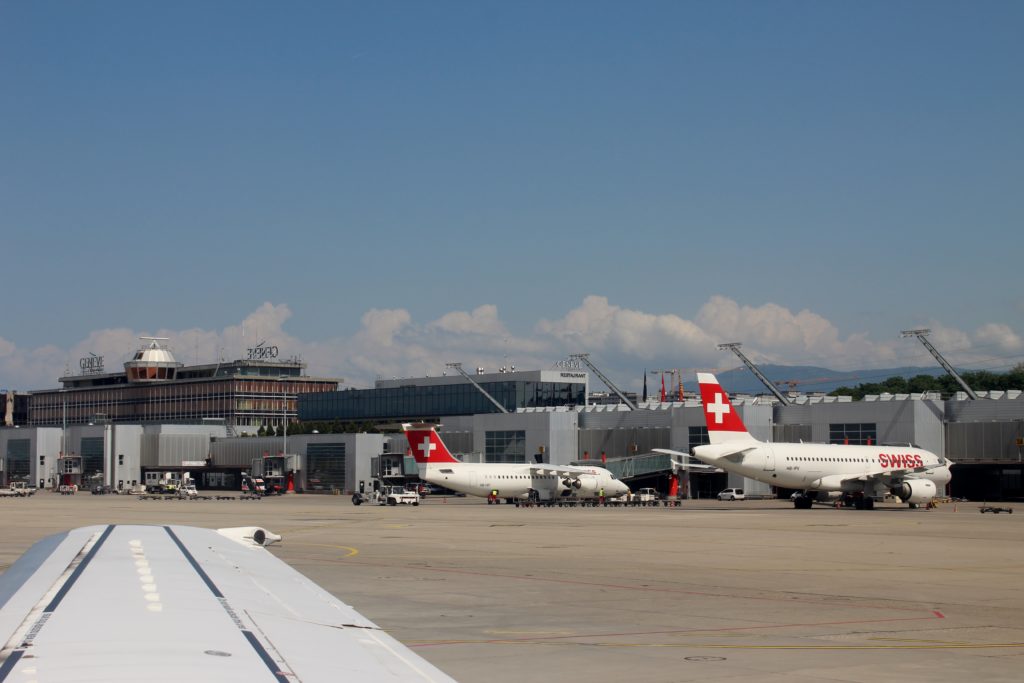 Around 45 minutes after scheduled departure time we were finally allowed to pushback and take off to Frankfurt enjoying a beautiful view over downtown Geneva, Lake Geneva and the Alps minutes after takeoff. The surroundings are simply breathtaking. The flight time to Frankfurt was expected to be about an hour.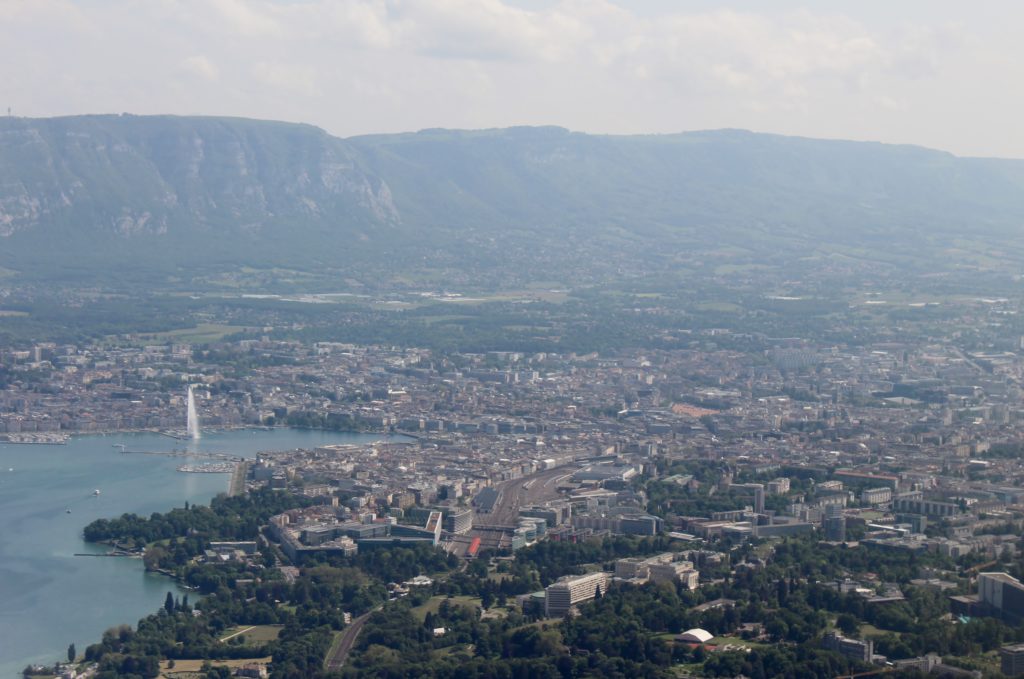 Seat and cabin

The flight was operated using a Boeing 737-300 with the standard Lufthansa intra-Europe seating with the rather thin Recaro seats in a 3-3 configuration. Business class stretch all the way to row 9 on this flight with economy class starting at row 10, but with a very light load in both classes there was still plenty of space.
Food and drinks

After the seatbelt sign had been switched off the inflight service started. In economy class a pre-packed apple pastry was offered together with a reasonable selection of drinks, including beer and wine, juices and sodas and finally coffee and tea.
I asked for a glass of red wine and a cup of coffee to drink. As the trolley passed my seat on the way back to the galley I asked for a refill of the wine glass. The flight attendant was a bit hesitant at first, not because a refill would be a problem as such but because they were expecting heavy turbulence when approaching the Frankfurt area. Eventually it was arranged though but I was asked not to wait too long to finish it.
The service

Standard Lufthansa economy class service with a friendly but efficient service from the cabin crew. Nothing special but nothing to complain about either. And no special recognition or treatment as Star Alliance Gold. However a light load meant a quick and stress-free service which even gave the crew time to chat with the passengers and offer refills. That is probably rather unusual for a flight of this length.
Arrival experience

Although it was cloudy in the Frankfurt area the bad weather seemed to have moved on. There was no turbulence during the approach and no thunderstorms whatsoever to be seen in the distance.
Before landing information was given about connecting flights. As we departed nearly an hour late from Geneva we were obviously to be late also in Frankfurt. In some cases the connecting flights were also delayed, for the same reason as us, and the passengers were happily told they would make the connections. In a few other cases the connecting flights had already departed, or were just about to, and the passengers had to be rebooked.
The delay was caused by bad weather and there was not much Lufthansa could do about that, it was eventually all about safety. But the information given to the passengers was good and adequate with frequent updates and those who did not make their connecting flights were automatically rebooked. Overall Lufthansa handled the situation very professionally.
Fortunately we were assigned a parking position at the terminal building, no bus transfer this time.
Final impression

A standard Lufthansa economy class flight. Nice to get a snack and a glass of wine and the light load meant excellent space and comfort and time for the cabin crew to chat with the passengers. Just too bad about the delay, but there really was not much Lufthansa could do about a bad thunderstorm.