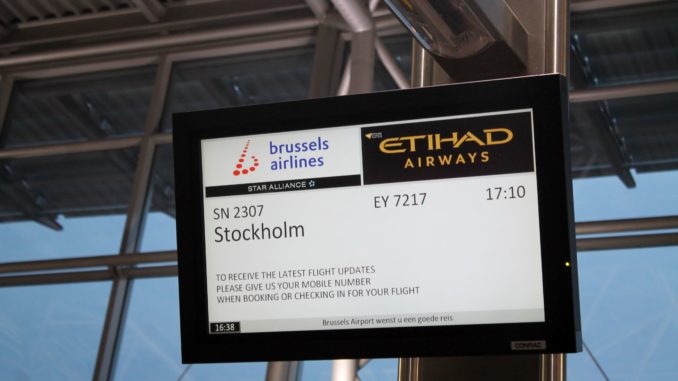 Departure experience
I arrived at Brussels airport very early, nearly three hours before the late afternoon departure to Stockholm just after 5 pm. The departure hall still has this large traditional departure board indicating the departure time, flight status, check-in island and the concourse used for each flight. Quite exotic nowadays!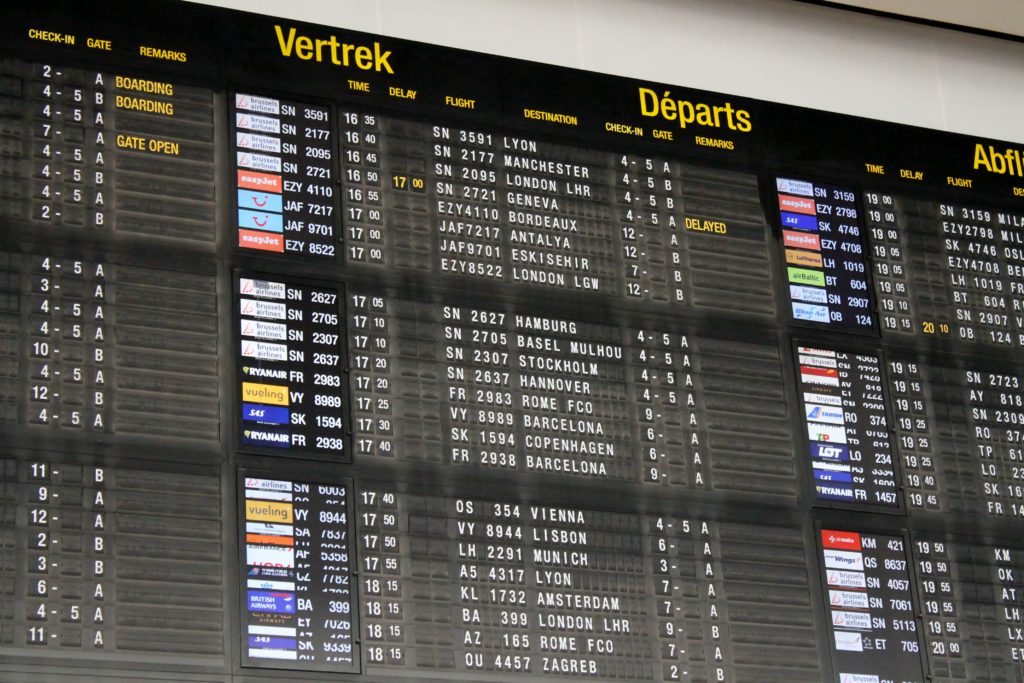 I was travelling on a hand baggage-only ticket. It was not possible to select a seat during the booking process, not even with a gold card, but I was able to choose a seat when online check-in opened 24 hours before departure and fortunately I could also select a seat myself, without a charge.
As I was travelling with only hand luggage and had already checked in online I just passed a self service machine to print a boarding pass, which was easy. However the boarding pass failed to show the standard *G which could be an indication that the system had not recognised my gold card properly.
I passed the regular business class and Star Alliance gold check-in area right behind to get some help.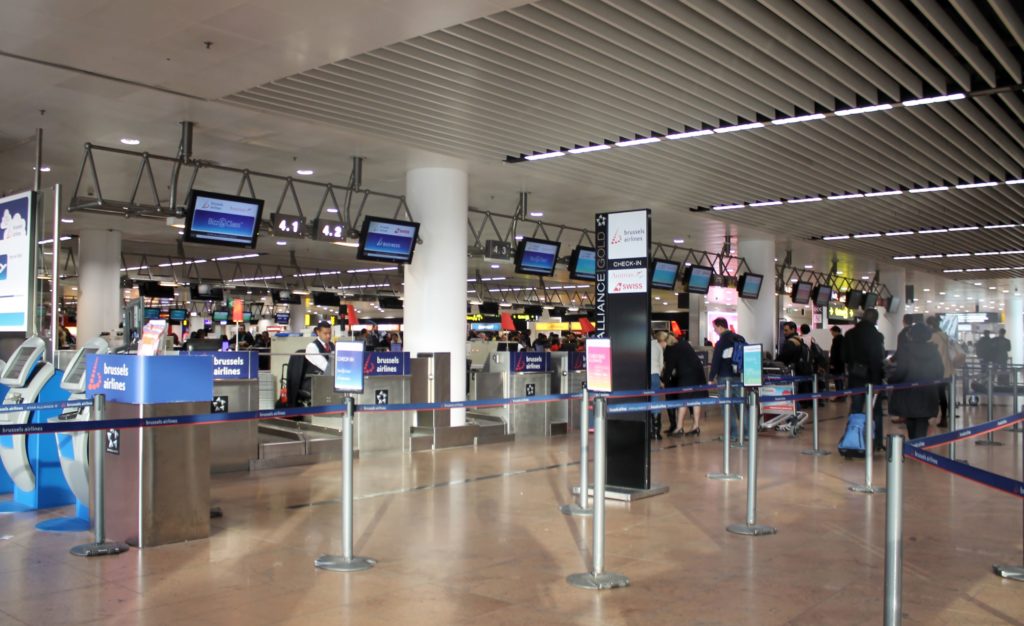 At the security control there was a fast track channel. You scanned your boarding pass at a gate and if everything was in order the gate opened and you could join a much shorter line. However something still seemed to be wrong with my boarding pass and I was denied entry. As there was nobody there to assist I had to join the regular line, which was fortunately very short.
The old, long and boring tunnel to the A-pier is now history. Instead a new security control has been built followed by a new large taxfree shop and a large waiting area with large panorama windows. All of it is overground and it does make the departure experience far more pleasant.
Brussels Airlines now has a new Schengen lounge in Brussels, replacing the old and rather small lounge which had limited food options. The new lounge opened in October 2014 and has been named 'The Loft'. It is a rather pleasant place with plenty of facilities, much larger than the old lounge with several seating areas and a nice apron view.
The large self service buffet offers cold cuts, salad and vegetables, bread rolls, fruit salad as well as soup and some hot snacks such as pizza slices. There are also desserts such as traditional Belgian Waffles and apple pie. In the self service bar there are four types of beer on tap, wine, spirits and soft drinks. Another fun feature in the lounge is the option to rent a tablet with several entertainment options.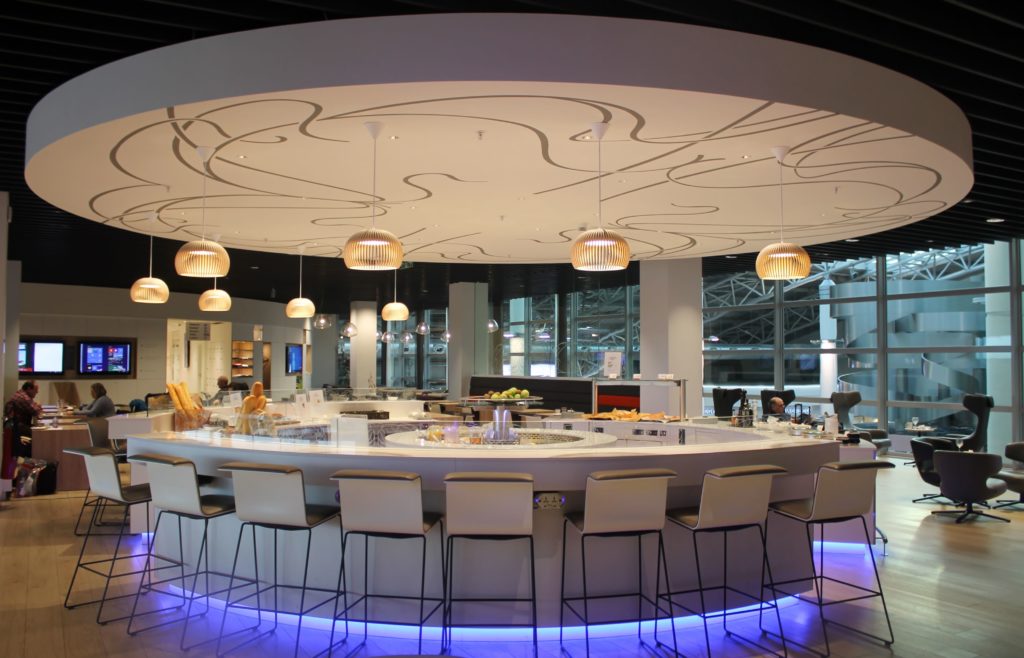 The flight
Brussels-Stockholm Bromma
Brussels Airlines flight SN 2307
Departure: 17.10
Arrival: 19.25
Economy Class
Avro RJ-100
Seat 10D
In Brussels the airport authorities prefer passengers to stay in the central area of the terminal as long as possible, only indicating the concourse the flight will depart from on the flight monitors. 45 minutes before departure the screen finally showed that gate A53 would be used to Stockholm.
Boarding started 20 minutes before departure with priority boarding through a special lane to the right of the podium, and the boarding passes were properly checked. I was initially stopped as my gold status was not clearly indicated on my boarding pass, the same problem as earlier, but this time I had my plastic card ready.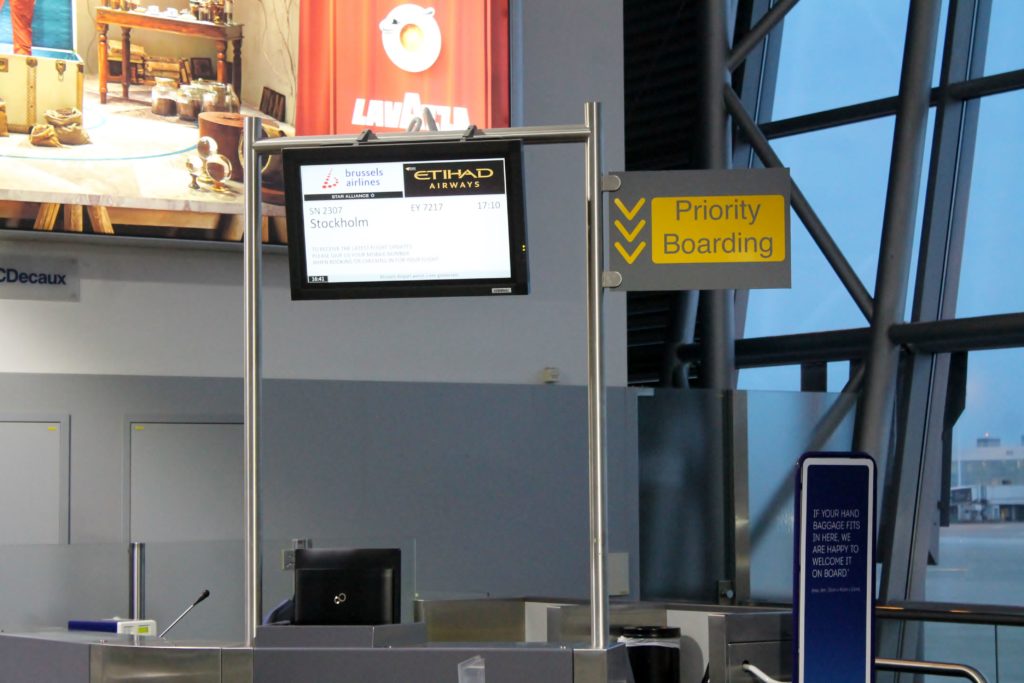 First impression
An Avro RJ-100 was used for the flight to Stockholm. Unfortunately an Airbus A319 or A320 would not be an option to Stockholm as these aircraft types are not allowed to take off and land at Bromma airport with its short runway and noise restrictions. The Avro aircrafts have been around for some time now and the cabins do start to show their age.
The flight to Stockholm was nearly full in economy class whereas business class (only the first row) was empty. I was seated in 10D and had a free middle seat, as one of the few passengers on the flight. The man in 10F also had a gold card and this might be the reason.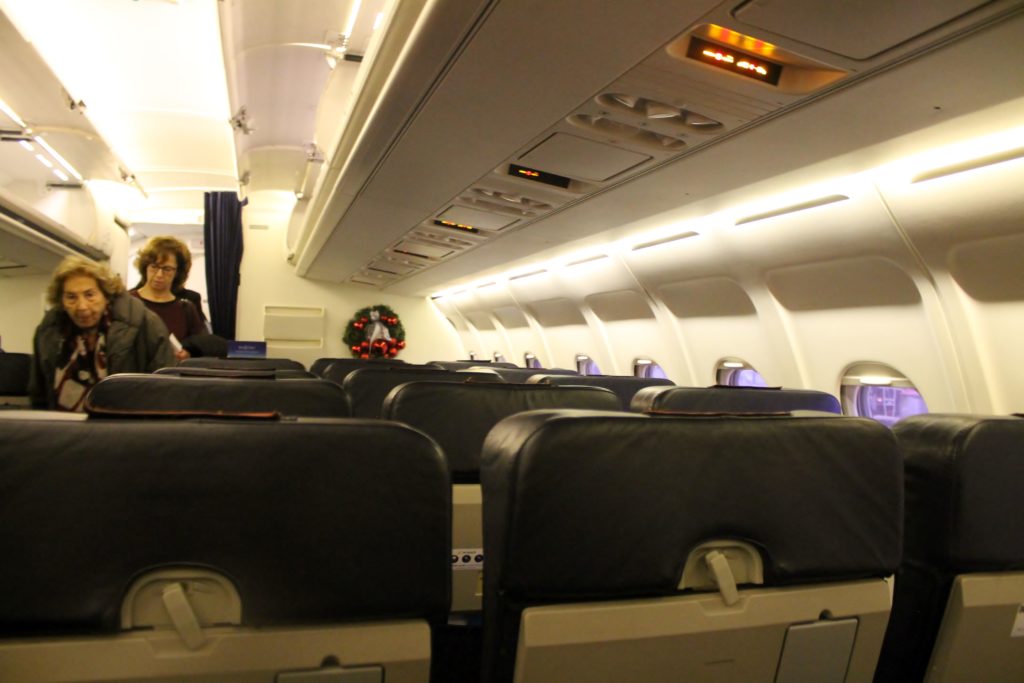 We managed to push back slightly ahead of timetable with a short taxi to the runway and an estimated flight time of one hour and 50 minutes.
Seat and cabin
The Avro RJ-100 had 97 seats in total with a 2-3 configuration. The seats were rather comfortable in dark blue leather and with acceptable legroom. However there are no overwing emergency exits on the Avros and hence no emergency exit seats to choose. Also for this reason some of the seats in the middle of the cabin lack a window.

Food and drinks
In economy class food and drinks are available for sale from the 'Brussels Cafe' and the assortment can be found in the inflight menu located in the seat pocket.

The prices are quite reasonable for an inflight cafe. A roasted chicken sandwich or a meatball sandwich cost 4 euro. On selected flights hot meals are offered at 7 euro, such as lasagne or sweet and sour chicken. A beer costs 3.50 euro and there is a 50 cent discount when combining a hot or cold drink (including wine or beer) and a meal or a sandwich.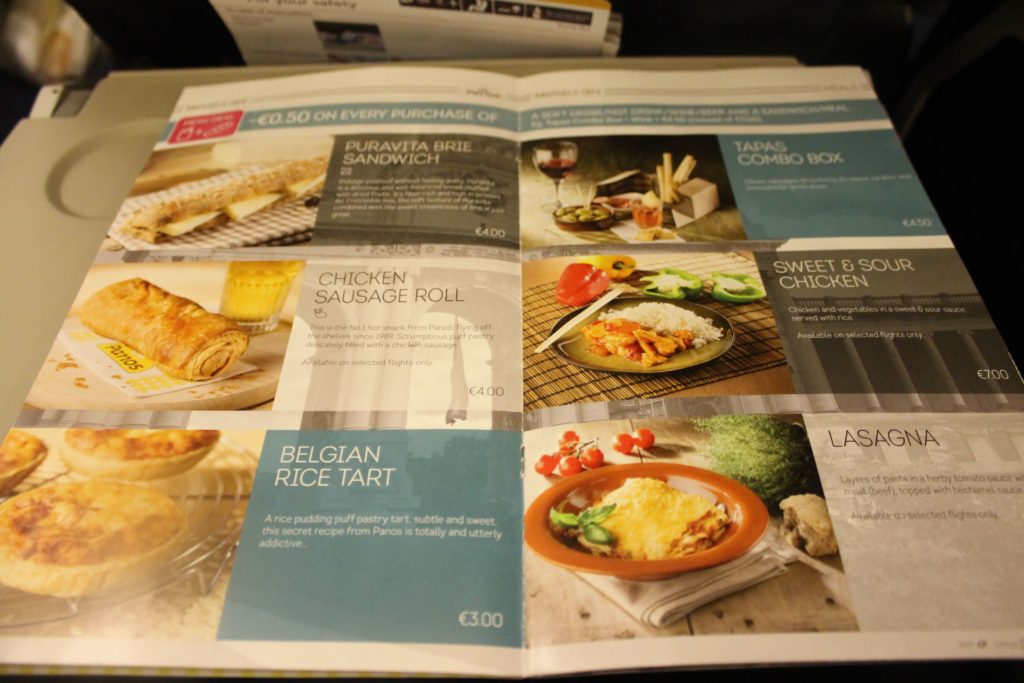 I decided to buy a chicken sandwich and a Leffe beer. The sandwich was surprisingly filling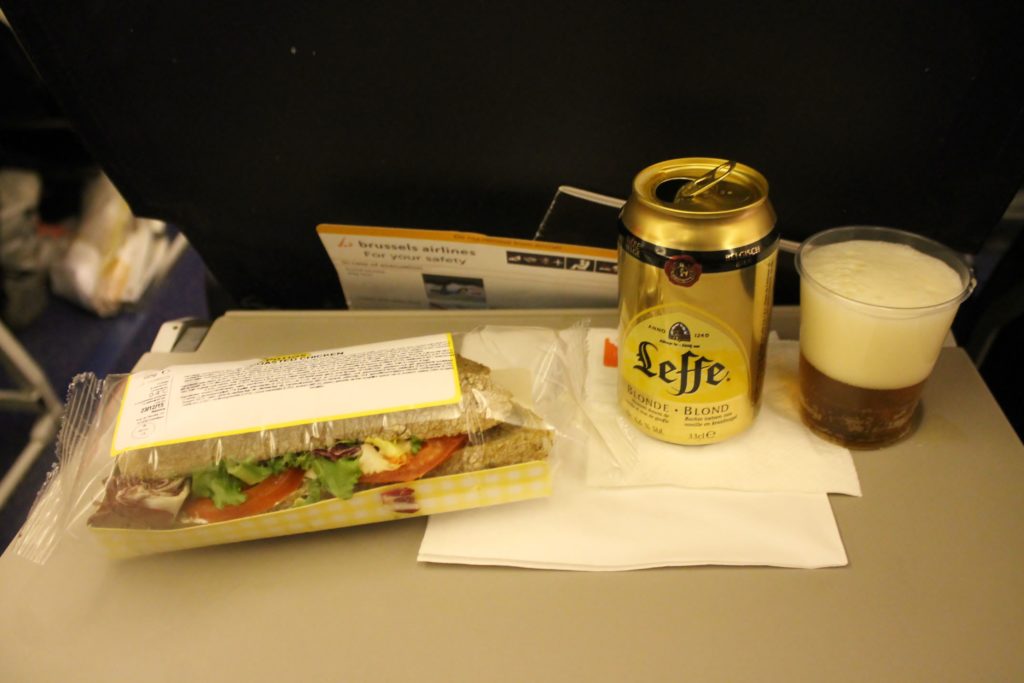 The service
Two flight attendants worked in the cabin, a female purser of Asian descent and a male steward. As Belgium is a bilingual country all announcements were made in Dutch, French and English. The service was friendly and polite however the meal service was quite slow. It took over an hour for the trolley to pass through the cabin.

Arrival experience
We landed at Stockholm Bromma airport just after 7 pm, 20 minutes ahead of timetable. The aircraft is small and compact and with no checked luggage I was standing at the bus stop within five minutes of getting off the aircraft.

Final impression
A standard flight, nothing to complain about. Friendly service by the crew and a tasty and filling sandwich at an acceptable price. The cabin felt a bit old and worn though. The new The Loft lounge in Brussels was a nice surprise and arriving at Bromma airport is a major advantage, just 10 km from the city centre.