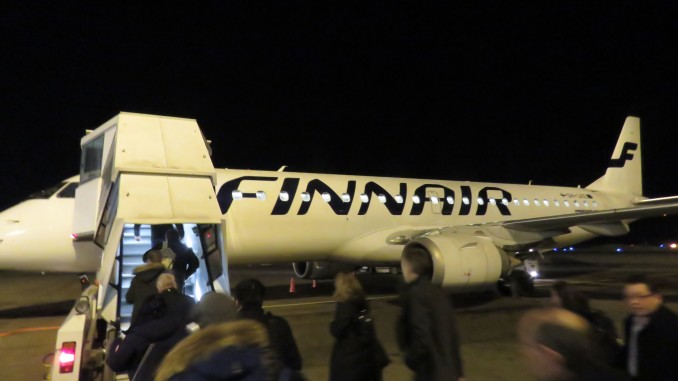 Departure experience
I was only in transit at the airport and as I was travelling within the European Union I did not have to pass transit security at the airport.

My economy class ticket to Stockholm did not give lounge access, but my One World Emerald card did and I headed to the Finnair Premium Lounge in the non-Schengen area. This lounge is only accessible for passengers with a Finnair Plus Gold och Platinum card or a One World Sapphire or Emerald card.
The lounge is lovely, especially with the lighting effects in the main area of the lounge which change depending on the time of the day and which can simulate a sunrise, a sunset or just a blue or a cloudy sky. The lounge is not very large and at peak time (an hour before most departures to Asia) it can be very crowded. At other times it can be an oasis at the airport.
The lounge offers a good self-service buffet with both hot and cold items, some pretty decent wines and free-flowing Nicolas Feuillate champagne. Spirits and cocktails can be ordered from the manned bar.
I also had time for the signature facility of the lounge, the Finnish sauna. It is not very large with seating for maybe four people, but there was no one else using it this evening. Very relaxing and refreshing after a long day.
Read the full lounge review here!
I left the lounge around 45 minutes before departure and passed passport control using the automatic border control to get to the Schengen area.
The gate for the Stockholm flight had been changed from gate 19 to gate 31E, which turned out to be a bus gate in the basement. A bit surprising as there are not many departures after 11 pm and the Embraer aircrafts can definitely park directly at the terminal.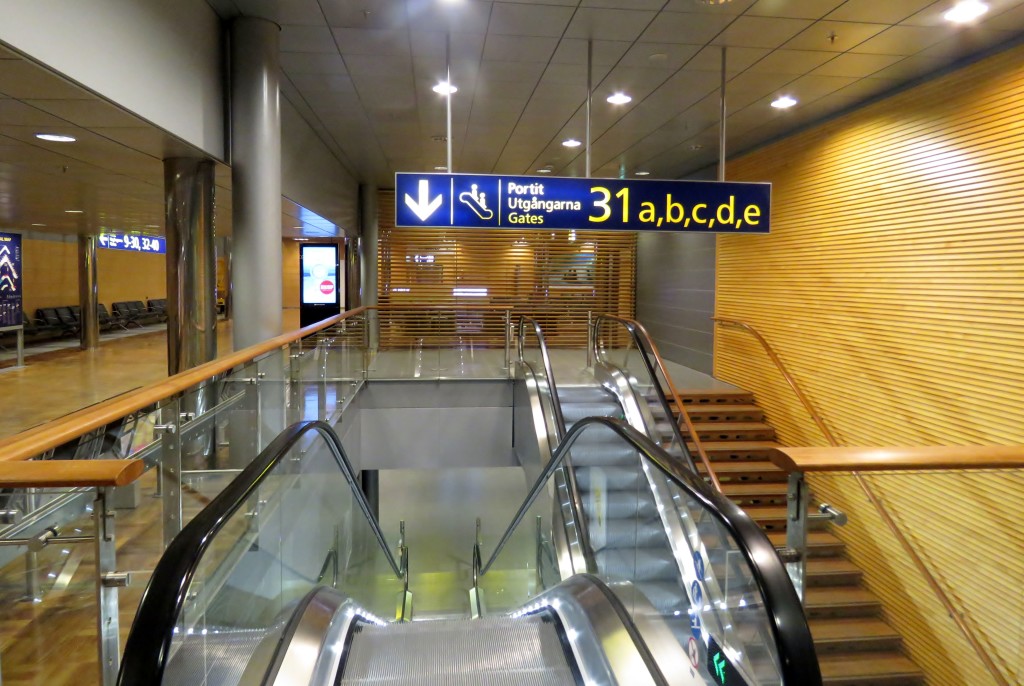 We were around 50 people waiting at the gate when the bus arrived to take us the short ride to the aircraft parked on the apron right opposite the terminal building. With a bus transfer there was naturally no kind of priority boarding.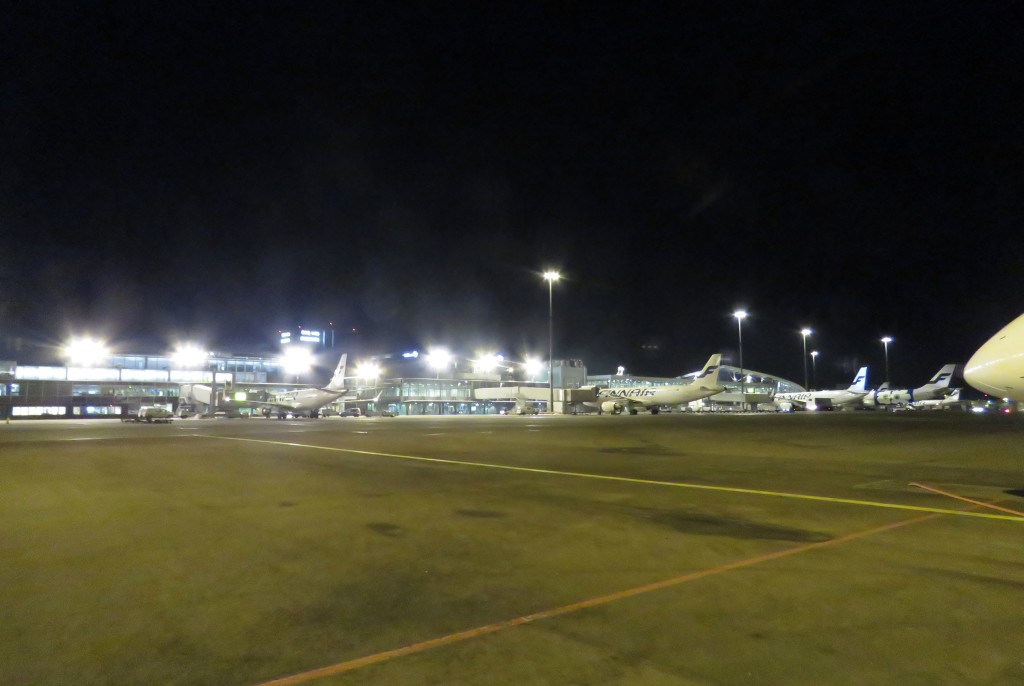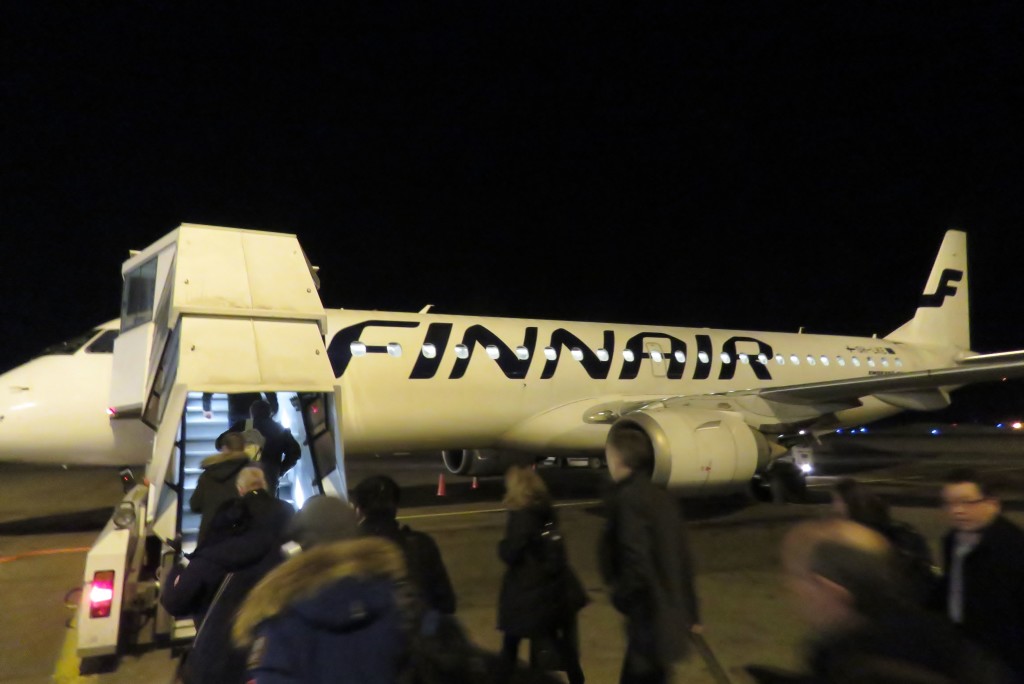 The flight
Helsinki-Stockholm Arlanda
Finnair flight AY 631
Departure: 23.40
Arrival: 23.40
Economy Class
Embraer 190
Seat: 06D
First impression
The aircraft used to Stockholm was an Embraer 190 operated by Norra, Nordic Regional Airlines, a subsidiary of Finnair operating mainly shorthaul flights within the Nordic countries and the Baltics although they can sometimes also be found on longer European flights where there is not enough demand for a larger Airbus aircraft.

Most passengers were onboard well ahead of scheduled departure time but we ended up waiting for a last transfer passenger who arrived in a separate bus.
The two passengers in business class were offered newspapers. In the past Finnair has been pretty good at offering newspapers to top tier passengers in economy class as an unpublished benefit whenever there are newspapers left, but this has not happened for a long time now and did not happen to any passenger on this flight either, including me as Emerald.
Pushback five minutes after scheduled departure time. Although it had not been snowing in Helsinki during the day we still made a quick stop at the de-icing area, possibly to clear the wings from ice. It was a very quick two minutes procedure. The flight time to Stockholm was estimated to be 45 minutes.
Seat and cabin
There are 100 seats on the Embraer 190, 25 rows in a 2-2 configuration, all in the standard grey Finnair cabin design. Two rows were used for business class with the economy class cabin starting at row 3. 

The seats are quite comfortable for a short intra-Europe and the legroom is acceptable as well. I had booked a seat on the sixth row and it turned out the adjacent seat was left empty giving me more space and also more room for the hand luggage.
Food and drinks
In economy class on intra-European flights coffee, tea, water and blueberry juice are offered free of charge. Snacks, sandwiches, soft drinks and alcoholic drinks are available for purchase but a handful of routes are excluded for this service as the flight time is simply too short, and the Helsinki-Stockholm route is one of them.

I asked for a glass of water and the blueberry drink.
The service
Two cabin crew worked onboard, a male purser and a female flight attendant. There was not much time for much else than the beverage service and the rubbish collection, but although efficient the service was still friendly. All announcements were made in Finnish, English and Swedish.

Arrival experience
We landed at Stockholm Arlanda airport five minutes ahead of scheduled arrival time. Finnair uses terminal 2 at the airport, the smaller of the two international terminals and passengers with only hand luggage can typically be at the bus stop or taxi stand 10-12 minutes after landing as the walking distances are short.

Final impression
A short and efficient flight with a quick beverage service. Friendly service with nothing to complain about for a 45 minutes flight.