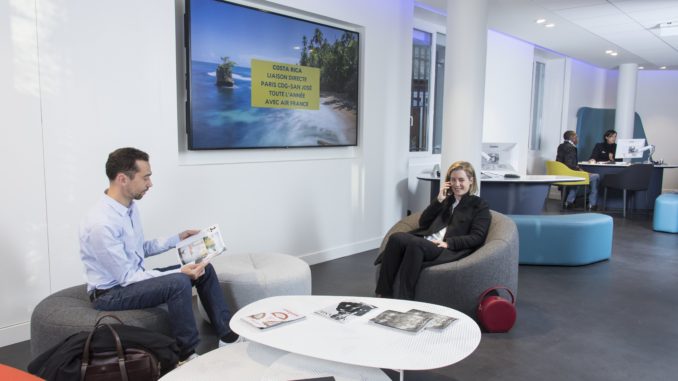 Air France has revealed a new design and a new concept for its tickets offices, mainly the ticket offices in France. The first ticket office to get the new design and concept will be the one in Nantes followed by the ticket offices in Bordeaux, Toulouse, Nice, Lyon and Strasbourg.
The new concept offers "a new design, virtual reality experience and new organisation of space" and has been created in cooperation with Brandimage, an international consulting group.
The new ticket offices include different spaces, described like this by Air France:
A chic, face-to-face sales area and a flexible alcove sales area
A Design by Air France area placing the brand universe at the heart of the travel experience, where unique Air France products and accessories such as toiletries kits, suitcases, travel bags, passport holders and baggage tags can be discovered. An Air France shopping collection is also on show in the ticket office windows.
A Travel by Air France area where projections and contents of the company's digital travel guide will give the customer the feeling of having already arrived at their destination.
A dedicated area for families.