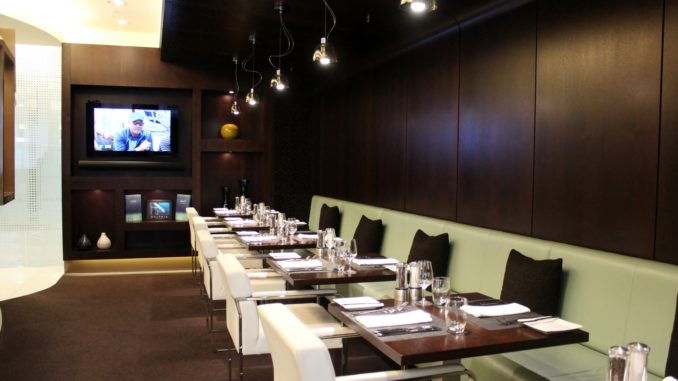 Where is it?

The Etihad Airways Lounge in Frankfurt is located airside in the non-Schengen area of terminal 2, which means the upper floor close to gates E6-E9.
When travelling to a non-Schengen destination from terminal 2 in Frankfurt security check always takes place at the gate. So the lounge is located after passport control (if starting the journey in Frankfurt or transferring from a Schengen flight) but before the security control. So passengers visiting the lounge should make sure they leave the lounge with sufficient time to pass security control before boarding.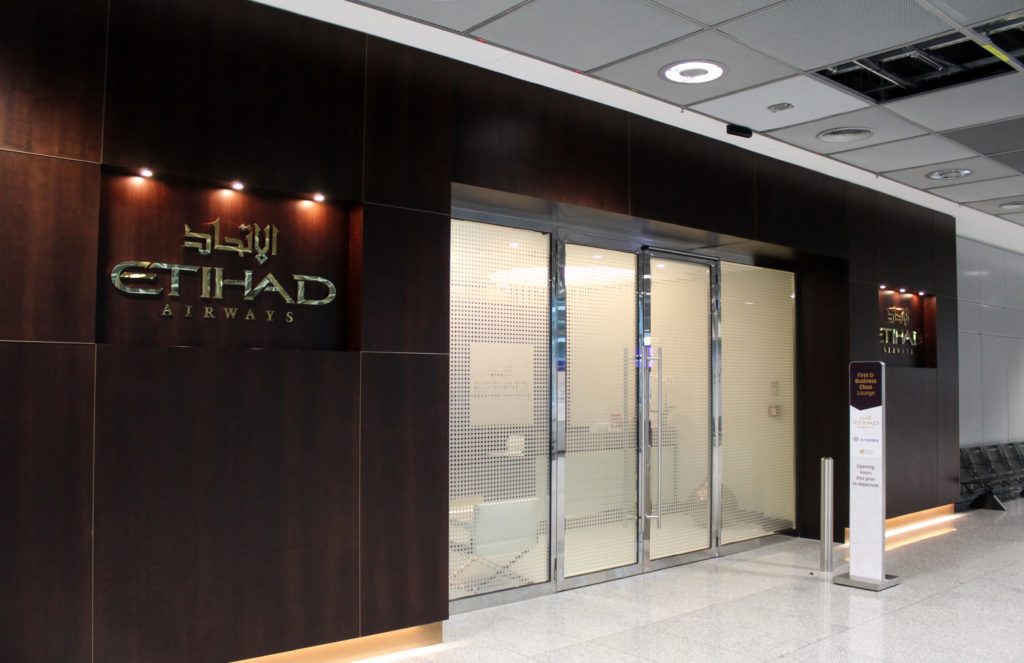 How do I get in?

The lounge is accessible to business class and first class passengers travelling on Etihad Airways to Abu Dhabi. It is also accessible to Etihad Guest Silver, Gold and Platinum members.
The lounge is also used by airlines such as Air Serbia and Air Seychelles for their business class passengers and it should be possible to enter the lounge for top-tier frequent flyers of other programs which are part of the Etihad Airways Group.
What's it like?

The lounge opened in 2009 and was the first Etihad lounge to open outside the United Arab Emirates.
The lounge is fairly small and measures 275 sqm with seating for 50 guests. The design is very similar to other Etihad lounges, for example the ones in Abu Dhabi, Paris and London. Most of the design is in white, grey and dark wood and overall the interior gives a very stylish impression.
Just like most other Etihad lounges the lounge in Frankfurt is divided into different areas for different purposes, the main difference being that the Frankfurt lounge is much smaller than for example the London lounge and as a consequence everything is very compact. There is for example a buffet area, a dining area, a business centre, a bar area, a general lounge area with sofas and armchairs and of course restrooms and showers.
Food and drinks

Upon arrival lounge guests are usually offered a welcome drink by a waiter/waitress as well as Arabic coffee and dates.
Hot and cold dishes as well as sandwiches, cold cuts, fresh fruits and desserts are available for self service from the small buffet area. There are also a couple of traditional Arabic dishes.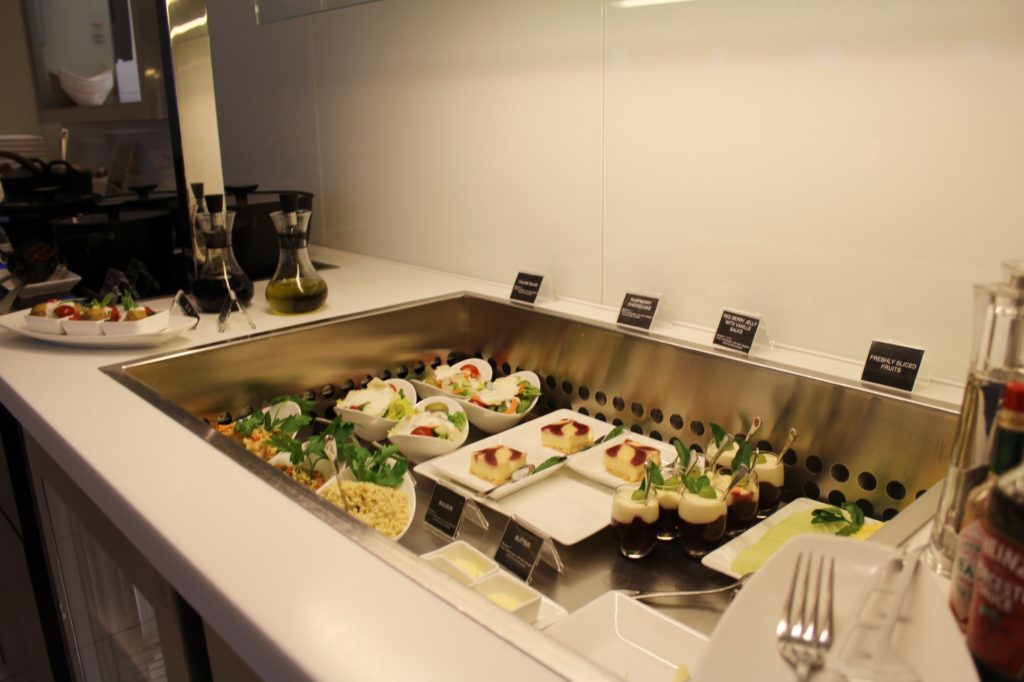 For guests who have more time in the lounge and want to eat properly there is an elegant dining area with an a la carte menu. The menu is not as extensive as in some other Etihad lounges but usually includes two appetisers, two main courses and two desserts.
Read more about the dining experience here!
There is a manned bar in the lounge with at least two red and white wines, champagne, beer, and different kind of spirits. Soft drinks, coffee and tea are naturally also available. Drinks can be ordered at the bar but also from the staff working in the lounge and naturally also in the dining area.
Facilities

Free wireless internet is available and there is a small business centre with internet computers. Several TVs and a good selection of newspapers and magazines are also available.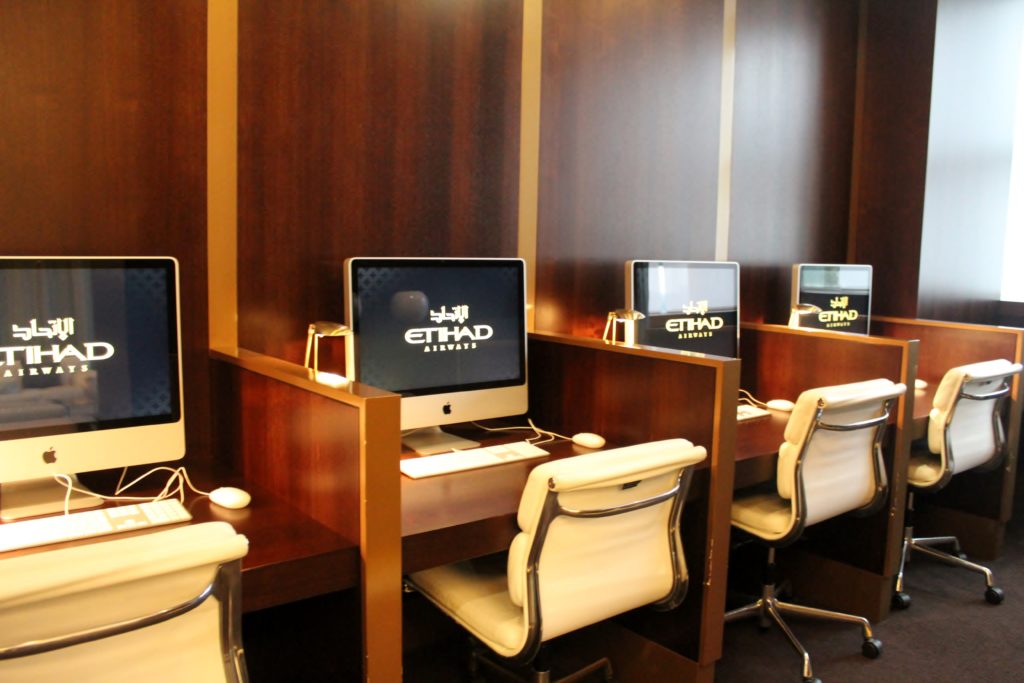 Showers and restrooms are available inside the lounge. In contrast to some other Etihad lounges there is no spa in Frankfurt.
Final impression

A miniature version of the Abu Dhabi Etihad Airways Lounges. Plenty of facilities and everything you may need is available but the lounge is very compact. Friendly staff, nice interior and a big plus for the a la carte restaurant.