Sun Air of Scandinavia is a Danish airlines based on the Jutland peninsula in Denmark with bases at Billund, Aarhus and Aalborg airports. They fly to mainly destinations in Scandinavia but also to a few destinations in northern Europe and the United Kingdom.
Since 1996 Sun Air is a franchise partner of British Airways using the British Airways logo and colours on their airplanes as well as the British Airways uniforms and the BA prefix for their flight numbers. However the infight concept is completely different from the one offered by mainline British Airways.
Sun Air is also an affiliate member of the OneWorld alliance and uses the British Airways Executive Club program, which means that frequent OneWorld travellers earn points flying Sun Air and get the standard status benefits just like when flying British Airways.
This is a review of a flight with Sun Air of Scandinavia from Aarhus in Denmark to Stockholm Bromma airport in Sweden.
Departure experience

I arrived at Aarhus Tirstrup airport quite early, already 90 minutes before departure. Tirstrup is a small airport and it is usually enough to arrive there much later than that. 45 minutes should be more than enough, possibly even 30 minutes before departure if travelling with only hand luggage.
There are three Sun Air flights leaving from Aarhus airport in the late afternoon around 5 pm, to Stockholm, Oslo and Gothenburg, just like in the morning at around 7 pm when there are morning flights to the same three destinations.
When I arrived at the airport check-in had not even opened for the late afternoon flights, it usually opens around an hour before the first departure, but I could easily check in online on the British Airways webpage as I was only travelling with hand luggage. The boarding pass was downloaded to my mobile phone.
The security control was completely empty and took less than a minute. The small transit hall has four gates, a cafe, a shop, a play area for children, and well, that's about it.
Interestingly British Airways and Sun Air operate a small lounge for premium passengers at Aarhus airport, accessible to silver and gold members in the British Airways Executive Club program as well as to British Airways full-fare passengers.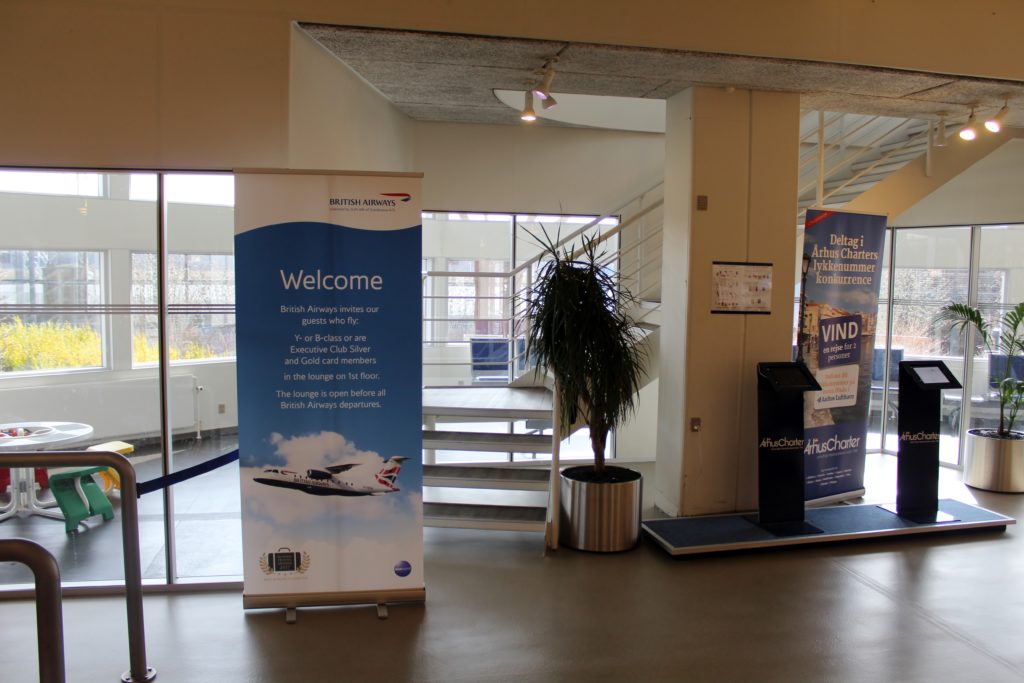 The lounge is located in what looks like an old ramp tower on the first floor with a nice view of the apron and the runway. There are a few sofas, a few armchairs, a small self-service buffet but not much else. But on the other than it is quite impressive to even offer a lounge at such a small airport with only six regional BA flights per day. When taking that into account the lounge is certainly not bad at all.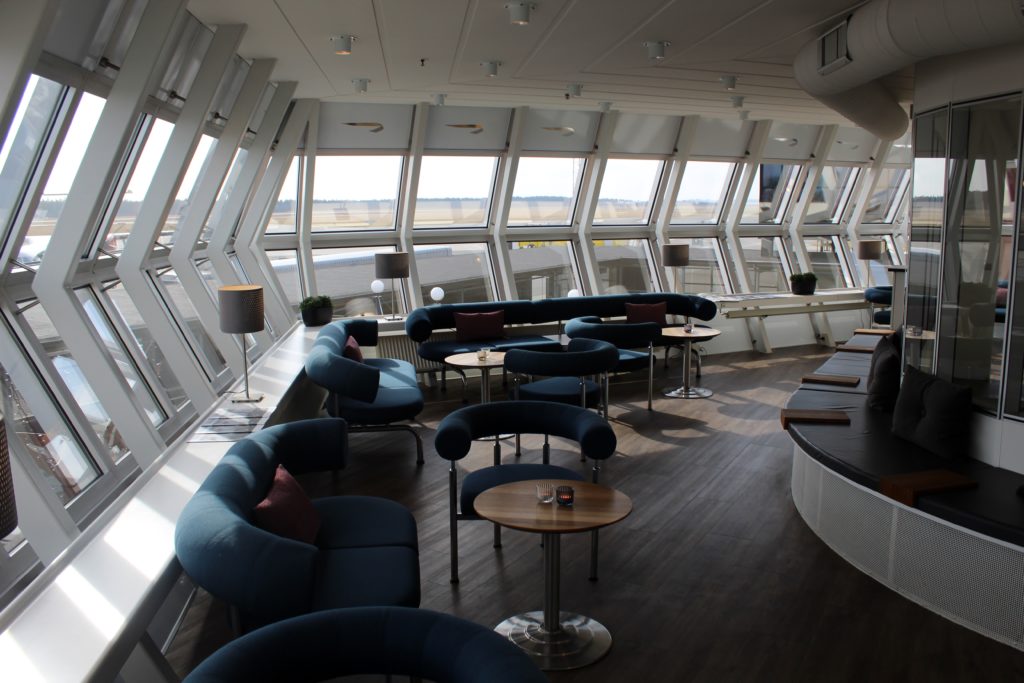 The self-service buffet offered red and white wine (of the Dornier brand, the same aircraft type used by Sun Ar) as well as Carlsberg beer, smoothies, soft drinks, a coffee machine, packages with nuts (the same one offered in regular BA Club Europe), fresh fruits and chocolates.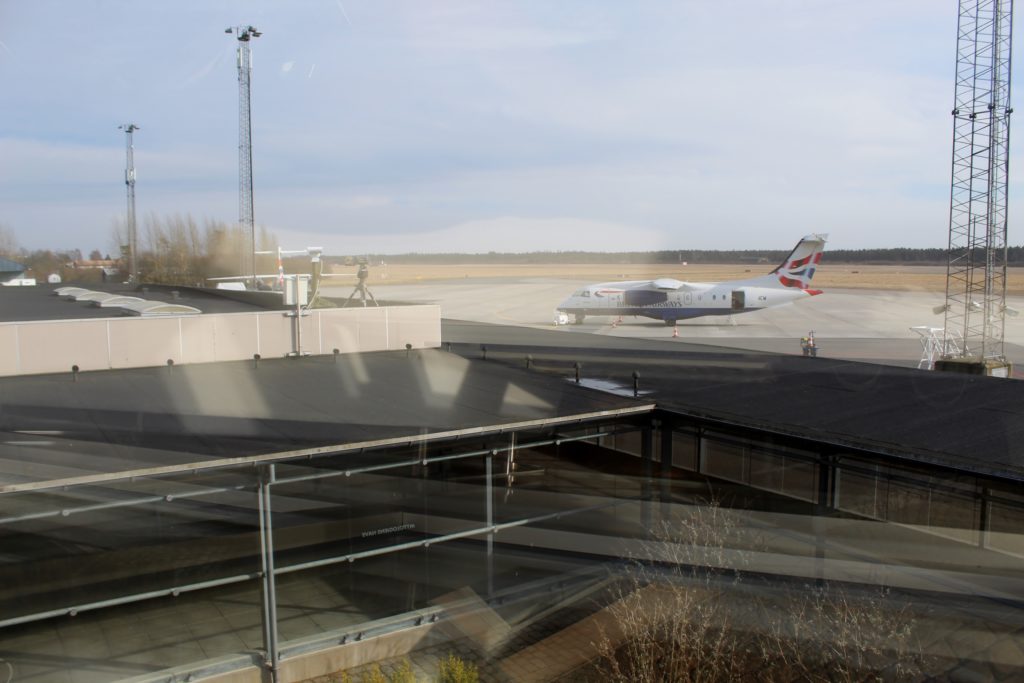 I had a bottle of the white wine and actually enjoyed my 45-minutes visit to the lounge. The weather was very nice and we were only four guests in the lounge.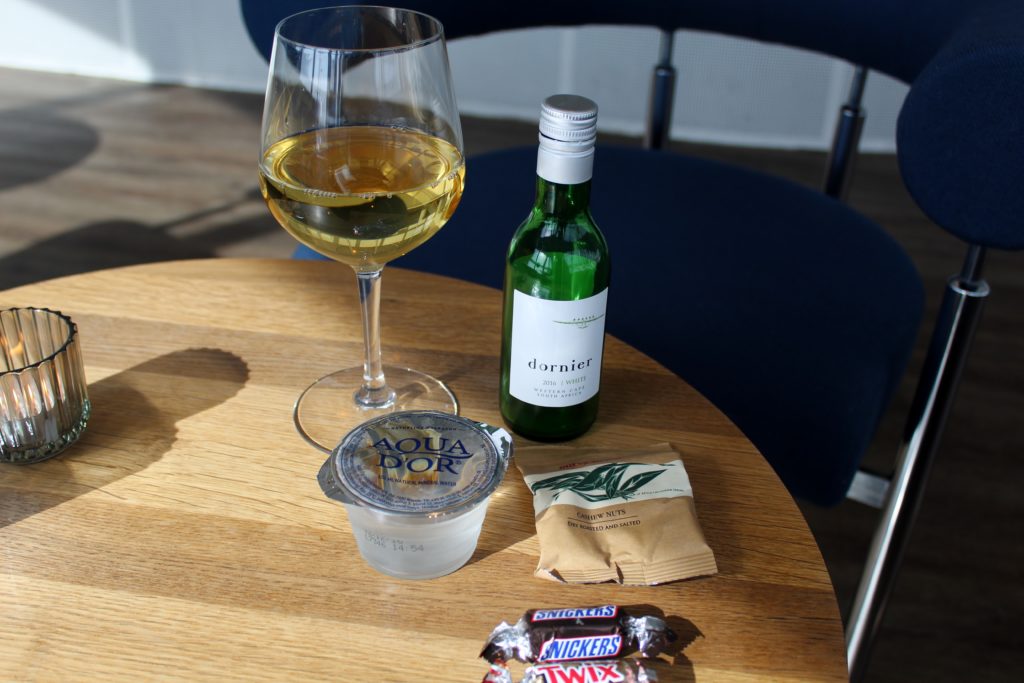 Read the full lounge review here!
The flight
Aarhus-Stockholm Bromma
British Airways flight BA 8291
Departure: 16.55
Arrival: 18.05
Economy Class
Dornier Fairchild 328 JET
Seat 04F

Boarding started 20 minutes before departure at gate 4. With less than a dozen passengers to Stockholm there was no need for priority boarding.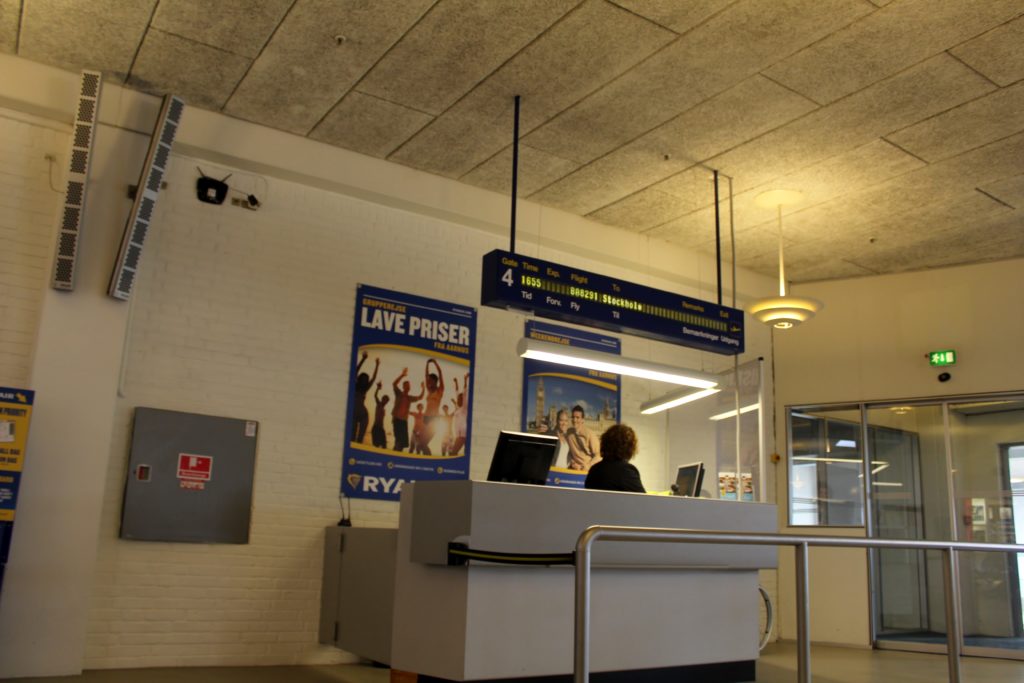 After the boarding pass had been scanned we were told to turn left and follow the covered walkway to stand D where the aircraft was parked. With three Sun Air flights departing within just a few minutes, all using the same aircraft type and with no air bridges at the airport, it is definitely important to handle the boarding process well so no one boards the wrong aircraft.
First impression

The aircraft type was a Dornier 328 Fairchild, a jet aircraft with seating for 35 passengers. I was warmly welcomed at the aircraft door by flight attendant Julie and found my seat on the fourth row. I had selected 04D but with a light load kept my fingers crossed for an empty adjacent seat 04F, to get some more space, which also happened.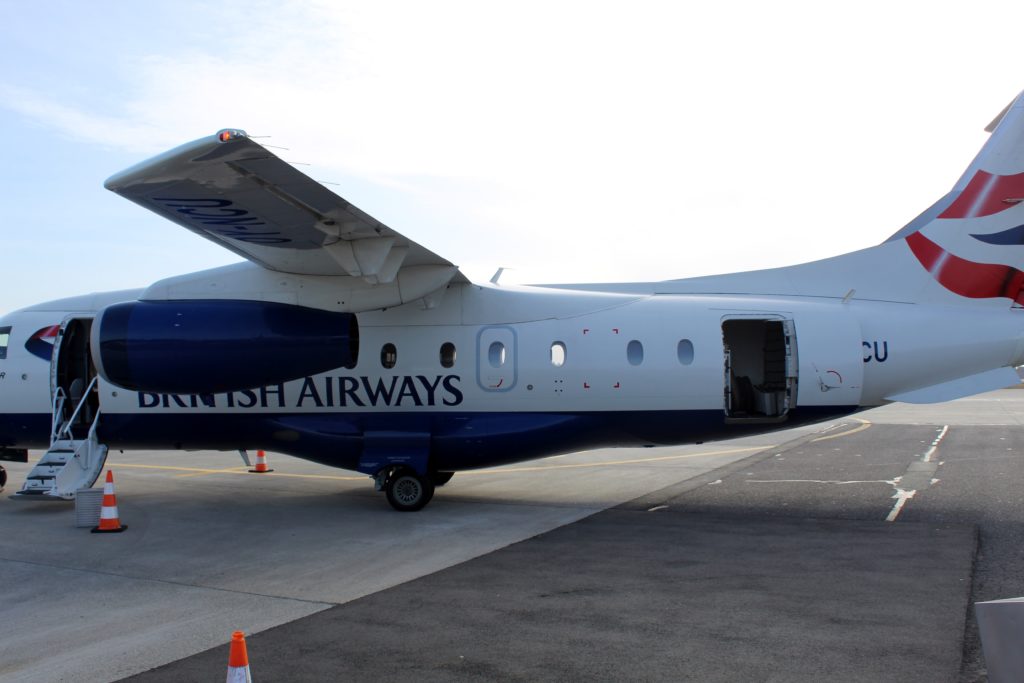 The cabin was in an excellent condition with comfortable and rather spacious leather seats and gave an excellent first impression. The Dornier 328 is a very modern and comfortable plane to fly on.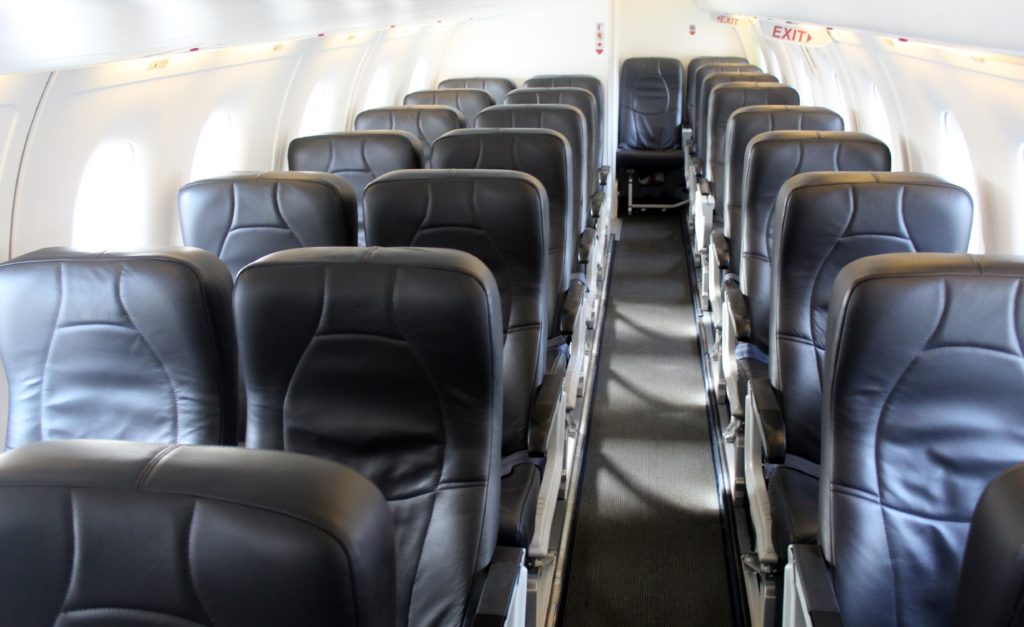 A fun thing on Sun Air is that there is a small sign next to the cockpit door with the names of the crew onboard. Thomas and Emil were working in the cockpit while Julie was working in the cabin.
Sun Air once started as a family-run airline with the founder and CEO Niels Sundberg working as a captain and with most of his family employed as pilots, cabin crew or ground staff. And although this is no longer the case (the Sundberg family are still highly involved though) you still get the feeling of travelling on a family-run airline, almost like you are invited to someone's home as a guest.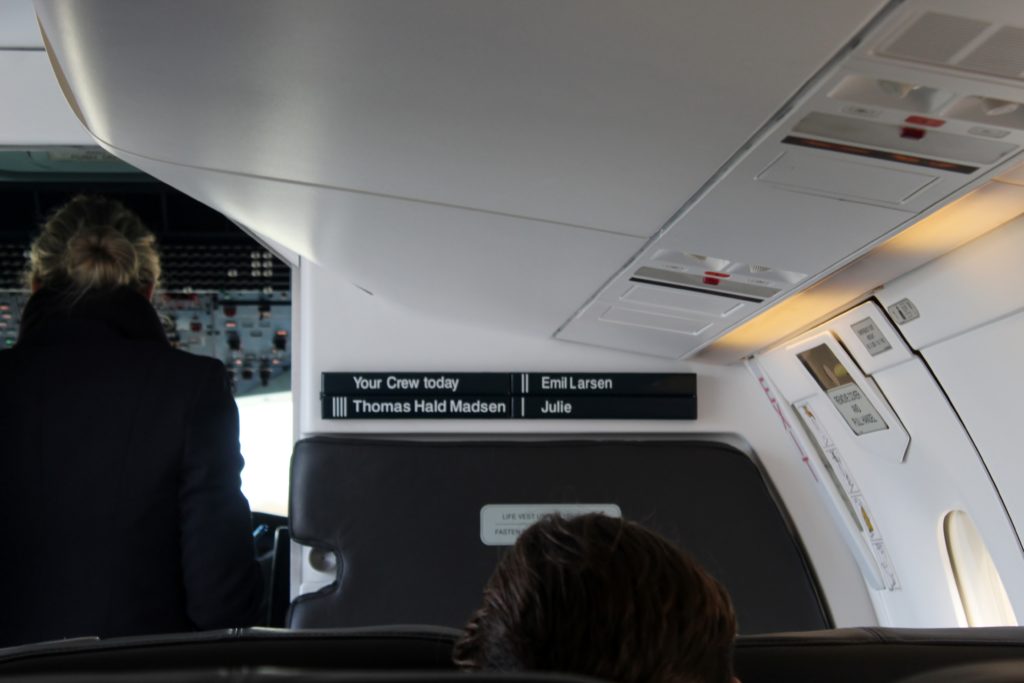 As this flight took place during one of the main public holidays the cabin load was light with only nine passengers onboard. There was definitely no lack of space. Punctual departure with a flight time of an hour to Stockholm.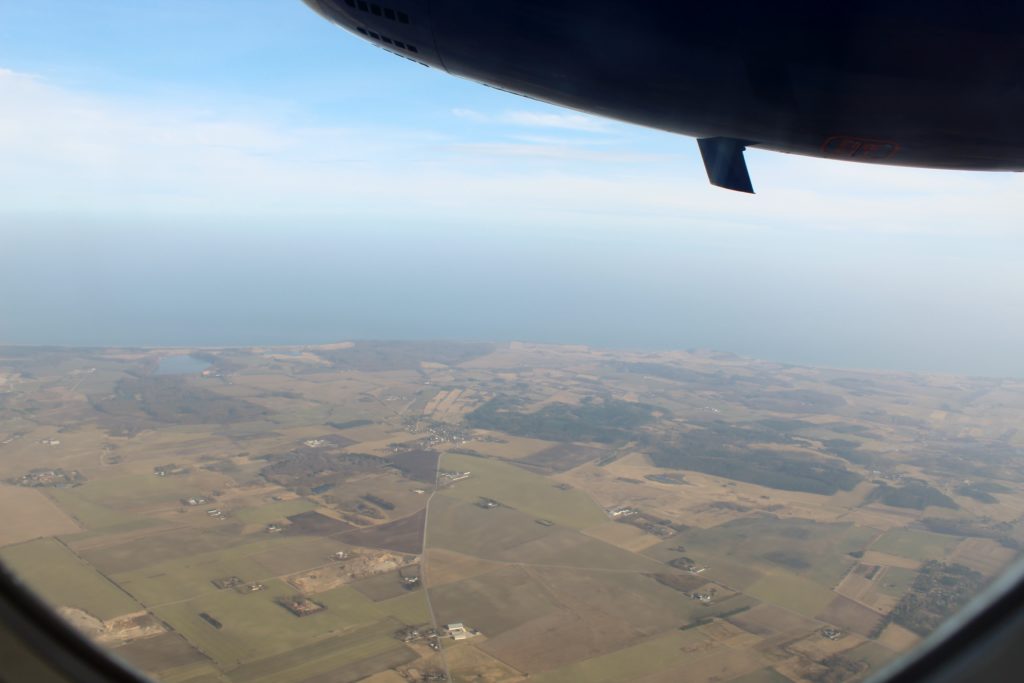 Seat and cabin

There was just one cabin class onboard with 35 seats. The cabin configuration was 1-2 and the leather seats were very comfortable with decent legroom for a regional aircraft.
Overall the Dornier 328 is a very comfortable aircraft to fly on. The cabin feels modern and airy and a great advantage is that the Dornier Fairchild is a jet aircraft rather than a turboprop.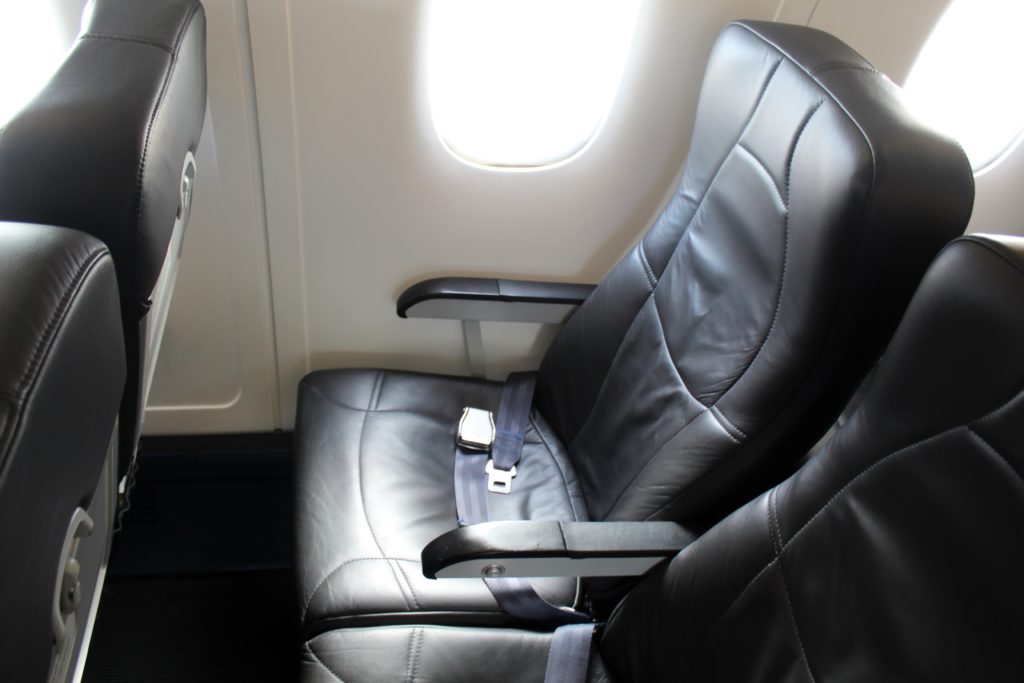 There are also a few other nice details such as the curtain in front of the aircraft door which is closed during the flight so you do not see the aircraft stairs.
Another nice detail is the small window in the cockpit door, which means you can actually see parts of the cockpit from the cabin during the flight, even when the door is closed. On many flights they actually try to keep the cockpit door open as much as possible to keep a friendly and down-to-earth atmosphere onboard.
Food and drinks

Immediately after the seatbelt sign had been switched off the inflight service started. Flight attendant Julie passed through the cabin offering a first drink from a tray, including beer, wine and soft drinks. I had a bottle of white wine. Just like in the lounge they serve the Dornier red and white wines from South Africa onboard, suitably enough on a Dornier aircraft.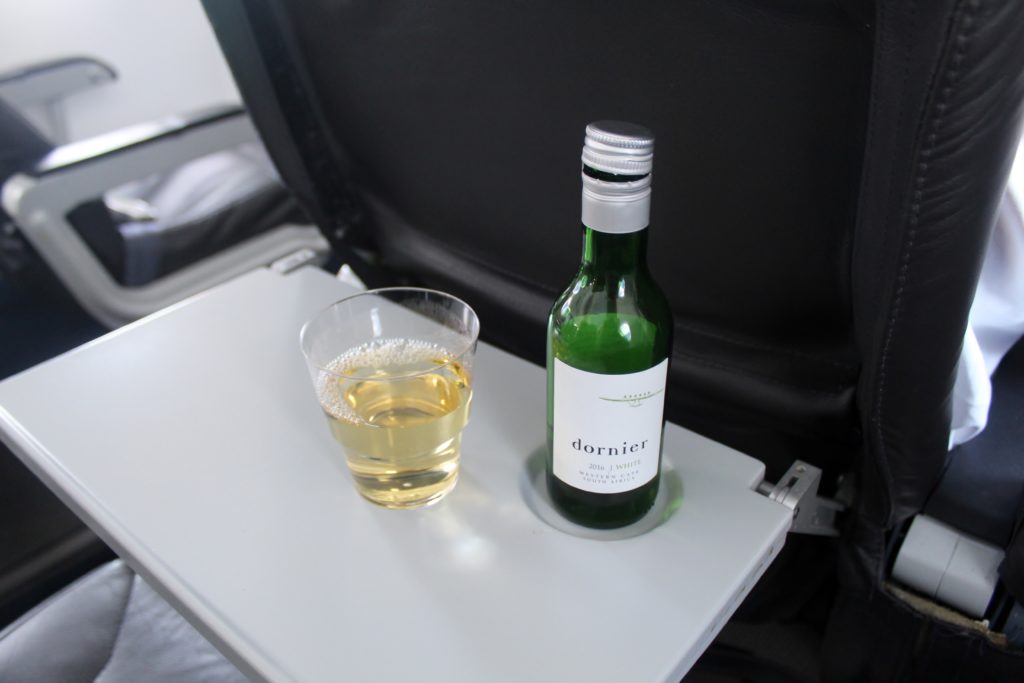 Shortly afterwards the trolley passed through the cabin offering a cold dinner, which was surprisingly good and extensive for a one-hour all-economy flight. Apparently the Sun Air motto is "first class for everybody" and the service level is really not that different from Club Europe on flights of a similar length.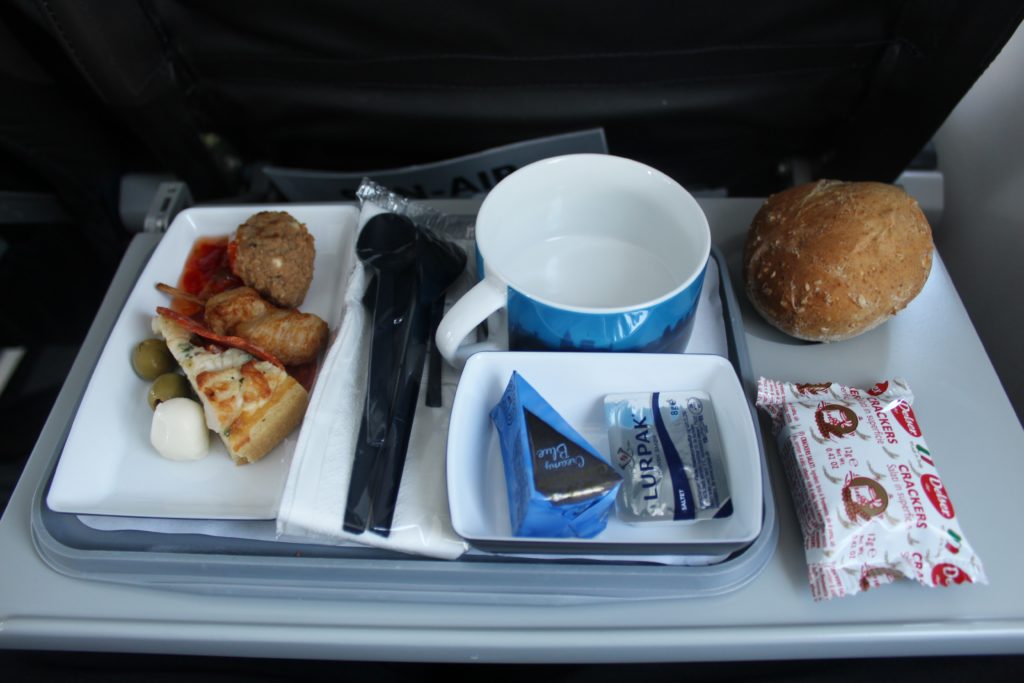 The dinner consisted of some cold cuts, a pie, a chicken skewer and olives as well as bread rolls from a basket. This was followed by cheese and crackers.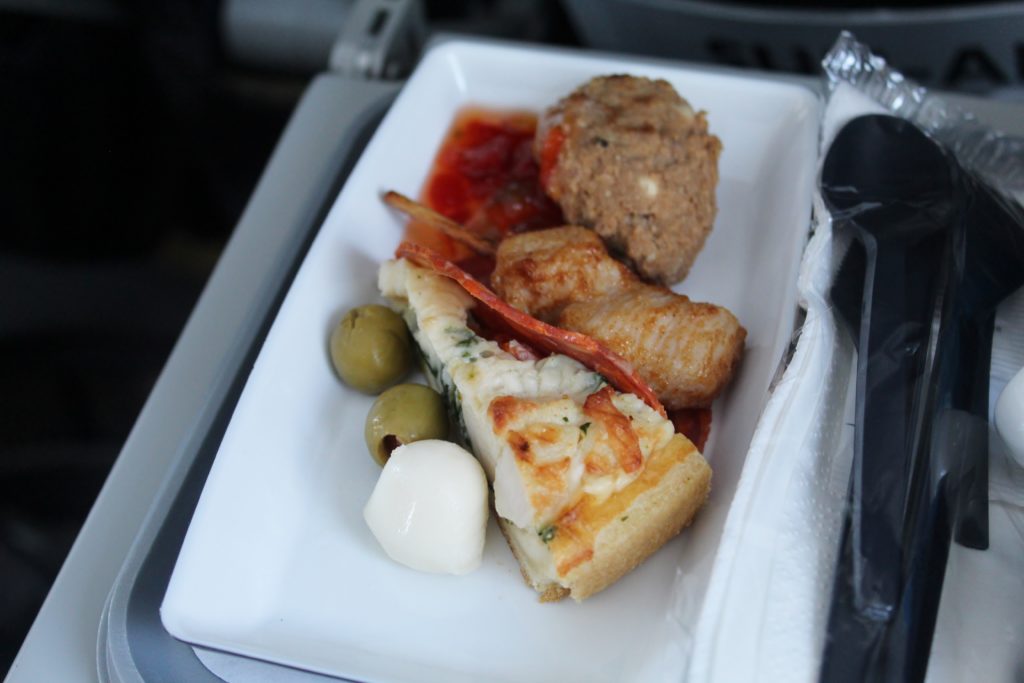 A few minutes later coffee and tea were offered, served in a proper cup, actually the old British Airways Club Europe cup.
It was followed by an ice cream service with three different flavours. I tried the strawberry one. Finally miniature bottles with liqueurs were offered from a tray, including whisky, brandy and Baileys.
I was very impressed to be offered liqueurs with the coffee on a shorthaul intra-Scandinavian flight, and even in economy class. In fact I was so enthrilled that I pressed the call button to ask Julie if I could get a refill. "Of course" was the answer and a minute later she returned with not just one but two bottles, and a large smile. There was no way I could finish all of it before landing so most of the last bottle was brought home. But what a great service attitude!
The service

Terrific service! This was truly superb. Not just a very decent meal service for a short one-hour flight but also the general service attitude definitely impressed. It felt like the British Airways spirit a few years ago when they were nearly always brilliant.
A big hands up to Julie and the rest of the crew who did an excellent job. There was a very nice, friendly and relaxed atmosphere onboard. We were all well taken care of and no one probably left the aircraft unhappy.
Arrival experience

We landed right on time at Bromma airport, the city airport of Stockholm, even five minutes early at 6 pm. This is a small airport located about 10 km from the city centre and with only hand luggage I was landside within ten minutes after touchdown.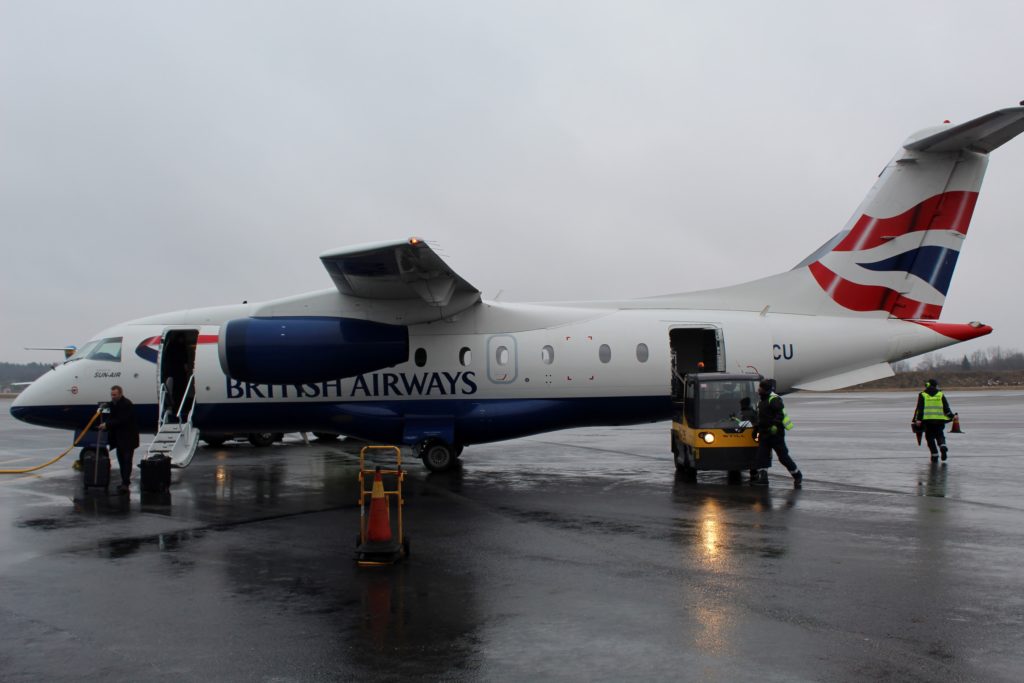 There are no passenger bridges at Bromma airport and with a rather large number of flights nowadays it is important to have clear signs at the exits to the parking positions.
Final impression

A terrific experience with a small but nice lounge in Aarhus, a comfortable Dornier jet aircraft and a great cold meal with free wine and beer, nice Danish ice cream and even spirits. One of the best inflight experiences to be found in Northern Europe right now.