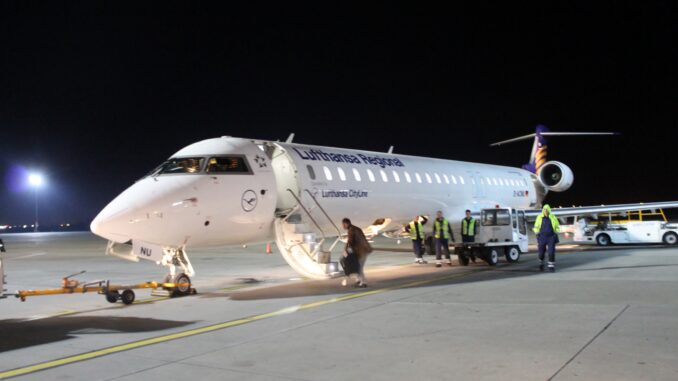 This is a review of a flight with Lufthansa Cityline in business class, a flight I was never actually planning on taking, but as the flight to Warsaw the previous day was diverted to Poznan due to heavy fog in Warsaw I ended up spending the night in Poznan and was rebooked to fly on Lufthansa via Munich the following day.
Departure experience

After being rebooked the previous evening at the LOT ticket office at Poznan airport I ended up spending the night at the Hotel Comm, just across the road from the airport. I set my alarm clock for 4.45 am but in hindsight given the short walking distance (about 3 mins from the hotel to the terminal entrance) as well as the small size of the terminal building I could have slept a good 15 more minutes and still made the flight with good margin.
The departure hall was almost empty when I arrived there around 5.15 am. There was one very early LOT departure to Warsaw at 5.40 and then two Lufthansa flights around 6 am to Munich and Frankfurt.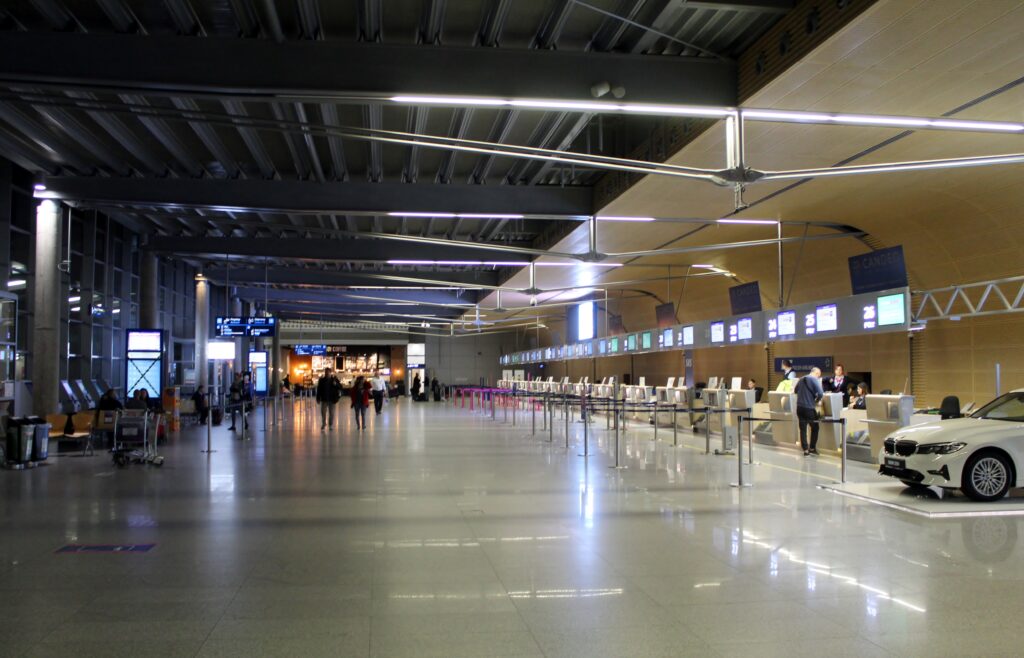 Lufthansa had a dedicated check-in area for the two morning flights with a separate desk for business class, first class and Star Alliance Gold. As I was only travelling with hand luggage I checked in on the Lufthansa webpage before going to bed and downloaded the boarding passes to my smartphone.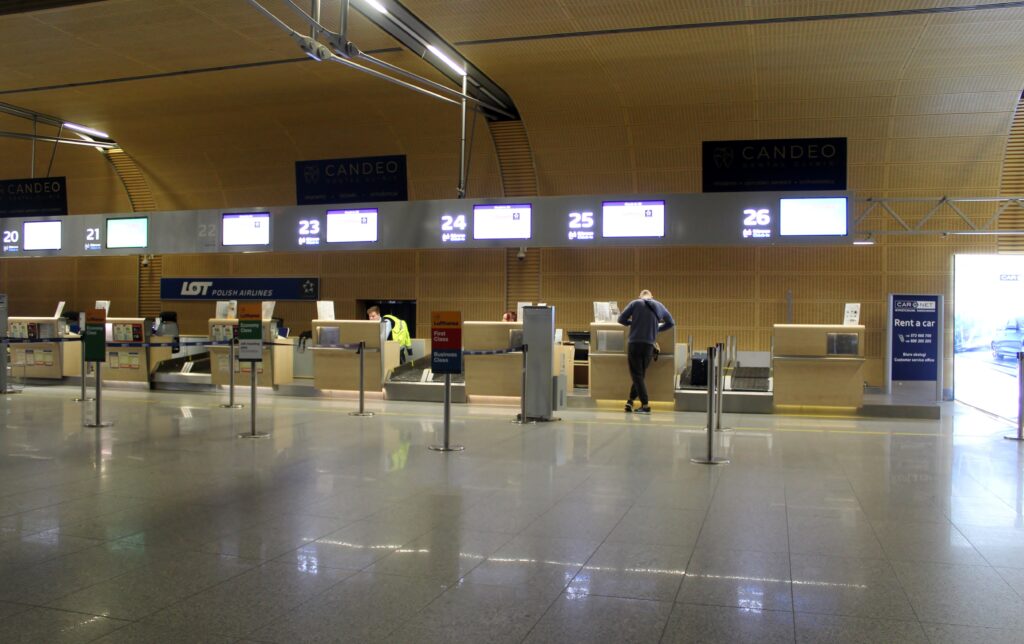 There was a fast track channel at security which I was apparently allowed to use flying Lufthansa business class, but it was closed. However the two regular checkpoints were virtually empty so it really made no difference.
There is just one lounge at Poznan airport used for all flights: domestic flights, Schengen and non-Schengen. It is used by airlines such as LOT and Lufthansa but you can also access it using various lounge cards and credit cards.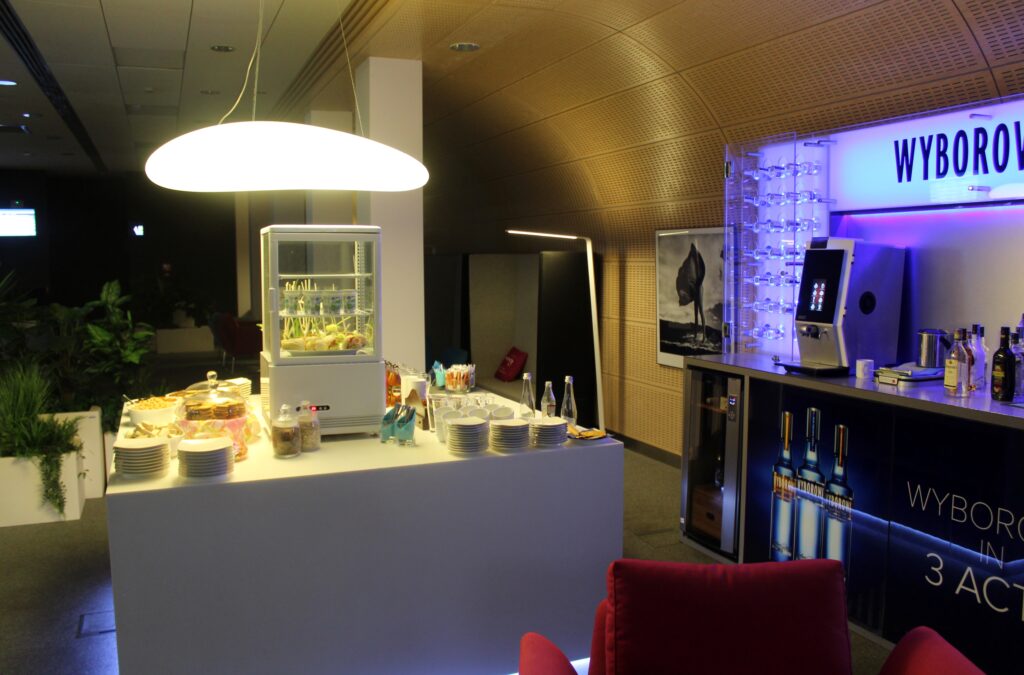 The lounge is actually quite nice with a modern interior and the Wyborowa vodka bar counter is quite cool. I still had time for a much needed cup of coffee after too little sleep during the night and they also had some rather decent breakfast sandwiches on offer. The lounge as such is nothing fancy but perfectly adequate for an airport like Poznan.
Read the full lounge review here!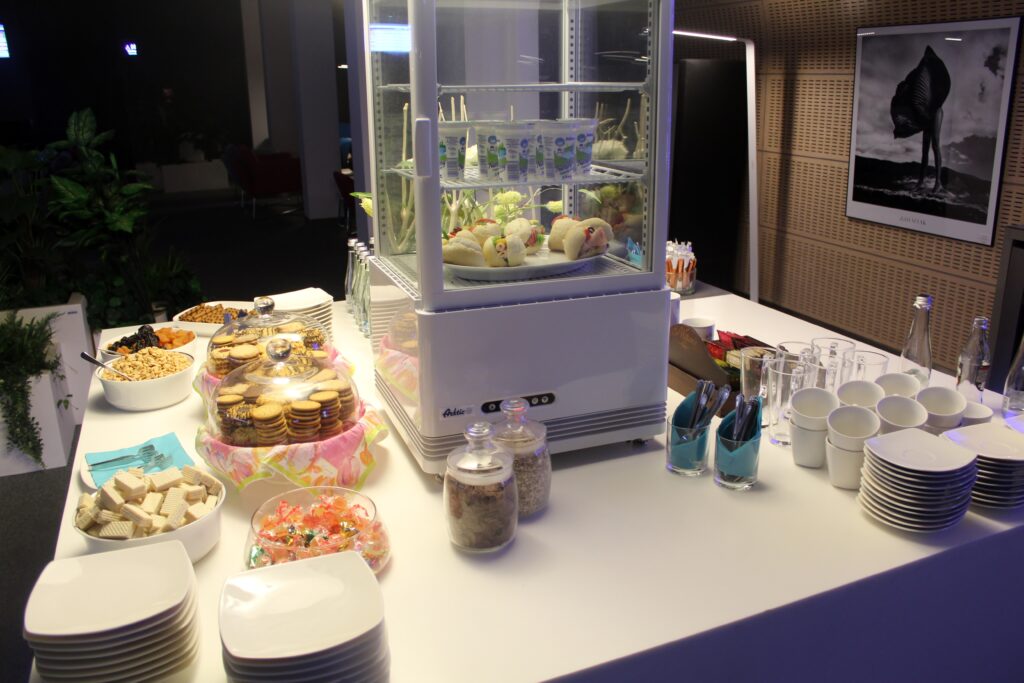 The flight
Poznan-Munich
Lufthansa Cityline flight LH 1641
Departure: 06.00
Arrival: 07.10
Business Class
CRJ-900
Seat 01A

Boarding started 20 minutes before departure and although priority boarding was offered they did not seem to enforce it. However two passengers heading on the Lufthansa flight to Frankfurt, leaving 15 minutes later, were apparently too tired to read the gate signs and tried to board but were fortunately stopped by the system.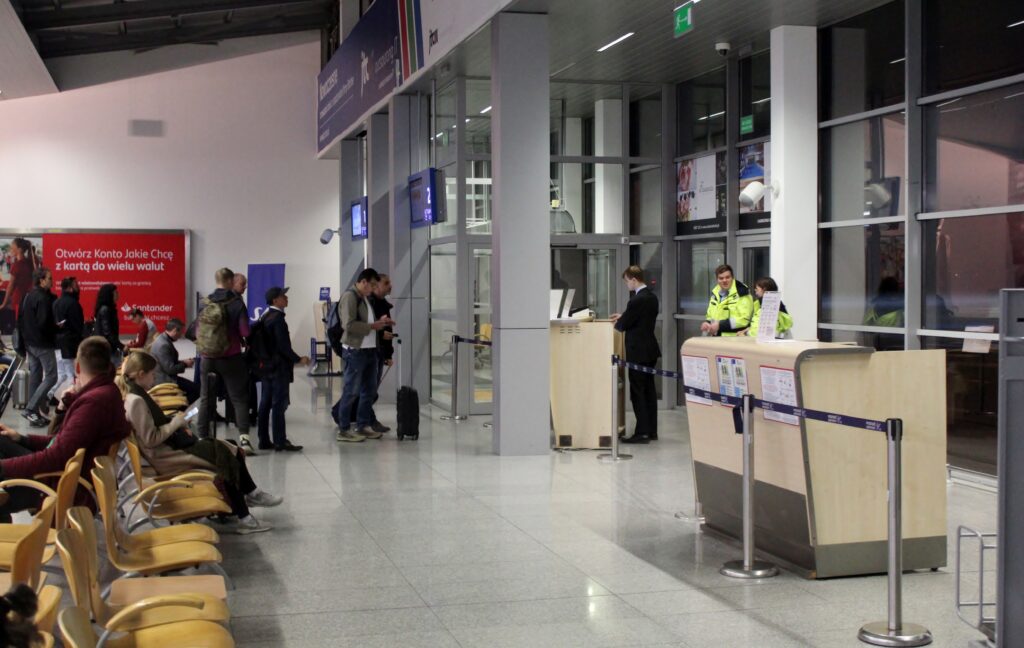 Passengers travelling with larger pieces of hand luggage were also given tags for these and were asked to leave them by the aircraft stairs to be stored in the hold during the flight. This was also done for me.
It was a short but rather pleasant walk on the apron from the terminal building to the aircraft and fortunately the ground staff kept an eye on us as both the flights to Frankfurt and Munich were operated by CRJ aircrafts and you could easily have boarded the wrong aircraft.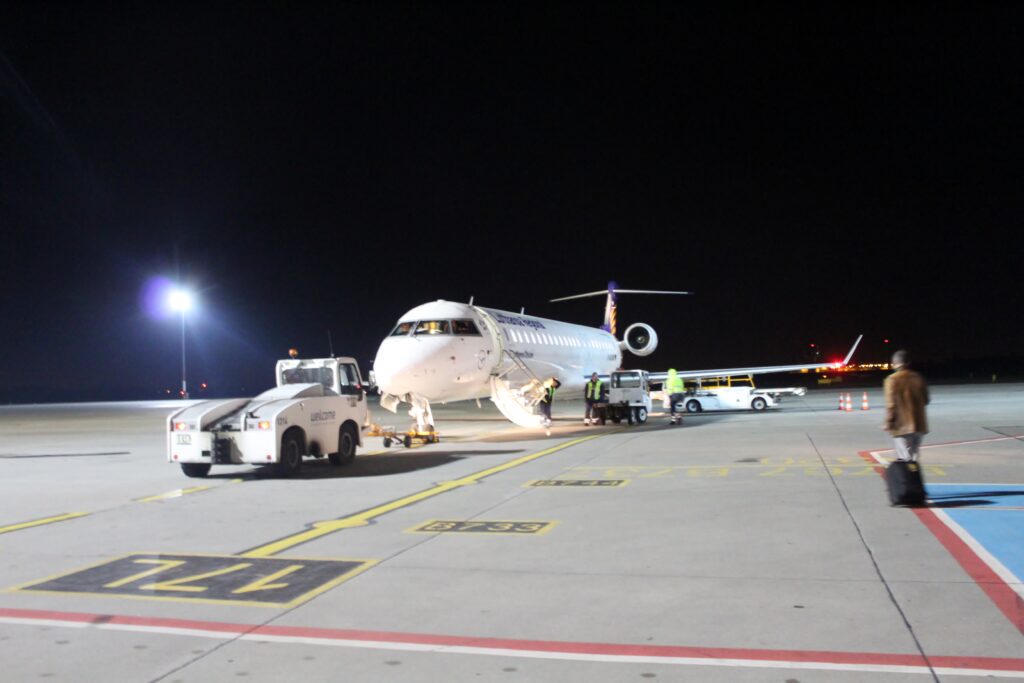 First impression

The Lufthansa Cityline CRJ-900 gave an excellent first impression, just like when I boarded it for the first time two years ago. You can easily notice it is a rather new aircraft type.
I had seat 01A on the first row, just around the corner. No pre-departure drinks were offered and if you want some newspapers to read you have to download those using the Lufthansa app, but at least the purser came to greet. There was also a pillow waiting at the seat upon boarding, which was a nice touch and something I really appreciated as I was dead tired when I came onboard.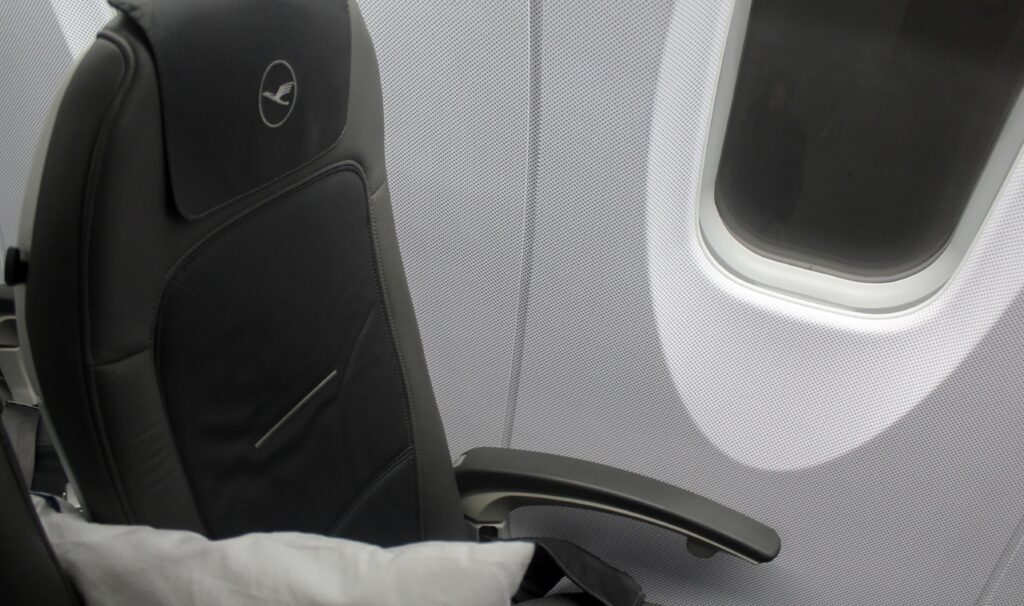 Punctual pushback with a flight time of one hour and five minutes to Munich.
Seat and cabin

Two rows were assigned to business class with row 1 only available on the left hand side of the aisle.
When it comes to regional aircrafts like CRJ and Embraer with a 2-2 configuration it seems to vary from airline to airline if they offer seat block in business class or not. Airlines such as KLM and Finnair do not keep the adjacent seat free in business class when there is a 2-2 cabin configuration whereas the Lufthansa group seems to be fairly consistent at offering this, including on this flight operated by Lufthansa Cityline.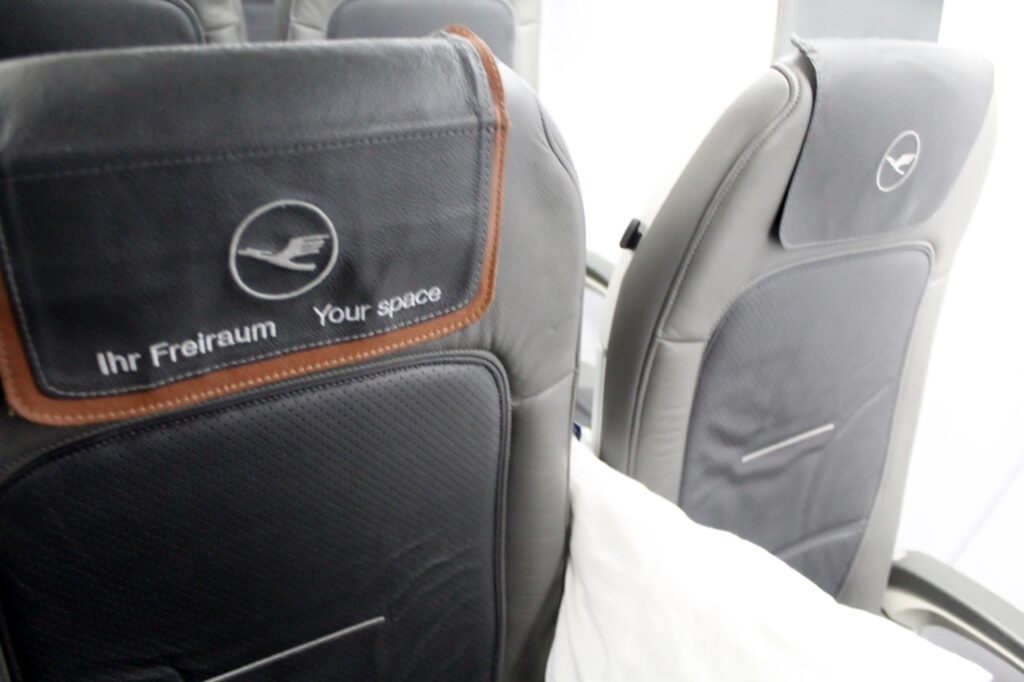 So with all adjacent seats always kept free in business class there were just three business class seats available on this flight. When I checked in online the night before both 02A and 02F were already occupied so I had no other choice but to select 01A on the first row. However the passenger in 02A never showed up so we were only two passengers in business class.
The drawback of sitting on the first row is of course that all cabin baggage has to be placed in the overhead bin during takeoff and landing.
Food and drinks

Straight after takeoff the female flight attendant came to greet me and asked me for my drink orders. A glass of orange juice and a cup of black coffee were delivered to my seat and placed on the side table a minute later.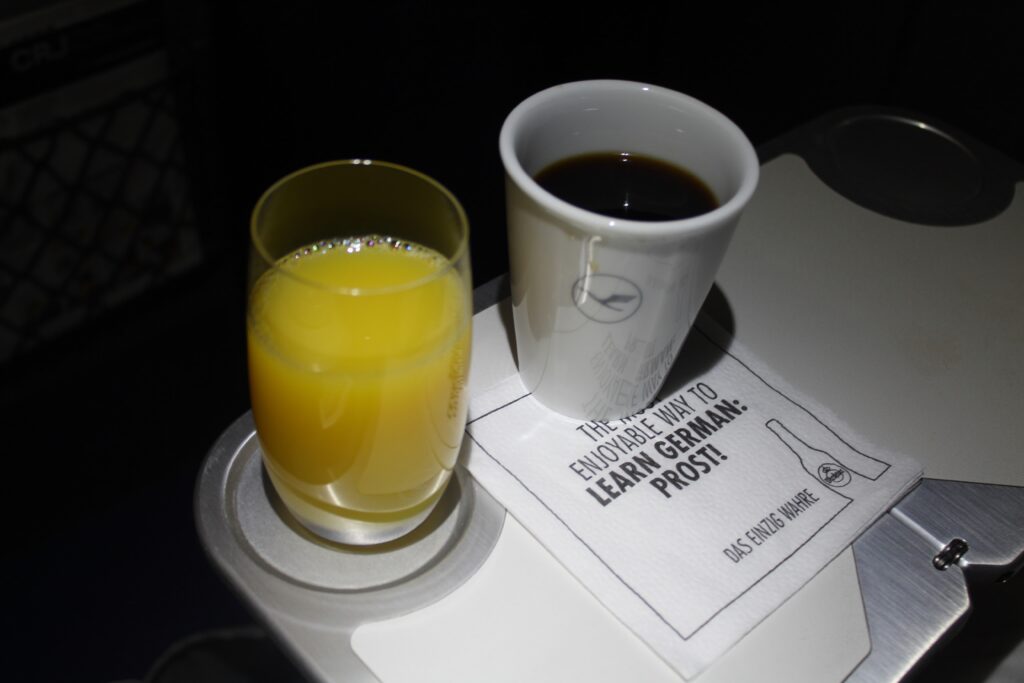 Given the departure time at 6 am a breakfast was obviously served, just a cold one though, and with all the plastic wrapping still on.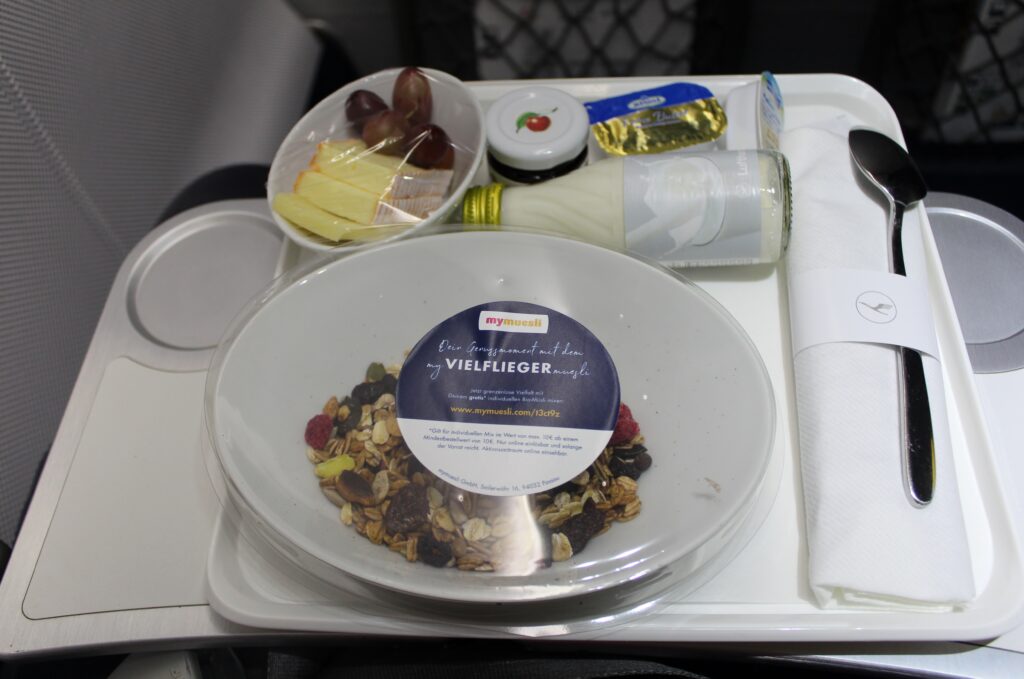 The breakfast included a bowl with musli and cereals and a bottle of milk. I have had similar type of breakfast in the past on Lufthansa, back then with some kind of chocolate cereals, which were very sweet, so at least this was better in that aspect.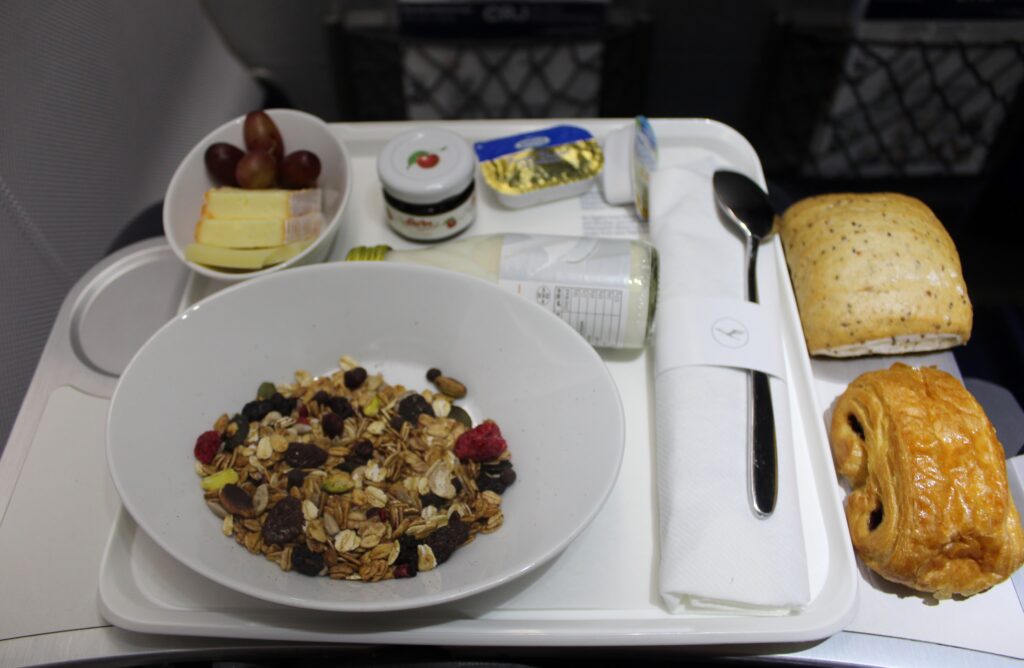 The tray also contained some cheese and grapes, butter and marmalade. Bread rolls and pains au chocolat were offered from a basket by the purser.
After the two of us sitting in business class had been served the two flight attendants continued serving in economy class, which was only half full. On the way back to the forward galley my tray was cleared and I was offered refills of both the coffee and the orange juice.
The breakfast was fine but far from exceptional and there was nothing hot whatsoever to eat.
The service

The service was very friendly by both the middle-aged female purser and her colleague working at the back, a younger woman. They took good care of us at the front, always with a smile, which actually made quite a difference this early morning.
Arrival experience

After my breakfast tray had been cleared I spent the remaining flight time trying to get some rest, so the pillow came in handy.
There was quite a lot fog in Munich and quite a lot of incoming traffic around 7 am so although we departed Poznan right on time we actually landed a few minutes behind timetable. With a CRJ-900 we were obviously directed to a remote standard and taken to the terminal by bus.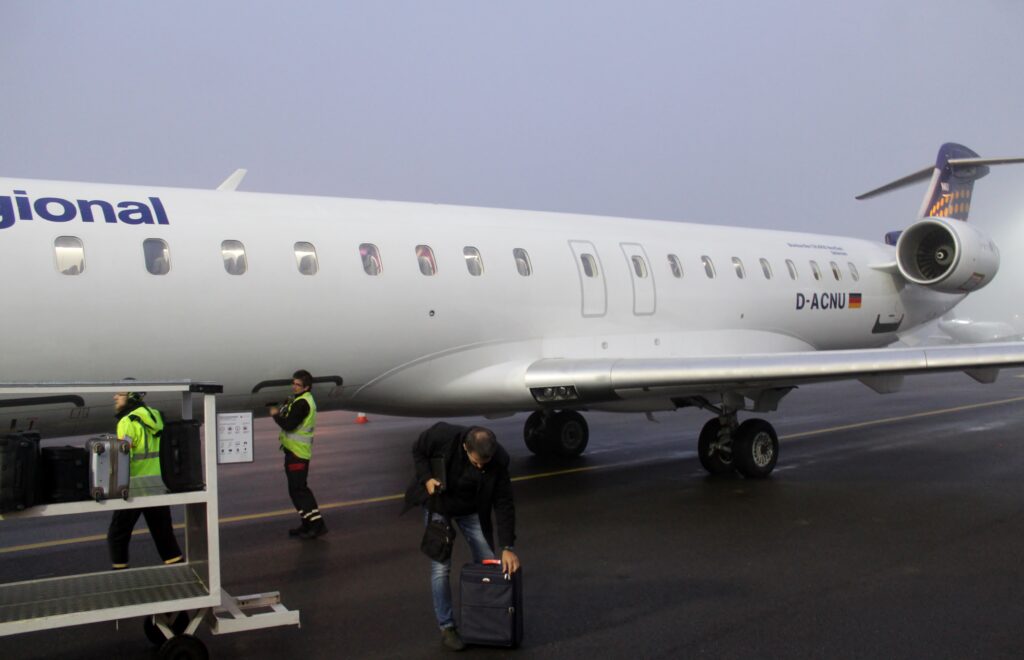 Final impression

The Lufthansa Cityline CRJ-900 is a very pleasant aircraft to fly on with a modern interior. The service was very friendly from the two flight attendants and the breakfast was adequate for a one-hour flight, but of course it would have been nice with something hot to eat. And the lounge in Poznan is surprisingly nice for a small regional airport. Not much to complain about.