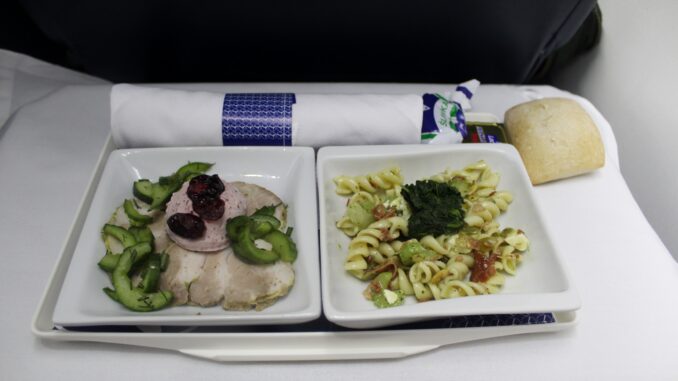 Check-in for the flight was done on the LOT webpage, which starts already 36 hours before departure, however I had already pre-selected a seat during the booking process, which you can do free of charge when travelling in business class. After the check-in process it was easy to download the boarding pass to my smartphone.
Since LOT is handled by SAS in Stockholm (and presumably from all airports in Scandinavia) it is also possible to check in on the SAS webpage. There is no difference really except that you will get a boarding pass with the SAS logo on it instead.
However a great tip in these cases is to download the SAS app to your tablet or smartphone and check in using the app. Then you will also be able to access all the newspapers and magazines available through the SAS app, which are available to download from 22 hours before departure.
Departure experience
I arrived at Arlanda airport around 5.15 pm in good time for the 7.30 pm departure. Flying LOT business class gives you access to the fast track channel through security. Most LOT passengers would probably use the fast track channel next to the SAS check-in area in the newer part of terminal 5, the area leading to the F-gates. However there is also a second security control with a fast track channel at the opposite end of the departure hall, close to the B-gates and Skycity. As I was arriving by bus, only had hand luggage and wanted to go straight to the lounge it was actually quicker to use this one, with a shorter walking distance to the lounge.
Since LOT is part of Star Alliance they obviously use the SAS lounge, which is divided into a business lounge (called simply SAS Lounge) and a gold card lounge (called SAS Gold Lounge). With a Star Alliance gold card I could access the latter which has slightly better food (including a hot item in the afternoon and evening). In contrast to the business lounge in the gold lounge you will find wines in bottles as well as spirits.
The lounge was fairly crowded this early evening and as this was the beginning of a major school holiday there were plenty of families and children.
The food in the lounge consisted of meatballs as the hot item as well as pasta and vegetables.
The flight
Stockholm-Warsaw/Poznan
Lufthansa flight LO 458
Departure: 19.30
Arrival: 21.10
Business Class
CRJ-900
Seat 02F

The incoming flight from Warsaw arrived a few minutes early, which also meant an early start of the boarding process. That was a good thing since the flight was packed to the limits in all three classes with lots of hand luggage. I even heard afterwards that the flight was overbooked and that a few passengers had proactively been rebooked to other flights.
On the negative side though the flight departed from gate F33, a rather lengthy walk from the lounge. Boarding was well underway when I got to the gate and they had even changed the screen to Final Call, so not sure if priority boarding was offered.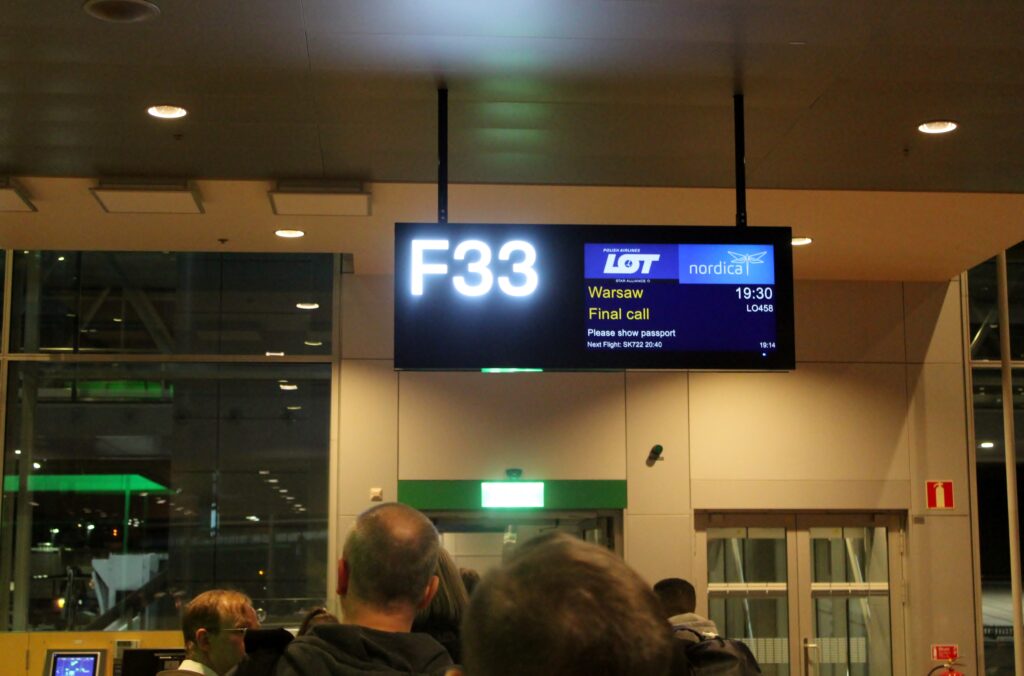 As the flight was operated by a CRJ-900 all larger pieces of hand luggage had to be left outside the aircraft to be stored in the hold, since there is limited storage space in the overhead bins on the CRJ-900. I had a larger rollaway and was asked at the gate to leave it by the aircraft stairs. I was prepared for this and really did not mind as you get it back by the aircraft stairs again straight after landing.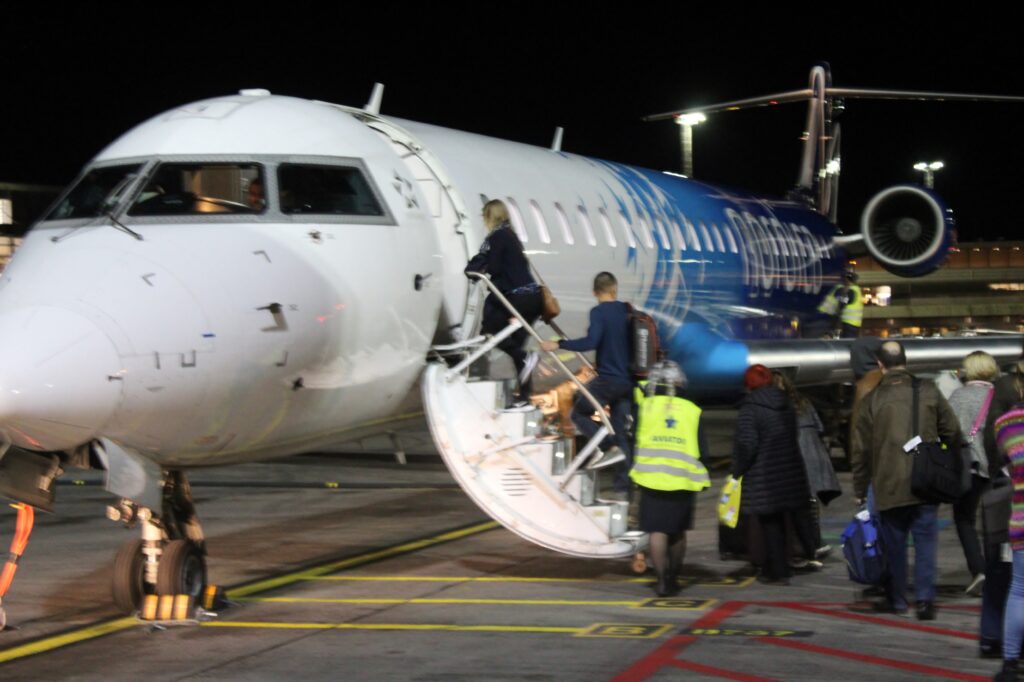 First impression

I had selected 02F on the second row of business class, marked by a red headrest indicating the class of travel. The adjacent seat 02D stayed empty, which is always the case in LOT business class.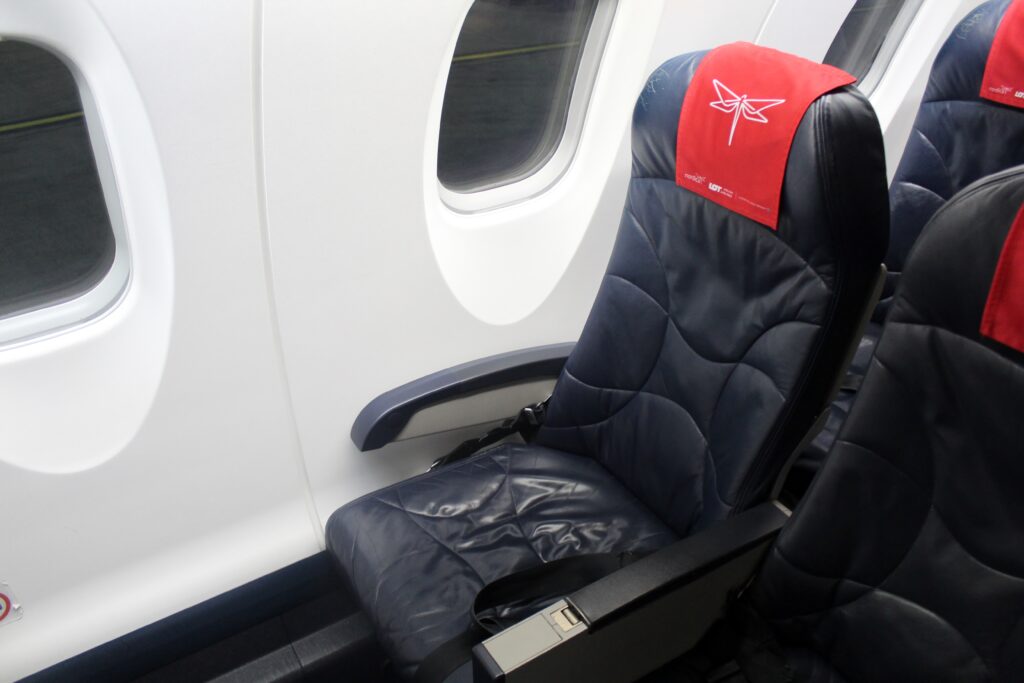 After all passengers had boarded we were offered a pre-departure drink. Just a glass of water and in a plastic glass, but still a very nice touch which very few European airlines do on shorthaul flights.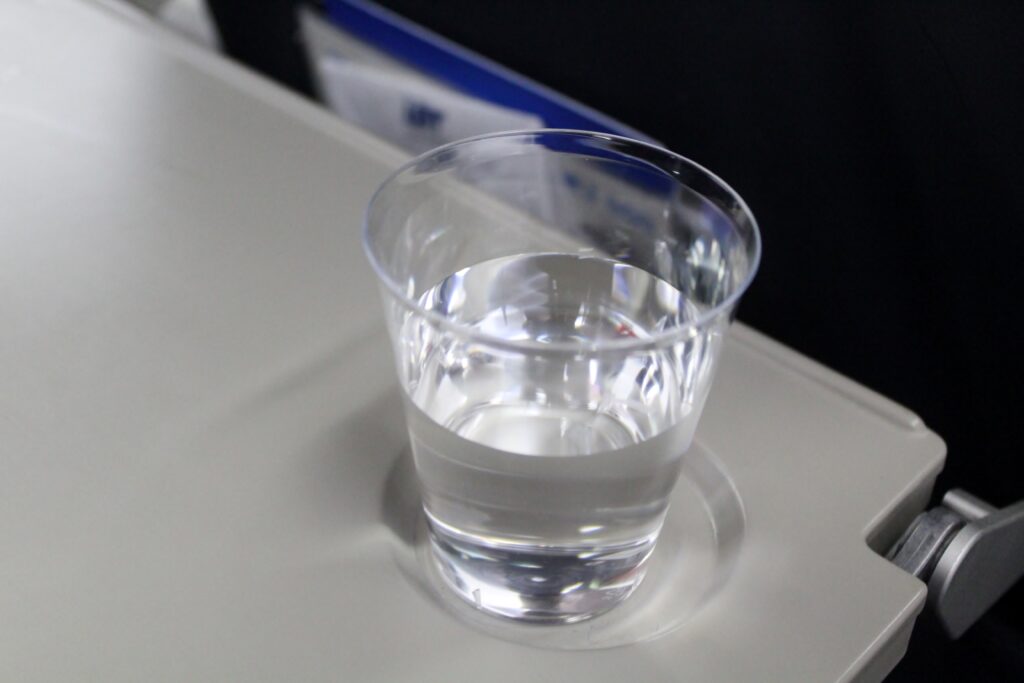 The flight was indeed completely full but due to the early start of the boarding we still managed to close the doors on time. The flight time to Warsaw was expected to be around one hour and 30 minutes.
Seat and cabin

Three rows were assigned to business class and two rows to premium economy. The divider is usually placed between economy class and premium economy, making premium economy a premium cabin rather than an improved economy class cabin.
The adjacent seat in business class is always kept free, which is one of the main differences between business class and premium economy. The seat in dark blue leather was quite comfortable but getting a free adjacent seat really makes a difference when it comes to the comfort, especially on a smaller regional aircraft.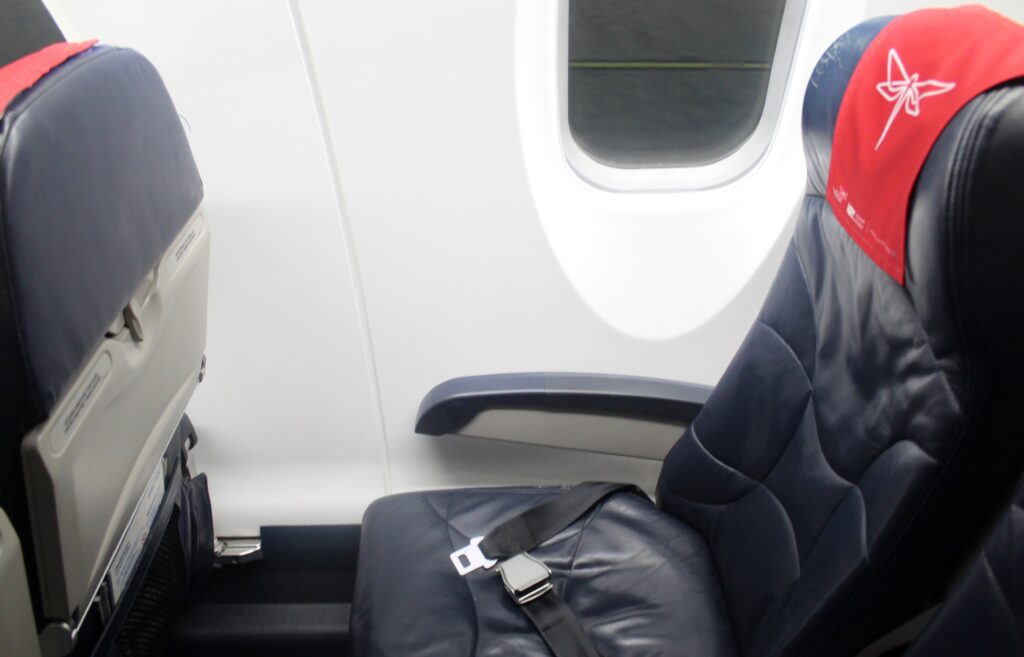 Food and drinks

Shortly after the seatbelt sign had been switched off the cabin crew started preparing the trolleys to commence the inflight service. In business class we were given a proper linen table cloth for the tray table as well as a refreshing towel, another difference between business class and premium economy.
A few minutes later the meal trays were handed out. Just a cold dinner though with no option. Hot food is only served on longer European flights where there are usually two options. A second round was made a few minutes later with the drinks trolley. It was a bit inconvenient having to wait to get something to drink as they first wanted to serve the food in both business class and premium economy, but with only two flight attendants and a completely full flight there was probably no other way to do it. I asked for a bottle of white wine and had two wines to choose between. I chose the French Sauvignon blanc.
The dinner consisted of slices of beef neck served with cucumber and cranberry cheese. And in the other bowl there was a macaroni salad with pumpkin, Serrano ham and spinach. Overall it was tasty but the portions are quite small. I was happy I already had an early dinner in the lounge. Bread rolls were offered from a basket and there was also a Polish candy for dessert on the tray.
Eventually the trays were cleared and I asked for a cup of coffee and a gin & tonic to finish off the dinner. The coffee was served in a paper cup. I am not sure if the flight attendant did a mistake but I think they are really supposed to serve the coffee in a proper cup or mug in business class.
But on the other hand a great thing about flying LOT in business class is that they serve the Hendrick's gin onboard, which is a favourite. I was even proactively given a second bottle and just had to press the call button to get some more tonic water. They also offered all passengers in all three classes the standard LOT chocolate wafers, which have replaced the Prince Polo chocolate bars they served for many years.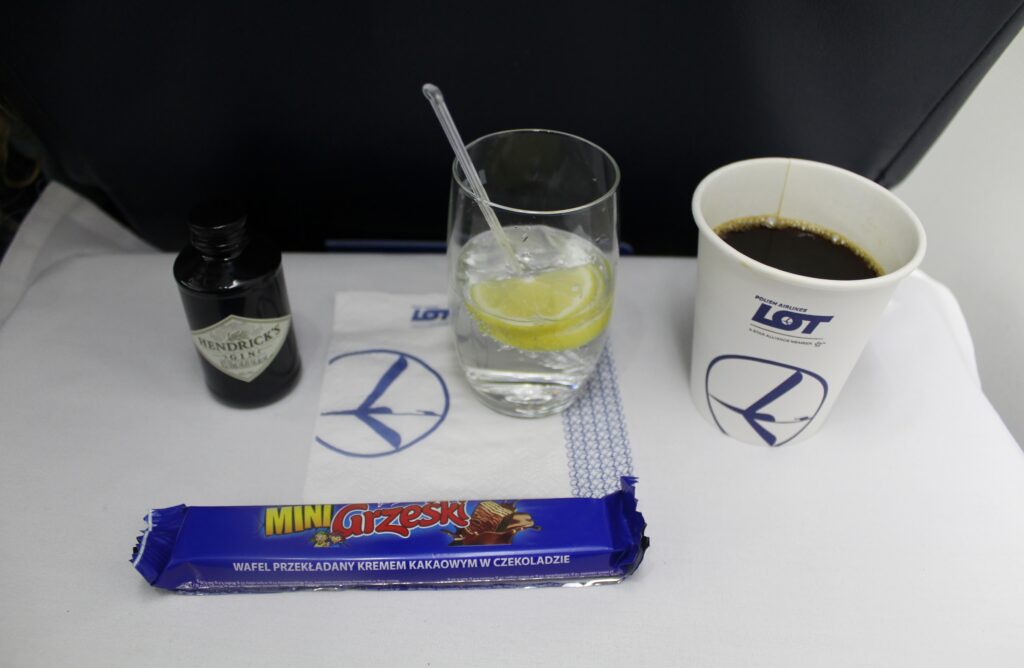 The service

The flights between Scandinavia, the Baltics and Warsaw are operated by LOT in cooperation with Nordica, the national airline of Estonia. LOT and Nordica are in many aspects the same airline. This means that you could either get Polish flight attendants on the flight, Estonian flight attendants, or a mix.
On this flight, although operated by LOT as a proper LOT flight, between Stockholm and Warsaw in Poland, both flight attendants were in fact Estonian, so obviously they did not speak Polish and no announcements were made in Polish during the flight. Neither the captain seemed to be Polish based on his accent.
Both flight attendants, the purser and her colleague working at the back, did a good job. Obviously the service could have been both a bit quicker and a bit more attentive, not having to wait a couple of minutes for the drinks with the dinner, but at the same time it is hard to blame their effort given a completely full flight. They really did their best and worked really hard throughout the flight and should get full credit for that.
Arrival experience

Around 20 minutes before landing at Warsaw Chopin airport the captain made an unexpected announcement. Due to very heavy fog in Warsaw the Chopin airport was closed for all arrivals due to low visibility and we were to land in Poznan instead. It was actually quite hard to hear what he said so the purser had to repeat the message and then pass through the cabin to make sure all passengers had understood what was to happen. At that point they had very little information about what would happen after landing.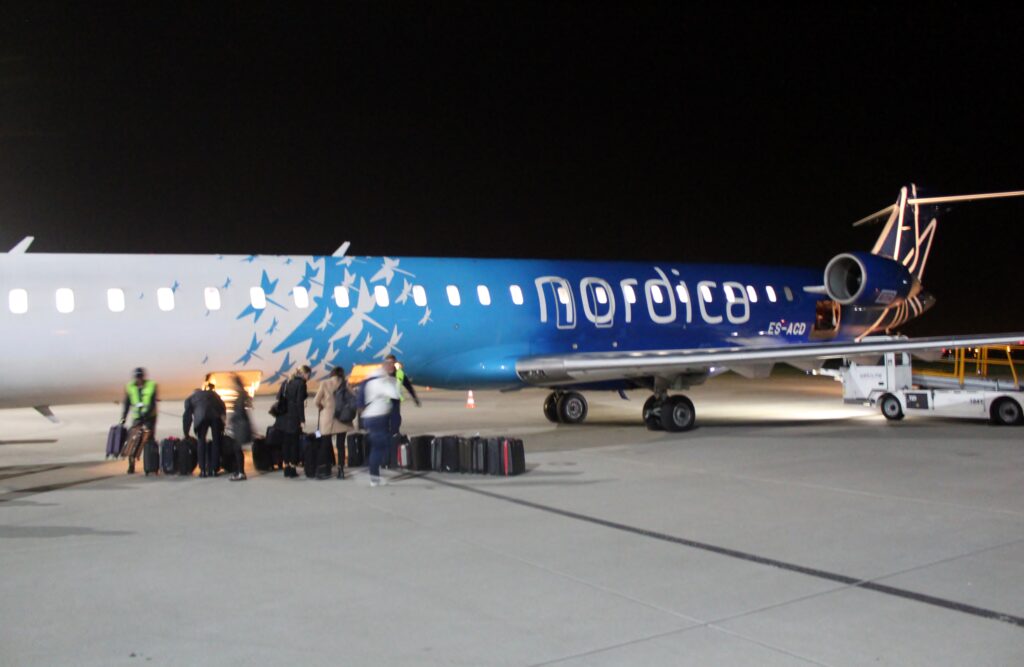 We eventually landed at Poznan airport just after 9 pm and after waiting some time the ground staff to show up, the doors were opened and the hand luggage stored in the hold was offloaded.
You can read more about what happened later as a consequence of the diversion here.
Final impression

Overall LOT shorthaul business class is a pleasant product. There are some nice benefits including a free adjacent seat, a pre-departure drink, a linen table cloth for the meal service and a decent selection of drinks. However only a cold meal was served and there was no option. The flight attendants worked hard and provided a rather pleasant service, in spite of a completely full flight.