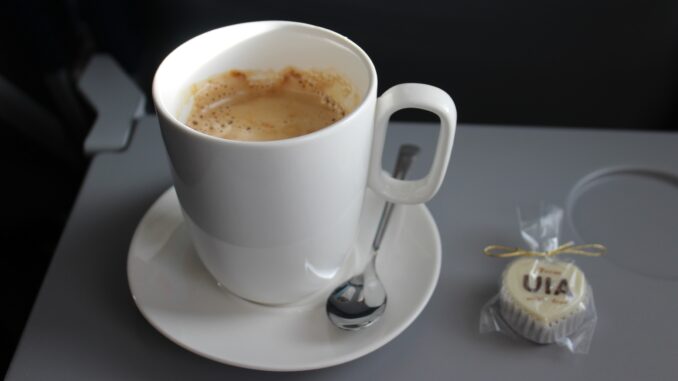 Ukraine International Airlines, sometimes just abbreviated UIA, is the national airline of Ukraine. The hub is at Borispol airport in Kiev and they operate scheduled flights to nearly 90 destinations including domestic flights in Ukraine, shorthaul flights around Europe and longhaul flights. Among the longhaul destinations are Bangkok, Dubai, Colombo and New York.
This is a review of a flight in Ukraine International Airlines business class from Stockholm to Kiev, part of a longer trip Stockholm-Kiev-London Gatwick. One of the most affordable ways to fly from Stockholm to London in business class.
Departure experience

The experience could have got to a better start. Ukraine International Airlines had a dedicated check-in area in terminal 5 at Stockholm Arlanda airport with a rather long line of people waiting, many with plenty of luggage. But although there was a dedicated check-in desk for business class and frequent flyers there was nowhere to queue for it.
Since I refused to join that long line, which would probably have taken a good 15-20 minutes with all that luggage, I went rather awkwardly to the front of the queue, from the side, and waited right beside the business desk. Another man who seemed to have status with UIA did the same. Two passengers, a young couple who were near the front of the queue, commented on this and asked us to join the queue as everyone else, but we both stood our ground and explained the situation. It did say business class on the screen, I was travelling in business class and I had paid to use a quicker check-in service. At the end the couple accepted the explanation.
I do not blame them, how could they have known? But it was all very badly managed by the ground staff. As a business class passenger you should not have to argue to get a service you have paid for, or having to explain it to other passengers.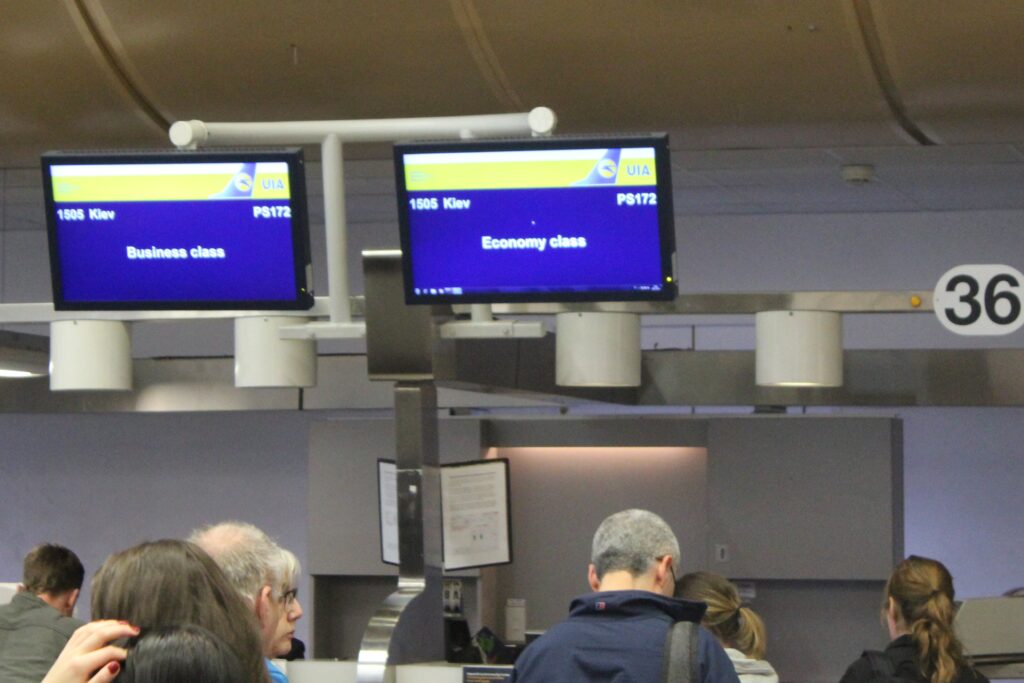 As soon as the check-in agent at the business desk had finished dealing with the customer at the counter she checked me in. My boarding passes were quickly printed.
I asked which lounge I could use in the terminal, but she did not know. Really? Surely a check-in agent at a business class desk should know which lounge the airline uses for its premium passengers, and if not should check that up. Fortunately I was 99% sure about it myself, since I was 99% sure I had seen the UIA logo on the screen outside the Aviator Lounge, but again the ground staff should know about these things.
And indeed they did use the Aviator Lounge, or the Stockholm Arlanda Lounge as it is sometimes called. It is located in terminal 5 concourse F, in the non-Schengen area on the upper floor, on the immediate right on top of the escalator after passport control.
This lounge is also used by for example Emirates and Qatar Airways and there was in fact an Emirates flight leaving in the early afternoon just before the flight to Kiev. The last Emirates passengers were just about to leave so the lounge quickly became very quiet.
I rather like this lounge. No it will not win any awards, but the staff are friendly and there is a small cold buffet, some sandwiches and some desserts, usually an excellent chocolate cake or pistachio cake. In the past they used to have a waffle machine, a compromise for not being able to offer any hot food (there are not kitchen facilities in or near the lounge) but it seemed to be gone now, just like the Nespresso machine.
Read the full lounge review here!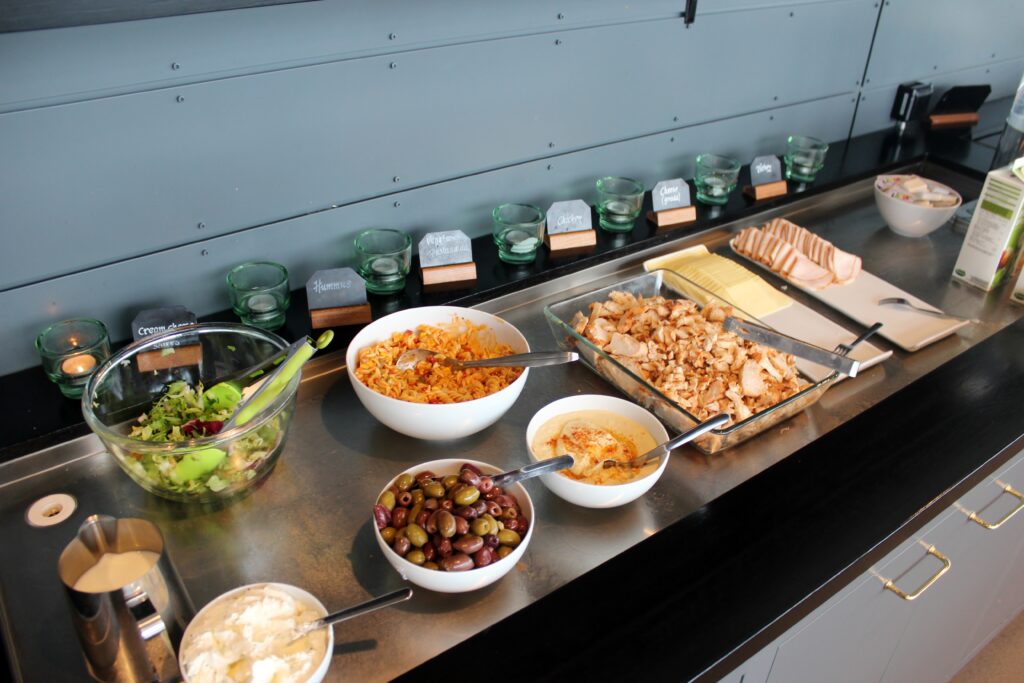 The flight
Stockholm Arlanda-Kiev Borispol
Ukraine International Airlines flight PS 172
Departure: 15.05
Arrival: 18.25
Business Class
Boeing 737-800
Seat 02F

I was not a member of the Ukraine International Airlines frequent flyer program called Panorama Club, but it is possible to earn points in the Air France & KLM frequent flyer program Flying Blue flying UIA. Interestingly my Flying Blue Gold status was also recognised by the system as it said GOLD on the boarding pass. Not that it probably made much of a difference.
After a rather poor ground experience I was happy to see that they at least offered proper priority boarding, which was properly enforced. I was the very first passenger to board.
First impression

A newer Boeing 737 aircraft was used to Kiev and in turned out we were only two passengers in business class.
The cabin design felt surprisingly fresh and modern in dark blue and gave a good impression. Much better than anticipated.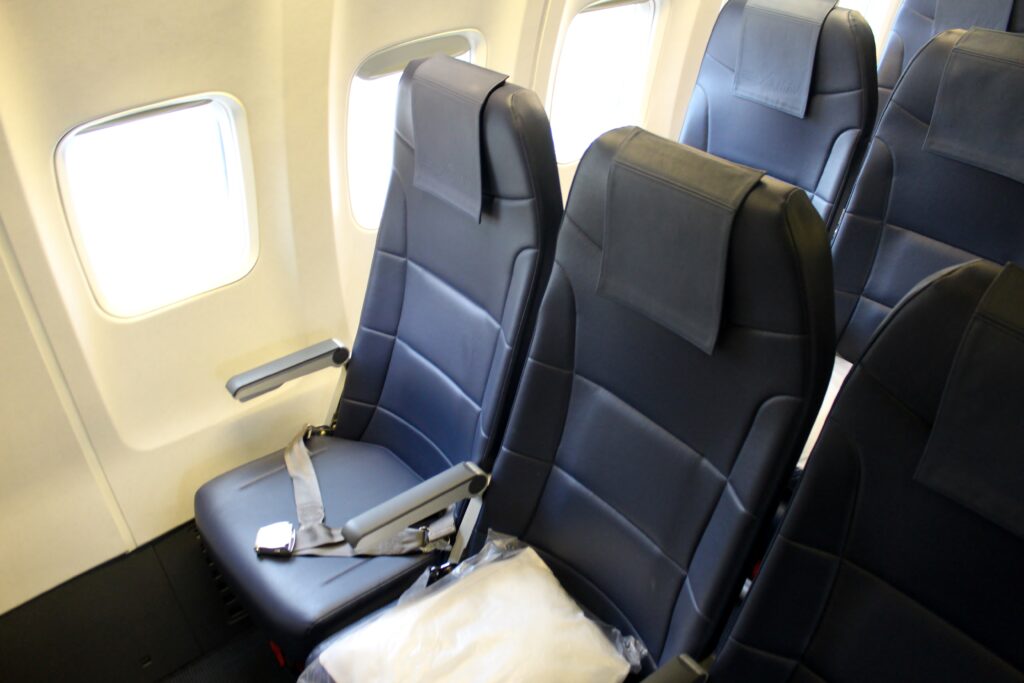 After I had taken my seat I was offered a pre-departure beverage with no less than five different juices. I was also offered newspapers, unfortunately with a very limited selection in English.
Punctual pushback and departure just after 3 pm with a flight time around two hours to Kiev.
Seat and cabin

There were three rows of business class on the Boeing 737 and with only two passengers there was plenty of space. I had seat 02F, a window seat on the second row.
I was very impressed with the cabin design on the Boeing 737-800 which was presumably rather new and in an excellent condition. UIA also has some older Boeing 737 aircrafts. The seat itself was a rather unusual model I have not really seen anywhere else, but it was comfortable. Overall it was very pleasant onboard.
The configuration was 3-3 but with blocked middle seats in business class giving a 2-2 configuration. And the legroom was definitely not bad for a shorthaul flight with plenty of space. There was nothing whatsoever to complain about regarding the comfort.
Food and drinks

After takeoff a first cocktail was served. I asked for a gin & tonic which was served with ice and lemon. I was also offered two different types of nuts served in bowls. At the same time I was presented with the dinner options and my meal order was taken.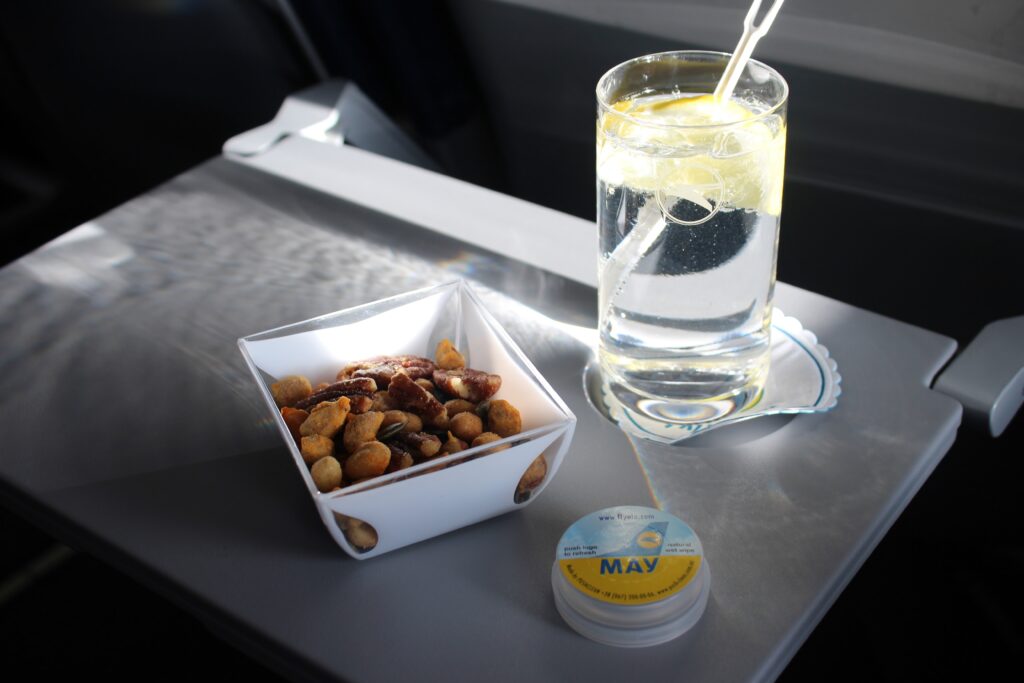 I was also given a 'natural wet pipe' rather than a refreshing towel. I seriously have never seen anything quite like it, on any airline. But a fun, different and most importantly, rather useful thing.
A few minutes later the early dinner was served based on my meal order. A three-course meal was served with no less than three choices of main course, which is impressive for a two-hour flight.
There was no printed menu so the options were presented by the flight attendant and included turkey with potatoes, some kind of pasta, or beef with basmati rice. I had the latter.
The starter was a Greek salad, my choice of main course was the beef, and finally there was some kind of caramel dessert with vanilla sauce, something similar to an Apfelstrudel. Given beef for main course I had a glass of red wine to drink with the meal, served from a large bottle, with refills.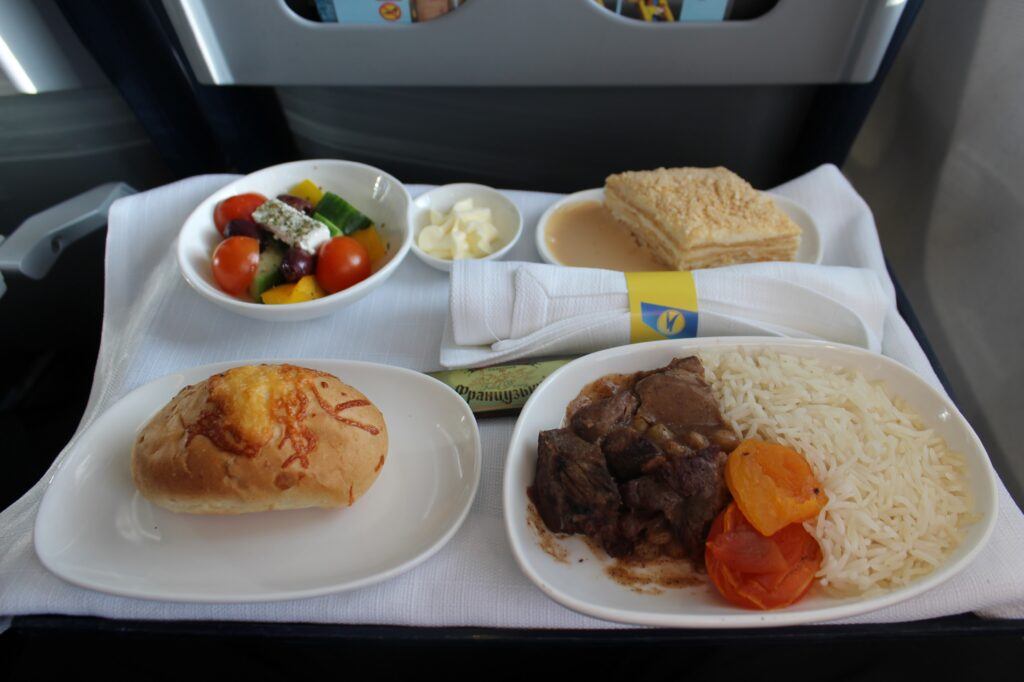 There was also a small personal note on the tray from the chef at Sky Food Services in Ukraine who had prepared the meal, Andriy, which was a very nice touch. And it did actually look like he had signed the note personally.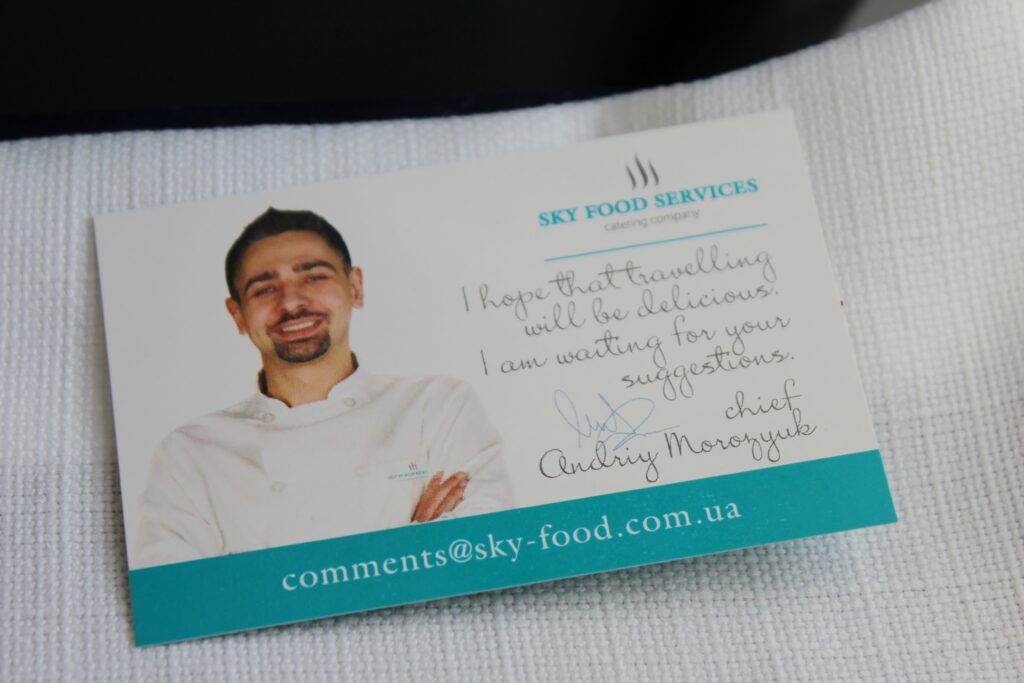 After the meal tray had been collected I was offered coffee or tea and asked for a cup of black coffee and I was given the option to get it either in a small cup or in a larger mug. I like coffee so I asked for a large one which was delivered together with two small bowls with milk and sugar. I was also given a small UIA chocolate heart, really cute.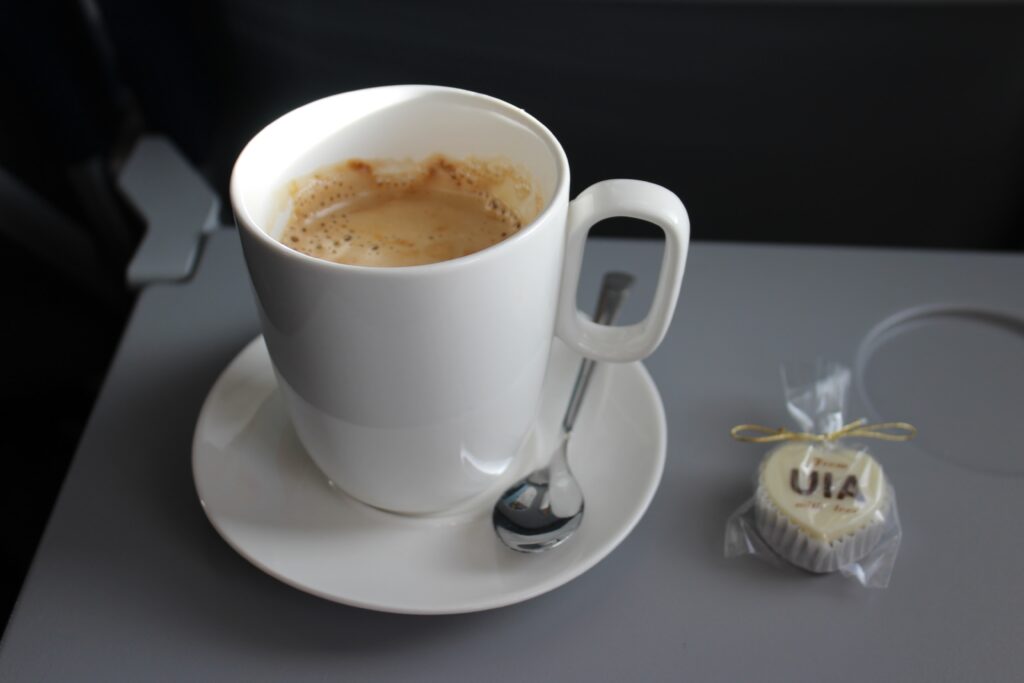 Eventually I asked for a glass of whisky and was offered either Chivas Regal or Jack Daniels. I was also given another bowl with nuts, another 'natural wet pipe' and offers of refills later.
The service

The Senior cabin attendant (the purser) who worked in business class was brilliant all the way from start to landing. He was accompanied by a younger male flight attendant who assisted with some of the service in business class. He was slightly more uncomfortable communicating in English but there were absolutely no problems and I got everything I asked for.
Overall the service was absolutely perfect from start to finish and significantly better than expected.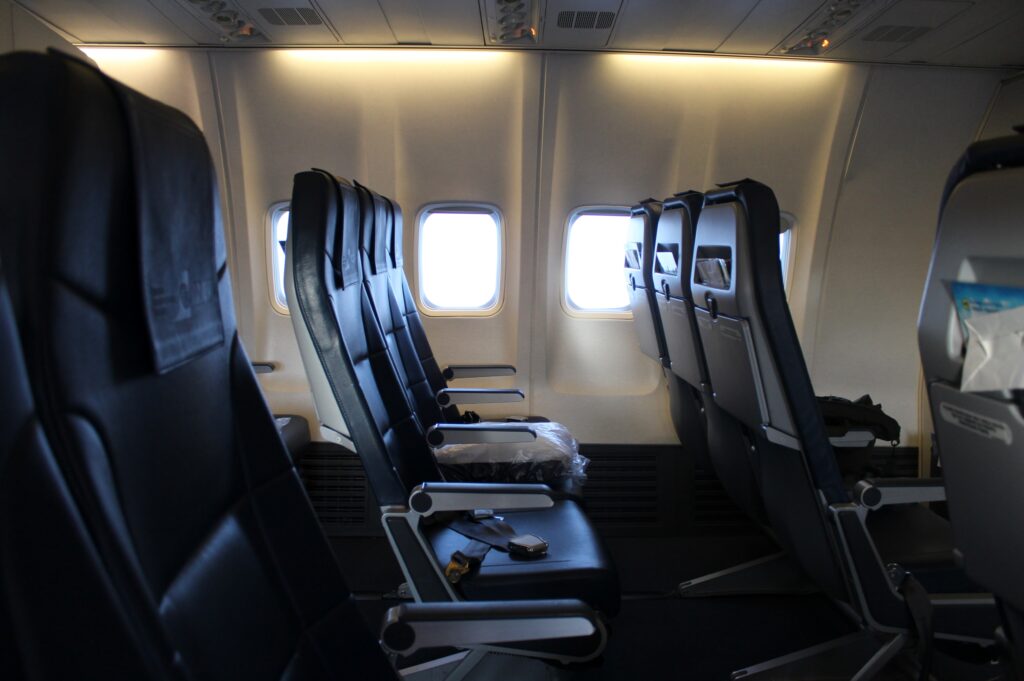 Arrival experience

We landed an impressive 20 minutes before timetable at Kiev Borispol airport but unfortunately we were directed to a remote stand and taken to the terminal by bus.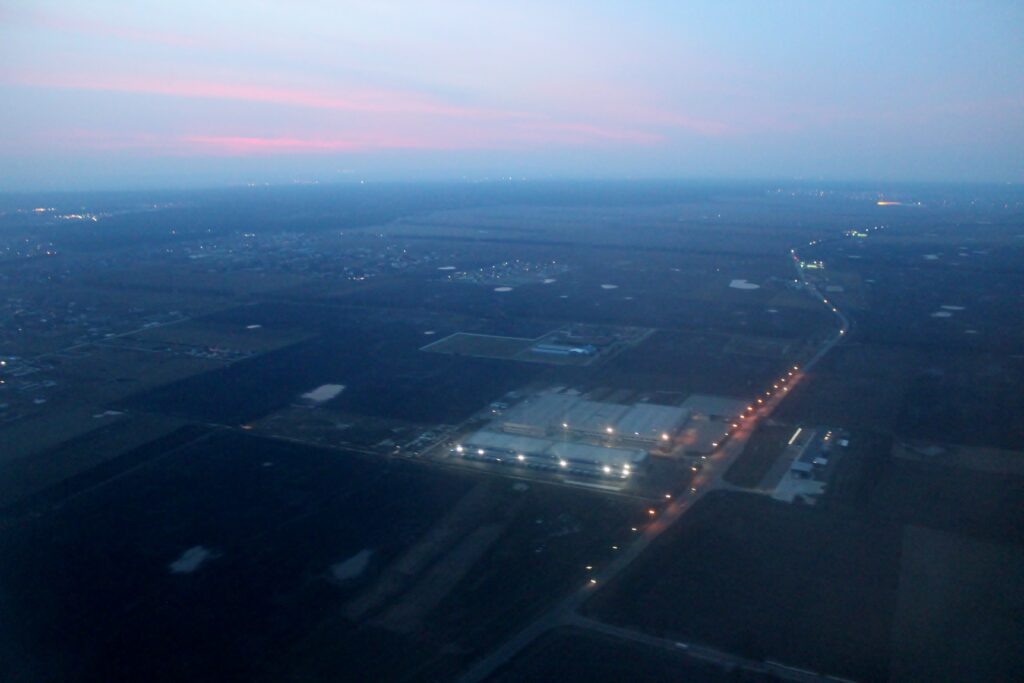 After the seatbelt sign had been switched off a female flight attendant went inside the cabin to block the aisle between business class and economy class meaning the two of us at the front could collect our belongings and leave the aircraft first, without anyone pushing. This was just another very nice touch onboard. Unfortunately there was no dedicated bus for business class though.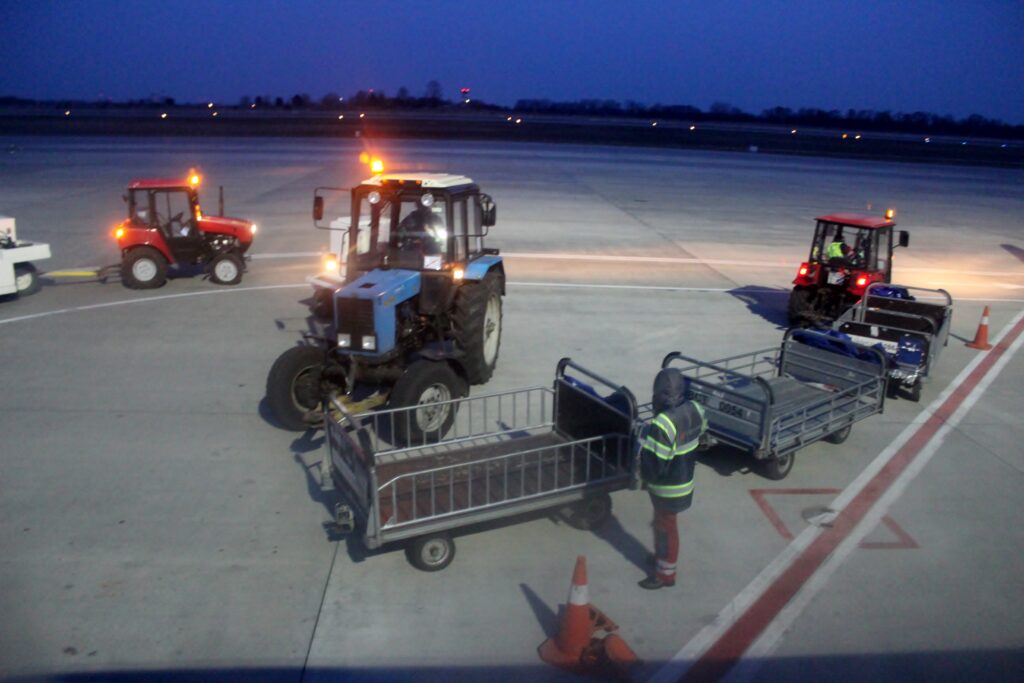 Inside the terminal I followed the signs for 'Transfer' for my connecting flight to London.  I already had a boarding pass and transfer security took three minutes.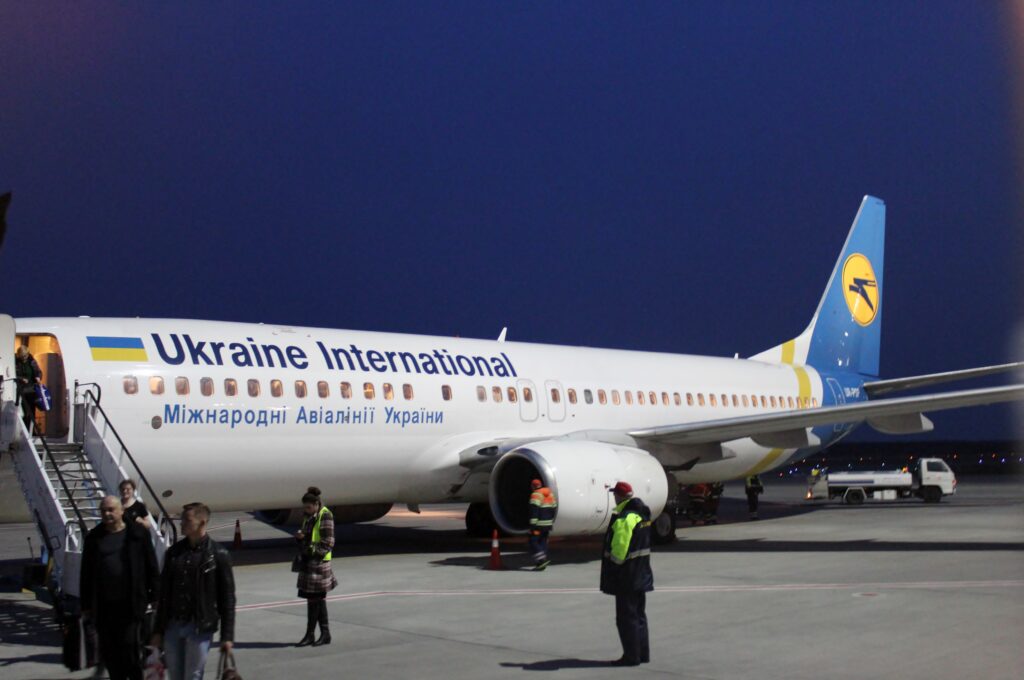 Final impression

The ground service in Stockholm left a bit to be desired but the service onboard in business class was flawless. Excellent service from the Senior flight attendant, a three-course meal with three choices of main course, a very modern cabin with good legroom and lots of different nice touches during the flight. A very solid business class experience.