Ukraine International Airlines, Авіакомпанія Міжнародні Авіалінії України in Ukrainian, and sometimes just UIA in English, is the national airline of Ukraine. The hub is at Borispol airport in Kiev with scheduled service to over 80 destinations, both domestic in Ukraine, shorthaul around Europe and longhaul. Among the longhaul destinations are Bangkok, Dubai, Colombo and New York. The fleet consists of Boeing 737 and Boeing 767 aircrafts as well as some Embraer aircrafts for shorter flights.
This is a review of a flight in Ukraine International Airlines business class from Kiev to London Gatwick, the second part of a longer trip Stockholm-Kiev-London. The Kiev to London flight is apparently regarded as an 'extended European flight' with a very extensive meal service with two choices of starter, three choices of main course and two choices of dessert. Incredibly impressive.
Departure experience

I was just in transit in Kiev with one hour and 40 minutes between two international flights. The transfer procedures at Borispol airport were very quick and straight forward.
We were taken to the terminal by bus, I entered the terminal, took an escalator one floor up, passed transfer security, which took three minutes, then another escalator one more floor up to the transit area, and what was it. Very easy. There was a transfer desk in the same area but I already had a boarding pass for my connecting flight.
Ukraine International Airlines uses terminal D in Borispol airport which is a very modern terminal which opened in 2012. It offers all facilities you may need during a layover at the airport including shops, restaurants, bars, cafes and lounges. A far cry from the old original Soviet-style building, nowadays called terminal B.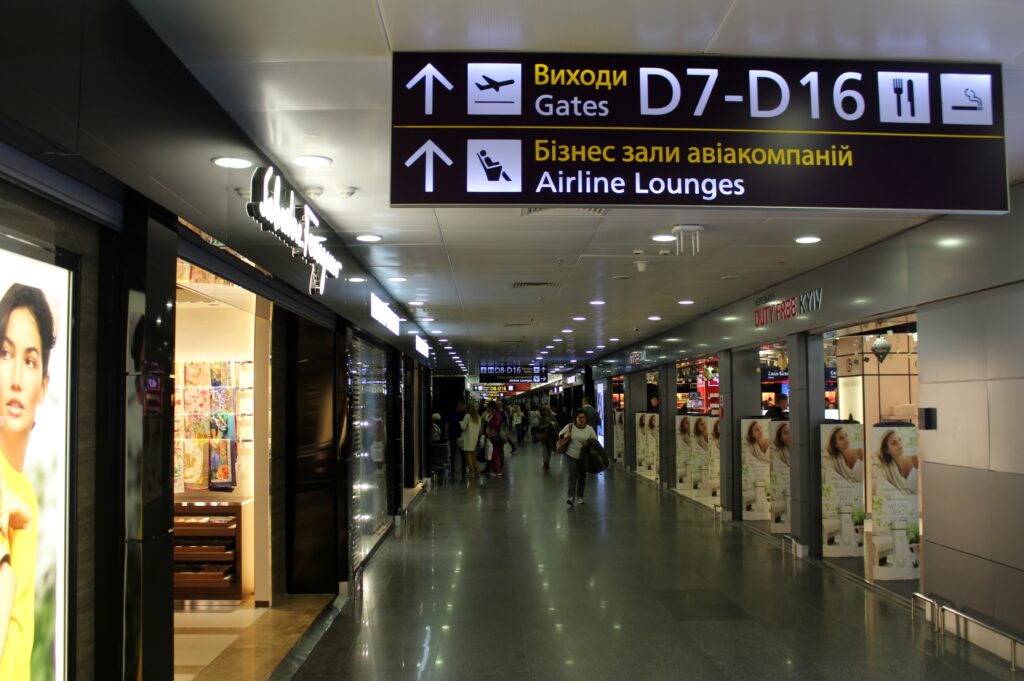 The lounge used by UIA is located on the top floor of the terminal and is simply called 'Business Lounge'. It is not only used by UIA but also by a number of other airlines.
The lounge is large and spacious with plenty of seating but otherwise it is quite boring and nothing to get terribly excited about. All the sofas, armchairs and furniture are in black with very few other colours in the interior. But it does its job.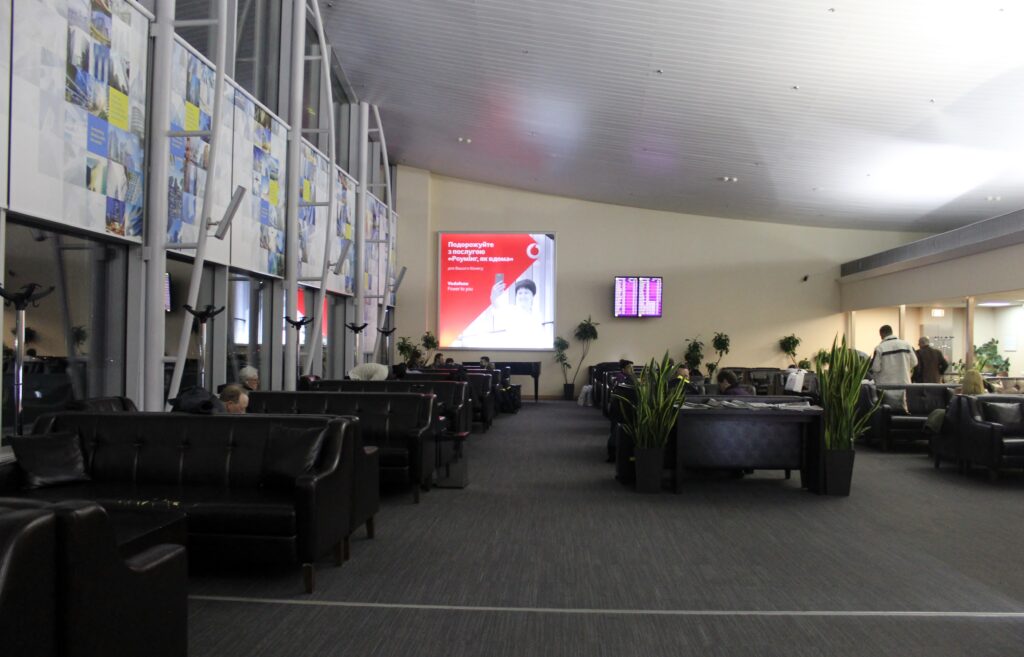 Food and drinks, including hot food, beer, wine and some spirits, were available from the bar counter, but rather interestingly the staff insist on helping you with absolutely everything, from pouring wine to getting whatever hot food you wanted, even though the food was available right in front of you on the bar counter. Oh well. At least they should get credit for trying and for doing something different, even though most international frequent flyers would have no problems helping themselves at the buffet.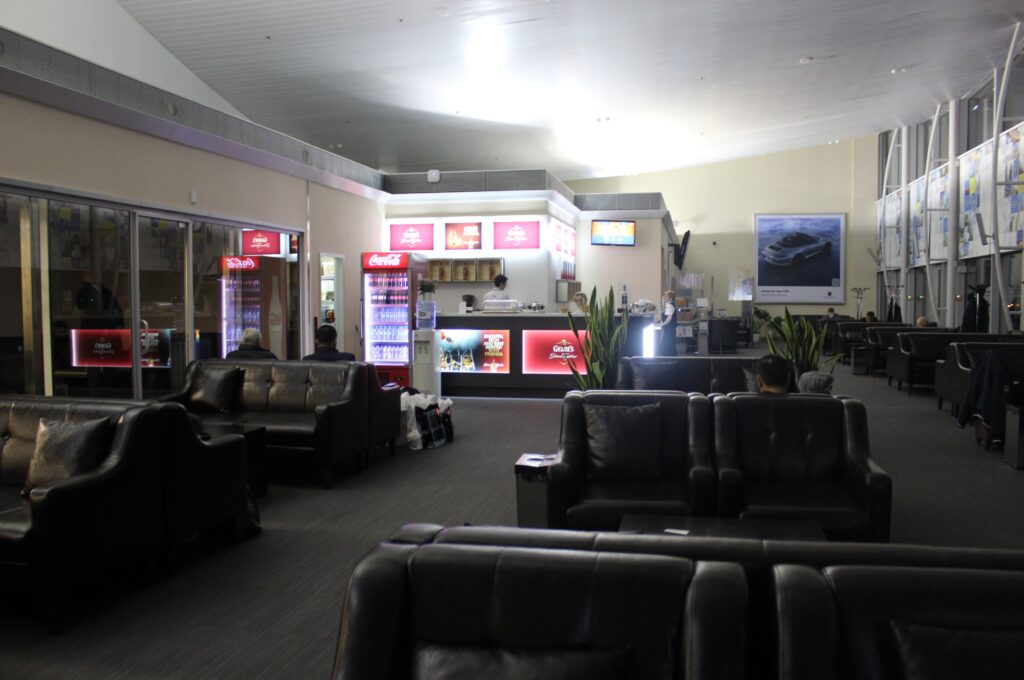 I had access to this lounge flying in business class with UIA but you could also enter the lounge using Priority Pass. There was also a second lounge nextdoor, contracted by a number of airlines.
The flight
Kiev Borispol-London Gatwick
Ukraine International Airlines flight PS 113
Departure: 20.05
Arrival: 21.45
Business Class
Boeing 737
Seat 02A

Boarding started 35 minutes before departure with proper priority boarding for business class, top-tier members in the Ukraine International Airlines Panorama Program as well as families and those requiring extra assistance. It worked excellently.
First impression

A Boeing 737-600 was used for this flight to London, a slightly older aircraft than the Boeing 737-800 I had flown on from Stockholm to Kiev. You could also notice several differences in the cabin.
Three rows were assigned to business class and we were only two passengers. I had seat 02A while there was a middle-aged woman in 02F.
After I had taken my seat I was offered a pre-departure drink including different juices, water and sparkling wine. I had a glass of bubbly to drink.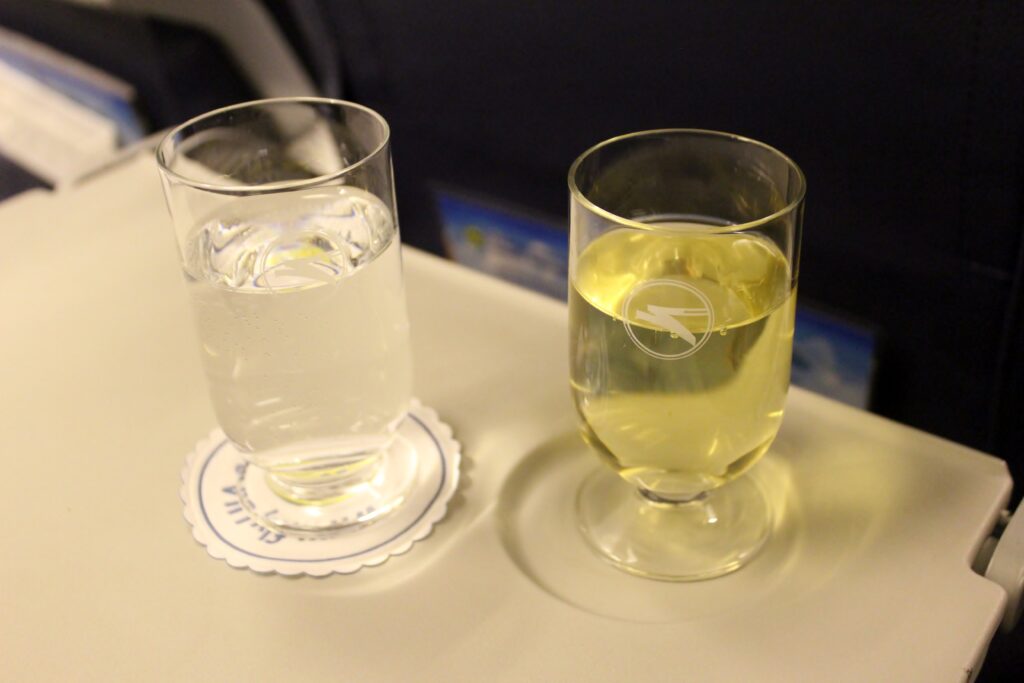 Newspapers were also offered and in contrast to the inbound flight, which pretty much only had newspapers in Russian and Ukrainian, this time there was a reasonable selection also in English, including Financial Times.
On top of that they offered a small amenity kit with socks, eye shades and ear plugs. Very impressive for an intra-European flight.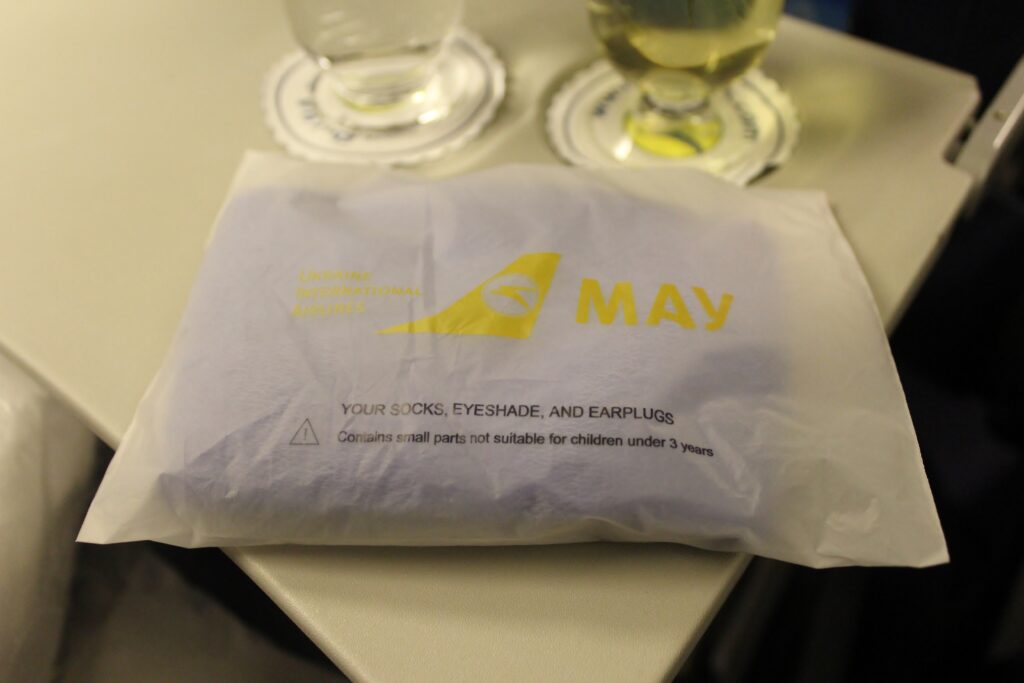 Pushback five minutes before departure time with a flight time of just over three hours to London. While we were taxiing to the runway a first cocktail order was taken, to be served after takeoff.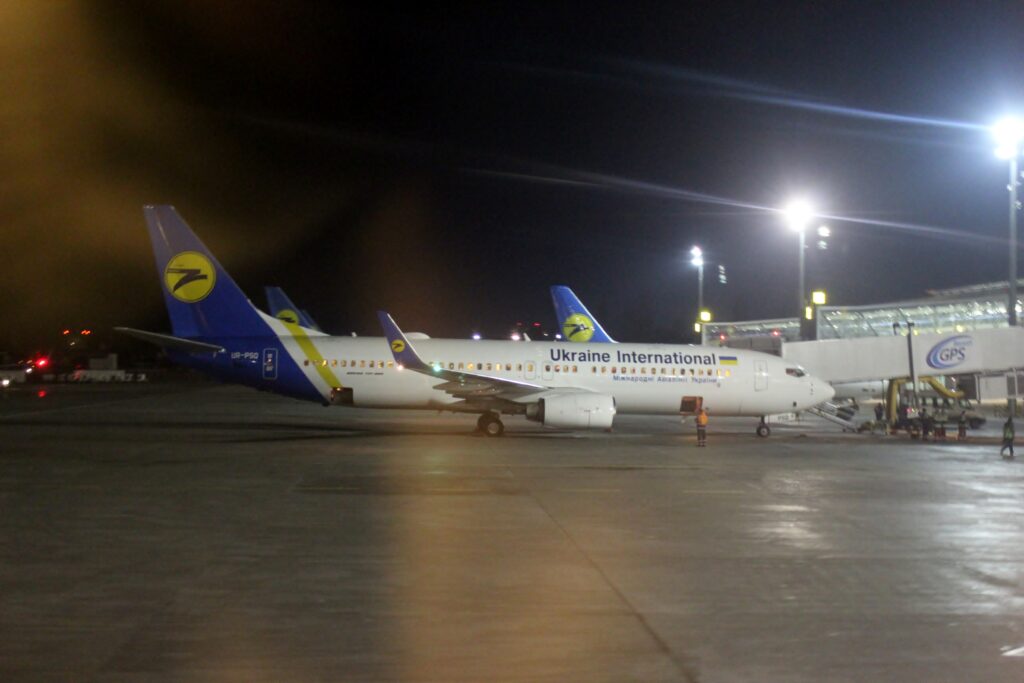 Seat and cabin

Three rows of business class were available to London. The configuration was 3-3, just like in economy class and with the same seats, but with blocked middle seats in business class. We were only two passengers so we both got our own row.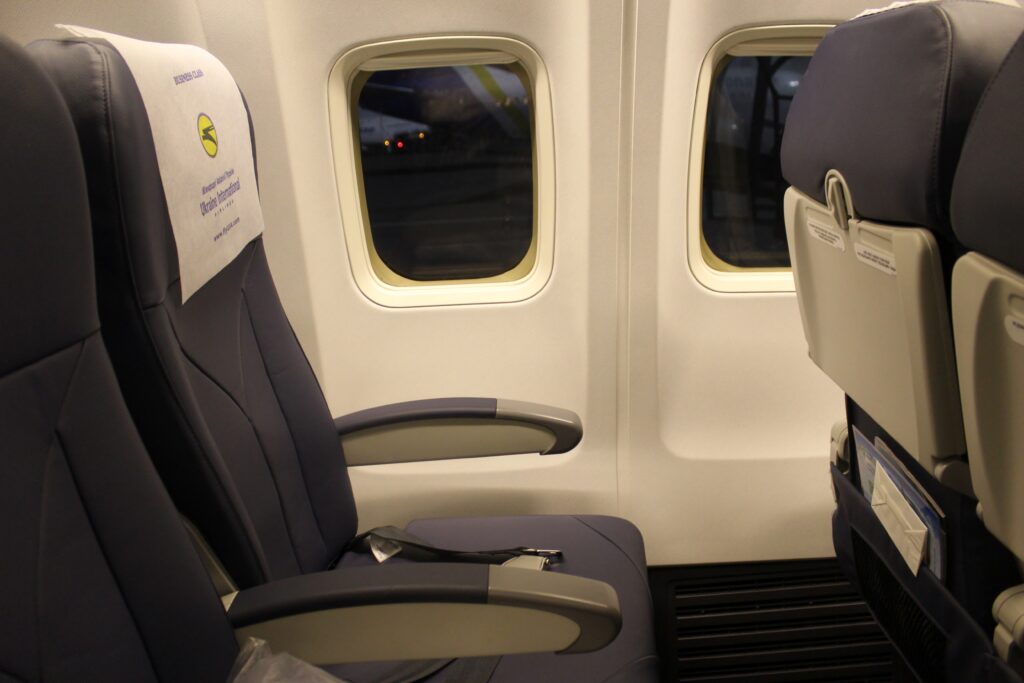 In contrast to the previous flight from Stockholm to Kiev on a newer Boeing 737-800 this aircraft had an older cabin. The seat on this Boeing 737-600 was an older version than on the previous flight. It had slightly less legroom than on the Boeing 737-800 but on the other hand it had a thicker seat back.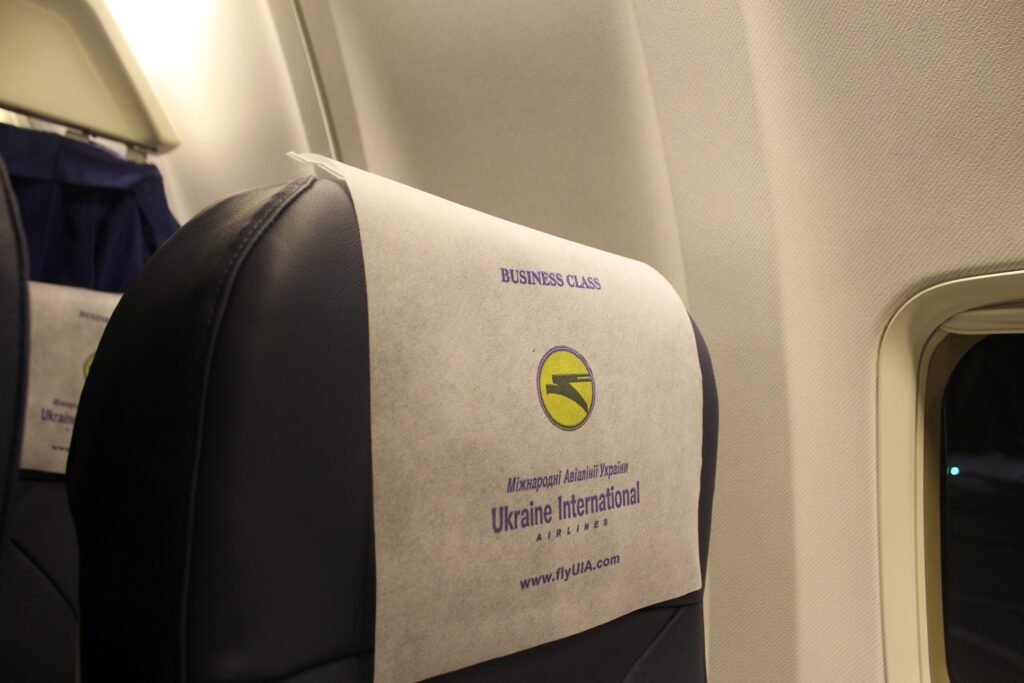 Food and drinks

Kiev-London apparently is regarded an a mediumhaul flight with an extended meal service, and the dinner was surely very impressive. Hard to imagine this was actually an intra-European flight.
After takeoff a first cocktail was served. I had ordered a gin & tonic which was served with ice and lemon. They had two bowls with different types of nuts, and I was given one of each. And of course a 'natural wet pipe', something rather unique to Ukraine International Airlines.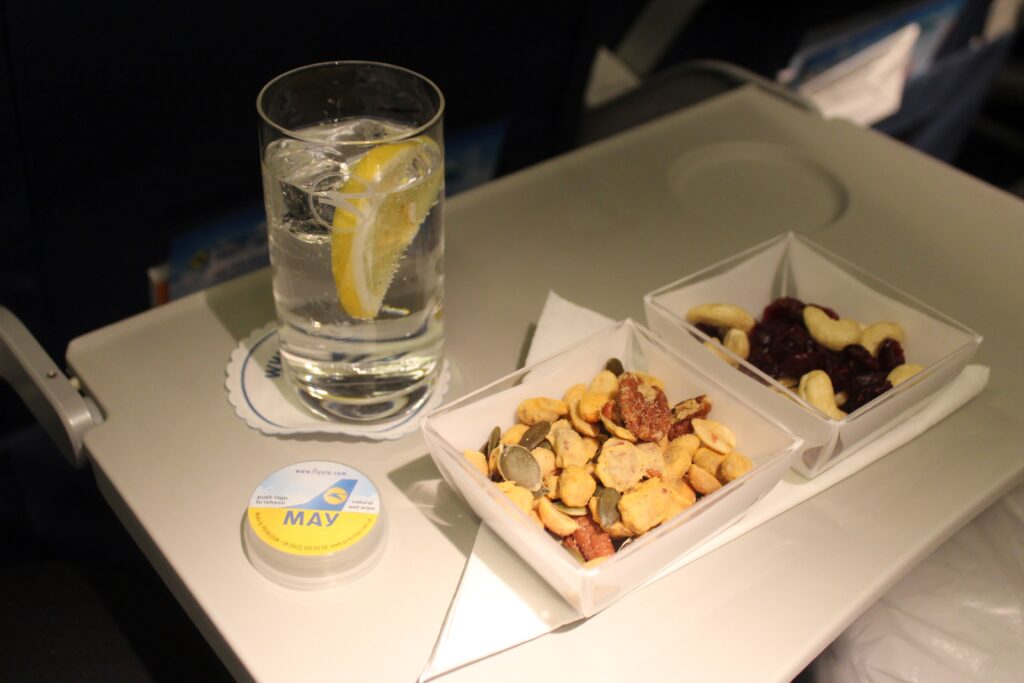 There were no printed menus so all the meal options were presented by the cabin crew, but they were impressive. Two choices of starter, three choices of main course and two choices of desserts. Unfortunately I forgot to make notes of the different options.
The starter I chose was salmon gravlax with some kind of cream cheese and vegetables.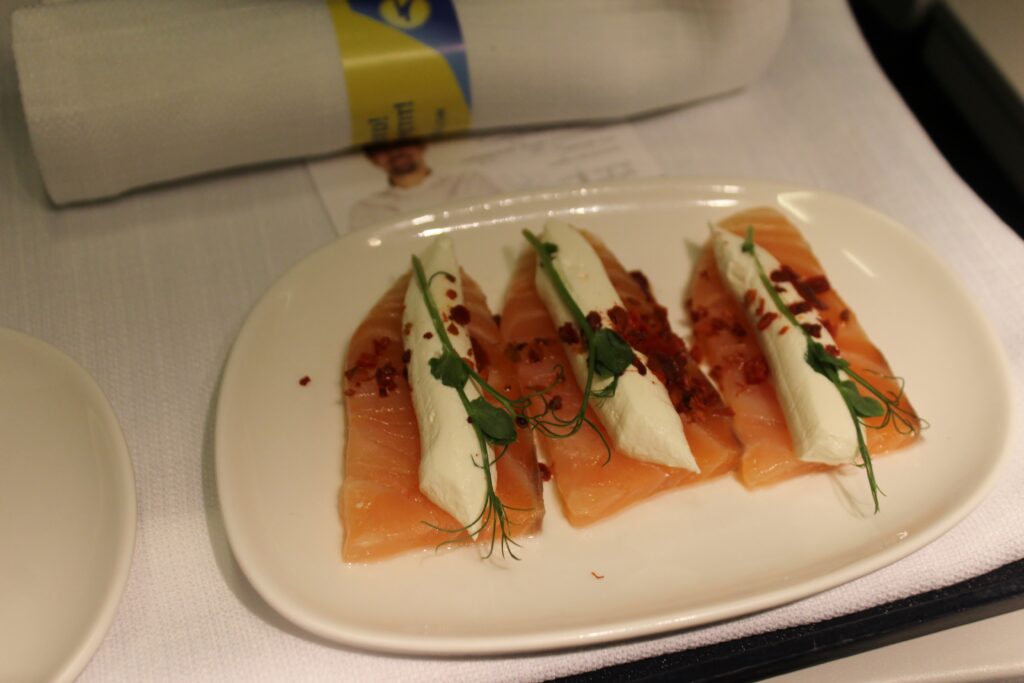 On the tray there was also a vegetable tartare with salmon, a bread roll and butter. It was all incredibly tasty. Delicious.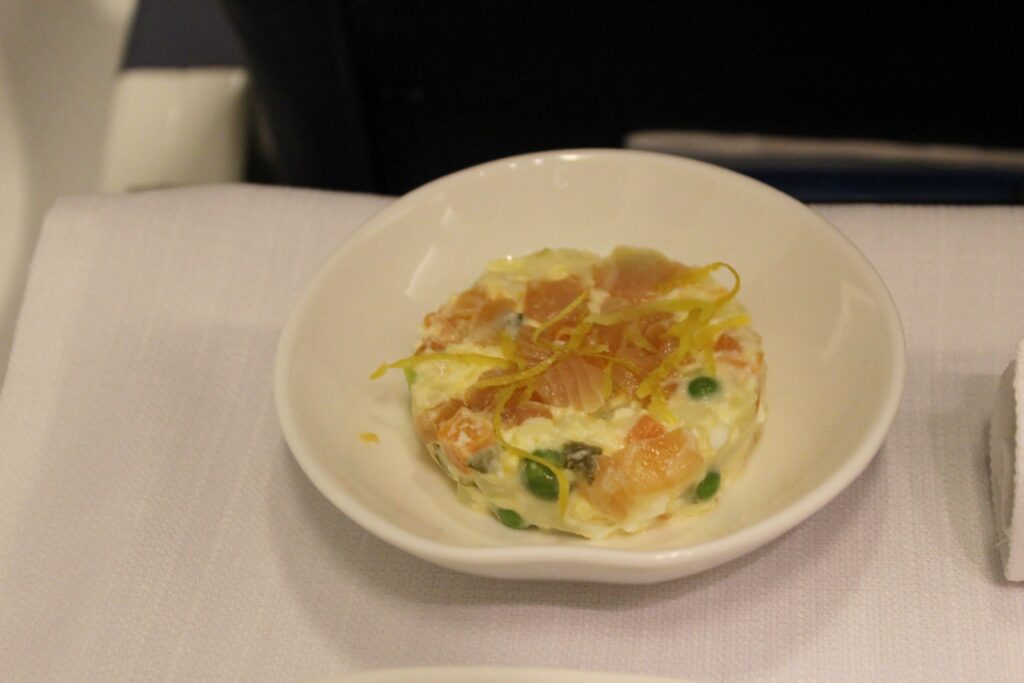 Just like on the previous flight there was also a note from the Chef at Sky Food Services in Kiev who had prepared the food, Andriy.
There were three choices of main course and I decided to try the duck, since I love duck. I also ordered a glass of red wine to drink which was served from a large bottle. It was an Italian brand.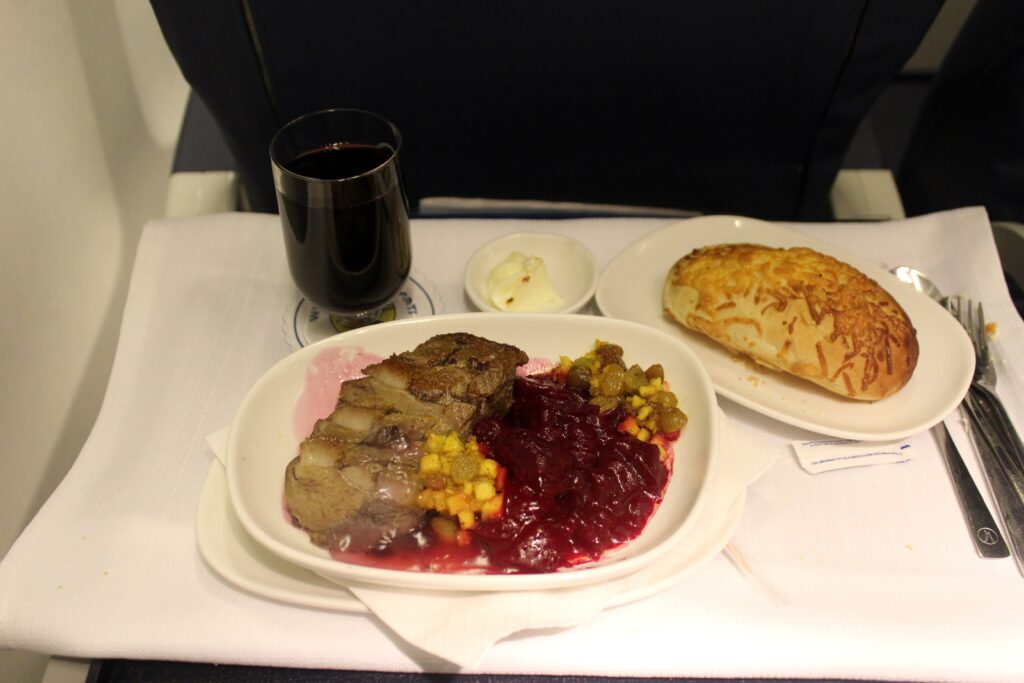 The duck was just as tasty as the starter. I was also offered more bread rolls from a basket and later a refill of the wine.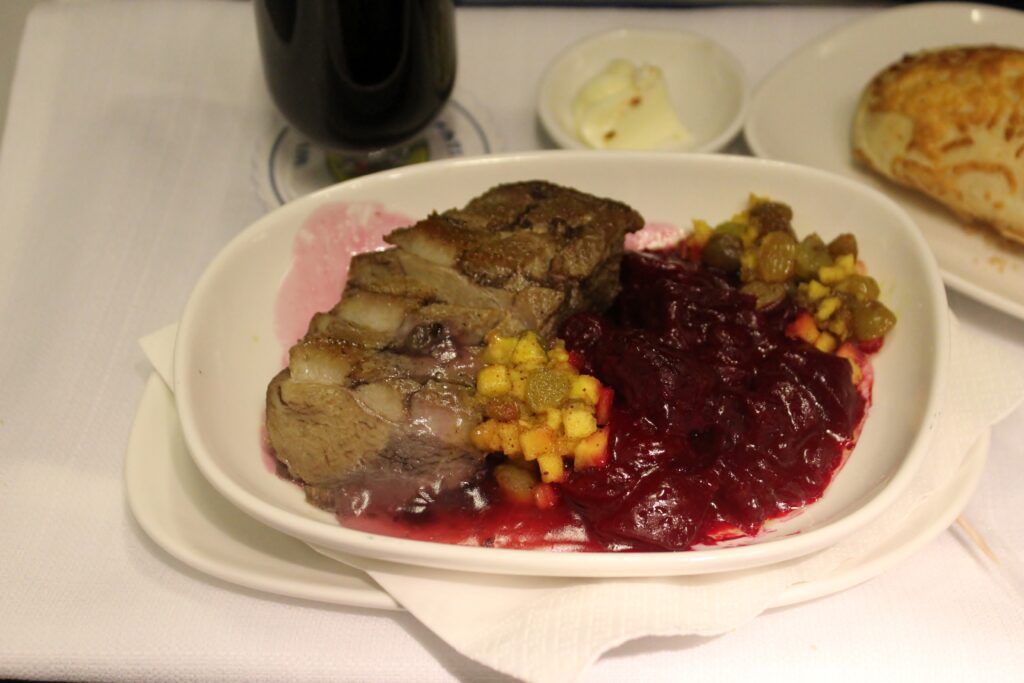 There were two choices of dessert and since my fellow passenger in business class decided not to have any dessert I was offered to try both, which I decided to do since I was really tempted to see what the options were like.
The first dessert was a vanilla mousse with raspberry cream, the second one a fruit tart. Absolutely exquisite.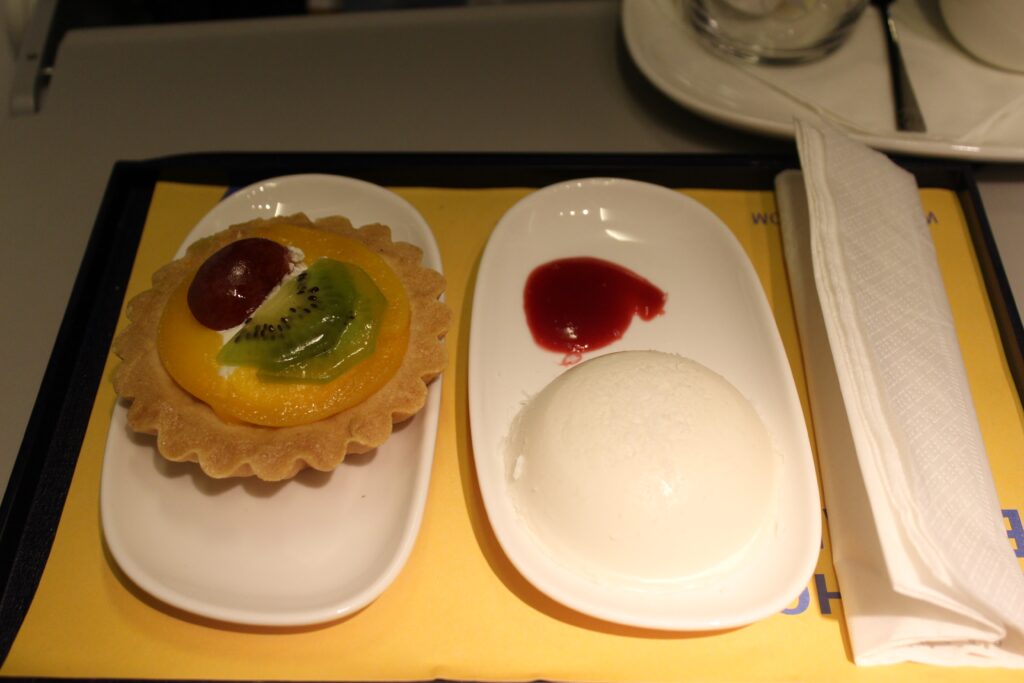 I was also asked if I wanted coffee or tea. After all the food I really needed a cup of coffee which was served in a large mug on a small plate with milk and sugar nicely presented. Very elegant.
With a flight time of over three hours there were plenty of time for more drinks and the cabin crew were more than generous with refills. I asked for a glass of whisky to drink. They had Chivas Regal and Jack Daniels to choose between.
The service

The service was flawless, seriously. Even better than on the previous flight in UIA business class between Stockholm and Kiev, which was certainly not bad either.
Both the two female flight attendants who served in business class spoke perfect English and there was not a single flaw in the service. They did not miss or forget anything whatsoever during the three hours I spent onboard. This was really perfect from start to finish.
Arrival experience

We landed on time at London Gatwick airport. Ukraine International Airlines uses the South Terminal at Gatwick. Just like on the previous flight once we had parked one of the flight attendants went inside the cabin to block the aisle between business class and economy class until we had left the aircraft. A nice touch.
With an EU passport, being able to use the e-gates through passport control, and since I had no checked luggage I was quickly on my way to the hotel for the night.
Final impression

A wonderful experience with a flawless service, and there was so much food with so many options. Two choices of starter, three choices of main course, and two choices of dessert. That is surely impressive for an intra-European flight of three hours. The cabin crew provided a perfect and spotless service and I really enjoyed all the small touches. The only drawback was the slightly older aircraft, although on the positive side UIA is in the process of modernising the fleet.
I would happily fly Ukraine International Airlines business class again. The ticket was very affordable, especially as the route Stockholm-Kiev-London is over 2200 miles with a total actual flight time of over five hours. That is a lot of excellent business class for the money spent.
And being a member of the Air France & KLM Flying Blue program I could also earn points flying UIA.