A first visit to the revamped Malaysia Airlines First Class Lounge at Kuala Lumpur International Airport (KLIA). The lounge was fully refurbished during the winter and reopened in March and I was looking forward to have a look as the lounge was rather worn when I was here last time.
Although the first class lounge is obviously accessible to Malaysia Airlines and OneWorld first class passengers I could access it also flying in business class thanks to my OneWorld Emerald card.
The interior is not a massive difference compared to before, but it certainly feels much fresher, especially with new furniture and fittings. A well-needed upgrade. But to be honest the renovations in the business class lounge are far more visible and impressive.
There is an a la carte restaurant in the first class lounge and as I arrived in the lounge just after noon with my flight departing at 3 pm it was perfect to have lunch in the lounge. Not too crowded in the early afternoon with few guests in the restaurant and actually more staff than passengers. There were no less than three waitresses working, and they had not that much to do.
Also the a la carte restaurant has been fully refurbished and the difference is even more signifiant than out in the main lounge. The restaurant is really so much nicer than it used to be. It also has an excellent view of the apron in the satellite concourse.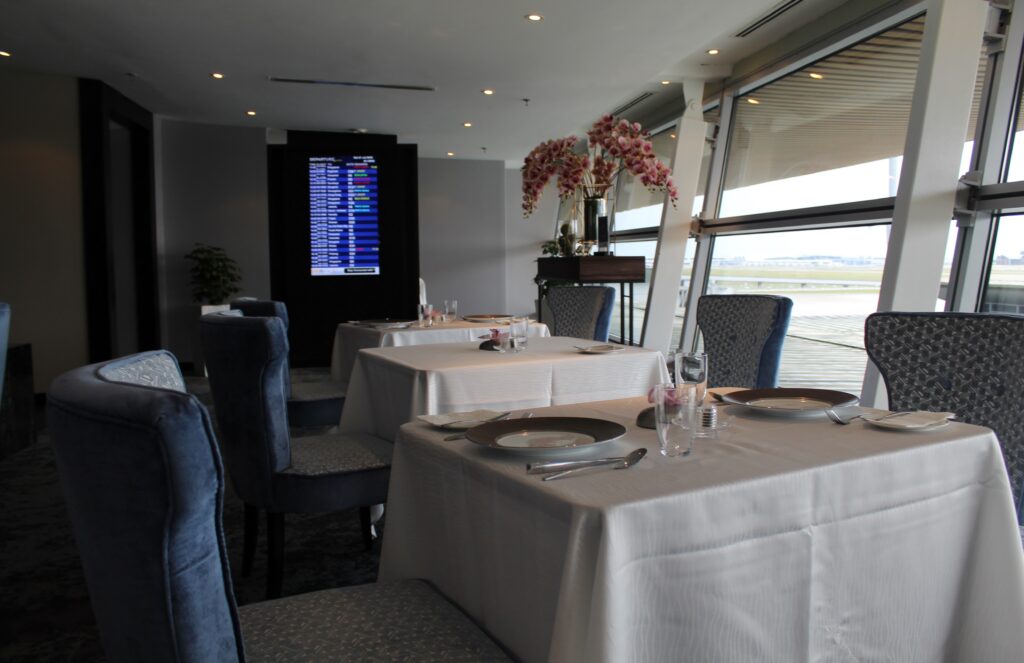 As I had taken a seat I was immediately approached by a waitress who presented me with the menu for the day and asked me if she could get me something to drink. They have a good selection of drinks including champagne, wines and cocktails. I asked for a glass of bubbly. de Venoge seems to be the standard brand in the lounge.
This is what the menu looked like.
I decided to skip a starter to save some room for the food onboard the flight. But I ordered the grilled supreme of chicken with basil pesto and rocket potatoes for main course. The presentation was nice but the portion rather small, nothing extraordinary.
Finally I ordered the tropical fruit trifle for dessert.
Overall the service was excellent and very attentive and you do have a fantastic view from the restaurant. Nothing wrong with the food and the restaurant is definitely a lot nicer than it used to be, but the experience is still not comparable to for example the Qantas First Class lounges in Sydney and Melbourne or the Cathay Pacific The Pier First Class Lounge in Hong Kong.