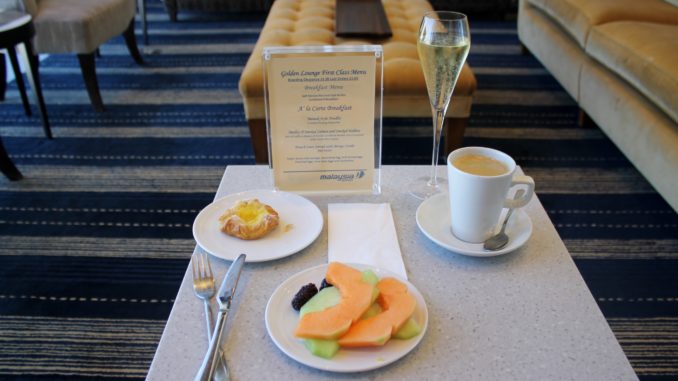 Kuala Lumpur-London Heathrow is one of the most important routes in the Malaysia Airlines network, usually operated by a large Airbus A380, and Heathrow is one of the airports where Malaysia Airlines runs a lounge. The Golden Lounge is further divided into two sections, one for business class passengers and OneWorld Sapphire members to the left of the reception and one for first class passengers and OneWorld Emerald members to the right of the reception.
The lounge is open in the morning and again in the evening in connection with the two daily departures to Kuala Lumpur. It opens exactly four hours before scheduled departure time to Malaysia which typically means the opening hours are from 8 am until noon and again from around 6 pm until 10 pm. The exact opening hours obviously depend on the exact departure times, which may vary depending on season.
I was not flying Malaysia Airlines this day but rather Qatar Airways (another OneWorld carrier) in the afternoon but by a nice coincidence the Malaysia Airlines lounge was open when I arrived at terminal 4 around 10 am. The lounge dragon seemed a bit unsure when I presented by travel documents but eventually gave me access to the first class section of the lounge thanks to my Emerald card, to the right of the reception desk.
Around a dozen passengers were in the first class lounge when I arrived, the business lounge on the other hand had far more guests. At 10 am in the morning a full breakfast service was obviously on offer with both an extensive buffet and a few more dishes available for order.
The self-service buffet was very decent and far exceeded my expectations for a small first class lounge at an outstation lounge. It included cold cuts such as different types of salmon, a good selection of fresh fruits, finger sandwiches, a nice selection of pastries, and several hot items, both western and Asian, including scrambled eggs, bacon and waffles.
Unfortunately all tables in the restaurant section were already occupied so I had a seat in one of the adjacent seating areas, in a comfortable sofa. The lounge offers a fantastic view of the apron and the southern runway through the large panorama windows, which also provide plenty of daylight.
The lounge design is also quite attractive, elegant and stylish, but not extravagant. It is a comfortable place to kill some time.
It took a bit of time before one of the lounge attendant took notice of my arrival. A breakfast menu was already available on the table and I ordered a French toast and a glass of champagne to drink. She said it would take a few minutes to prepare and invited me do help myself to something to eat from the buffet in the meantime.
As we were getting closer to boarding it turned out they had run out of white bread for my French toast so she asked me if brown bread was OK, which I said it was. They certainly will not win any awards for that presentation, but in all fairness it tasted much better than it looked, served with mango coulis. A top-up of my champagne was also arranged. Shortly afterwards boarding was announced to Kuala Lumpur and it was also time for me to leave to head for the Qatar Airways Premium Lounge instead.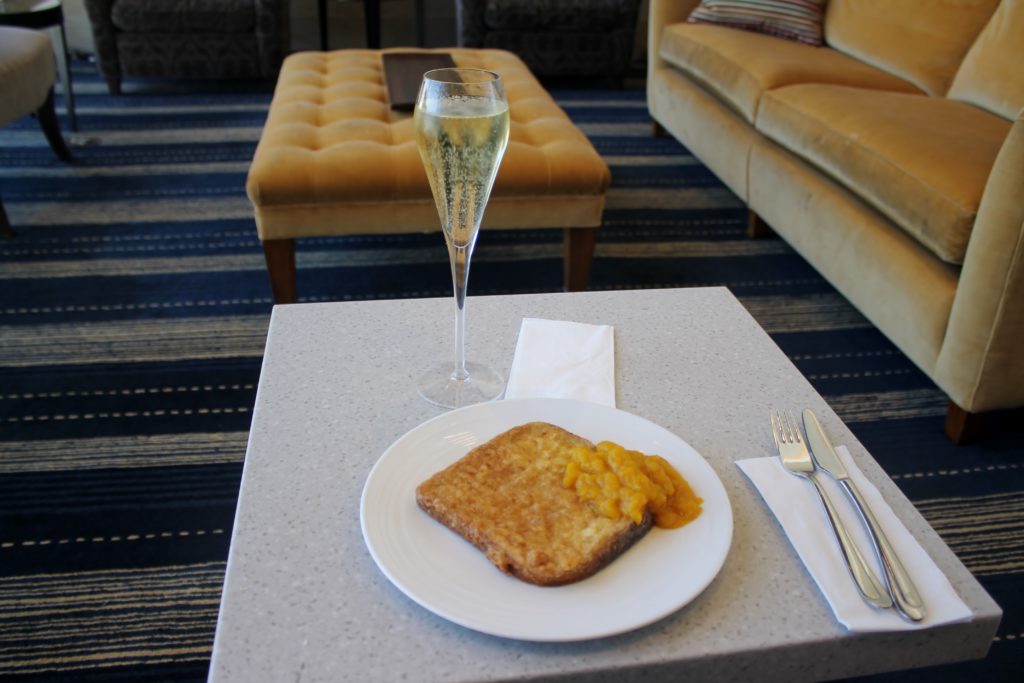 This was not my first visit to the Malaysia Airlines Golden Lounge. I had visited the lounge earlier but only the business class side so this was my first visit to the first class lounge. Overall I have to say this is a lovely lounge and that includes both sections. I would even go as far as saying the lounge is nicer than their lounges at the hub in Kuala Lumpur.
Great food and drinks, great service and a terrific view. Just too bad the opening hours are quite limited. And every time I have passed the lounge flying something else but Malaysia Airlines the staff have been a bit hesitant to let me in, having to check both my boarding pass and my frequent flyer card against a list. I guess few passengers know about this lounge and make use of the option.