London Heathrow is the only airport outside of Doha where Qatar Airways currently operates a lounge. The Qatar Airways Premium Lounge is located in terminal 4, right opposite gate 6 (which is often used for their flights to Doha) and it is an excellent lounge. It is accessible to Qatar Airways and OneWorld first class and business class passengers, but not to OneWorld Sapphire and Emerald members travelling in economy class who are directed to the Skyteam Lounge when flying Qatar Airways (which is not bad, but definitely inferior).
This morning I arrived quite early at Heathrow with plenty of time to spare, enjoying the breakfast service in the Malaysia Airlines First Class Lounge (accessible thanks to a OneWorld Emerald card) before heading to the Qatar Airways Premium Lounge (accessible flying Qatar Airways business class later in the afternoon) to have a late lunch.
There is no reception desk at the lounge, which is quite cool. Instead arriving guests are greeted by one of the lounge attendants who discreetly scan the boarding passes behind a bookcase before giving a brief introduction to the lounge to those who make their first visit.
As I had visited the lounge in the past this was not needed. I had a seat by one of the windows overlooking the apron and was approached by another attendant who asked me if i wanted something to drink. I asked for a glass of bubbly, the Bollinger Rose.
There is a proper restaurant in the lounge called Delicatessen. It is quite a fun and rather unique concept with both an a la carte service with dishes made to order and a counter service with sandwiches, canapes, salads and cold cuts. It looks nothing like any other airport lounge I have visited.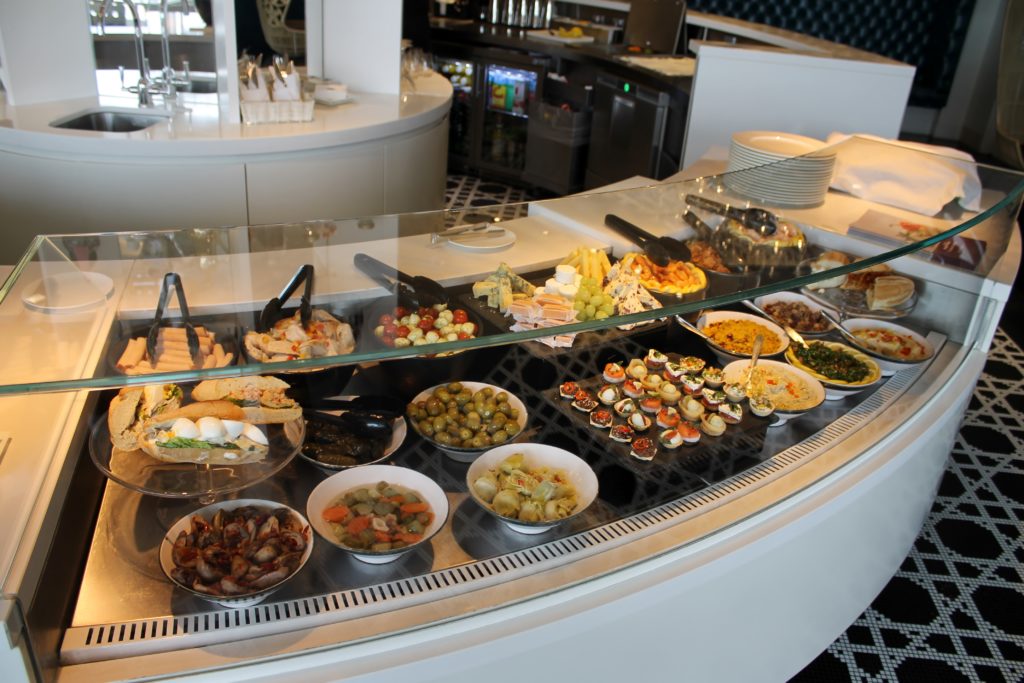 At the second counter different desserts are available, much like in a bakery, including different cakes, pastries, chocolate pralines, macarons and fresh fruits. It is mouth watering just to look at. However this is not a self-service buffet, you tell one of the waiters what you want and they will bring it to your table.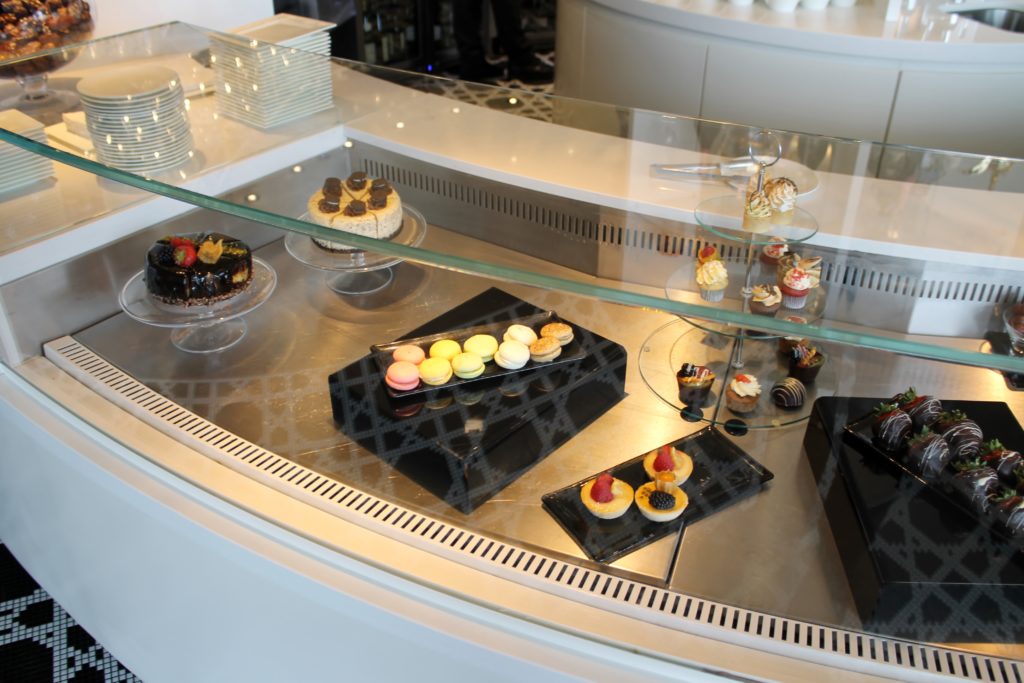 I wanted something proper to eat so I asked to have a look in the a la carte menu. The menu is not bad and rather extensive for an airport lounge and includes soups, salads, hot snacks and a few main courses. The dishes are reasonably small in size so it is usually possible to manage two dishes or perhaps a soup followed by a main course.
The same menu also includes the wine list with two champagnes (a white and a pink Bollinger), four whites, five reds and a dessert wine. Not a bad wine list. An Italian head waiter was working in the restaurant during my visit. He seemed to have some knowledge about the wines and offered some recommendations.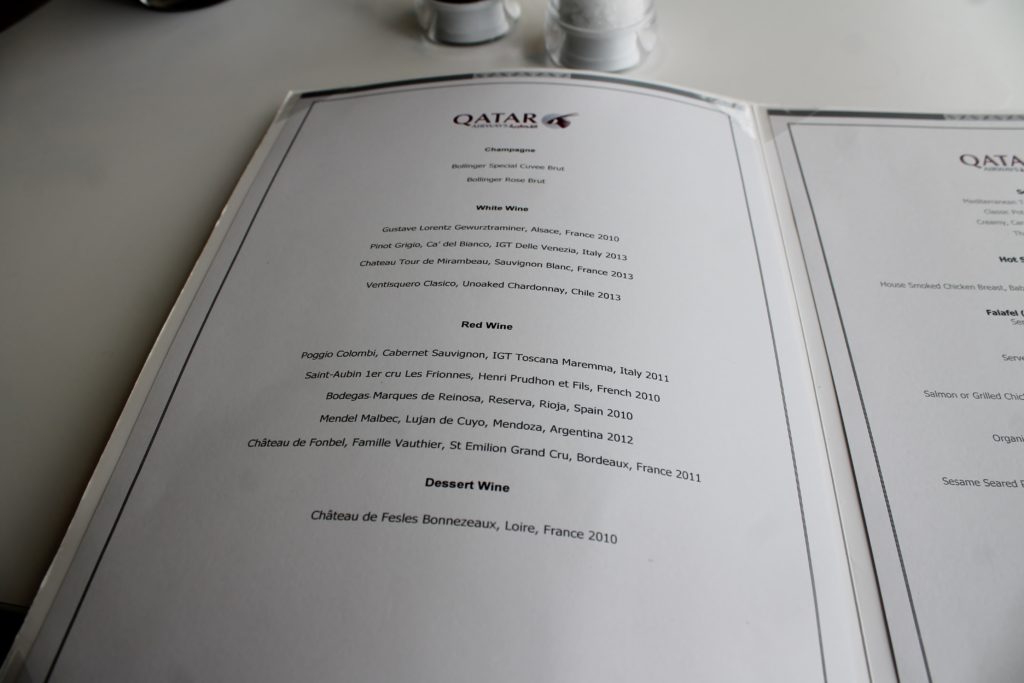 I decided to order a main course for late lunch, the King prawn linguini, and to drink a glass of the Italian white wine. A refill of the wine glass was later offered as well as a glass of still water.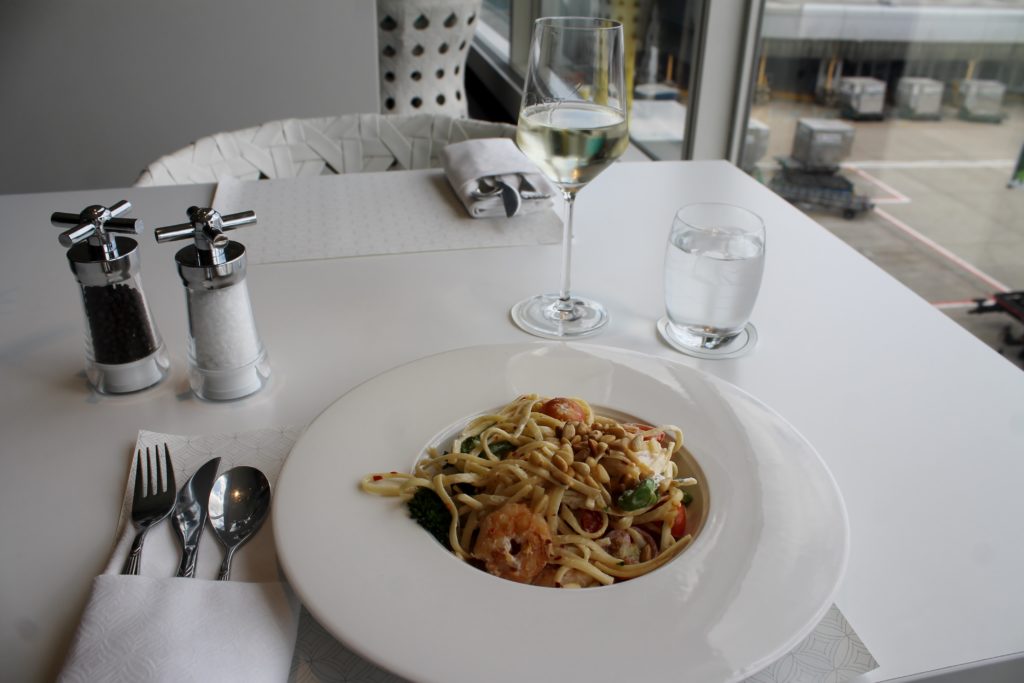 To finish off the meal I went to the desserts counter to have a look. Unfortunately there are no signs telling what is on offer (which is not always obvious) but a waitress came to my assistance and gave a brief explanation. I decided to try some kind of caramel cake and also ordered a cafe latte, which were both delivered to the table a few minutes later.
The cake was exquisite, but very heavy. Fortunately Qatar Airways usually let you decide when to eat onboard in business class, so you can wait an hour or two. Just as I had finished one of the attendant entered the restaurant to inform us boarding had started to Doha, at gate 6, right opposite the lounge.
A very nice and relaxing start of the trip to Asia.