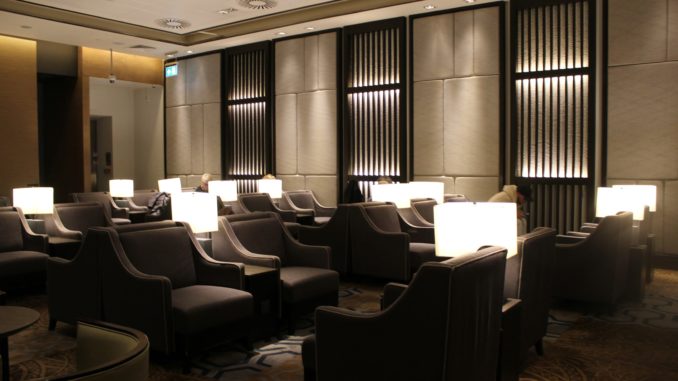 Where is it?

The Plaza Premium Lounge in Terminal 2 is located airside after security control in the transit area used for both international and domestic departures. The entrance is on the lower level, to the right of the transfer desks. The entrance is hard to miss.
There is also a Plaza Premium Arrivals Lounge in terminal 2, located landside in the arrivals hall after customs.
How do I get in?

This is the only third-party lounge located airside in terminal 2, which means the only lounge open to all passengers, including passengers not travelling in business class or first class or holding a frequent flyer card with lounge access.
It is possible to purchase access in advance or pay at the reception on the day of departure. It is also possible to enter using various credit cards and lounge schemes such as Priority Pass.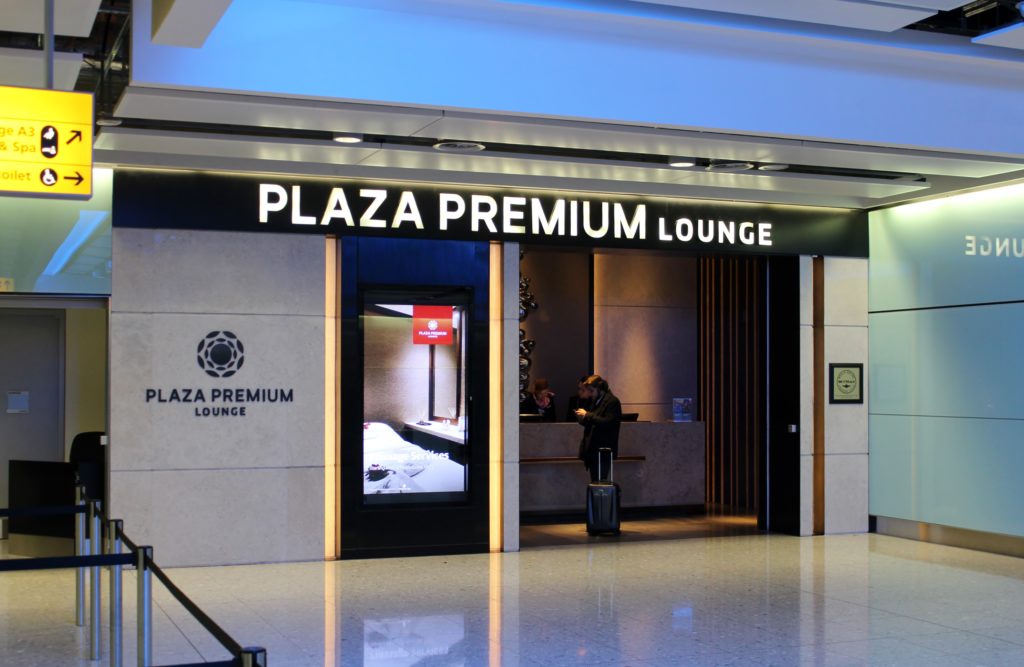 What's it like?

The lounge opened on 1 August 2014 and consequently became the first Plaza Premium Lounge in Europe.
The lounge is designed by Kenney Chan who designed the lounge with a focus on interactivity and creativity. The furniture have been supplied by various British manufacturers, to give the lounge some British influences.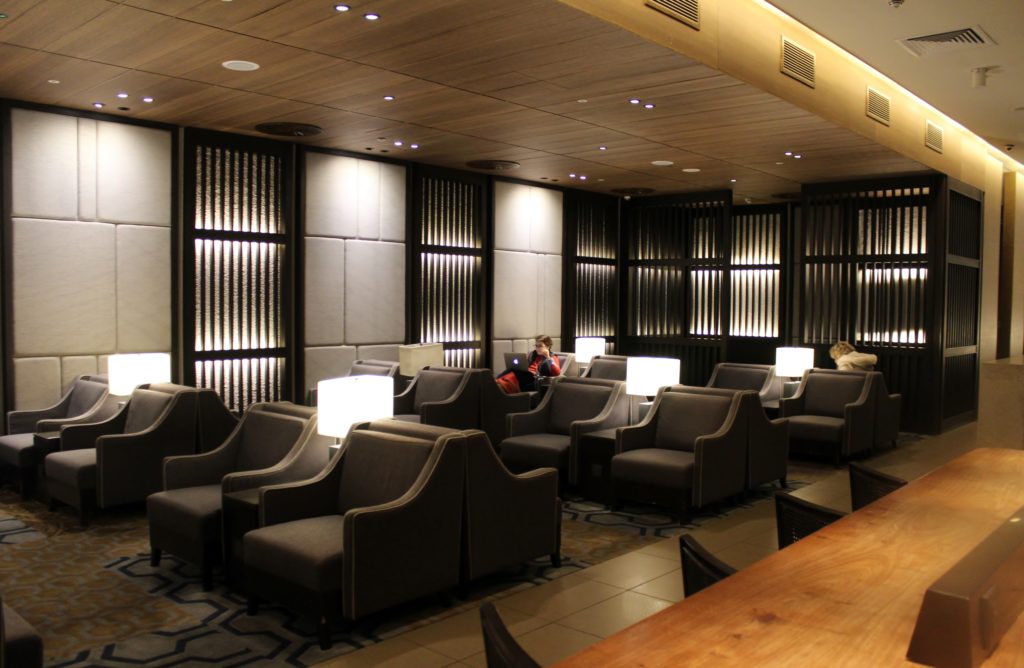 After the small lobby with the reception desk you either turn right or left and follow a corridor to get to the main lounge.
At the end of the corridor is the heart of the lounge, the bar area with the centerpiece couch. The bar area is really the centre of the lounge with seating areas, work areas and the restaurant area in different directions.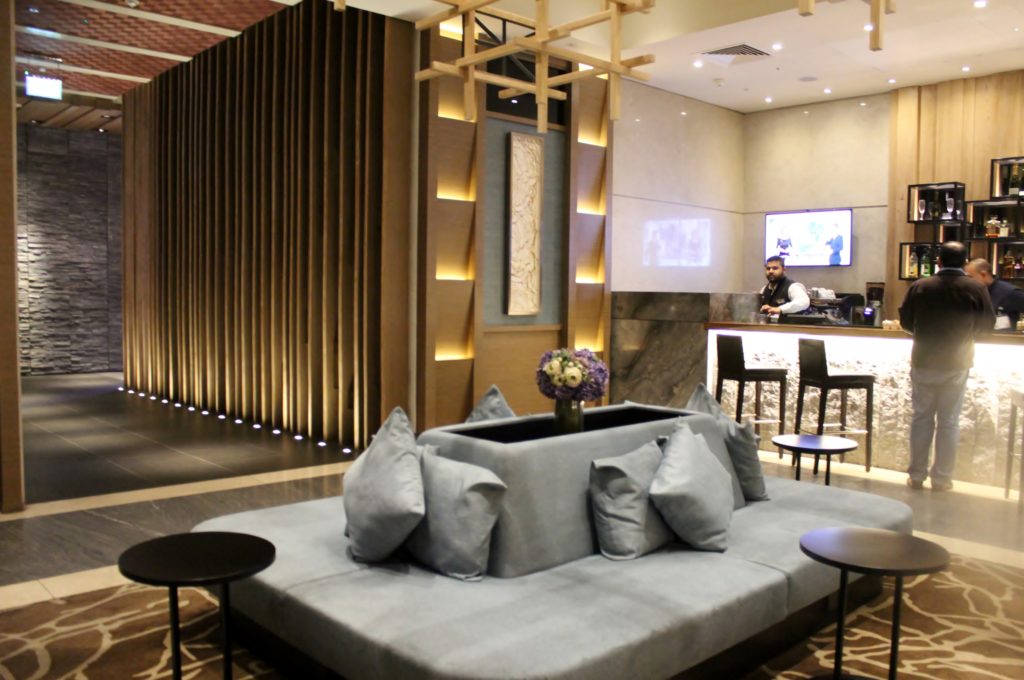 The lounge design is very stylish and if you have visited some Plaza Premium lounges in Asia you will recognize the design. Most of the interior is in grey, black and dark wood.
Food and drinks

Thee is self-service buffet area available with a selection of food and drinks which they call a 'Tapas Bar'. However it definitely looks and feels more like a traditional self-service buffet than a tapas bar. There are seats and tables next to the buffet area and the design actually reminds me a bit of a Scandinavian kitchen.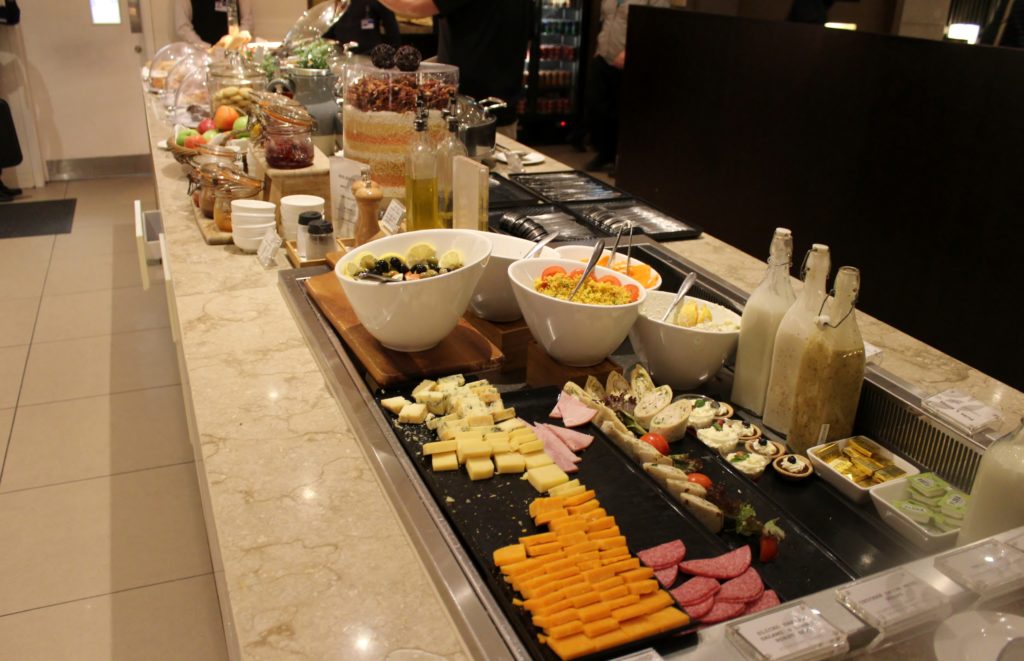 There is some hot food, sandwiches, bread rolls, cheeses, desserts and snacks. Various breakfast items are offered in the morning.
Alcoholic drinks are offered at the manned bar including beer, wine, champagne, spirits and cocktails. Usually two glasses of an alcoholic beverages (at least beer and wine) are included in a standard visit.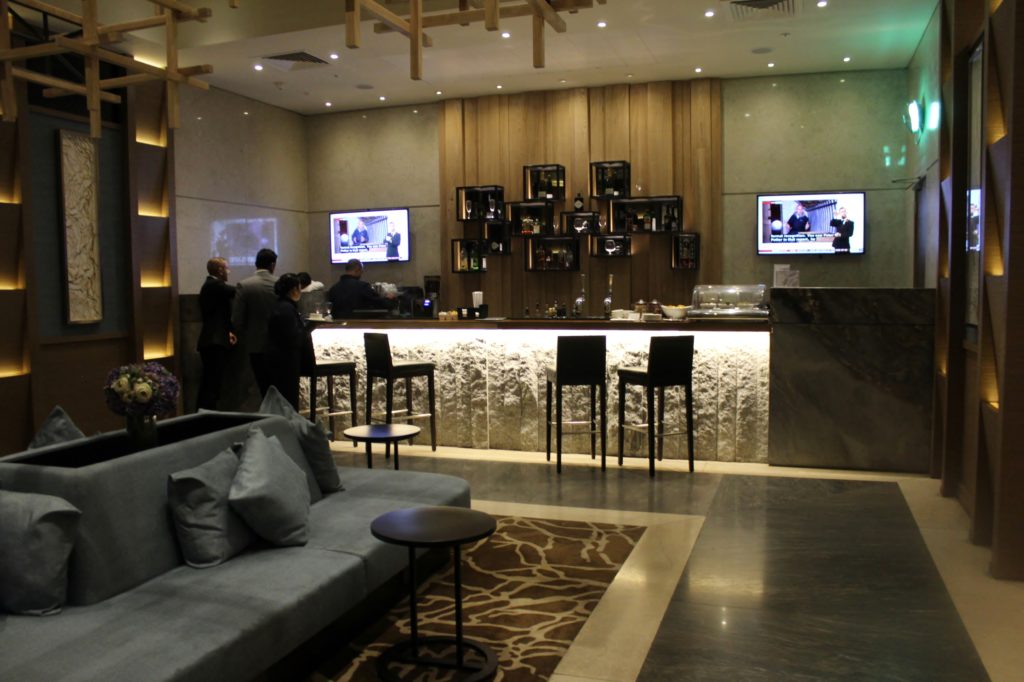 Coffee, tea, juices and sodas are available for self service from the buffet.
Facilities

There are five shower rooms, five resting rooms and a wellness spa offering different treatments such as massage (at a charge).
Free wireless internet is available as well as international newspapers and magazines.
Final impression

A very stylish lounge with a luxurious design and a reasonable selection of hot food and snacks and a manned bar offering a wide selection of drinks. Overall this is not bad for a third-party lounge.