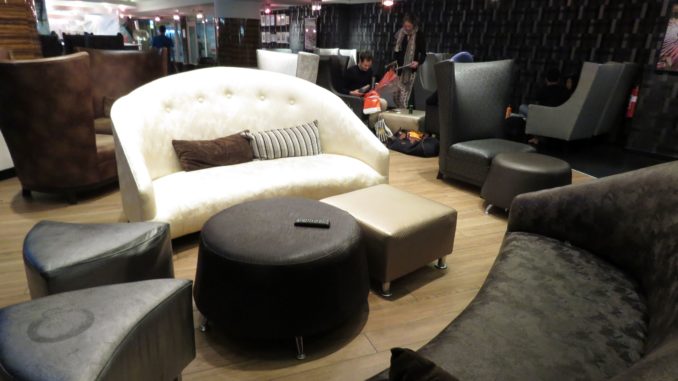 Where is it?
Shongololo Lounge is located in the international transit hall at the airport. The lounge is located after the shopping areas towards gates A7-A18. The entrance is on the left side after the escalator.

How do I get in?
The Shongololo Lounge has been contracted by several airlines like Qantas, Swiss and Etihad. It is also possible to enter using for example Priority Pass and Diners Club.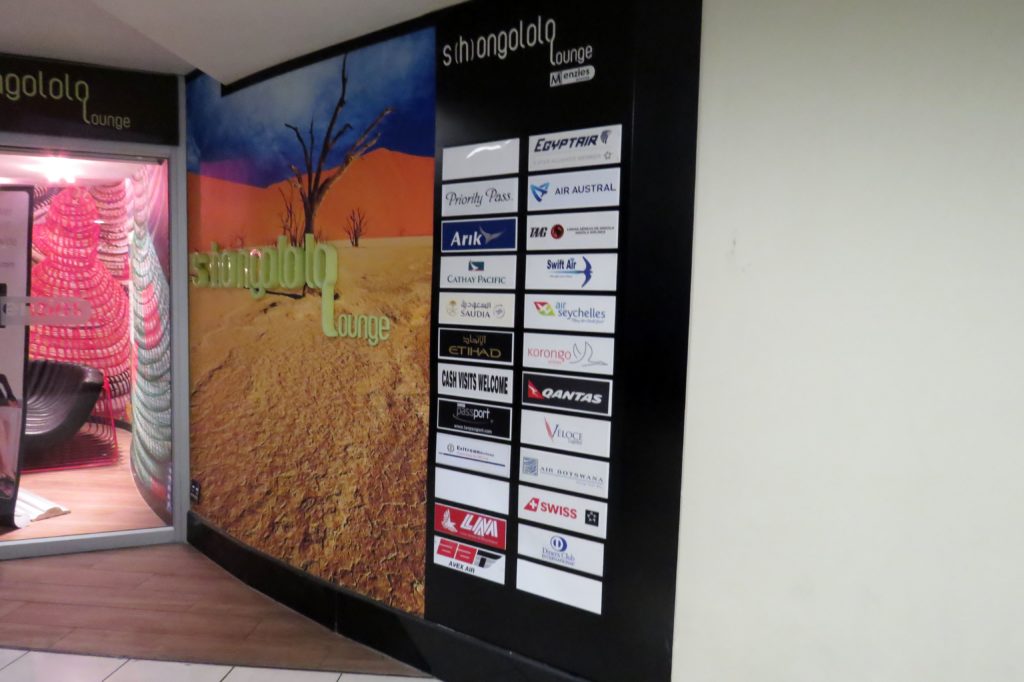 What's it like?
The Shongololo Lounge is one of several third-party lounges at Johannesburg O R Tambo airport and generally they all keep a good standard with a good selection of food and drinks and a nice and modern interior.

The Shongololo Lounge is no exception. After passing the circular well-lit reception desk you enter the main lounge with its very unusual but sophisticated design. Although the lounge has no windows and no natural light the lighting effects create an interesting atmosphere.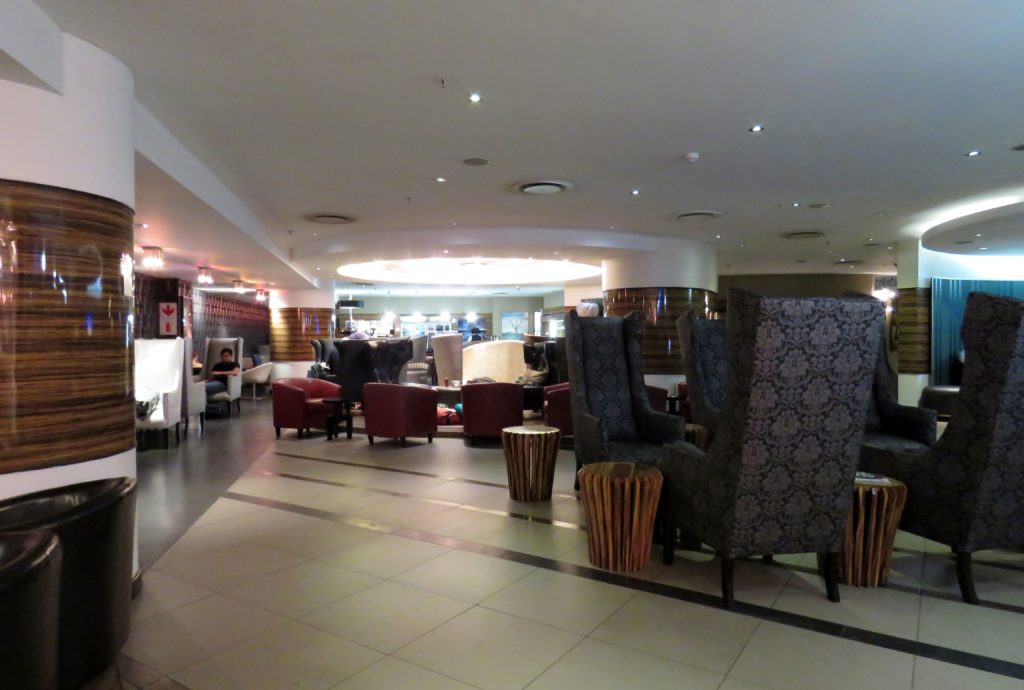 There are several seating area with a combination of blue and grey rather comfortable armchairs with an extremely high seat back, wide white sofas and wine-red lounge chairs. The tables are low, much lower than the seats, and in the design of stubs.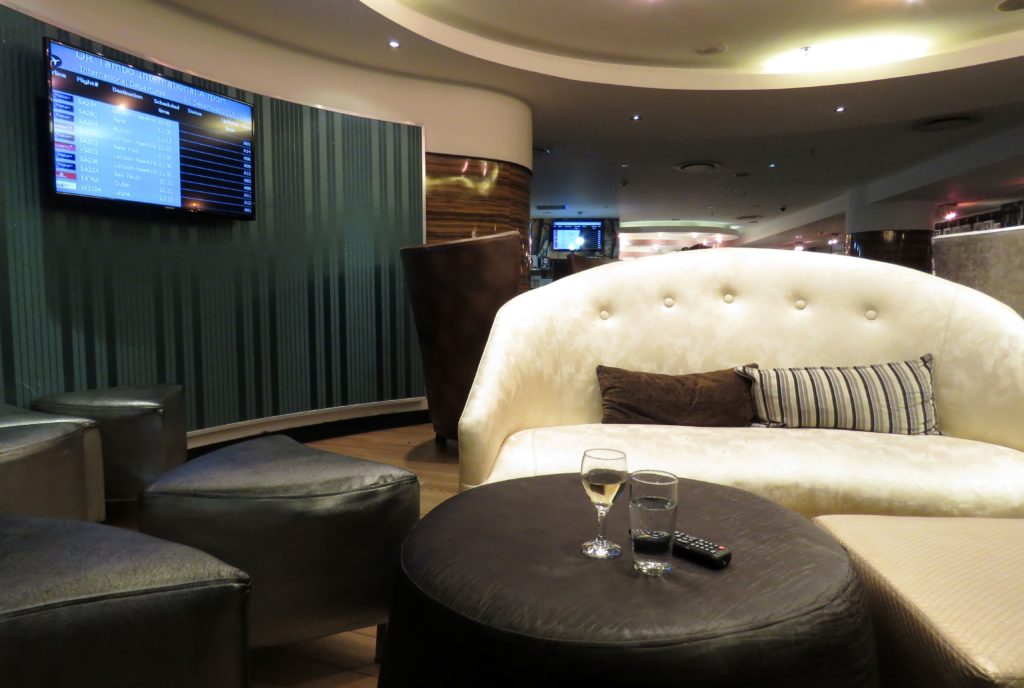 The lounge has seating for approximately 120 guests. Most of the design is in white and dark wood.
Food and drinks
The self-service buffet offers a wide selection of hot food, sandwiches, vegetables, fresh fruits, bread rolls, instant noodles and to finish cookies and desserts. Interestingly there is also a microwave oven in the buffet area.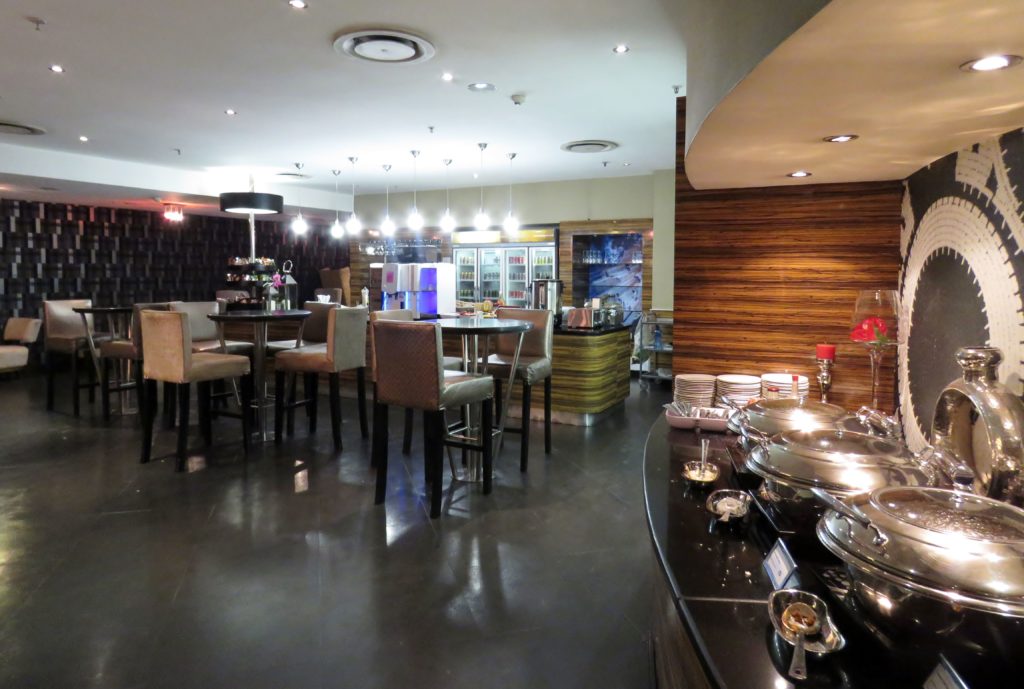 Next to the buffet is a dining area with tables and bar stools.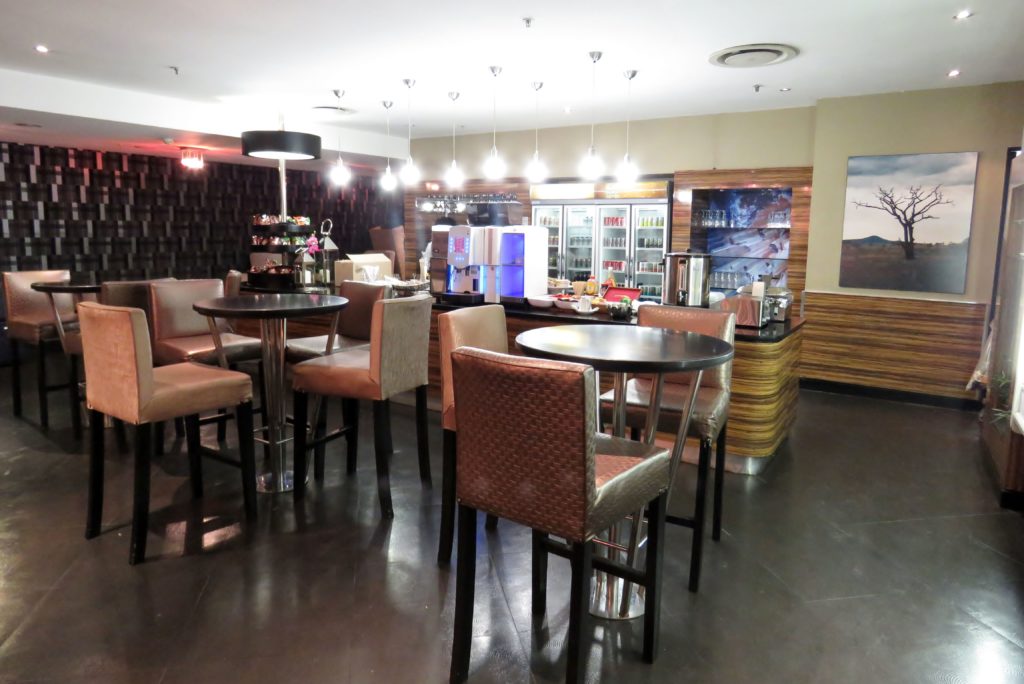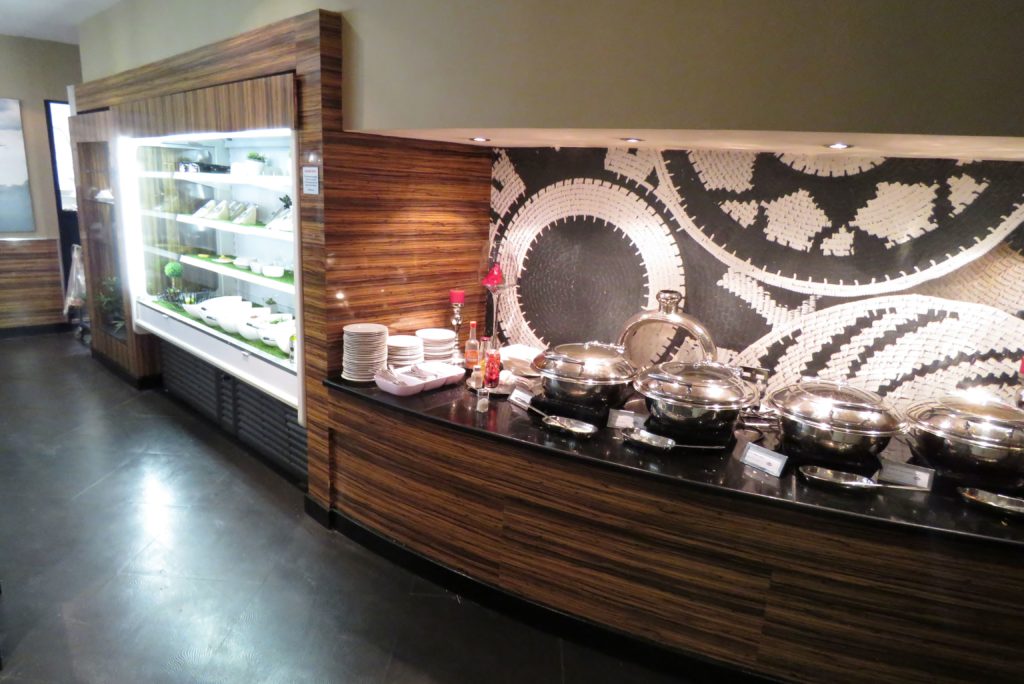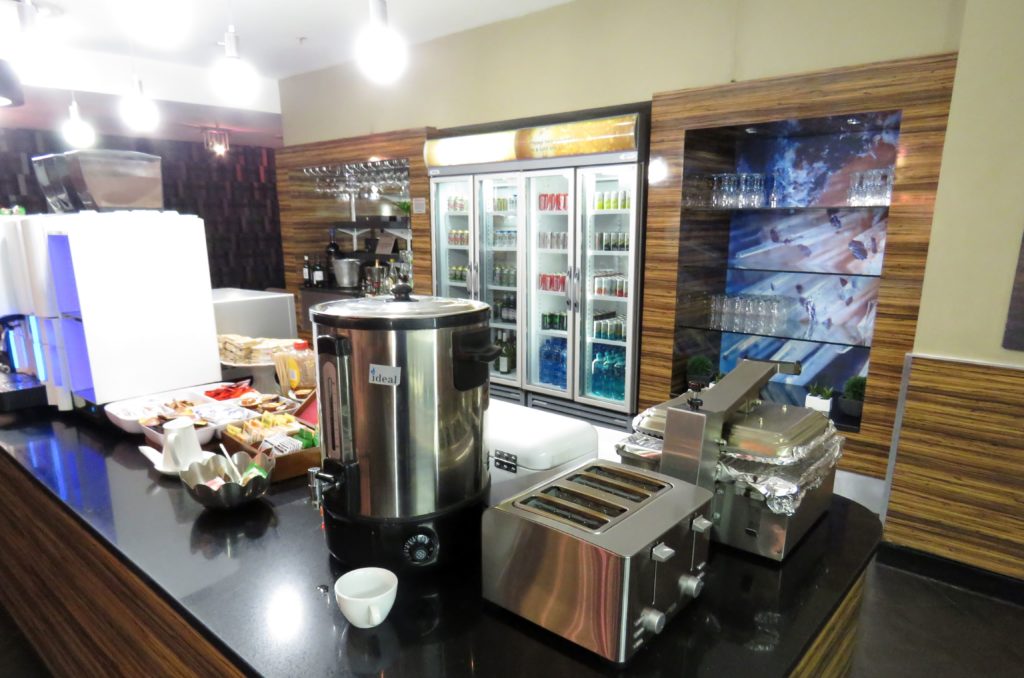 The drinks selection is decent and includes several South African red and white wines, beer and a standard selection of spirits. A large selection of mineral water, juices and sodas are available from four large fridges and there are also two coffee machines.
Facilities
Both restrooms and showers are available in the lounge. There is a business centre with work stations and internet computers and free wireless internet is available throughout the lounge. Newspapers are available from a rack at the reception desk

Anything else not to miss?
Make a visit to the cinema room featuring the world's first 55-inch OLED TV in front of a large white sofa.

And do not miss the photo collection on the wall next to the reception desk. No matter what you think of the lounge and the final result of the design, at least they have made a serious effort with it.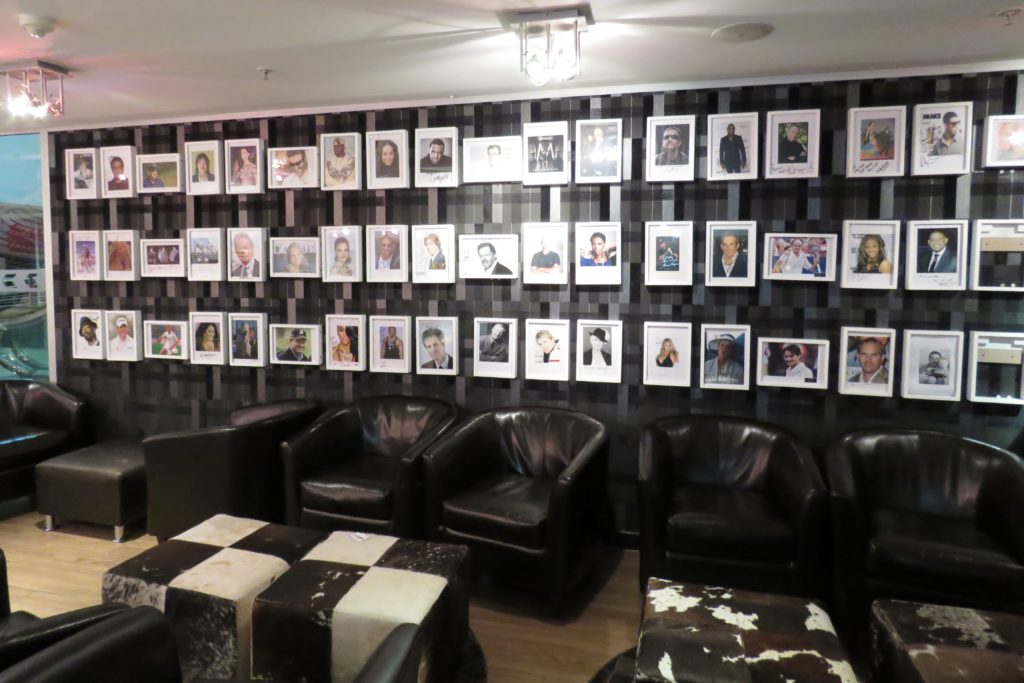 Final impression
This is a very different lounge with a sophisticated design. Some people probably love it, others probably find it odd. But it does stand out and they have made a serious effort with the design to create something different. Excellent selection of food with both hot food and snacks and a good selection of drinks.