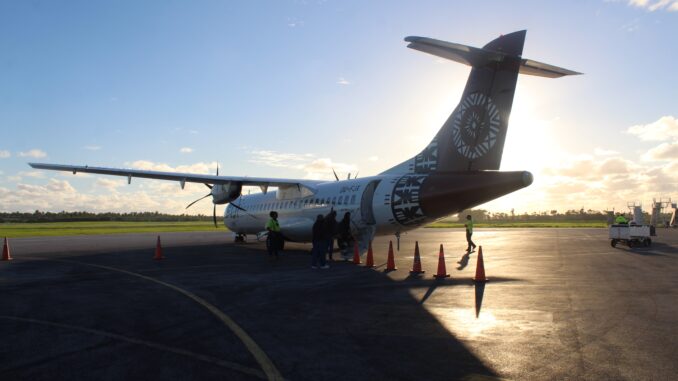 Flying between the different South Pacific islands can be incredibly expensive. The distances are long, there is little or no competition and there are generally few flights. Some destinations are only served a few days a week.
Booking a business class ticket for the upcoming flight to Nadi was simply out of the question, but a few days before departure I received an e-mail from Fiji Airways with an invitation to submit a bid for an upgrade. I received similar e-mails for the other Fiji Airways flights booked for the same week but this one stood out as the lowest bid was far lower than for the other flights.
For all other flights the minimum bid was at least 150 USD, such as between Fiji and Funafuti/Tuvalu and between Nadi and Auckland, but between Tonga and Nadi the minimum bid was only 60 USD, which is really not bad for a flight of around two hours and 15 minutes departing at 6 pm, when you need to have dinner anyway.
I decided to give it a try and submitted a bid, the lowest one possible of 60 USD, and two days later I got a new e-mail saying my bid was successful. They also sent me a new and updated itinerary. I was thrilled.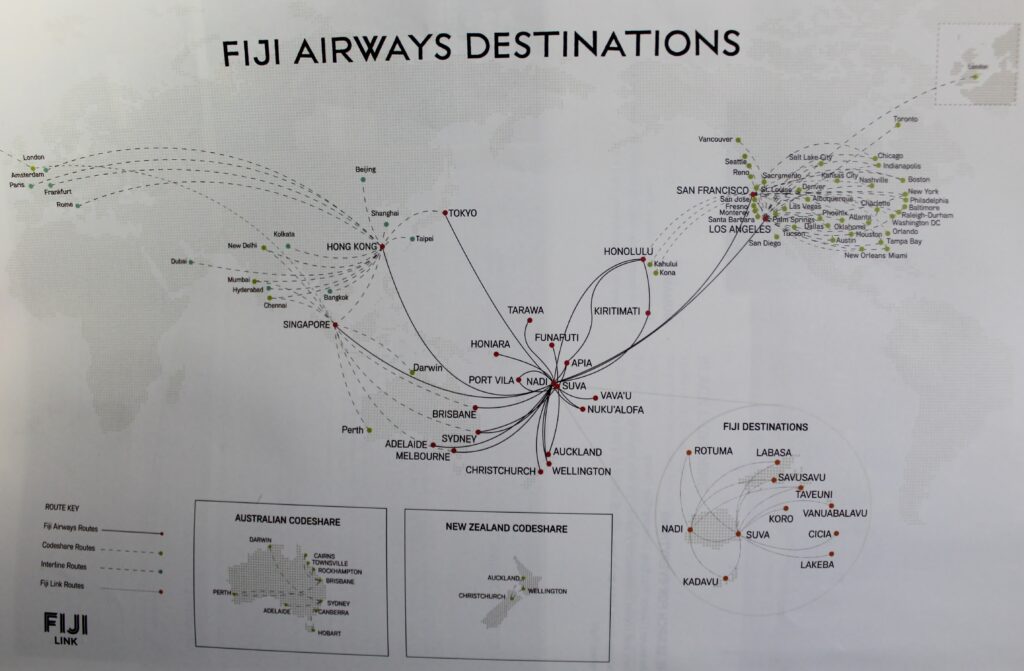 Departure experience

I booked airport transfer through the hotel in Tonga and they insisted on being at the airport two hours before departure, meaning I should leave the hotel around two hours and 30 minutes before departure at 3.30 pm. I thought this sounded way to early but I figured this was a shared airport transfer, just like it was when I arrived, so they probably had fixed pick-up times.
At the end it turned out I was the only person booked for the afternoon transfer in connection with the Fiji Airways departure to Nadi and I could easily have spent a good 30 more minutes in the hotel pool area instead. Even the driver, a very friendly Tongan woman, questioned why they wanted passengers to arrive so early at such a small airport and especially for a regional flight. Nevertheless we had a good chat on the way and I got plenty of interesting facts about life in Tonga.
The drive from Nuku'alofa, the capital of Tonga, to the airport took around half an hour and I arrived at Fua'amotu airport at 4 pm with two hours to spare before departure.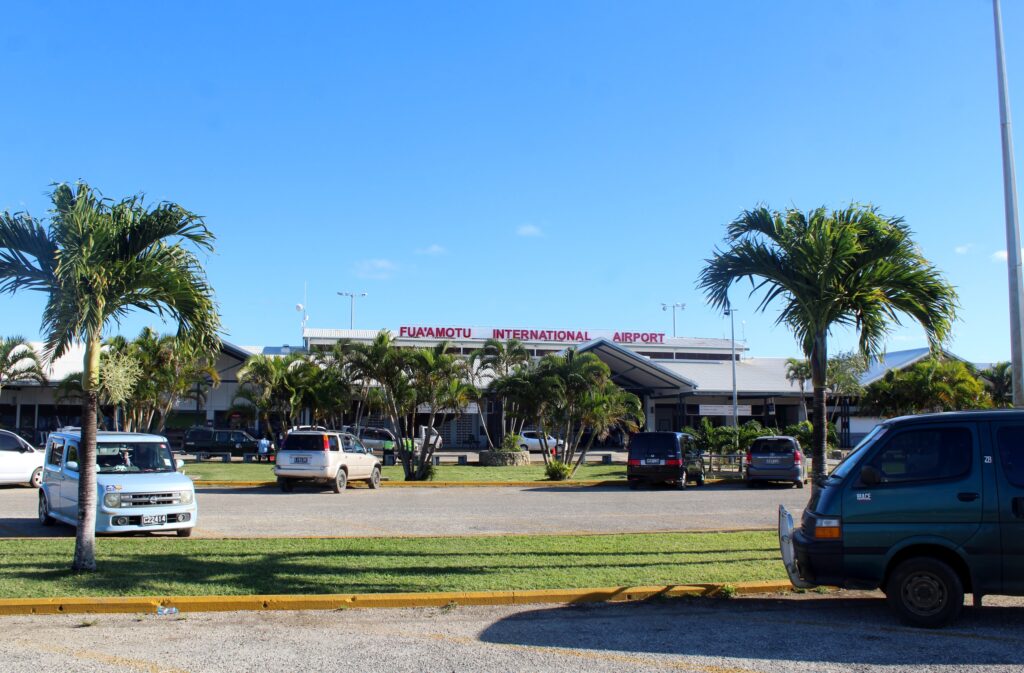 Check-in had just opened when I arrived but it was a bit hard to tell as there were no signs at the individual desks, just a couple of airline logos on the wall behind. I approached one of the desks, enquiring if this was check-in for Fiji Airways, which it was.
The check-in process was quick but a bit low-key. Unfortunately my checked luggage went missing in Sydney two days earlier and to avoid even more problems I had asked the ground staff in Sydney to send it to Nadi, so I could pick it up at the baggage office upon arrival, hence I only had hand luggage for the flight.
The door to get airside was not even open yet so I went back to the drop-off area outside the terminal where there was a snack bar, which was unmanned. Or rather there were a number of people sitting at one of the tables in front drinking coffee so most likely one of them was responsible for the snack bar, but he or she did not pay much attention. Overall there were very few people at the airport which felt almost deserted, a huge contrast to when I arrived at the airport from Auckland. It was quite clear the load to Nadi was going to be very light.
There are no departure or arrivals screens at Fua'amotu airport. In the departure hall there was an old-style board indicating the three departures of the day with expected boarding times, which obviously are updated in the morning but not regularly during the day. Otherwise you simply have to listen to the announcements being made, of which there are many, or ask the airport staff.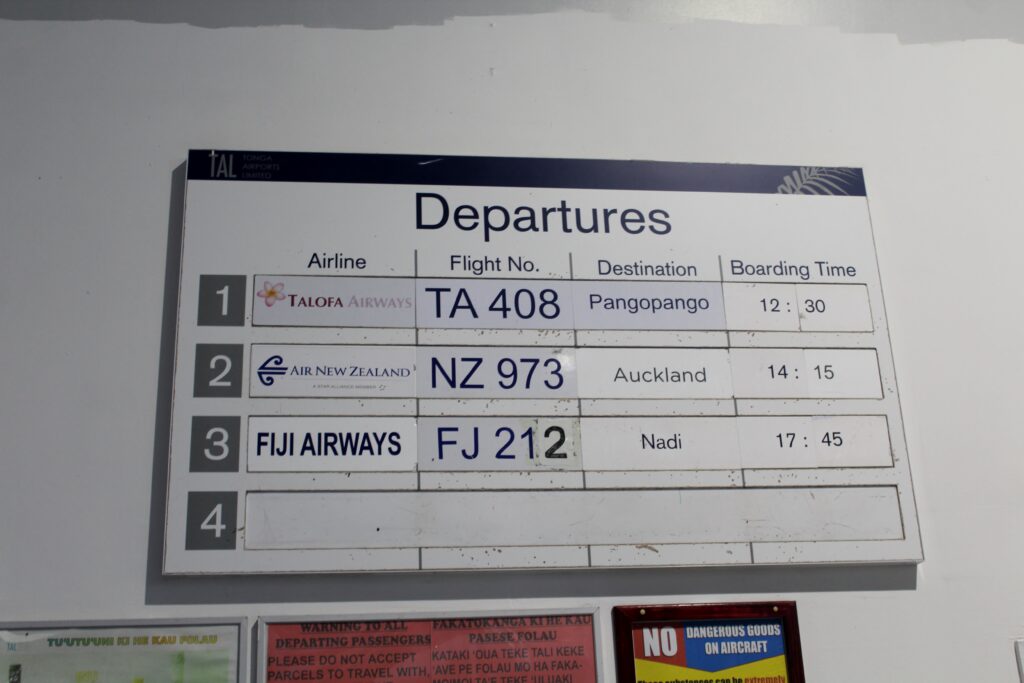 There is a small viewing deck located on the upper floor of the terminal building. It was open but there was not much to see since the apron was empty. According to the signs there was also supposed to be another snack bar up there, which there was, but it was closed.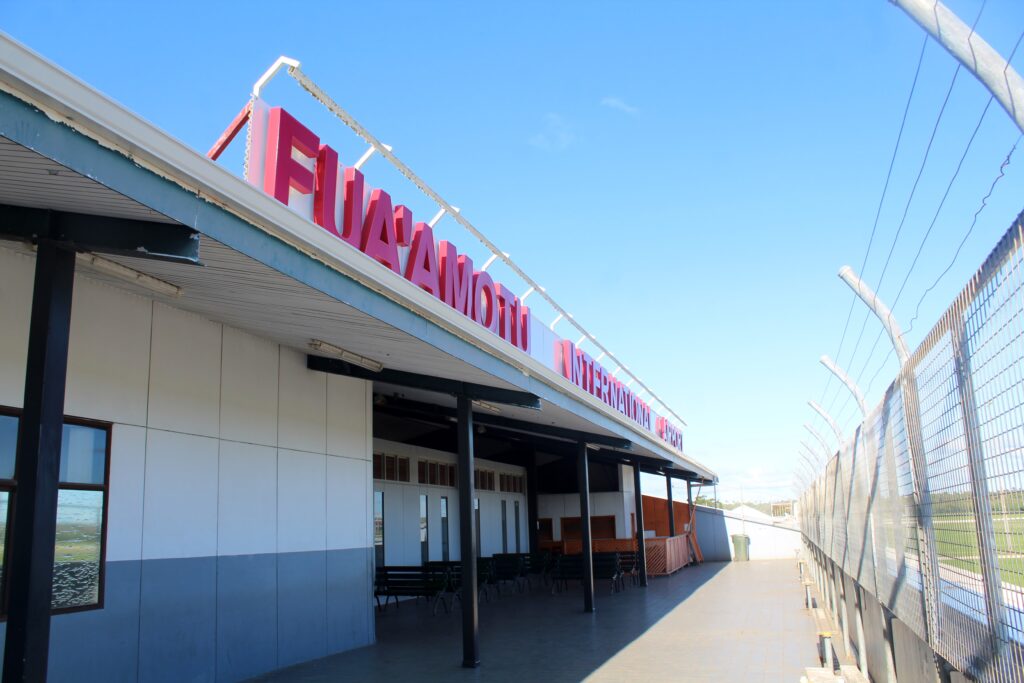 There really was not much else to do but to hang around, waiting for the security control to open, which it did around 90 minutes before departure. Both security control and passport control were quick but just like upon arrival they asked a lot of questions about the visit and the departure form even had a question about the amount of money spent during the visit.
There is no lounge at Nuku'alofa airport, at least not in the normal sense, but straight after passport control there was a sign for the 'Talia Lounge'. The door was closed and locked though. Most likely this is a VIP Lounge rather than a traditional business lounge for premium passengers of commercial airlines.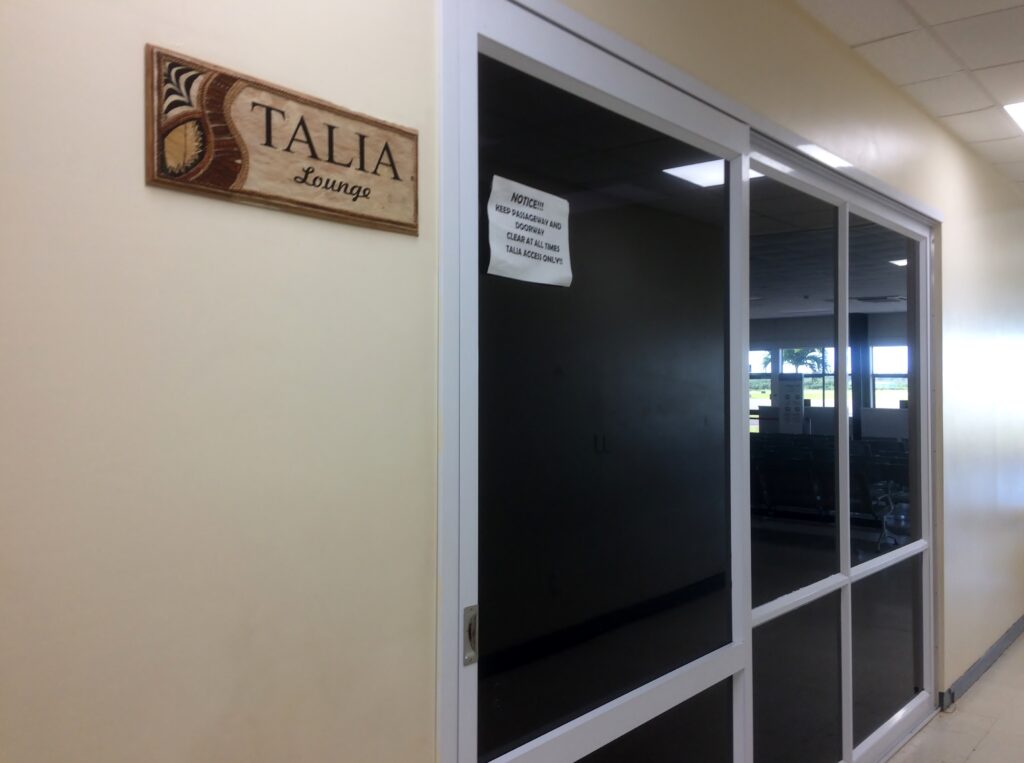 The transit hall was small. A duty free shop, a shop selling clothes and Tongan souvenirs, and a cafe. And that was it.
I had a cup of coffee and a sandwich in the cafe and was happy to notice they also had free wireless internet at the airport, with a surprisingly decent speed.
The flight
Nuku'alofa/Tonga-Nadi
Fiji Airways flight FJ 212
Departure: 18.05
Arrival: 19.25
Business Class
ATR-72
Seat 02F

The incoming flight was early and boarding also started very early, already 35 minutes before scheduled departure time. No priority boarding was offered and it was not really needed either. There were no more than 25-30 passengers in the transit hall. The load was surely going to be very light.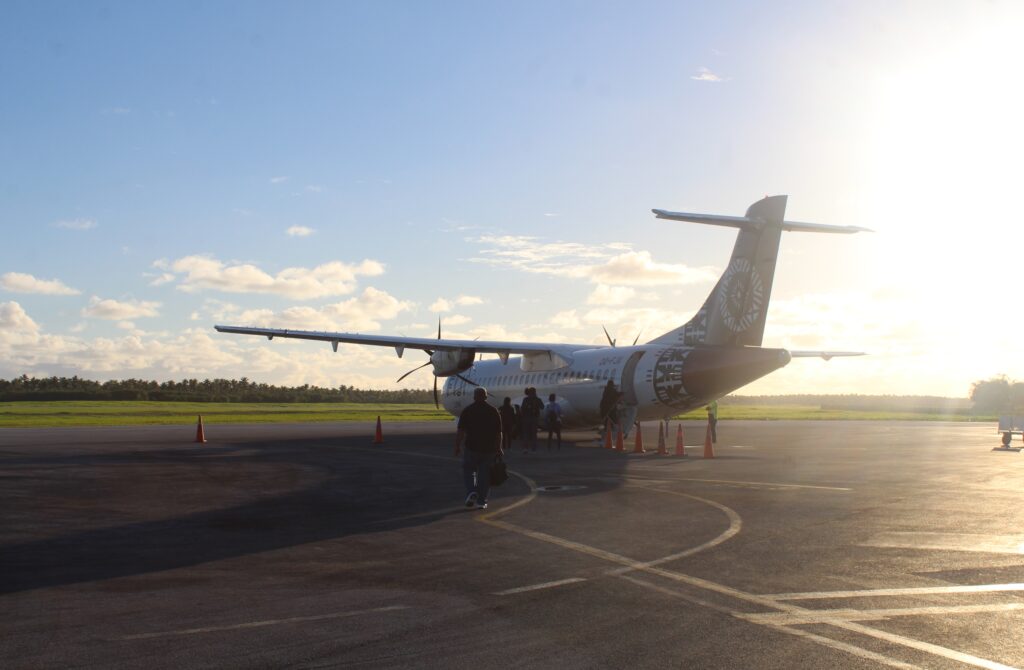 The ATR-72 was parked right outside on the apron with a short leisurely walk from the terminal building in the pleasant afternoon sun.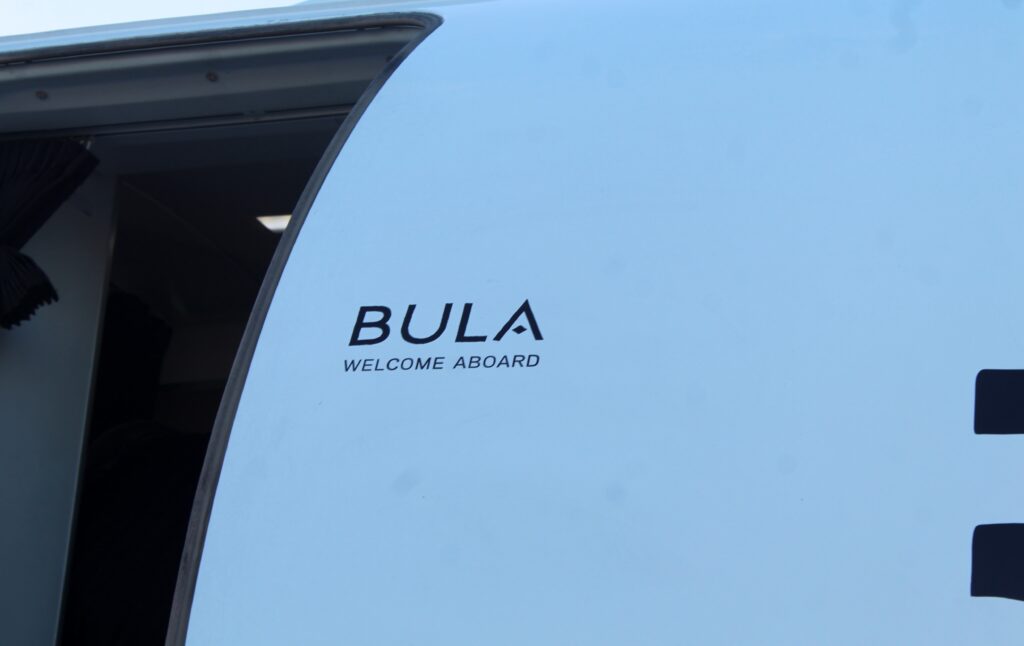 First impression

In contrast to most other airlines using the ATR-72 Fiji Airways has placed its business class cabin at the front of the cabin. Since you enter and exit the ATR-72 at the back it would make more sense to place a premium cabin at the rear.
Rows 1 and 2 were assigned to business class with a proper divider and curtain between row 2 and row 3. I had prebooked seat 02D but as I was one of the last passengers to board I was pretty certain I would be the only passenger in business class and immediately moved to the window seat.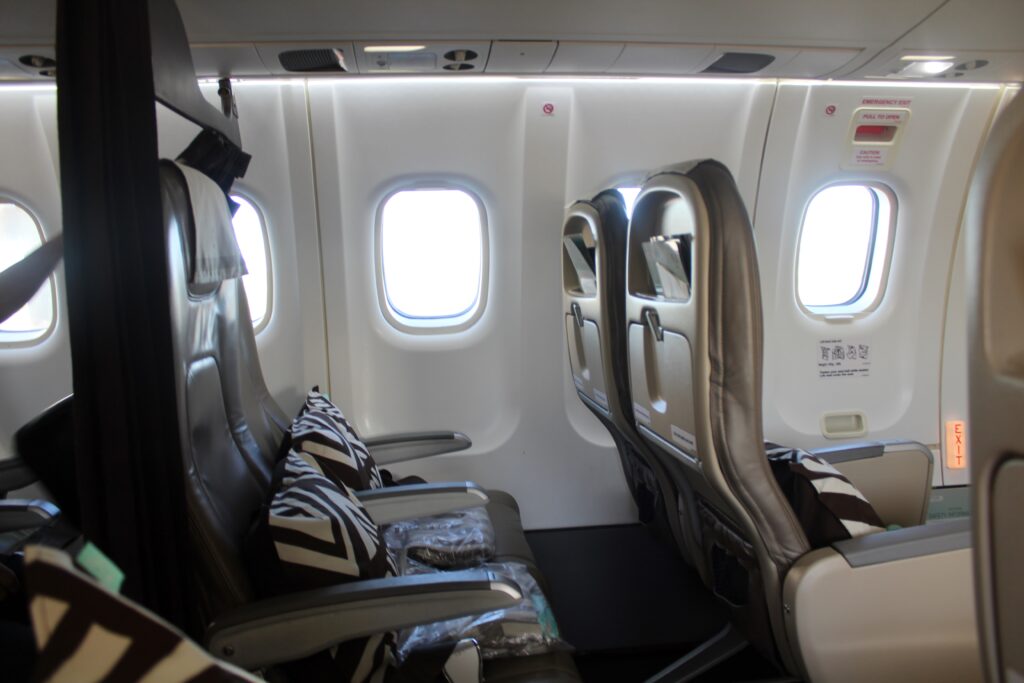 A young male flight attendant was waiting at the front of the cabin. He greeted me, helped me stow my hand luggage, offered me a bottle of Fiji Water and also took my meal and drink orders.
With the early boarding we pushed back already 20 minutes before timetable with a scheduled flight time of two hours and 15 minutes to Nadi.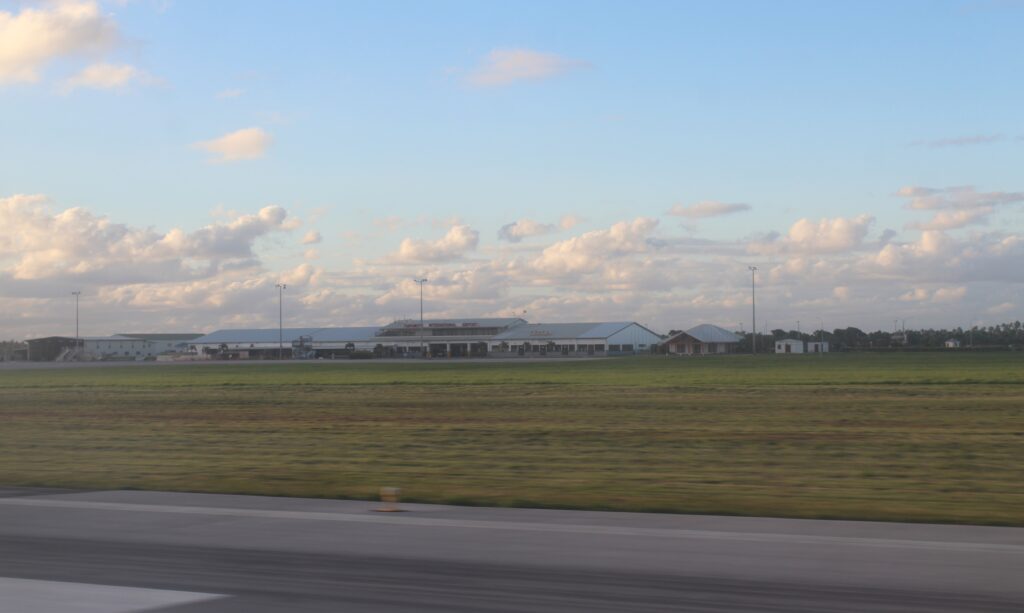 The initial climb towards the west provided a very nice view of Tongatapu, the main island of Tonga with the capital Nuku'alofa.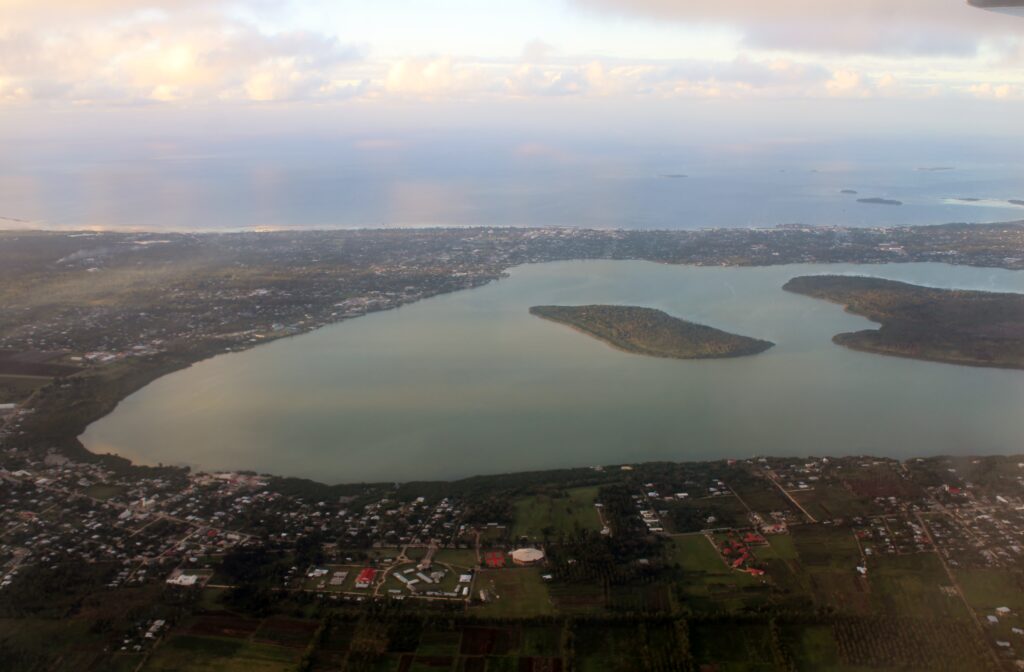 Seat and cabin

There were rows of business class in a 2-2 configuration. The seats were the same as in economy class and I doubt there was much difference in seat pitch either.
Some airlines keep the adjacent seat free also on regional aircrafts but this is not the case on Fiji Airways. The configuration is 2-2 also in business class with eight seats in total and if the cabin is full there will be someone sitting next to you.
Of course being the only passenger in business class the comfort was not an issue and I had plenty of space to spread out.
Having the business class at the very front of the cabin has both its pros and cons. The main benefit was that it actually became a proper business class cabin with a curtain and a divider. Since the lavatory is located at the back there was no one passing through the cabin during the flight other than the cabin crew. It was very quiet and felt rather private. There is also a cabin crew seat at the front which means there will be a flight attendant keeping an eye on you.
The drawback is of course that you are seated as far as you can get from the aircraft door and you have to pass through the entire cabin to reach the lavatory. There is also a fair bit of work for the cabin crew to serve food and drinks in business class since the only galley is located at the back. They do not use any trolleys for the business class service.
Food and drinks

Dinner was offered on the flight to Nadi and I was presented with the two options already on the ground, which the flight attendant had written down on a coaster. The two options were chicken with rice or some kind of vegetarian pasta.
After takeoff I was offered a cold towel followed by a first cocktail. I asked for a gin & tonic.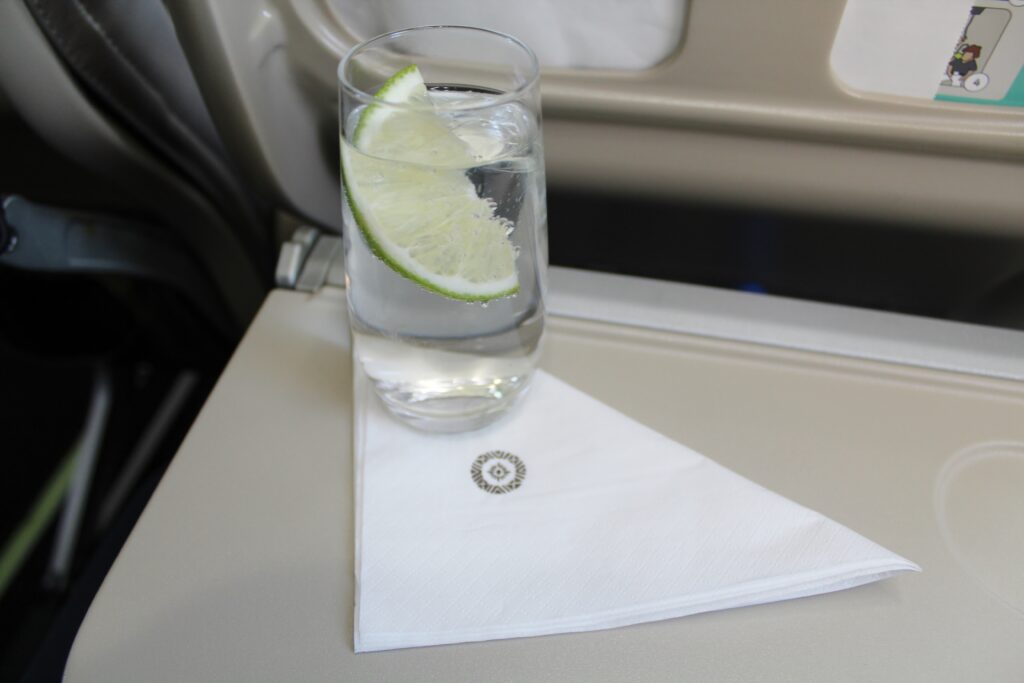 A couple of minutes later a table cloth was placed on my table and I was offered my dinner, the chicken. Two slices of bread were also available on the tray, fortunately garlic bread which I like a lot, followed by some fresh fruits for dessert.
The meal was tasty and the presentation decent for a regional flight on a turboprop. Since I later learned they only serve some basic snacks on these flights in economy class, with no option to buy anything, I was rather happy I decided to upgrade since I got a full proper dinner service when I really needed one.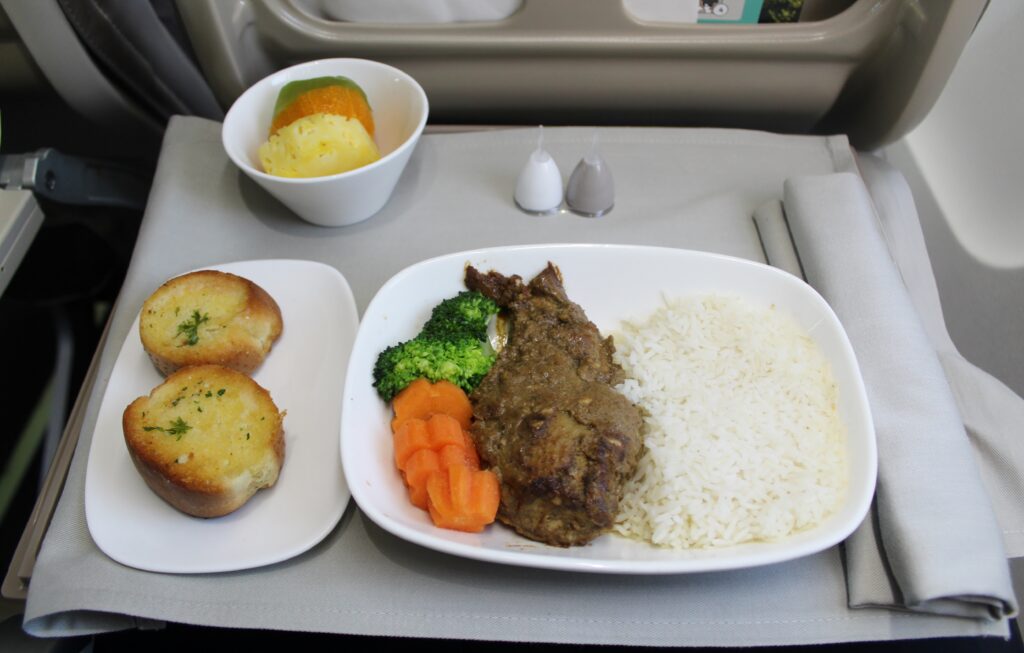 The tray was cleared and I was offered coffee and tea together with some cookies. More drinks were also offered and I asked for a refill of the gin & tonic. Eventually another cold towel was offered as we approached Nadi.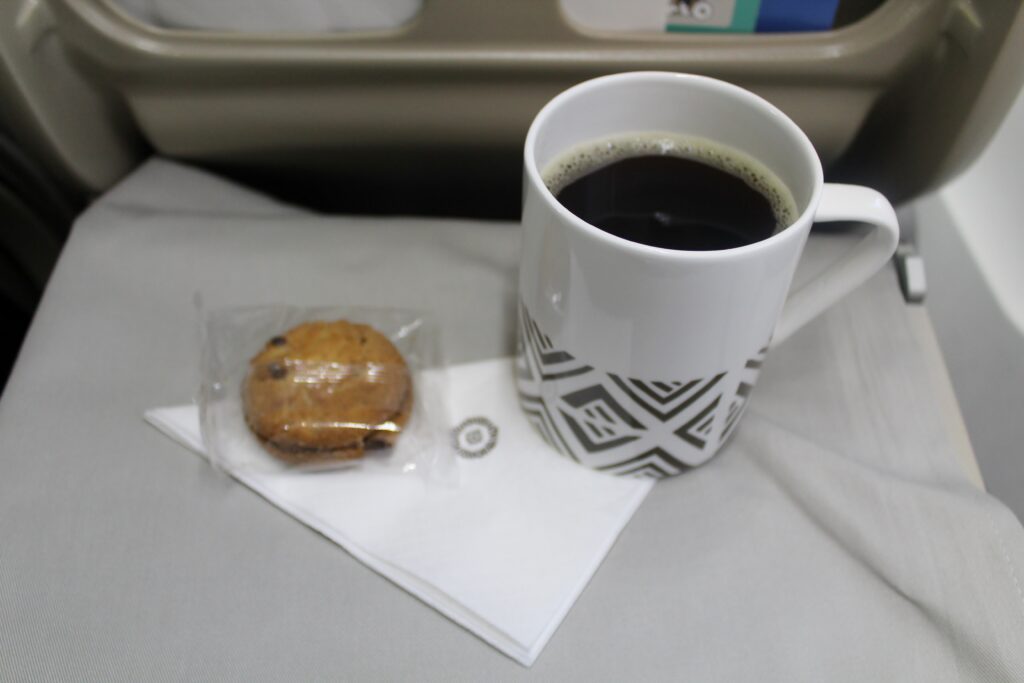 Inflight entertainment
A tablet was offered in business class with what looked like a very similar inflight entertainment system as the one offered on the Airbus A330, including some movies, TV series and music albums. Proper noise-cancelling headphones were also provided.
I accepted a tablet for the flight which I placed on the table next to me. Not sure where you should place it though if you have someone sitting next to you and if you also want to eat. The tables are not very large.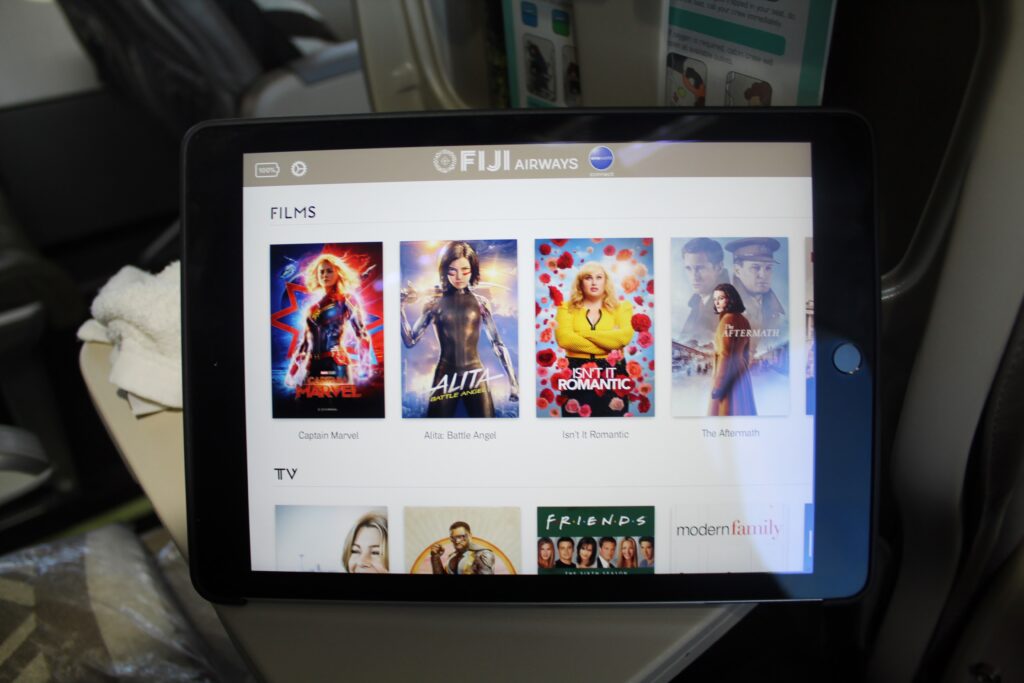 Both the audio and video kept a decent quality and I watched two episodes of Friends while I had my dinner. Very nice to be offered inflight entertainment also on a regional flight.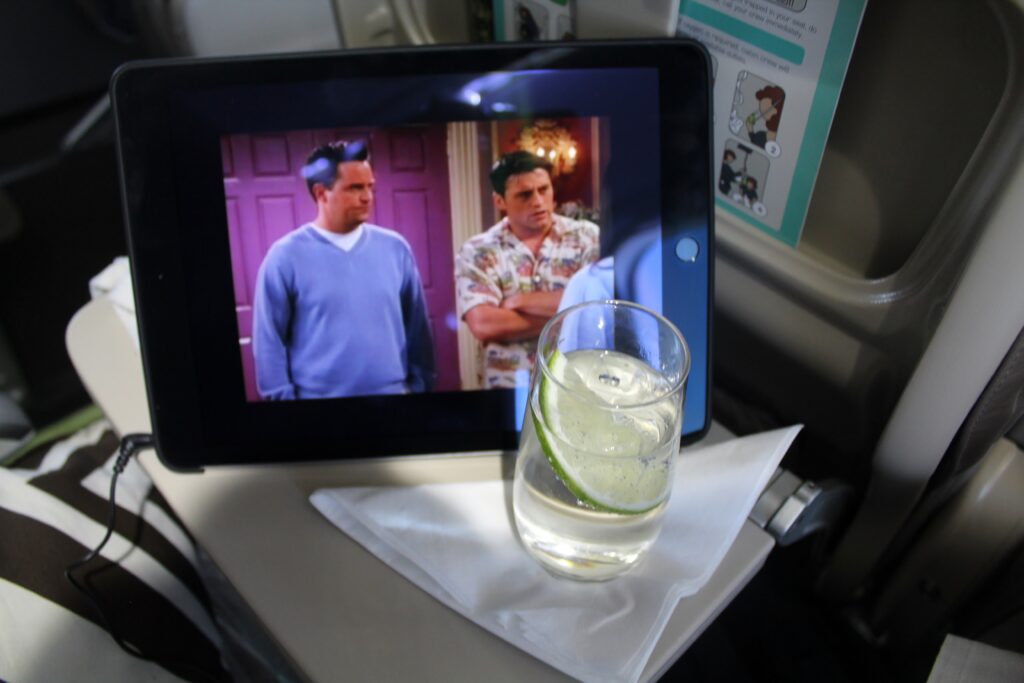 The service

Three flight attendants were working in the cabin, which surprised me as there are usually only two on the ATR-72. After about half an hour I realised why. The young male flight attendant in his 20s sitting at the front of the cabin during takeoff and landing was in training and he later told me this was his third round trip, which meant his sixth flight in total as a flight attendant. He was basically in charge of business class, i.e. of me.
From the beginning he seemed almost scared of serving me so I did my best to make him relax, being friendly and supportive even when he made a few mistakes. However by the end it almost got to the other extreme with him getting a bit too personal, a bit too outspoken.
Nevertheless he should get some credit for trying, because he definitely did. Several times he asked me how I was doing and he adressed me by my first name several times throughout the flight. Not sure though why someone doing his sixth flight as a flight attendant is being assigned to business class, where things should be smooth and professional.
But it ended up being an interesting experience. He had the right service attitude, eager to learn and I am sure he will eventually get it all right.
Arrival experience

The early departure also meant an early arrival in Fiji, a good 20 minutes before timetable. Unfortunately it also meant that our arrival coincided with the arrival of the daily Airbus A330 from Sydney, with a long line of people at passport control. But at least you can enjoy some live music while you queue, they are rather talented.
With business class being located at the front of the ATR-72, while the entrance/exit is at the back, it means you are one of the last passengers to get off. On some other flights I took using an ATR-72 they made an announcement after the seatbelt sign had been switched off after landing asking economy class passengers to remain seated while the passengers in business class passed through the cabin, however no such announcement was made on this occasion.
My missing suitcase was waiting in the Fiji Airways baggage office in the baggage hall. Very relived everything had worked as planned.
Final impression

A very pleasant regional flight with a full dinner service with two options, a tablet with inflight entertainment and attentive service. But a bit strange to have business class at the front on the ATR-72.