Where is it?
The Europa Lounge is located in terminal 1 module D, next to the Air France Lounge. Once airside it is located on the first floor on a balcony overlooking the transit hall with the entrance at the end of a long corridor. The lounge is clearly signposted and as the transit hall for module D is fairly small it is not particularly hard to find.

Technically it is also possible to visit the lounge if flying from terminal 2 (Star Alliance/Lufthansa) where there is currently no third-party or pay-in lounge.
There is a free airside transfer bus connecting the two terminals (the bus stop in module D is next to gate D17 in the transit hall) however it only leaves every 15 minutes and the lounge is not really worth the hassle unless you really have plenty of time. But at least in practice there are no problems taking the transit bus to the lounge and then back after the visit.
How do I get in?
A number of airlines use the lounge, mostly independent airlines and airlines part of the One World alliance. These include Air Berlin, Finnair, Air Baltic and Icelandair. It is also possible to access the lounge using some lounge cards and credit cards such as Airport Angel, Diners Club and Priority Pass.

What's it like?
The lounge is basically just one large room with seating for approximately 60 guests and with the entrance and reception desk in one of the corners. The design is rather sterile and uninspiring with armchairs in brown or grey placed in different sections and with occasional lamps and pictures used for the decoration. There is a limited view of the transit hall through the windows.

Food and drinks
The self-service buffet is located at the opposite end of the lounge from the entrance, in a corner. The food selection is very limited and basically consists of bread rolls with different cheeses, sausages, yoghurt, cookies, muffins, fruits and cocktail snacks. Otherwise there is very little substantial to eat.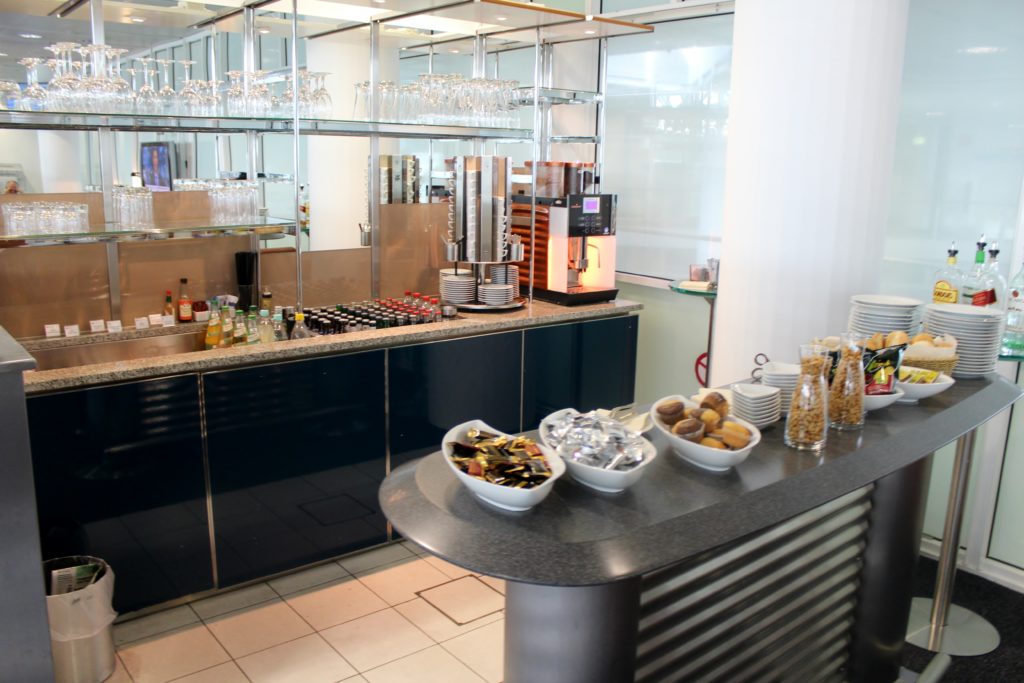 The drinks selection includes several types of beer (from a fridge), red, white and sparkling wine, a small selection of spirits, a coffee machine and a standard selection of juices and sodas.
Facilities
There are no restrooms in the lounge however the nearest ones are right outside, just a few metres away. Consequently the lounge also lacks shower facilities.
A selection of German and international newspapers is available from a rack next to the reception desk and there are also two TVs and free wireless internet.
Final impression
Not much to get excited about. The lounge is small, the interior is uninspiring, there is very little substantial to eat and there is not much to speak of in terms of facilities. It works OK to grab a coffee and a snack 15 minutes before a shorthaul flight, but it is certainly not worth arriving hours in advance to visit.