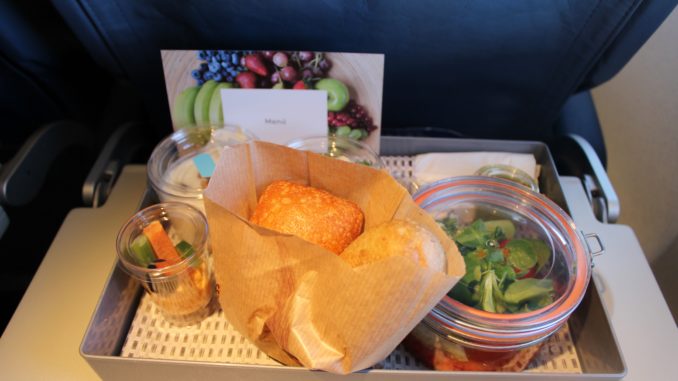 Departure experience

I was in transit at Madrid Barajas airport, transferring between two Schengen flights and having already received boarding passes at the departure airport. Air Europa uses terminals 1, 2 and 3 at Madrid Barajas airport, which are linked airside and share the same transit hall. Terminal 1 is used for non-Schengen flights while terminal 2 and 3 are used for Schengen flights inside Europe.
For Schengen passengers there are two lounges to choose between, and as I had never been to any of them I decided to visit both. The first stop was the Sala VIP Puerta de Alcala in terminal 2. A rather modern lounge with plenty of natural light and an excellent view of the apron.
There was also a rather decent selection of food and drinks including plenty of sandwiches and snacks, some hot food and a proper selection of drinks including wine, beer, spirits and soft drinks.
After some snacks and a cup of coffee I moved to the Sala VIP Puerta del Sol in terminal 3, which was also the lounge closest to my departure gate. This lounge turned out to be much more modern with contemporary seating and plenty of facilities. It also had a decent view of the apron with mostly Air Europa aircrafts.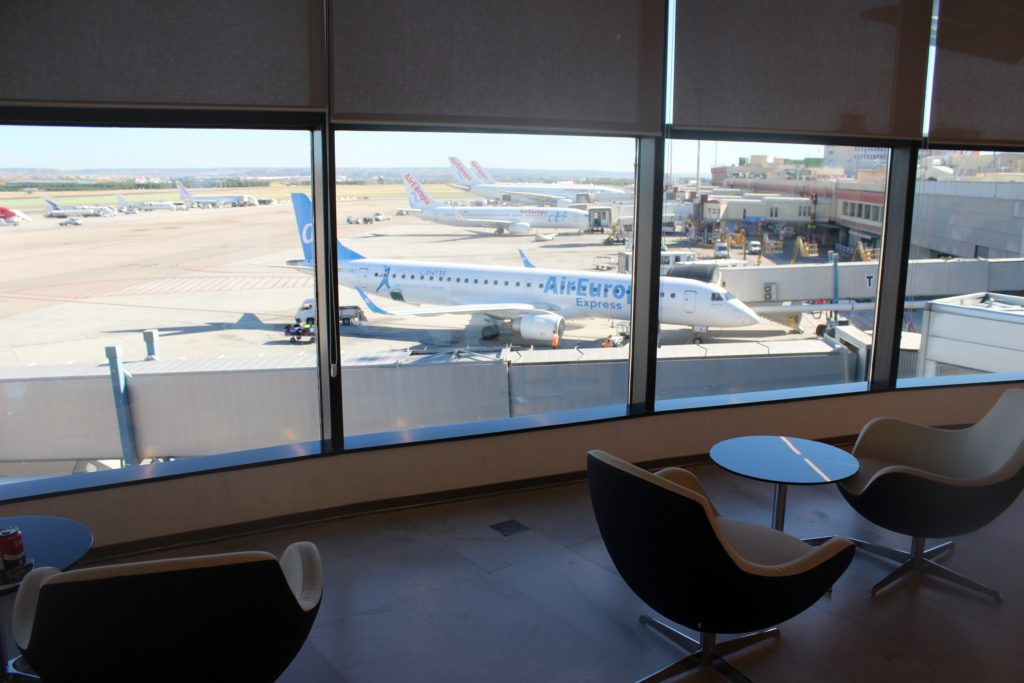 There was also quite a decent selection of food and drinks including pasta and meatballs as hot food and plenty of sandwiches, snacks, yoghurt, fresh fruits and desserts. There was also a fairly good selection of drinks including Spanish wines, beer, soft drinks and a standard selection of spirits.
Overall both lounges are quite similar with roughly the same selection of food and drinks, but the Sala VIP Puerta del Sol Lounge has a much more modern interior and is slightly larger.
The flight
Madrid-Amsterdam
Air Europa flight UX 1093
Departure: 15.00
Arrival: 17.40
Business Class
Airbus Boeing 737-800
Seat 03F

Boarding started very early, nearly 40 minutes before departure, but with an almost completely full Boeing 737-800 with plenty of hand luggage and a few families with children it was actually needed for an on-time departure. Passengers with small children were allowed to board first followed by priority passengers, including business class and Skyteam Elite Plus, using the lane to the left of the podium.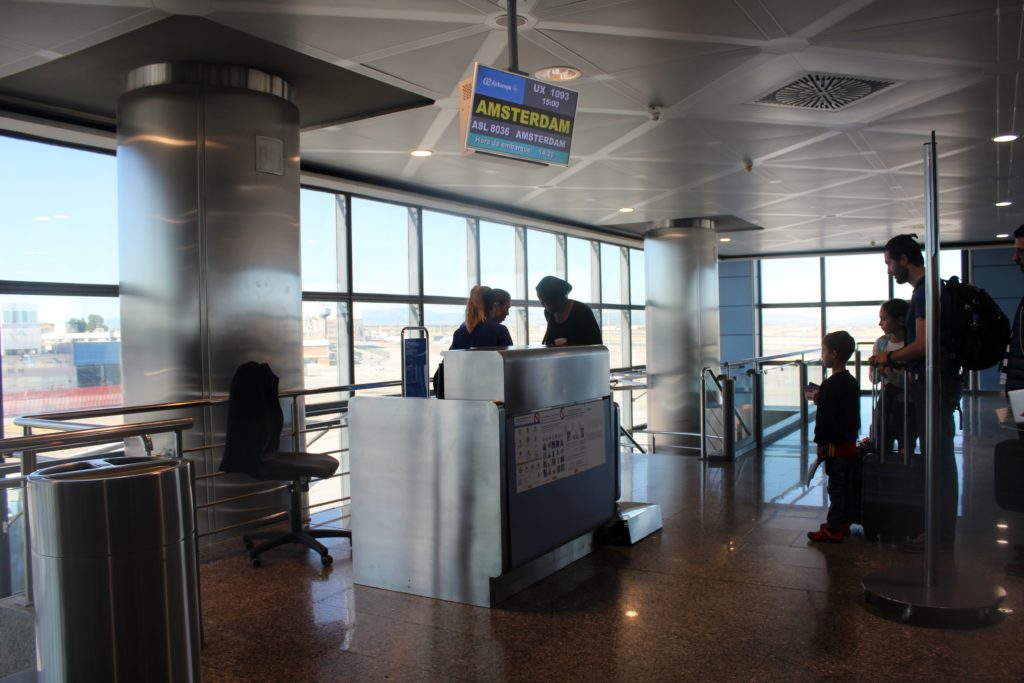 First impression

The Boeing 737-800 had three rows of business class with seats in some kind of blue-grey colour. Initially it looked like the aircraft would have the new Sky Interior cabin design, but this looked like an older aircraft.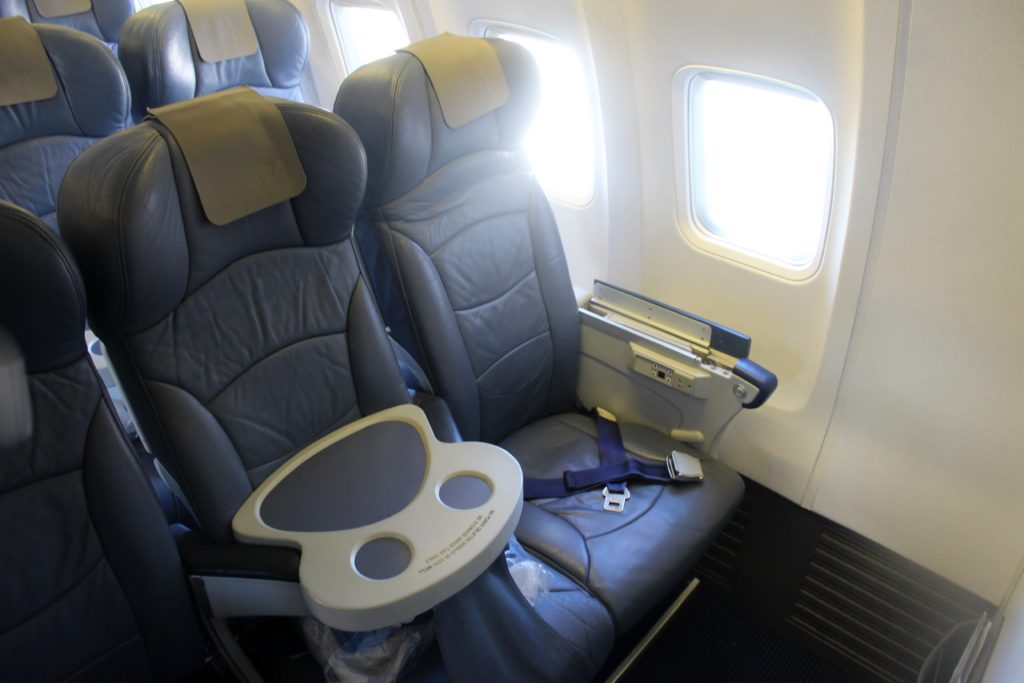 As per standard in Europe the middle seats were blocked in business class and a rather large cocktail table had been attached instead. I had selected seat 02D for the flight. The business class cabin ended up being completely full, except for seats 03D and 03F, the one behind me. Either Air Europas has a strange way of allocating seats, or more likely two passengers did not show up. After the "boarding completed" call had been made I asked the crew if it was OK to move to the empty row, which was not a problem. Hence I ended up getting my own row.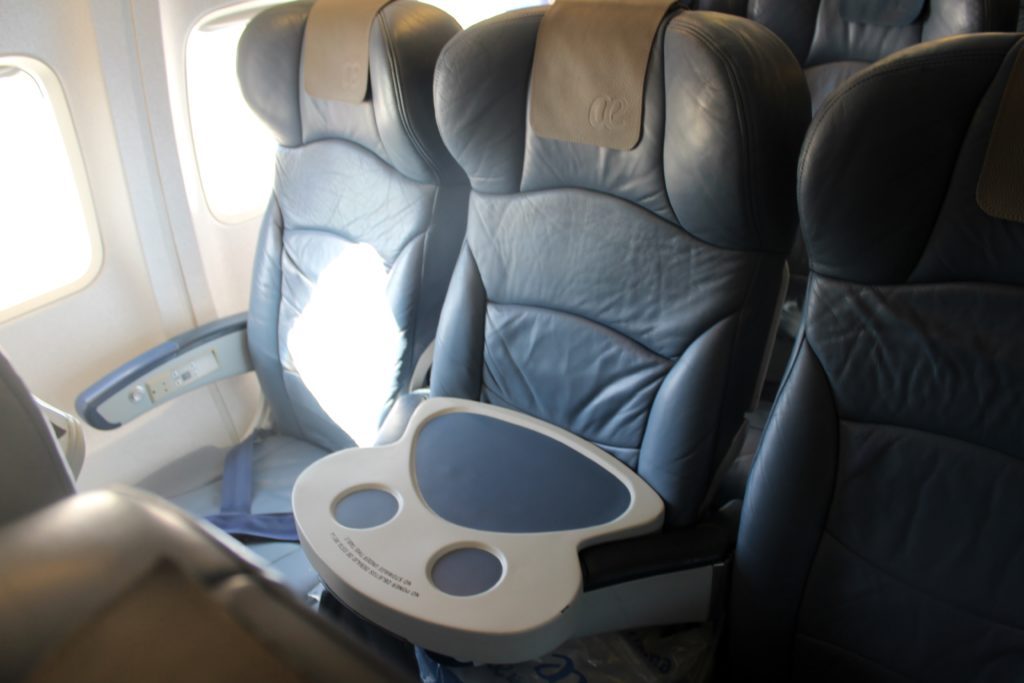 It took a very long time for boarding to be completed, nearly half an hour, but eventually the aisle was empty and the cabin crew could offer a pre-departure drink, a choice between water and different juices. No champagne or cava this time though. Newspapers and magazines were also offered, however most of them were in Spanish.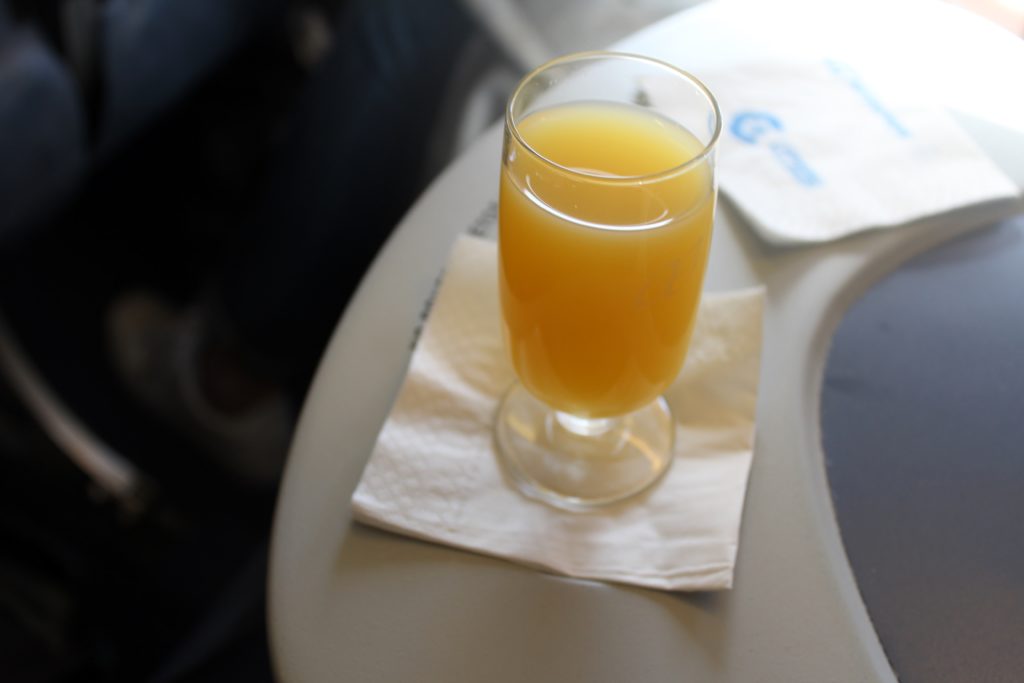 Punctual pushback and after the standard safety demonstration video we took off to the north with an estimated flight time of two hours to Amsterdam.
Up in the air it took a very long time before the service started, but at least the weather was nice and we got some nice views through the window. The city below is Bordeaux in southwestern France. You can also see the airport on the photo called Mérignac.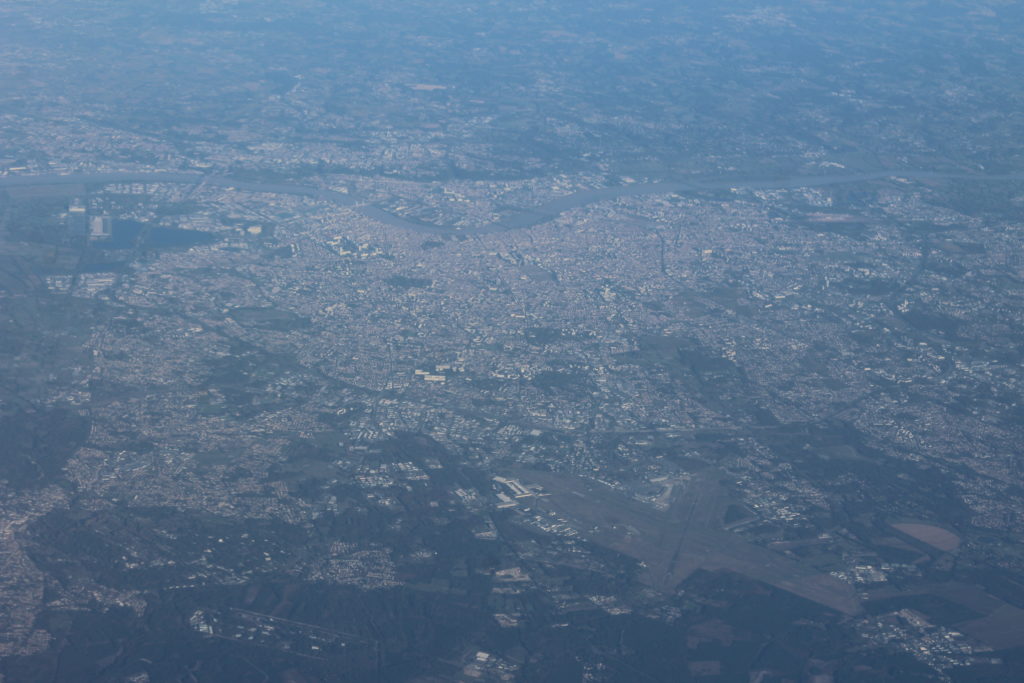 Seat and cabin

The seats used onboard were not the standard Recaro seats but an older seat version which was in fact quite comfortable and also had decent headrests.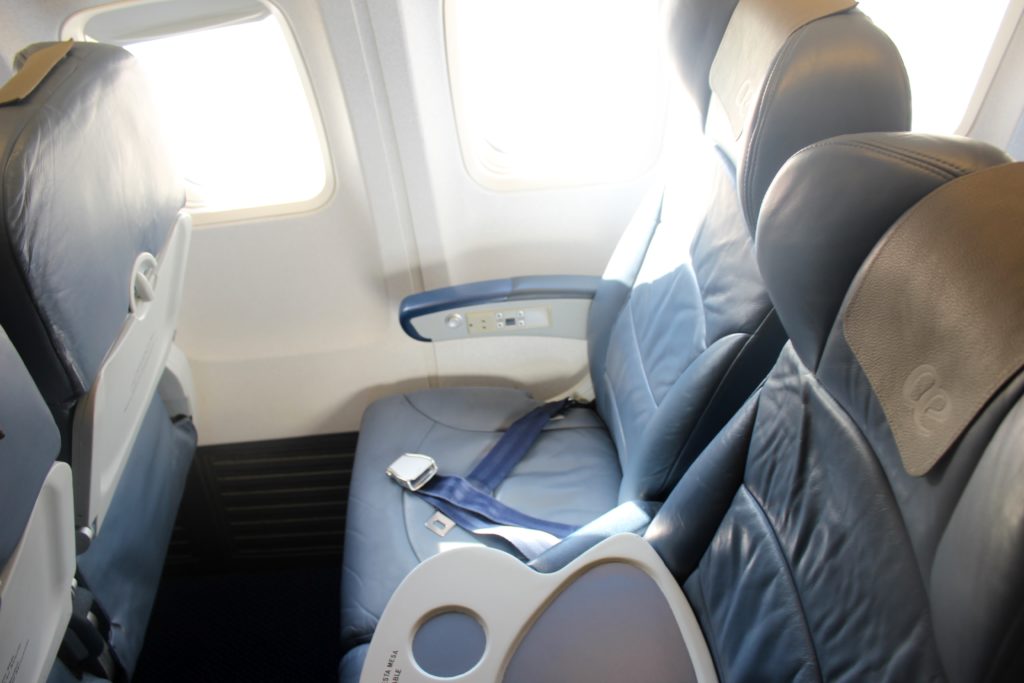 However the legroom was quite tight, or at least it felt rather tight. According to the official numbers the seat pitch in business class should be larger than in economy class, 33 inches instead of 31 inches, but no matter what it did feel cramped. Also the seat width should be greater in business class, which is probably true. The armrests were actually used to hold the cocktail table in a rather interesting setup, which made the aisle seats and the window seats wider.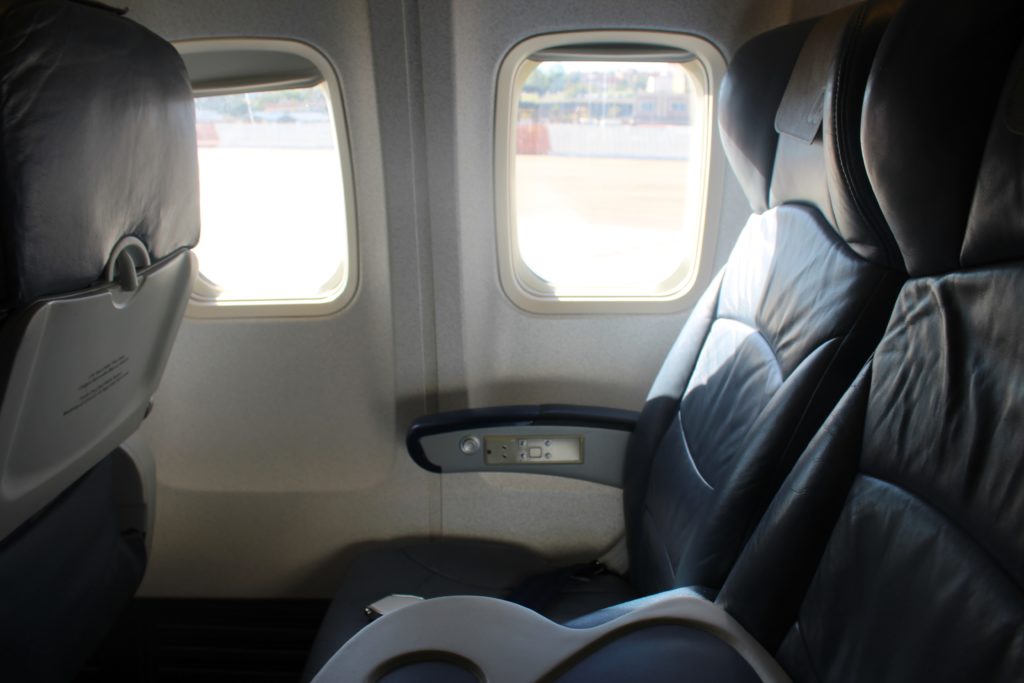 The cocktail table was one of the larger ones I have seen in Europe with plenty of space for bottles and glasses. A pillow and a blanket were waiting under the table upon boarding, although the text printed on the cocktail table informed passengers no storage was allowed under the table.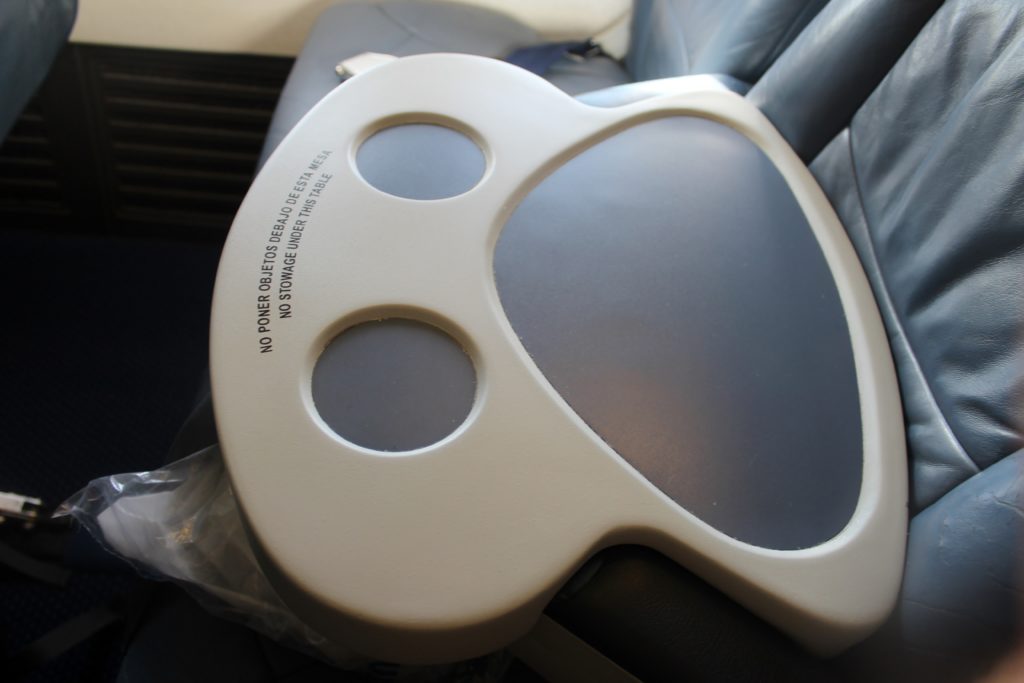 There was also an inflight entertainment system onboard with different music channels. A small control panel was available on the armrest to control the system, however I never made use of it.
Food and drinks

It took nearly an hour before the inflight service started, starting with a drinks service with nuts. I had no idea what they had on offer, but there was a buy-onboard menu in the seat pocket, obviously targeted at economy class passengers, but I figured the selection would be about the same in business class.
According to the menu they had Moët & Chandon champagne onboard, which I asked the crew about, but I was told they had no champagne. Instead I was offered a bottle of Spanish sparkling wine, Cava, from the Freixenet estate. This is a fairly cheap brand and not really a favourite, but the crew made a serious effort decorating the bottle with an Air Europa napkin to make it look nice, and naturally they used proper glasses in business class. All-in-all it looked quite elegant.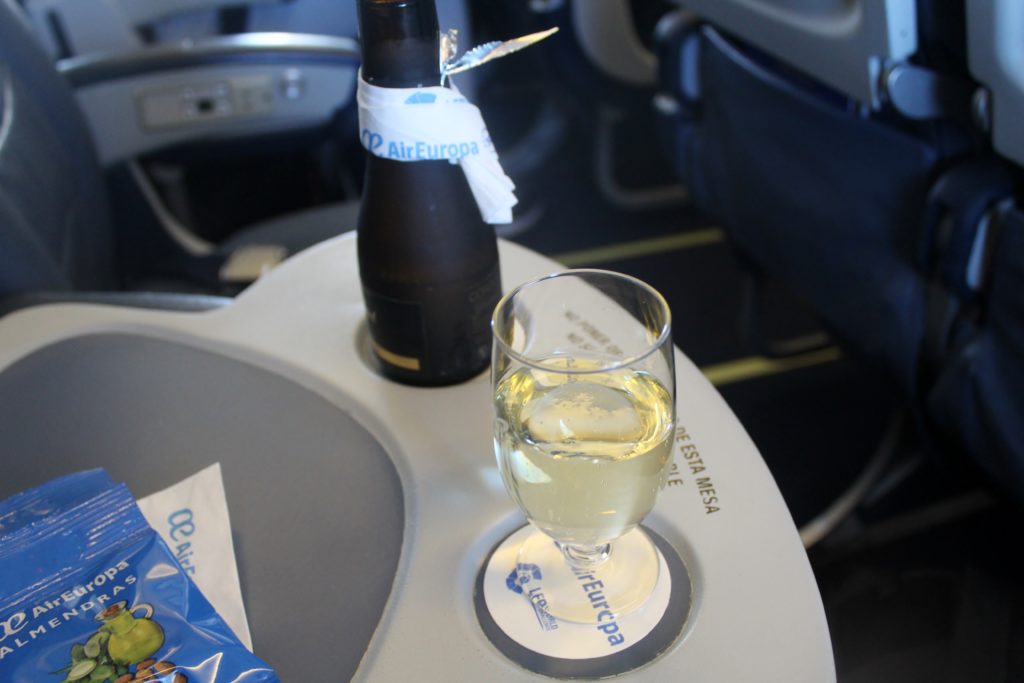 Around 20 minutes later the dinner was served, which was a nice and very unexpected surprise. Rather than offering some unhealthy snacks or sandwiches, or a traditional tray service with some cold cuts, we were offered a health box, which looked like this.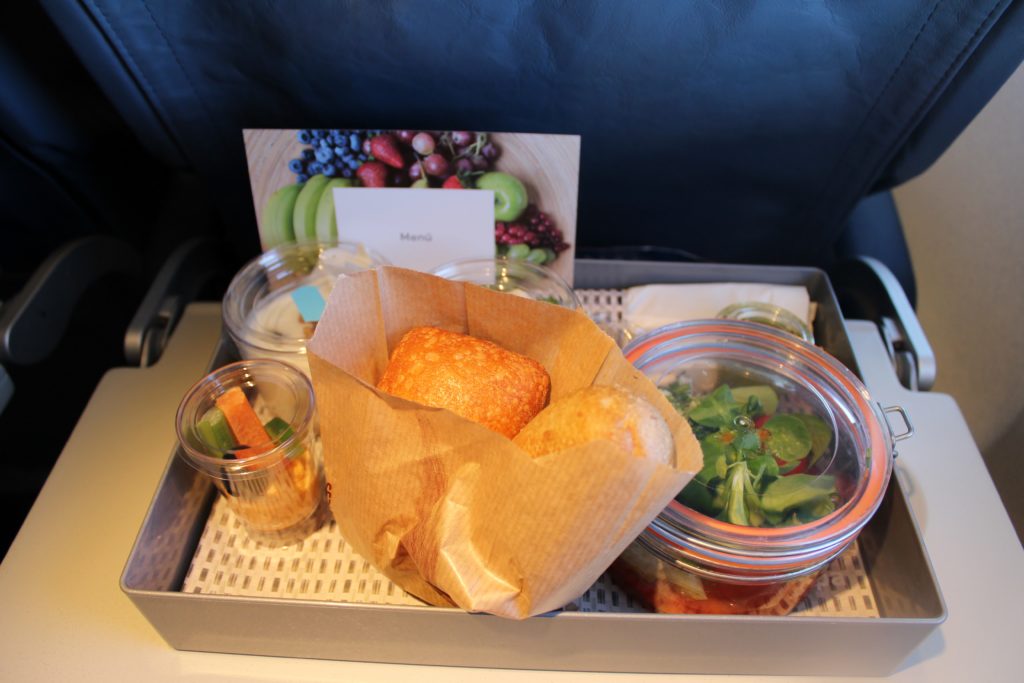 There was also a very nice printed menu.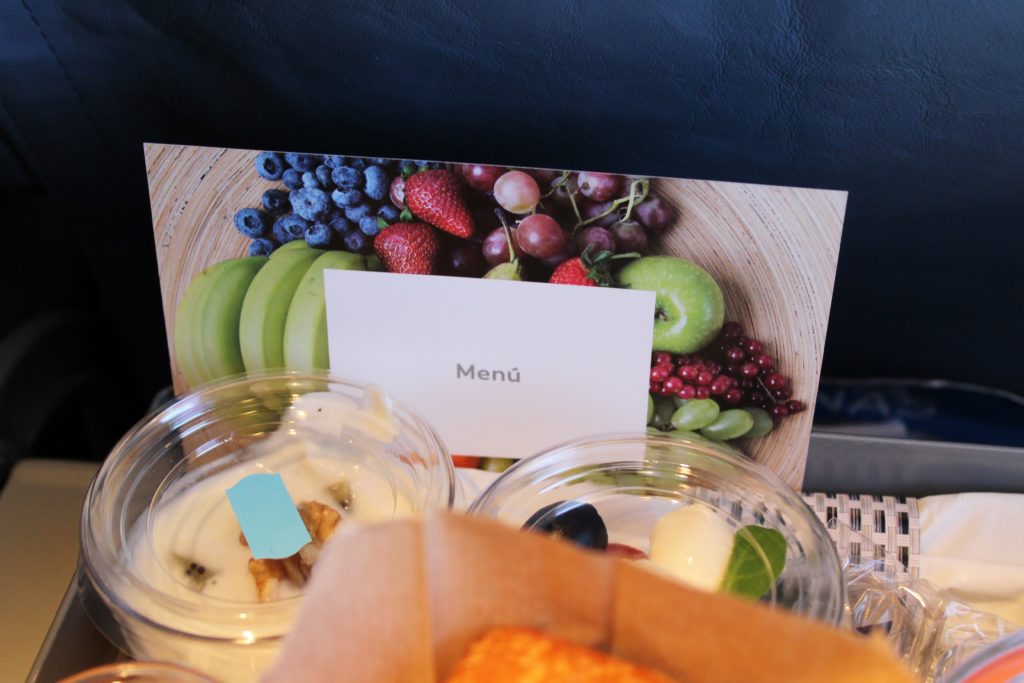 The health box was advertised as "Eat healthy and enjoy the flight". While most inflight meals are not particularly healthy this was really something fun, innovative and refreshing.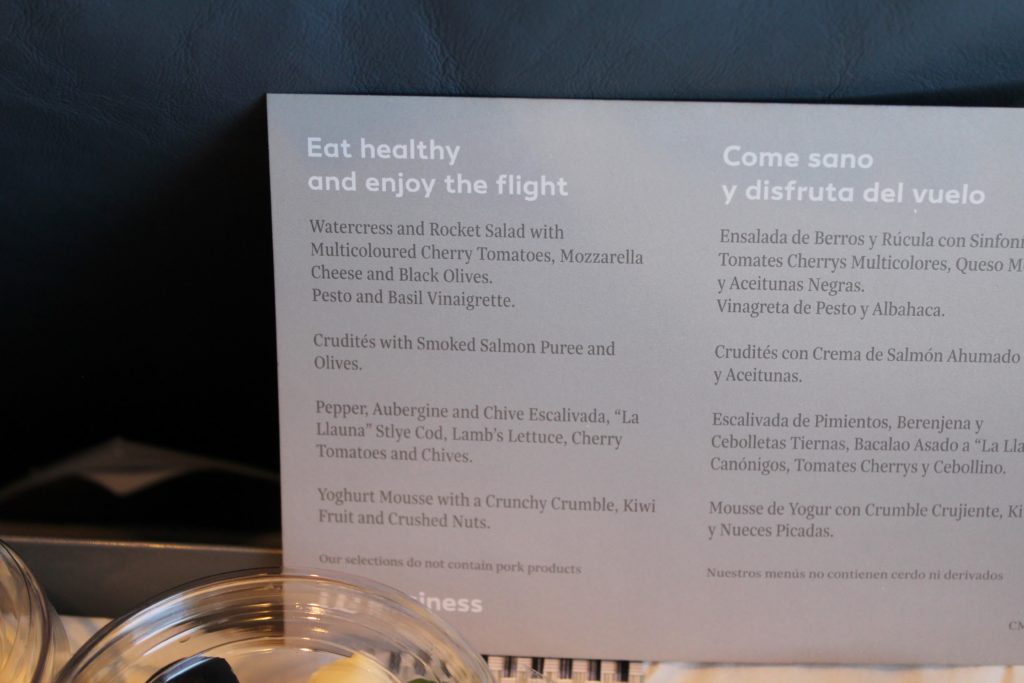 And here is the box without the hot bread rolls. Different bowls with different types of salads, crudités (or cold cuts), cod and a yoghurt mousse for dessert. Although it was all cold (except for the bread rolls) I really liked the concept. I always enjoy when airlines try something new and different.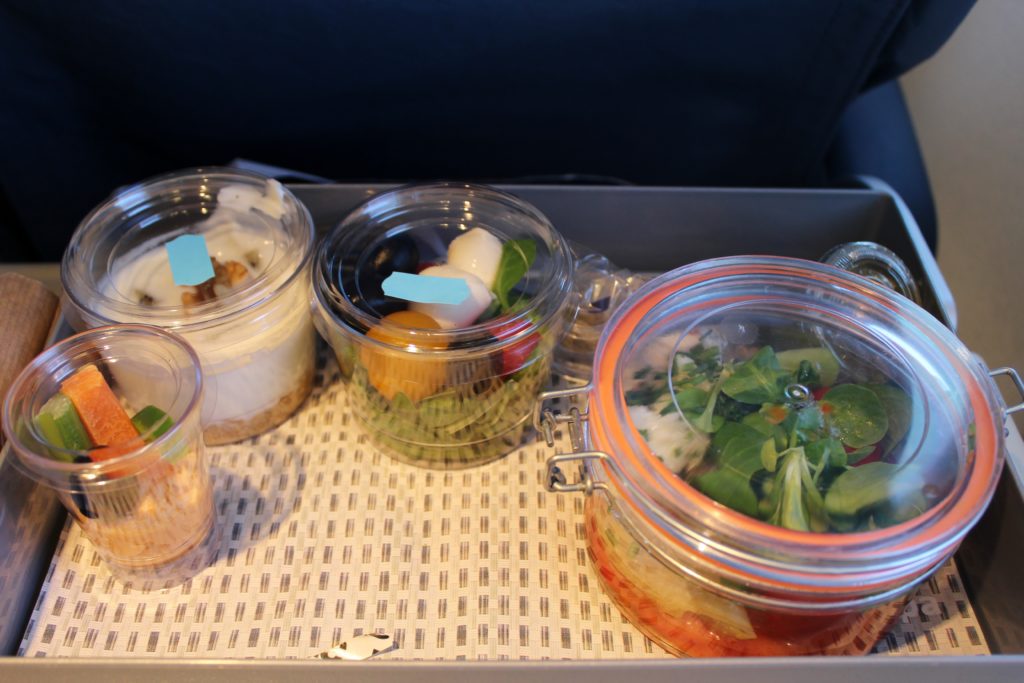 I asked for a bottle of white wine to drink with the meal. All wines onboard were of Spanish origin. Coffee and tea were also offered, but I was a bit disappointed they were served in paper cups. Well at least the coffee was strong and tasty. By the time the coffee was served we had already started out descent to Amsterdam. As mentioned the inflight service started very late.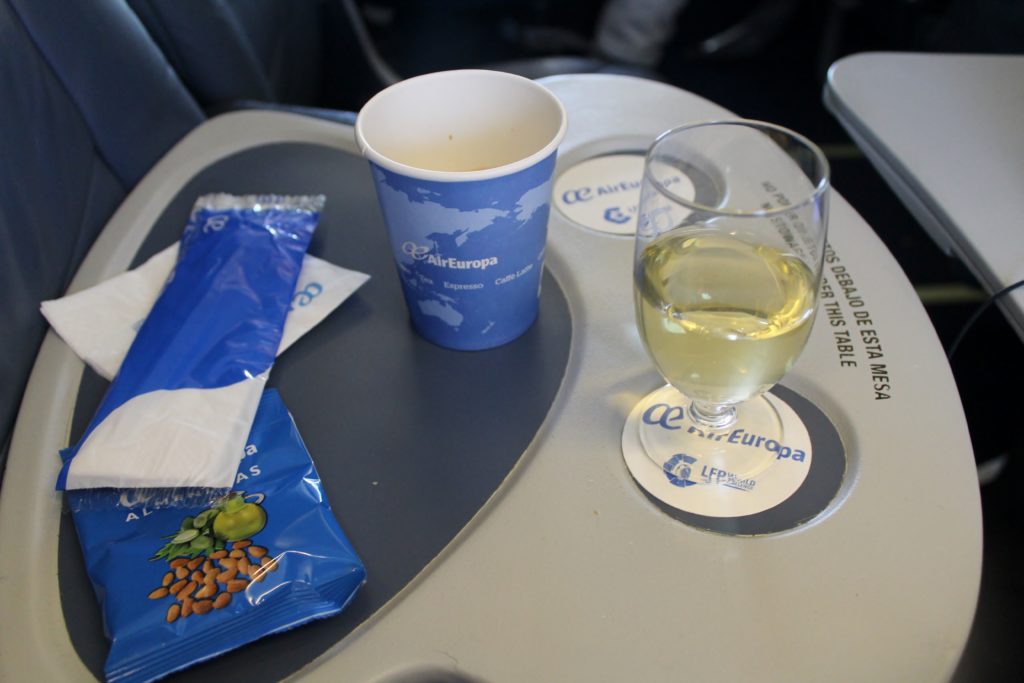 The service

One female flight attendant was in charge of business class, although at times two flight attendants were working in front of the curtain. The service was very friendly and polite and the crew spoke excellent English. And the effort to decorate the Cava bottle with a napkin was a nice touch.
Overall I had nothing whatsoever to complain about, I was very well taken care of. I just wished they had started the inflight service a bit earlier.
Arrival experience

We enjoyed a nice view of the Dutch countryside during the approach to Amsterdam and landed right on time (actually slightly early) at Schiphol airport, on the infamous Polderbaan with a very long taxi to the terminal.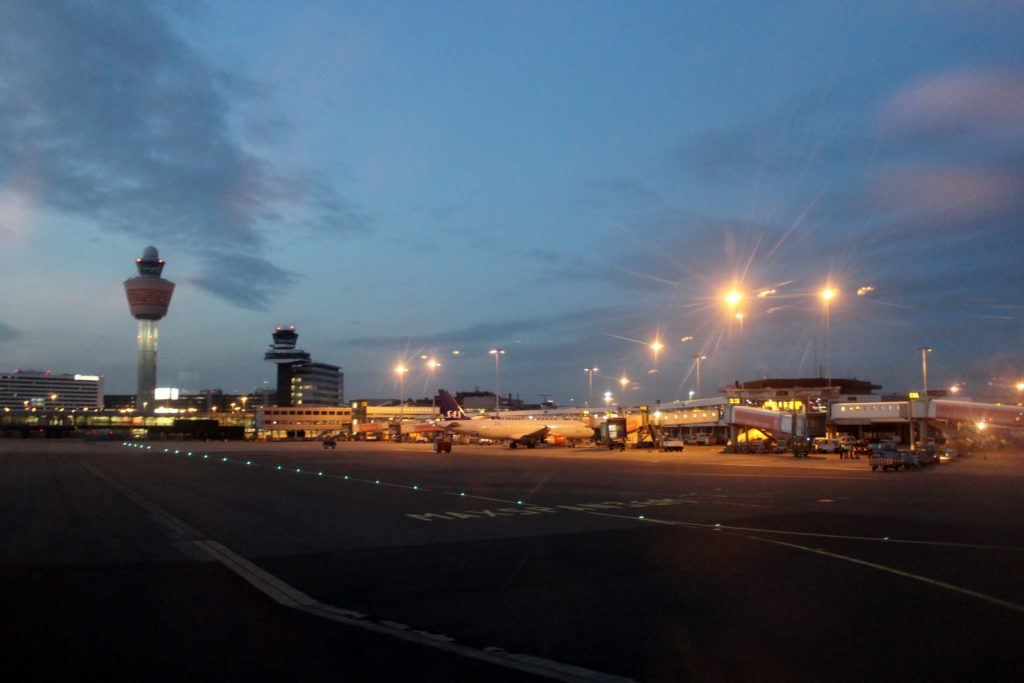 We parked at concourse B and sitting on the third row I was one of the first passengers to get off and made my way to the lounge for the connecting flight.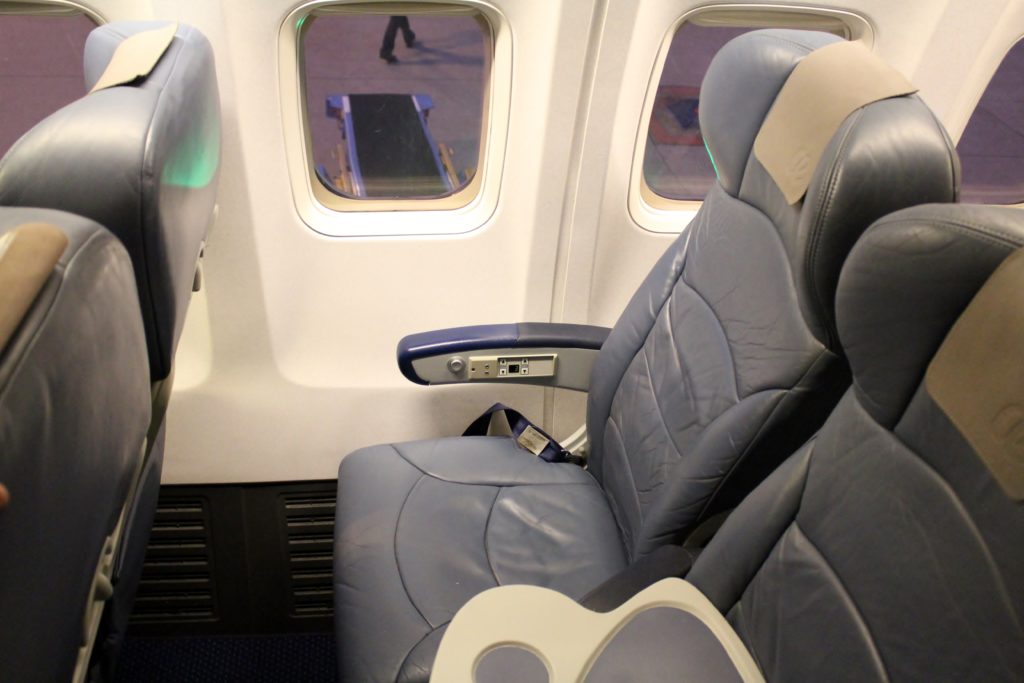 Final impression

Air Europa was better than expected. Although I would have enjoyed a bit more legroom at least the business class cabin had a different setup compared to the rest of the aircraft with the large cocktail tables. The service was very friendly and attentive, they really took good care of me, but I wished the inflight service would have started earlier, not having to wait an hour for a first drink. And of course the health box for dinner was a nice and refreshing initiative.