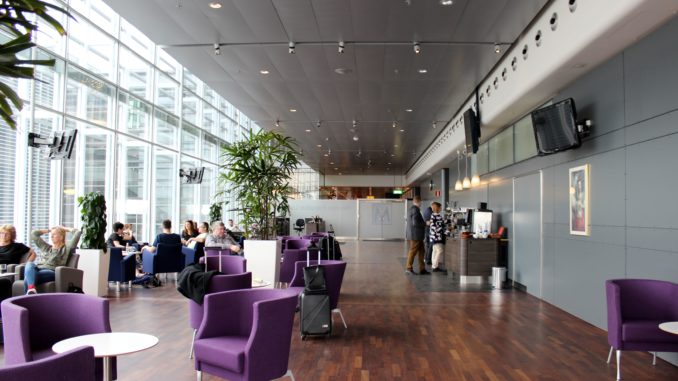 The Menzies Executive Lounge and the Aviator Stockholm Arlanda Lounge at Stockholm Arlanda airport terminal 5 will close permanently. The last day of operation will be 29 December 2019. The reason is the upcoming expansion of Concourse F at terminal 5.
The Menzies Executive lounge has been around for many years. A few years ago when airlines such as Finnair, Iberia and British Airways operated at terminal 5, before they move to terminal 2, this was the contract lounge for these airlines and the lounge was very busy at peak times. The lounge also had a very convenient location as these flights usually departed from an F-gate, with less than a minute to walk from the lounge to the gate.
When Emirates started operations from Arlanda in 2013 a new lounge was inaugurated in the non-Schengen area (the current Aviator Lounge), right above the Menzies Executive Lounge, and most airlines flying to longhaul and non-Schengen destinations moved to that lounge instead, as it is located after passport control.
In recent years the Menzies Executive Lounge has mostly been used as a pay-in lounge and by some tour operators and the opening hours have been much more limited, for example closing at 6.30 pm on weekdays and with very limited opening hours during weekends. And now the lounge will close permanently at the end of December.
Unfortunately the Aviator Stockholm Arlanda Lounge will then also close. It is a rather convenient lounge if you have a non-Schengen flight from concourse F. From next year there will be no non-Schengen lounge at the airport and only one third-party/pay-in lounge in terminal 5.
Other lounge options in terminal 5
There is another Menzies third-party/pay-in located in the Schengen area of terminal 5 called the Norrsken Lounge. It is located next to the SAS lounges. To get there take the stairs or the lift opposite the SAS service centre. However given that two lounges close there is a great risk it will get very busy.
For passengers travelling with SAS or Star Alliance in business class or holding a Star Alliance Gold card there is the SAS lounge to visit. When travelling on SAS you can also pay to enter the lounge, even if you do not have a gold card or an SAS Plus/business class ticket.
And finally if you have an American Express Platinum or Centurion card there is the American Express Pontus in the Air lounge.