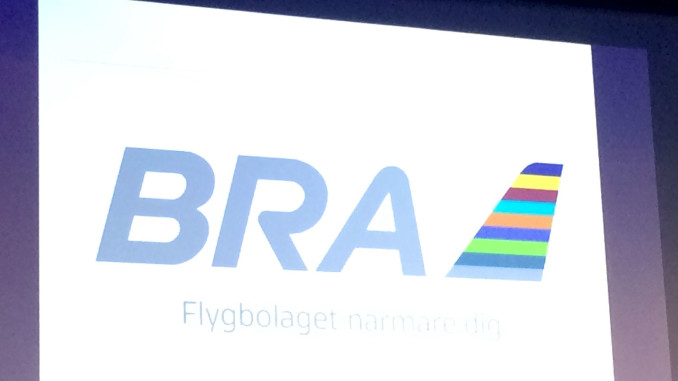 Yesterday evening during the Grand Travel Award in Stockholm the owner of Braathens Aviation, Per G Braathen unveiled the new logo of BRA for the very first time, the new regional airline soon to be launched in Sweden.
The new name BRA may sound odd to English-speaking people, but it does mean 'good' in Swedish, nothing else. Actually it is an abbreviation of the formal name of the airline, Braathens Regional Airlines. In English the abbreviation should be spelled out, not pronounced as the garment.
Braathens Regional Airlines is the merger of Malmö Aviation and the seven regional airlines part of the of Sverigeflyg group – Blekingeflyg, FlySmåland, Golden Air, Gotlandsflyg, Kalmarflyg, Kullaflyg and Sundsvallsflyg.
The new logo may look difficult but it is in fact rather simple. It consists of the name BRA and an aircraft tail with nine different colours, the colours of the current logos of Malmö Aviation, Sverigeflyg and the seven different regional airlines in the Sverigeflyg group.
Just before the summer last year the airline opened a new lounge at Gothenburg Landvetter airport with a completely new lounge design, the first hint of the new brand profile. The lounge at the hub at Stockholm Bromma airport is currently also getting a makeover and will most likely get a similar design.