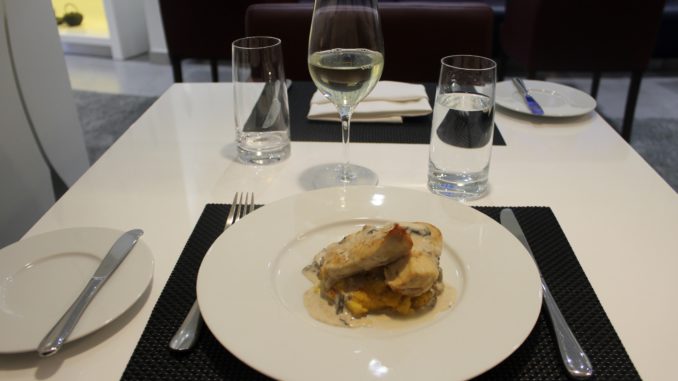 The Air Serbia Premium Lounge is a lovely little lounge at Nikola Tesla airport in Belgrade. This is the only proper Air Serbia lounge in the network (all other lounges are partner lounges or contract lounges). The lounge is accessible to Air Serbia business class passengers as well as Silver, Gold and Platinum members of the Etihad Guest program. Premium passengers travelling on other airlines in the Etihad Group such as Alitalia also get access.
Sunday early afternoon and the lounge is almost completely empty. There are few Air Serbia flights in the early afternoon so we are no more than about a handful guests in the lounge, and probably just as many staff members.
The best thing about this lounge is that they have a proper dining area with very nicely decorated tables where you can have a proper meal in a rather nice atmosphere. And as for the food offerings there is both a fairly decent self-service buffet with both hot and cold dishes and an a la carte menu you can order various dishes from.
Since I only had breakfast in the hotel in Belgrade it was perfect to go to the airport in the early afternoon, well over two hours before the flight departure, to have lunch in the lounge before the flight.
I had a seat at one of the tables in the restaurant and was almost immediately approached by the waiter working at the bar next to the buffet area. He asked me if I wanted something to drink and I ordered a glass of white wine. They have no champagne in the lounge but the red and the white wines are not bad at all, all of Serbian origin of course.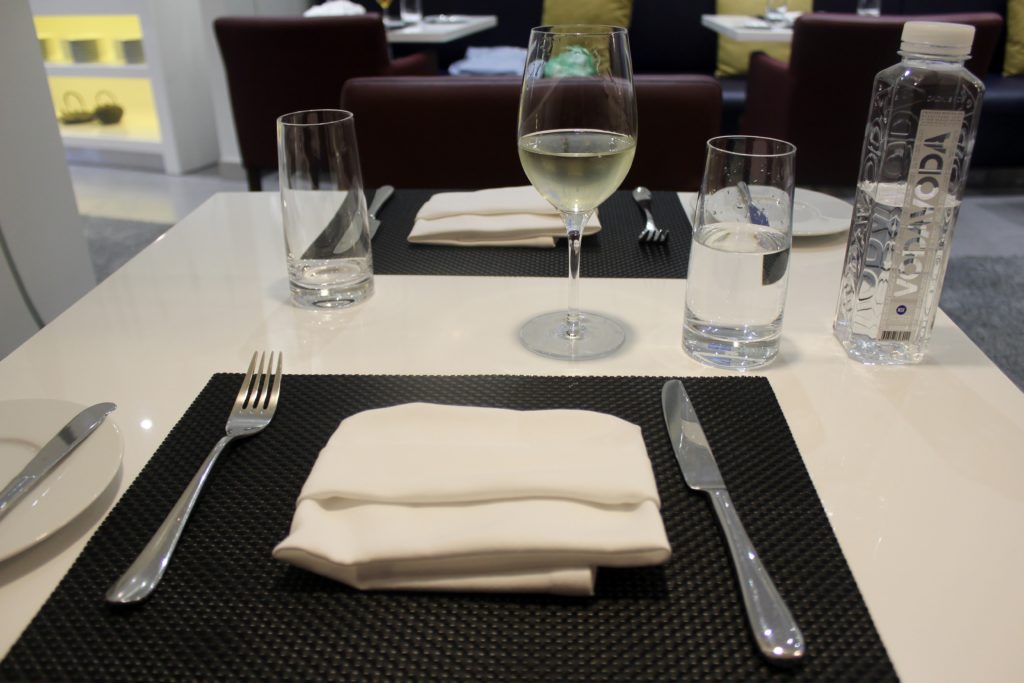 There is a buffet area in the lounge where you can help yourself to some hot food and snacks as well as some desserts and pastries. There are also various soft drinks and juices for self service in this area. All alcoholic drinks need to be ordered at the bar, or from one of the waiters.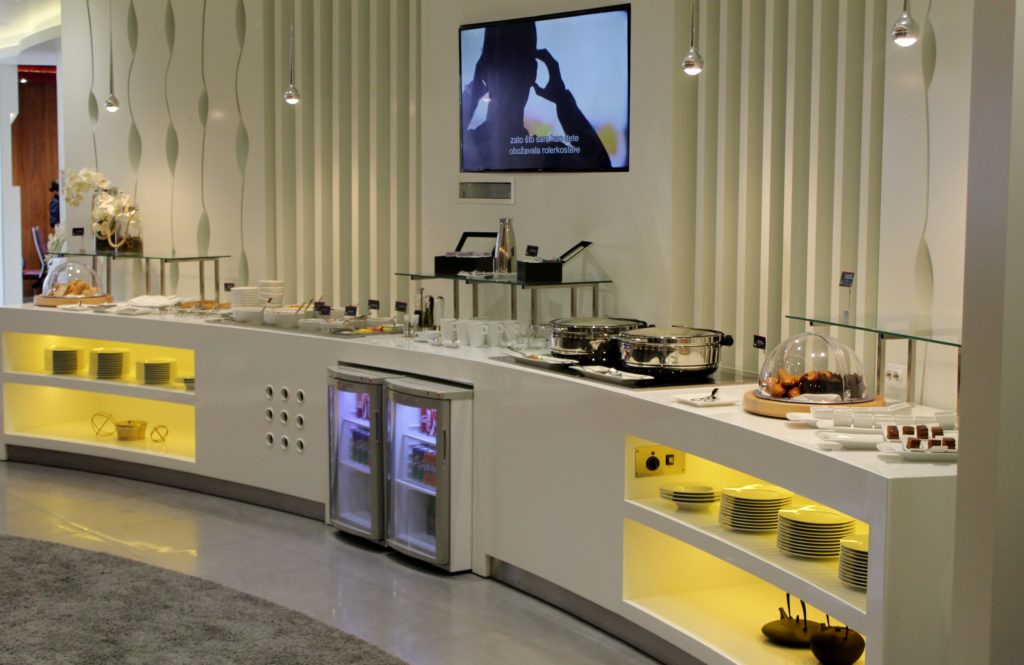 I was also given the a la carte menu and the waiter asked me to have a look if I wanted to order something and said he would be back again in a few minutes. The menu is not extremely extensive but you get a handful of dishes to choose between and there is also a meal option for children.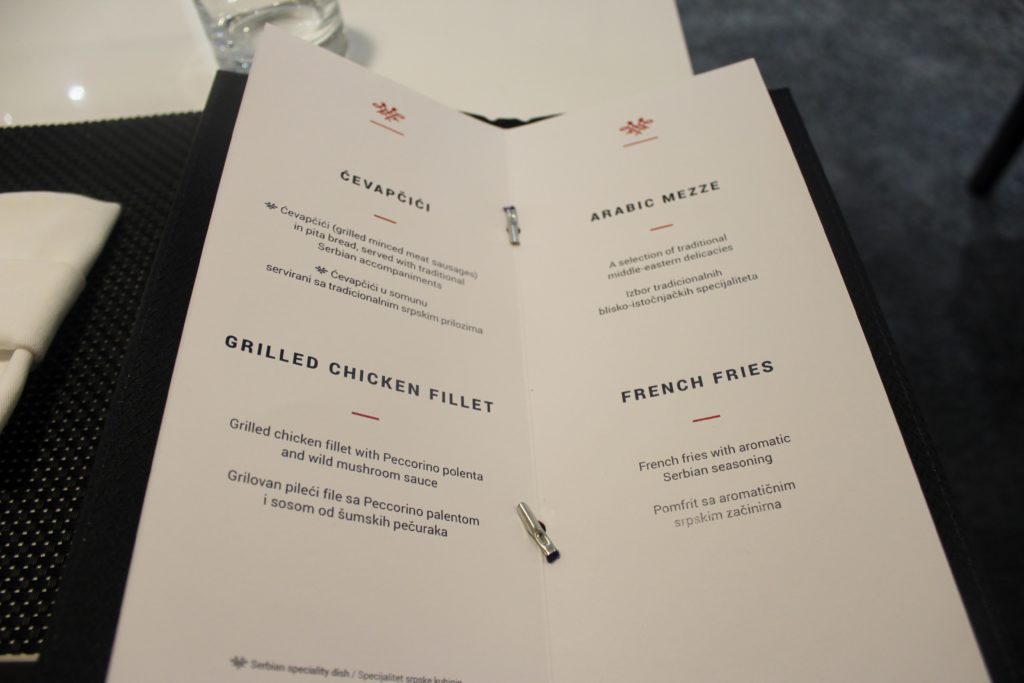 I decided to order the Grilled chicken fillet with Peccorino polenta and wild mushroom sauce, which arrived at the table after around 15 minutes. I was also offered a top-up of the white wine, which I happily accepted.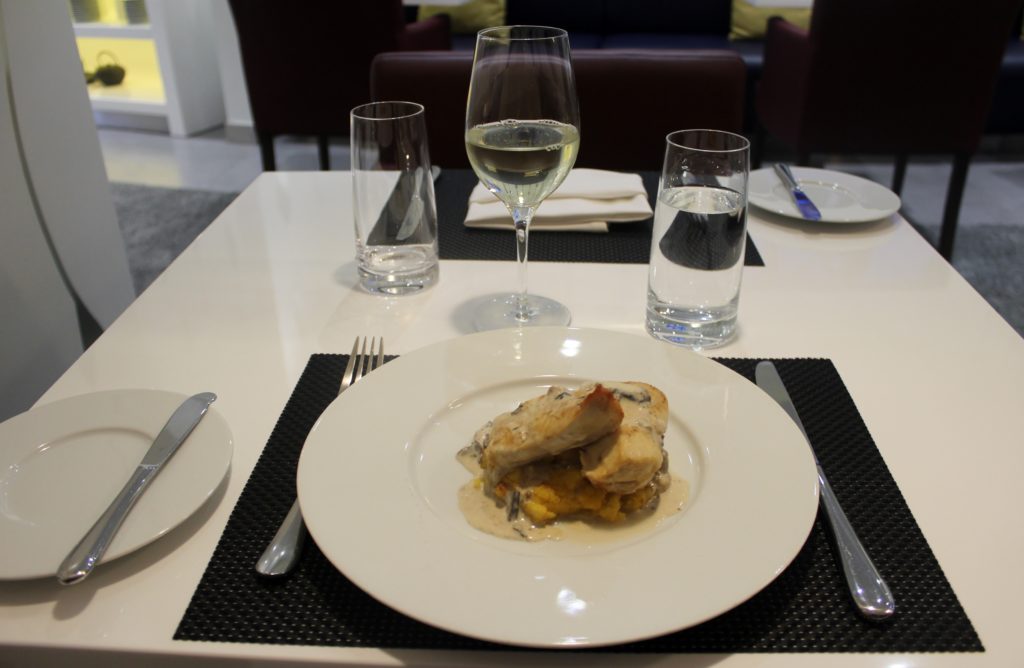 The chicken was very tasty and the presentation was rather nice as well. However the portion was fairly small, but as I was expecting a full meal service in business class on the upcoming flight it did not matter.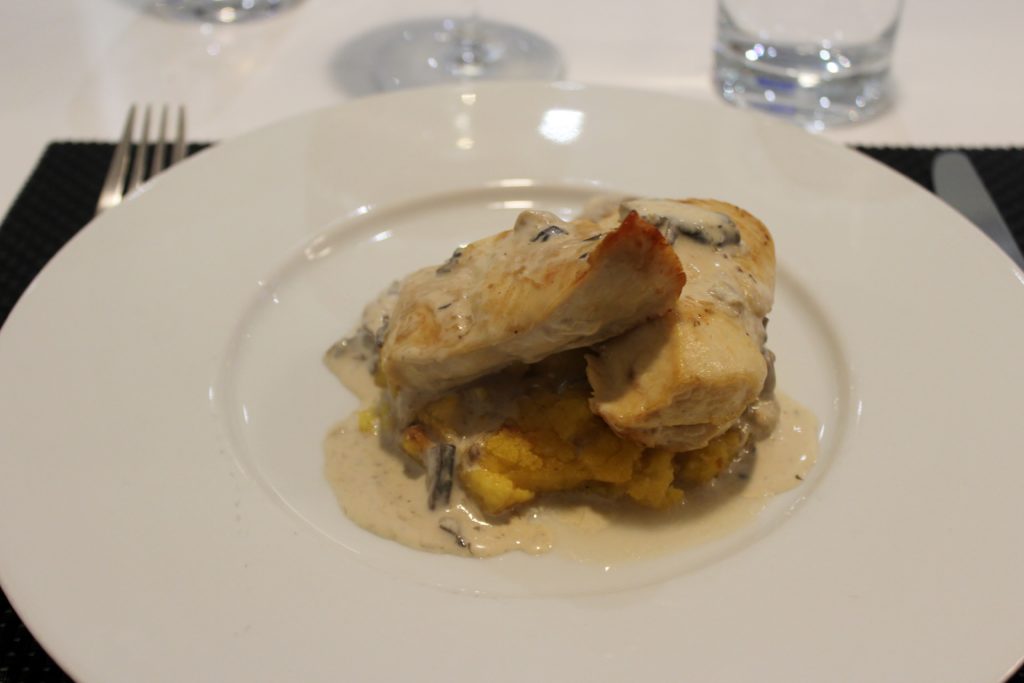 As they cleared the table I also ordered a cup of black coffee, which was also freshly brewed at the bar and delivered to my table with a cookie. There was a small selection of pastries and desserts in the buffet so I got a raspberry muffin and was later offered another cup of coffee.
Overall the lunch was very nice and the service was perfect in every aspect.
For a lounge that is accessible to business class passengers and even frequent flyers in Etihad Guest flying economy class (even as low as Silver) this is a terrific lounge. Few business lounges in Europe offer this level of personalised service and even a full a la carte menu and especially also when flying shorthaul.