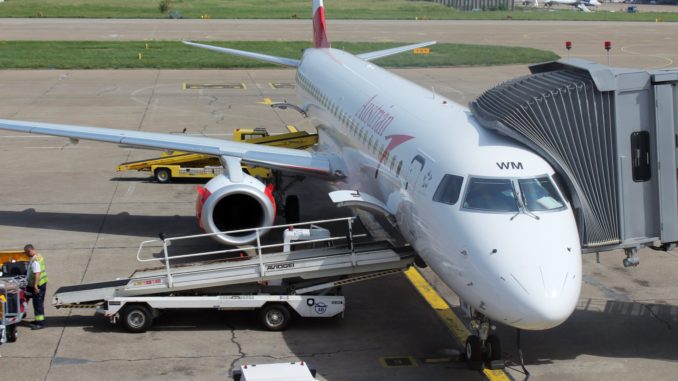 Departure experience

I arrived at Belgrade Nikola Tesla airport around 90 minutes before departure. The airport is located at a convenient distance from downtown Belgrade and it usually takes only a couple of minutes to get to the airport by taxi.
I had pre-booked a seat during the booking process but needed to pass a check-in desk to get a boarding pass. The Lufthansa Group had a combined check-in area in the departure hall for Lufthansa, Swiss and Austrian Airlines with a dedicated desk for business class and frequent flyers. Just two passengers in front of the queue and I was checked in within five minutes.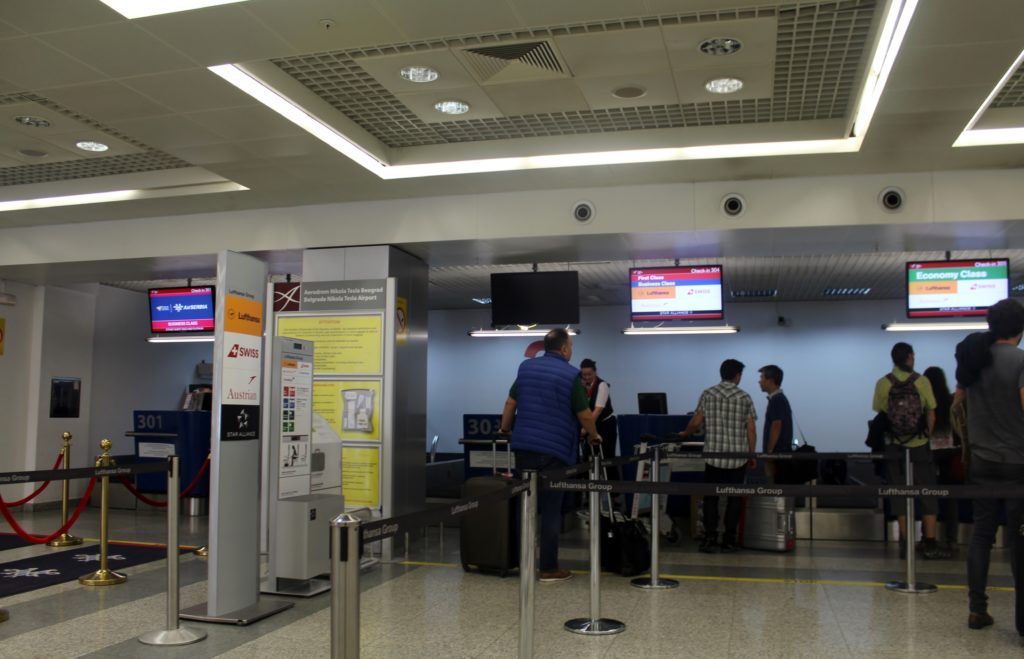 At Belgrade airport the security control takes place at the gate so you only need to pass passport control to get airside to the shopping areas and the lounges.
There are two lounges at Belgrade airport. Until recently there was only one, but now the home carrier Air Serbia has opened its own lounge, which is also used by partners in the Etihad Group. All other airlines use the second lounge, the Business Club.
The lounge itself was nothing special. A couple of black sofas and armchairs, a few tables and a few TVs. It is a tidy and well-maintained lounge though, just nothing special.
However the selection of food and drinks was not bad for a third-party lounge. There was a sizeable cold buffet, sandwiches, pastries, desserts and plenty of drinks, including a good selection of beer, wine and spirits, with several local brands.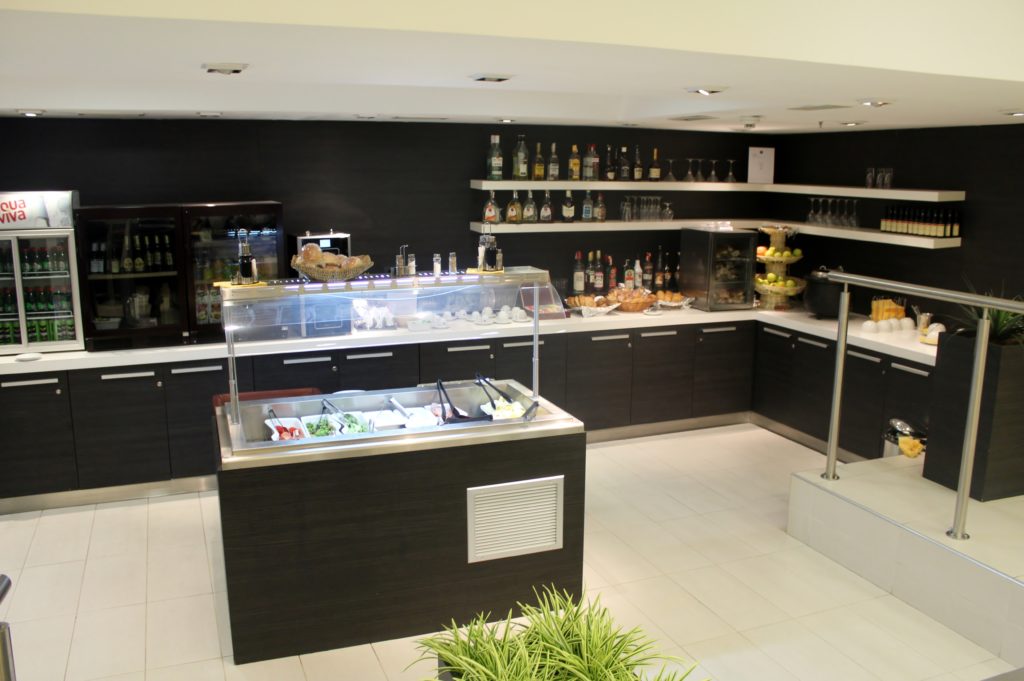 Read the full lounge review here!
The flight
Belgrade-Vienna
Austrian Airlines flight OS 774
Departure: 15.20
Arrival: 16.35
Business Class
Embraer 195
Seat 02A

As security control takes place at the gate you need to leave the lounge slightly earlier than usual. The standard setup at the airport is to offer one security checkpoint for two gates, with either one or two lanes open. When I arrived at the gate most passengers had already been processed and were waiting in the gate area, so there was almost no wait.
Proper priority boarding was offered for business class and Star Alliance Gold.
First impression

A brand new Embraer 195 was used for the flight to Vienna with two rows assigned to business class. The cabin interior was the standard Austrian one in black and white with logos and headrests in red. The flight seemed to be full to the very last seat in both classes.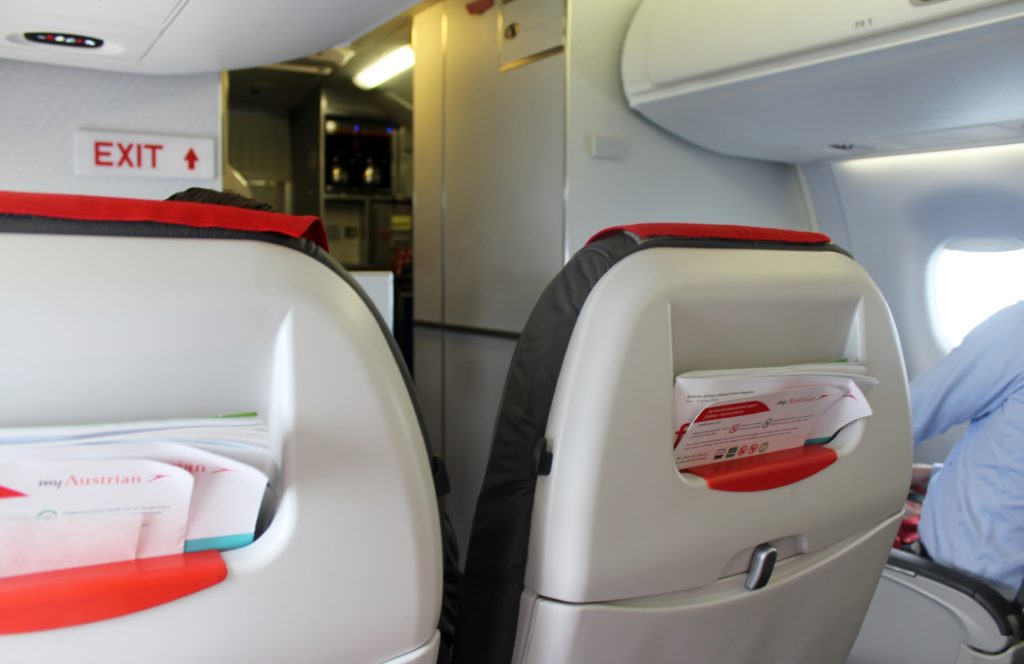 Newspapers were offered before departure but there were no pre-departure drinks.
The aircraft departed roughly on time with a flight time of around an hour to Vienna. The initial climb provided a magnificent view of downtown Belgrade with rivers Danube and Sava.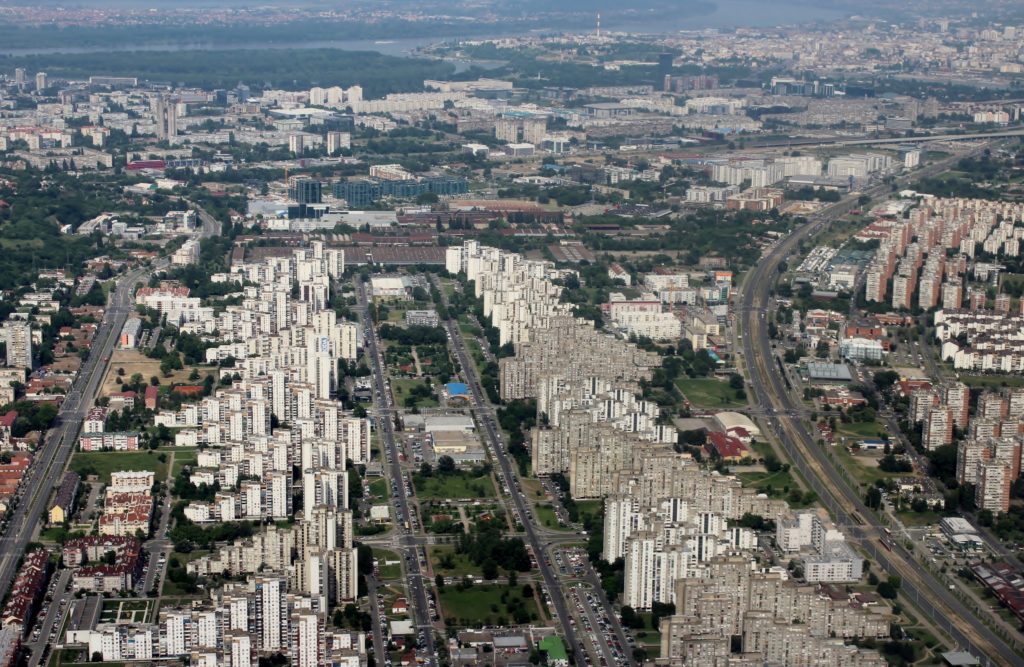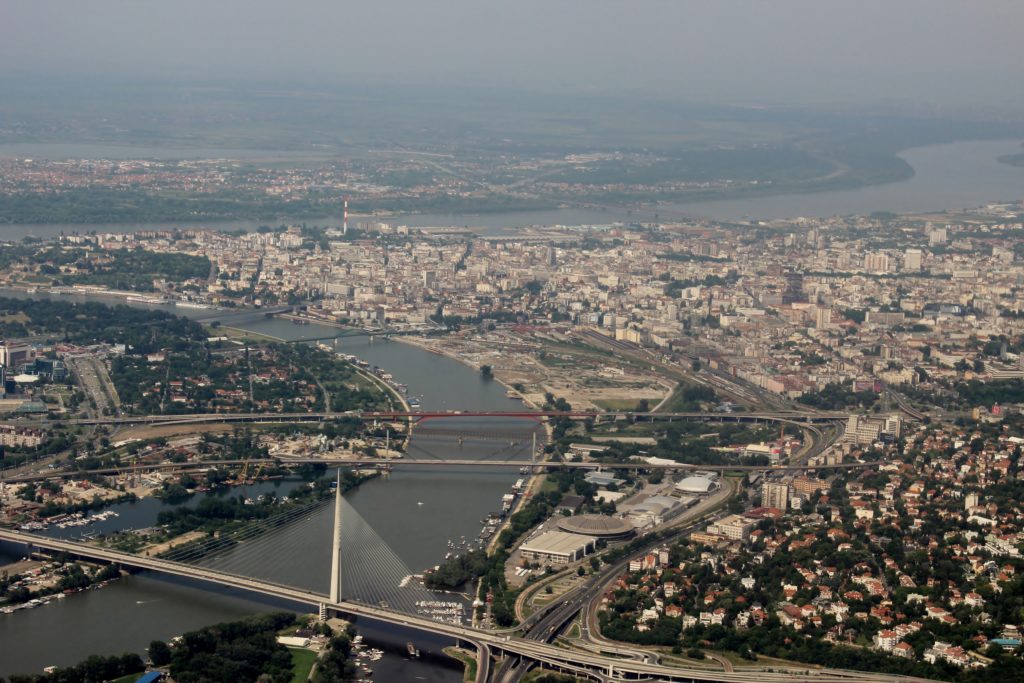 Seat and cabin

The Embraer 195 had a 2-2 configuration onboard. In business class the adjacent seat is always kept free which which means a 1-1 configuration. There were two rows of business class and all seats were taken, which meant four passengers in total.
The seats were the same as in economy class, rather standard on most intra-European flights today. The comfort was perfectly fine for a one-hour flight.
The Embraer aircrafts are slowly replacing the ageing Fokker aircrafts used on many shorthaul routes in Europe.
Food and drinks

As we reached cruising altitude the inflight service started with a proper late lunch (or perhaps early dinner) in business class. Interestingly the main meal was cold while we were served a warm dessert.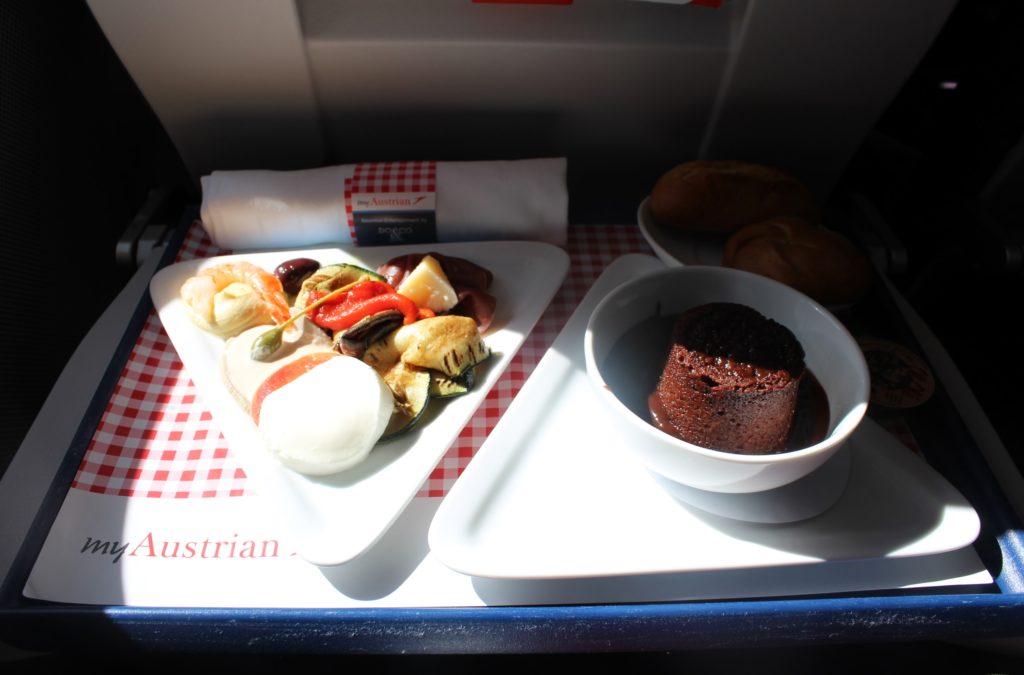 The main course was a selection of cold cuts, prawns and vegetables served with some kind of sauce. It was actually rather tasty. The food onboard Austrian Airlines is provided by Do&Co and is usually excellent. Bread rolls were also offered from a basket.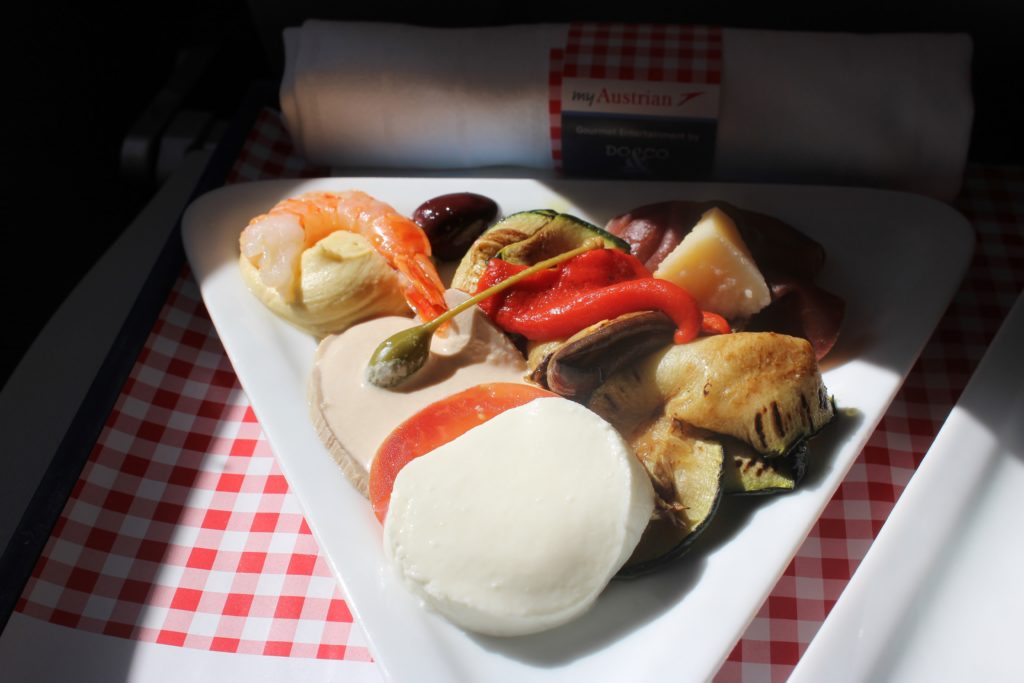 The dessert was a chocolate cake with chocolate sauce, and interestingly it was served warm. It was delicious and I happily finished all of it, but this must be the only time I have been served a cold meal and a hot dessert, usually it is the other way around.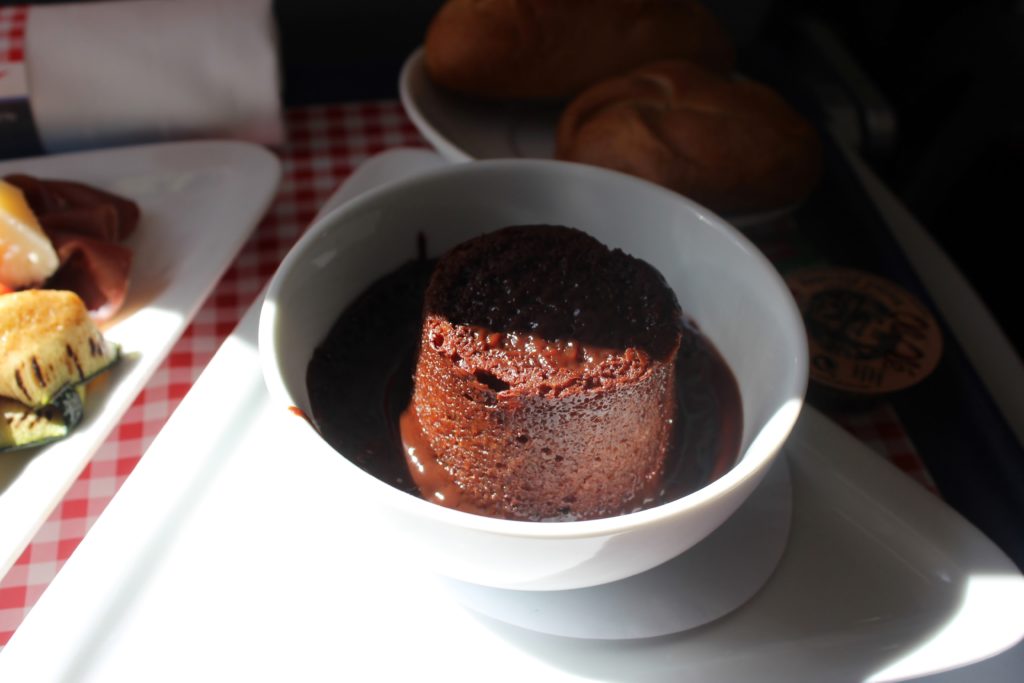 Drinks were offered from the trolley, including beer and wine. They had two reds and two whites and I decided to try the Austrian Grüner Veltliner white wine, which was quite good and fairly fruity. Refills were later offered followed by coffee and tea.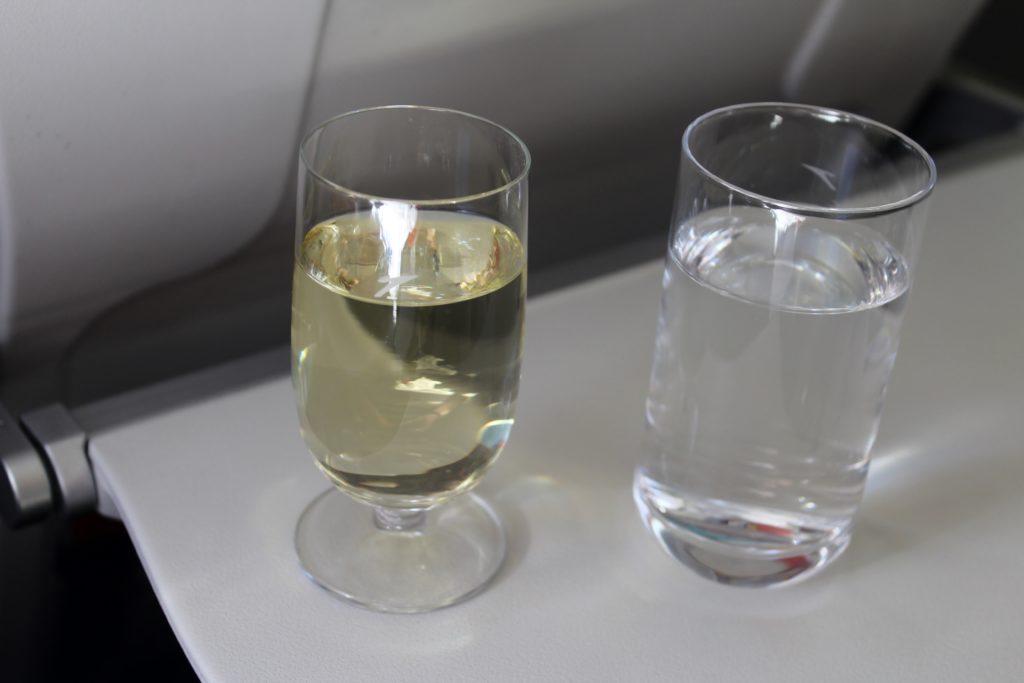 The service

The service was friendly and attentive with several offers of refills. However given the short flight time there was not much time left for any extra initiatives.
Arrival experience

Apparently my seat choice on the left hand side of the aisle by the window was an excellent one. We were given a great view of Belgrade after takeoff and the same thing happened once again during the approach to Vienna Schwechat airport. The approach into Schwechat provided a magnificent view of downtown Vienna with its many grand buildings and castles and of course the famous St. Stephen's Cathedral.
We landed on time in Vienna but unfortunately were directed to a remote stand and taken to the terminal building by bus, which was not appreciated by the passengers who had short connections.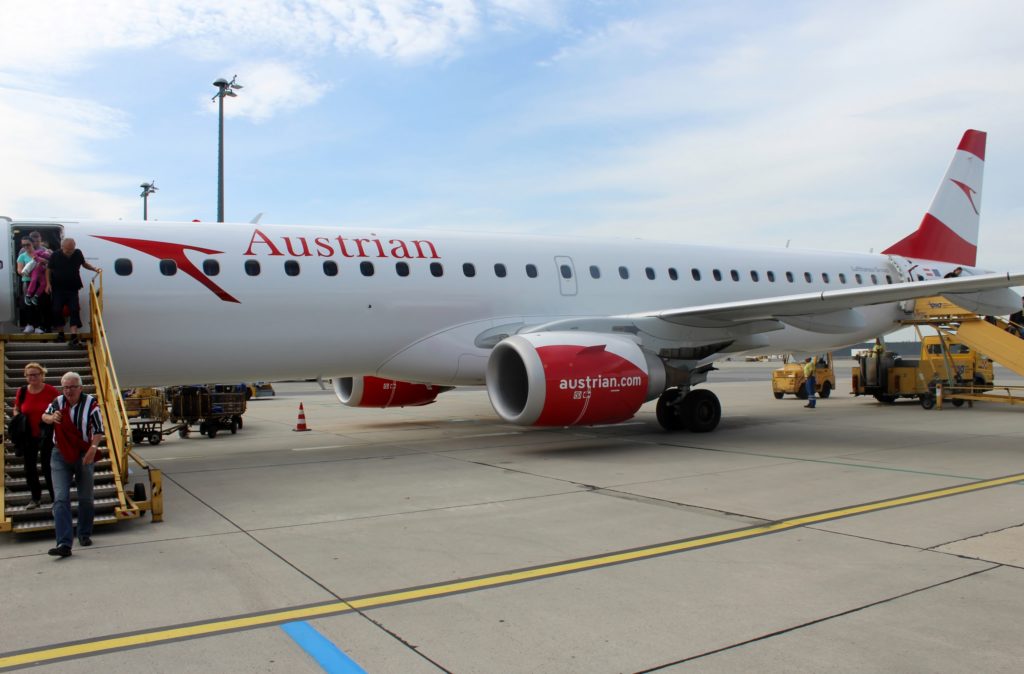 Final impression

A pleasant one-hour flight with a decent meal service. Very interesting to be served a cold main course but a warm dessert, it is usually the other way around.