An evening visit to the Air Serbia Premium Lounge in Belgrade, definitely one of the best lounges in Europe. Left luggage facilities are available behind the reception where you can leave larger pieces of hand luggage during the visit (they even put a tag on the bag and you will get a receipt).
There is also a manned bar and a very nice restaurant with both a self-service buffet and an a la carte menu. And the service is both friendly and attentive with pretty much all drinks served by the lounge attendants at your seat, either in the restaurant or somewhere else in the lounge.
I am actually not flying Air Serbia out of Belgrade this evening but Alitalia, in business class. But since Alitalia is a partner in the Etihad Group, just like Air Serbia, they obviously use the Air Serbia Lounge.
Last time I was here was a morning when breakfast was offered so I was looking forward to visit the lounge a late afternoon this time to try the dinner menu and some wines.  Upon arrival I went straight inside the very elegant restaurant and had a seat at one of the tables for an early dinner.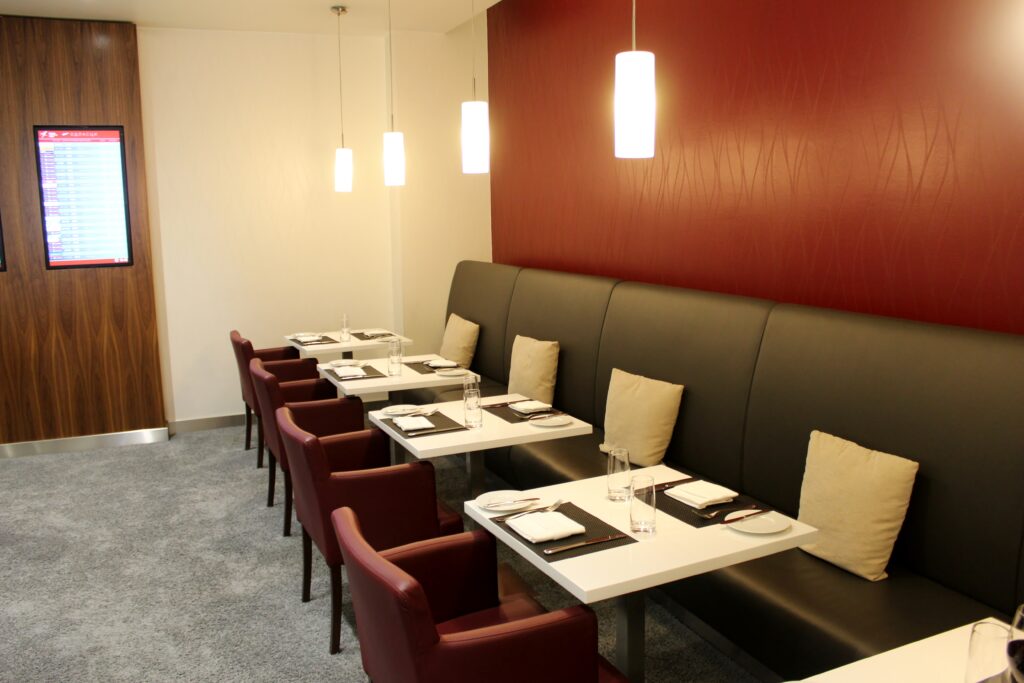 The tables settings are just as elegant as the rest of the restaurant with proper napkins. I was immediately approached by a waiter who welcomed me to the lounge, introduced the food and drinks options, handed me the menu and asked me if I wanted something to drink while deciding what to eat.
I asked for a glass of red wine which was delivered to my table within a minute. The wines in the lounge are obviously Serbian, usually from local producers like Radovanović and DiBonis.
There is an a la carte menu in the lounge you can order from. It is not the most extensive of menus, but nevertheless it is hard to complain. The menu this late afternoon included a soup, four main courses, and a kids meal.
Obviously you can also help yourself to some food and snacks from the buffet corner where some other hot and cold dishes as well as some snacks and desserts are available for self service.
I decided to order a Ćevapčići, a very popular dish in Serbia and in the neighbouring countries, which arrived at the table within a few minutes. I was also given a top-up of the red wine.
Ćevapčići is kind of a grilled dish of minced meat, almost like kebab served in pita bread with condiments. As far as I can remember I had never tried it before, so it was interesting to give it a try. Quite tasty but not sure if you should eat it with your hands. Using fork and knife turned out to be rather tricky.
I finished the early dinner with some petit fours and a freshly-prepared caffe latte from the bar.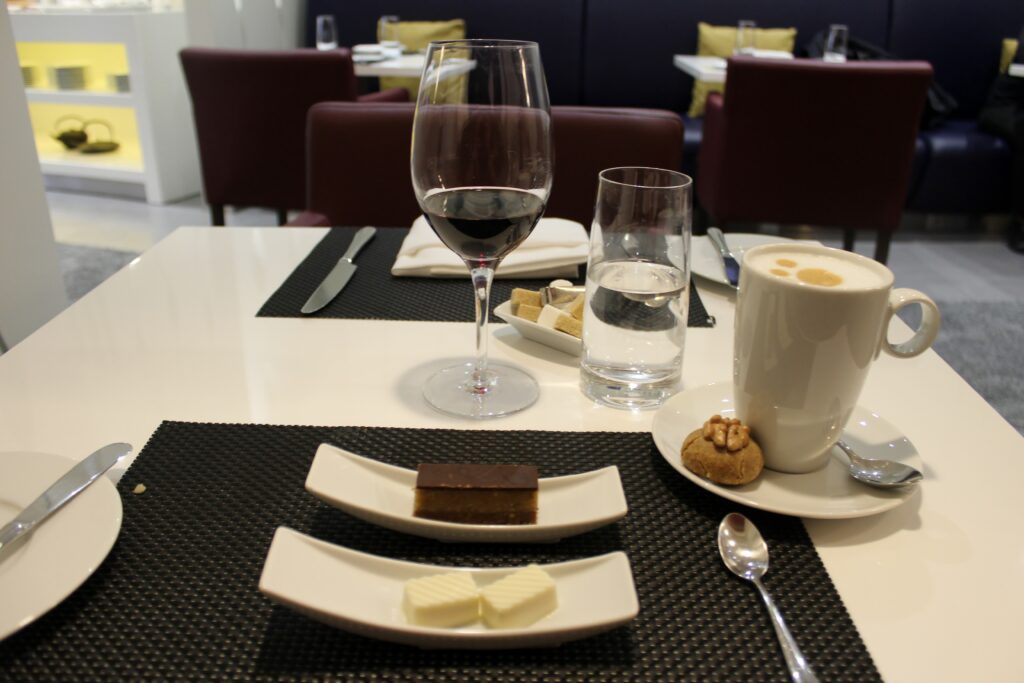 Just like on my previous visit the service was very friendly and attentive and the food and drinks are really not bad. This is indeed a very pleasant lounge.
Next, my first ever experience in Alitalia Business Class.