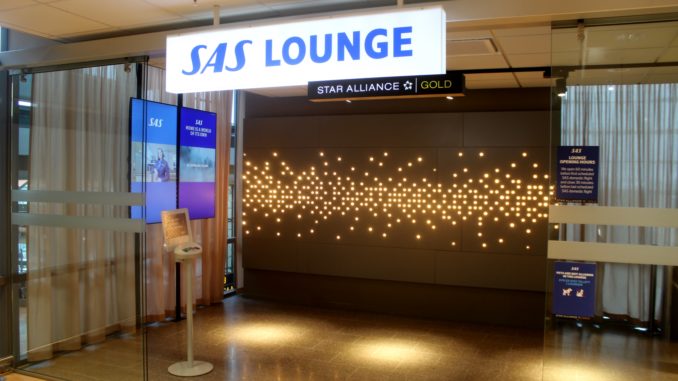 This may be an important piece of information to be aware of when you decide if you should book a ticket with SAS, and especially in their premium cabin SAS Plus on shorthaul flights within Europe.
In the beginning of 2017 SAS decided to terminate the agreements with nearly all contract/third-party lounges in Europe. Although the official reason was that they wanted to focus more on developing their own lounges, such as the Cafe lounges throughout Scandinavia, the real reason was probably all about saving costs. Whenever you visit a lounge, and especially a contract lounge which is not run by a partner airline, once the visit has taken place the lounge will send an invoice to the airline for payment, and it will typically cost around 25 USD.
No access to contract lounges flying SAS
This means that when you fly SAS, either in their premium class, SAS Plus, or if you hold a EuroBonus Gold or Diamond card or a Star Alliance Gold card and fly SAS (irrespective of cabin class) you will not get lounge access at the airport if the lounge at that airport is a contract lounge, i.e. it is run by a third-party company such as the Aspire Lounges, No 1 Lounges and Primeclass Lounges.
Among the airports affected, where lounge access is no longer provided flying SAS, are Tallinn, Riga and Vilnius, most airports in the UK other than London Heathrow (for example Manchester, Edinburgh and Birmingham), all airports in Spain (including most holiday airports) and several destinations in Central and Eastern Europe such as Prague and Budapest and most airports in Poland except for Warsaw.
There are of course other ways to get lounge access at these airports such as using the Diners Club, Priority Pass or Lounge Dragon lounge schemes or by paying to enter the lounge, but your SAS ticket will not give you access.
No change to Star Alliance lounges
If you fly SAS in SAS Plus or holding a EuroBonus Gold/Diamond or a Star Alliance Gold card and you fly from an airport where there is a lounge run by a Star Alliance carrier, then you will still get access at the airport.
For example if you fly SAS from Germany there will be Lufthansa lounges available at most airports, for example in Frankfurt, Munich, Hanover and Stuttgart, where you will have free access. In Switzerland you will have access to the Swiss lounges, in Warsaw the LOT lounges and at London Heathrow you can obviously visit all four Star Alliance lounges available there.
Exceptions to the contract lounges
There are three airports where SAS decided not to terminate the lounge agreement with the lounge, even though the lounge is not operated by a Star Alliance airline.
Amsterdam Schiphol: Probably an important route for SAS and an important business destination. You will get access to the Aspire Lounge No 26 in the Schengen area flying SAS.
Athens: This is a rather strange one since there is both a Lufthansa Lounge and an Aegean Airlines Lounge in the Schengen transit hall, both which you have access to per Star Alliance rules. But SAS has also contracted the Goldair Lounge, and this lounge agreement is still in place. So if you fly SAS from Athens you actually have three lounges to choose between.
Warsaw: Another strange one which makes little sense. Flying SAS you have access to the LOT lounges and if you have a Star Alliance Gold card you can even access the LOT Elite Club Lounge. However SAS has also contracted the Fantazja Lounge, and that lounge agreement is still in place.
Longhaul flights
At all longhaul destinations served by SAS there are Star Alliance-operated lounges available such as Los Angeles, Hong Kong and Tokyo Narita and at New York Newark and Chicago SAS has its own lounges. So if you fly SAS longhaul you do not need to worry about lounge access.