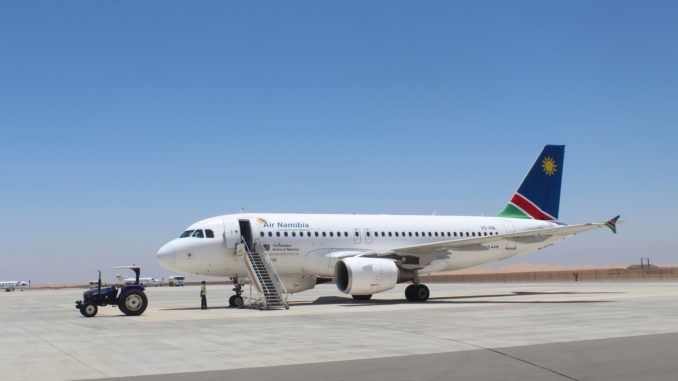 This is a review of a short hop in Air Namibia business class on a domestic flight from Walvis Bay to Windhoek in Namibia. You can read all reviews of Air Namibia, including some more extensive reviews of longer flights, here!
Departure experience

Walvis Bay airport is a small and compact airport with quick formalities and short walking distances. As I was leaving on a domestic flight to Windhoek, only had hand luggage and could check in online on the Air Namibia webpage the driver of the transfer service advised it would be enough to try to be at the airport around 45 minutes before departure. I followed her advice and got 30 more minutes in the sun in beautiful Swakopmund in the morning, rather than in the transit hall at the airport with no lounge.
As we approached the airport I could see the Air Namibia Airbus a319 landing from Cape Town, the flight was a couple of minutes early this morning. The airport is really like a small oasis in the middle of the desert with a tiny but rather modern and colourful terminal building.
There was only one check-in desk assigned for the flight to Windhoek with no one in line while there were plenty of people queueing for the desk beside travelling on the South African Airways flight to Johannesburg an hour later.
A very friendly agent checked me in. Once again I had not been able to select a seat myself during online check-in, it was automatically assigned by the system and could not be changed, not even in business class. She happily reseated me to a window seat, printed the boarding pass and asked me to go airside straight away as the aircraft had already landed.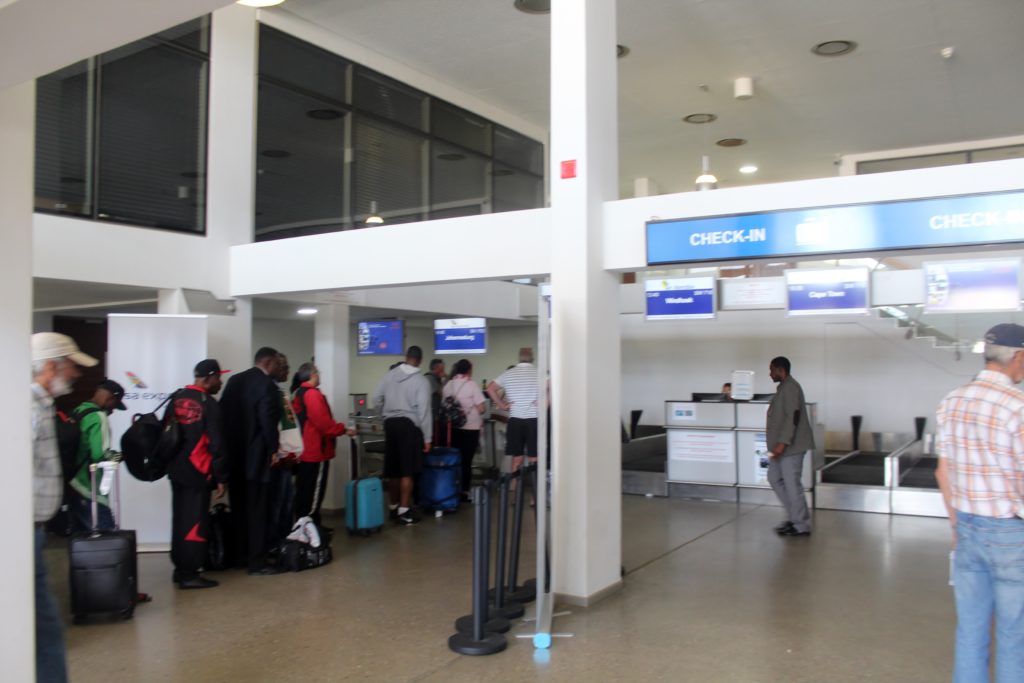 Flight SW 716 is a two-segment flight operating Cape Town-Walvis Bay-Windhoek and it is possible to book tickets for all parts of the flight. As Walvis Bay-Windhoek is a domestic segment I was interested to see how they would solve this since the plane would both have international passengers who would need to pass immigration to enter Namibia and domestic passengers who would not. But it all turned out to be very straight-forward. After security there was a passport control booth. I showed the woman my boarding pass, said I was going to Windhoek, she smiled, wished me a pleasant flight and waived me through. That was it! Why make things more difficult than they have to?
With only about a handful flights per day the transit hall at the airport is very small with just one gate. There is a shop and a snack bar airside on the first floor but not much else. And as expected there was no lounge for premium passengers, but it is not really needed either.
The flight
Walvis Bay-Windhoek Hosea Kutako
Air Namibia flight SW 716
Departure: 13.40
Arrival: 14.15
Business Class
Airbus A319
Seat 02A

Boarding started 15 minutes before departure from the single gate, named gate 1, and once again we got a nice but somewhat lengthy walk in the sun from the terminal to the aircraft. We were about 20 passengers boarding in Walvis Bay for the short domestic hop to Windhoek, joining the passengers from Cape Town who were continuing to Windhoek who stayed onboard during the stop.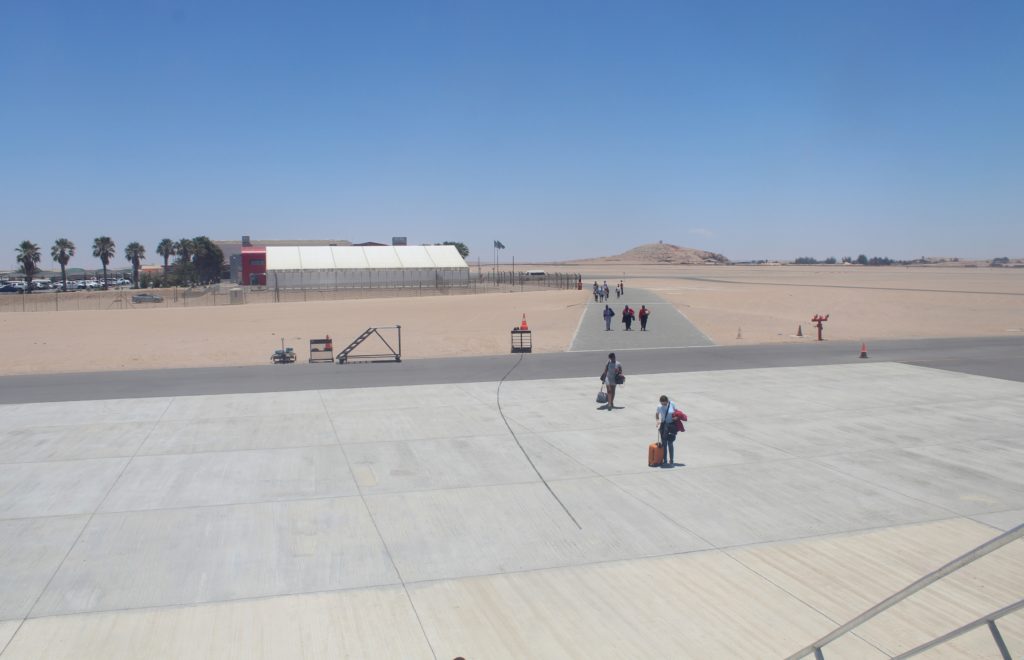 First impression

It seemed like most passengers from Cape Town disembarked in Walvis Bay, the load for the second leg was very light and most rows were empty, both in business class and economy class.
The business class cabin on the Airbus A319 once again gave an excellent impression with the stylish interior in black and grey, the large business class seats and the excellent legroom.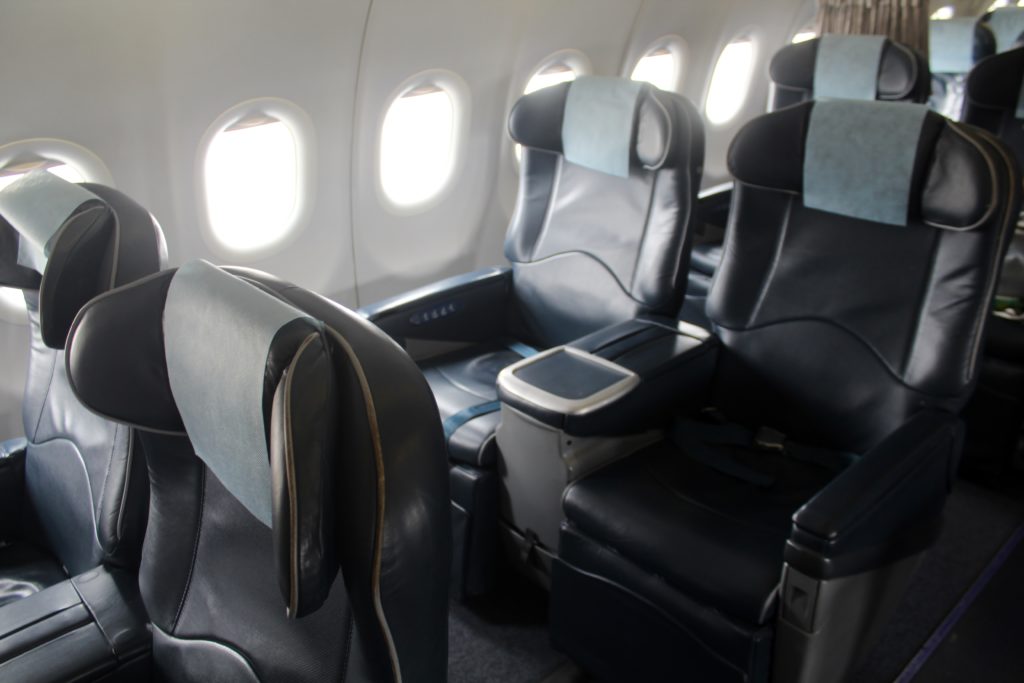 A pre-departure drink was offered after I had taken my seat. Water, orange juice and this time also Sekt, German sparkling wine. Another sign of the cultural ties between Germany and Namibia, given the country's history. I happily accepted a glass of chilled Sekt, quite nice after a very hot morning in the sun. Newspapers were also offered.
With not much traffic at the airport at any time of the day we were given immediate takeoff clearance. The flight time to Windhoek was expected to be 30 minutes.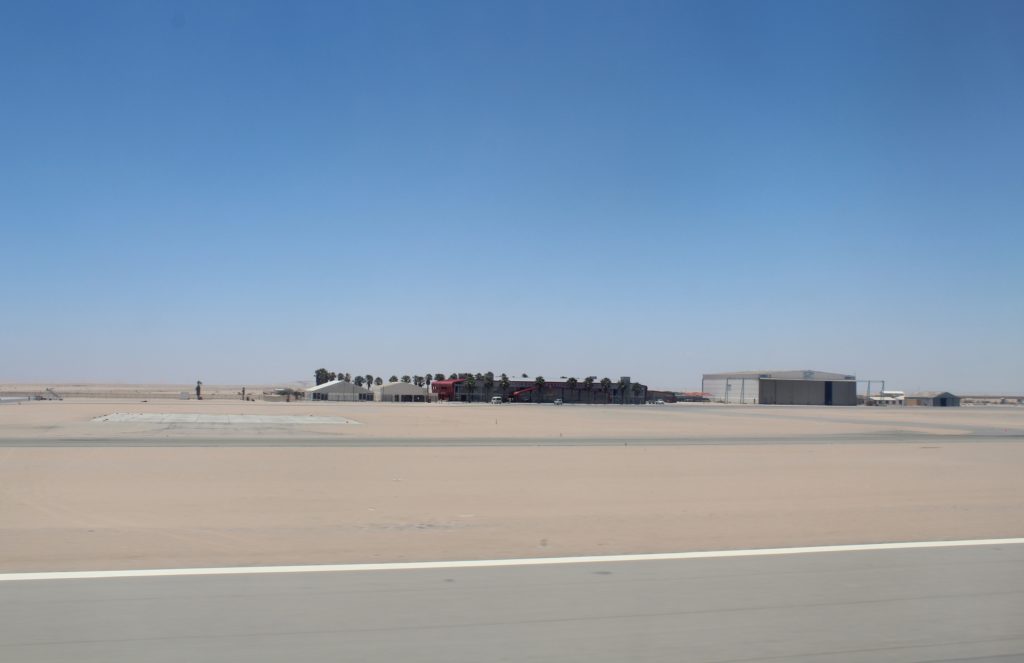 Seat and cabin

The Air Namibia business class is a very impressive product for a shorthaul flight. There were four rows with a 2-2 configuration on the Airbus A319 meaning 16 seats in total. We were six passengers in business class to Windhoek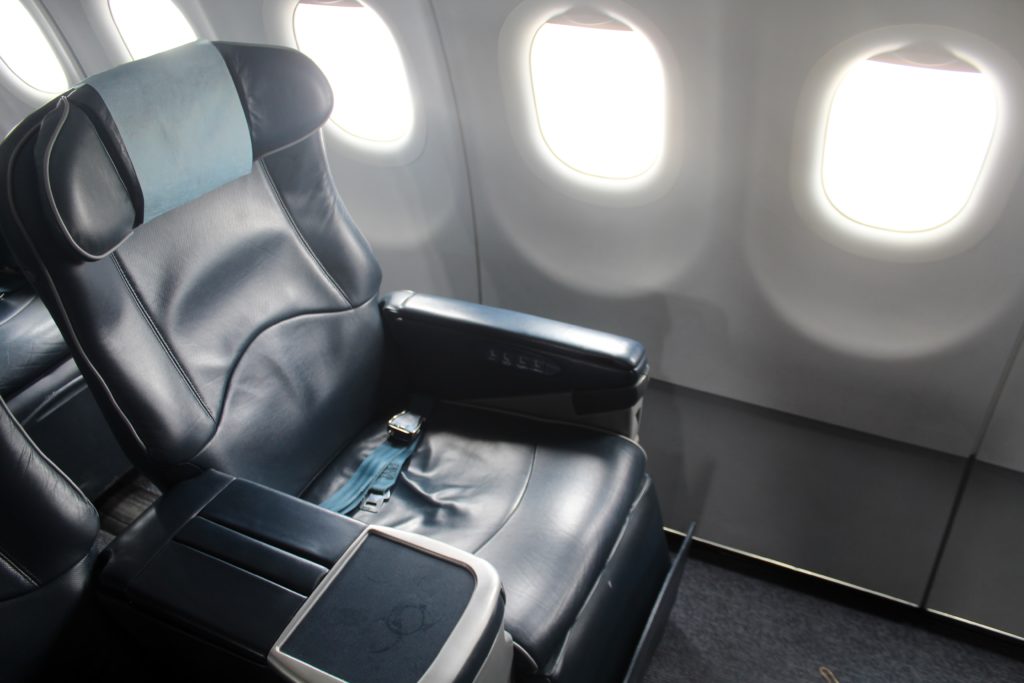 The seat was very comfortable and also had a decent recline, but the best part of the seat was the legroom, which is massive. This must be one of the most generous legrooms on any shorthaul narrowbody aircraft in commercial service. If you sit at a window seat you can easily pass in front of your seat neighbour to reach the aisle.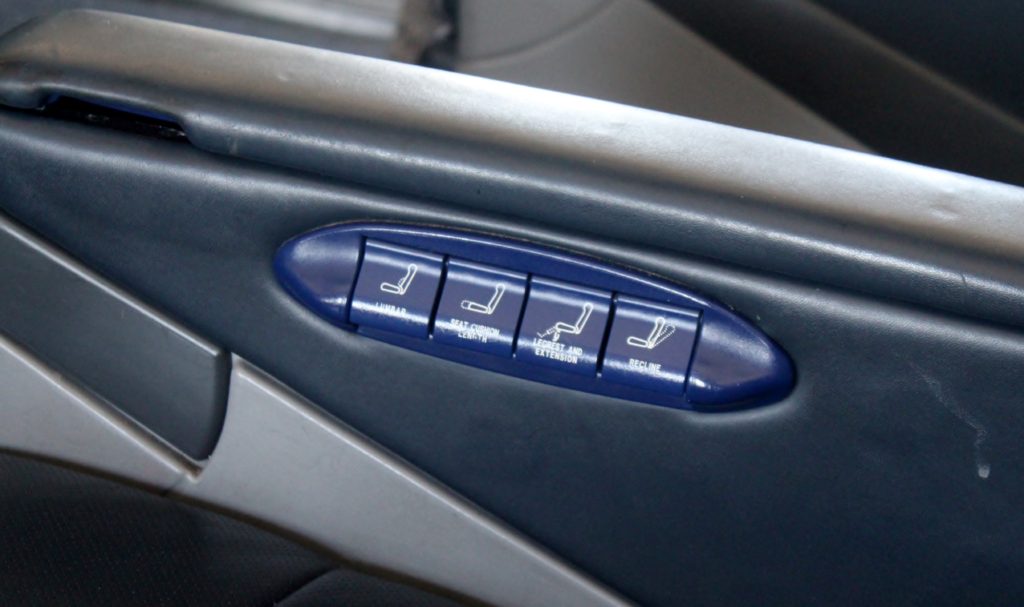 Food and drinks

I was not sure if there would be any inflight service at all to Windhoek given the short flight time, but Air Namibia once again impressed.
After the seatbelt sign had been switched off I could see the crew starting to work in the galley, preparing for some kind of inflight service. Soon the male flight attendant passed through the cabin with a tray offering either a cold dish with chicken, potato salad and vegetables or a chocolate mousse dessert. Probably you could have asked for both if you wanted as I am sure they had plenty of both for all passengers. These were the same dishes I got as starter and dessert during my flight Cape Town-Walvis Bay a few days earlier. But they were both good so I did not object.
I asked for the chicken which was quite tasty this time as well. As the flight attendant returned back to the galley I asked if it would be possible to have a beer to drink and two minutes later I also had a chilled Windhoek Lager on my table.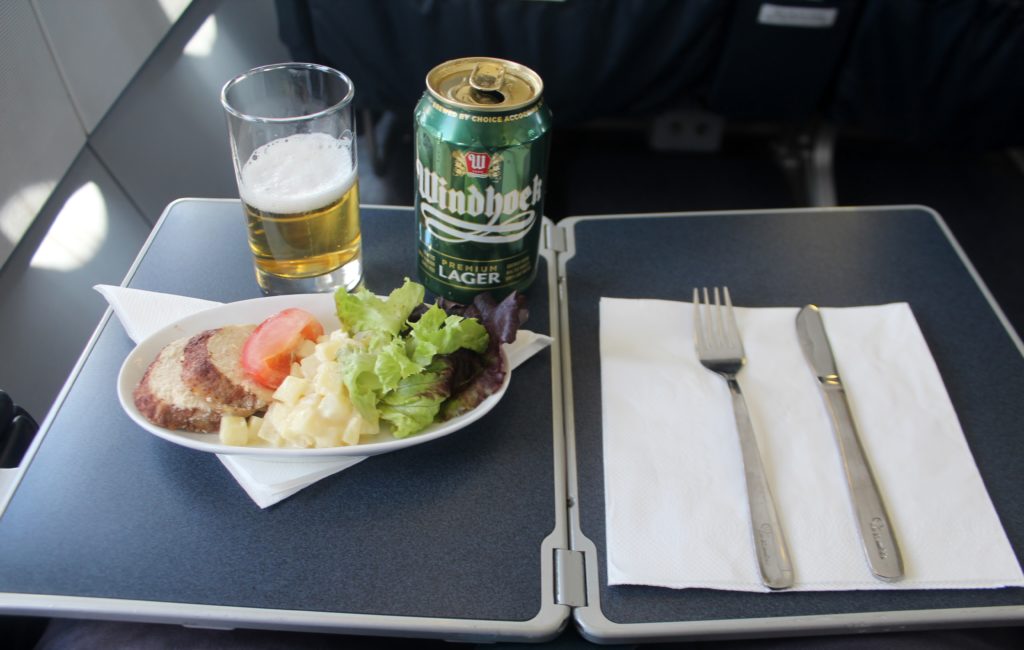 The flight was very short and by the time I had finished my beer we were passing over central Windhoek preparing for the final approach. The woman on the other side of the aisle had a cup of coffee to drink but there was simply no time for me to order one.
The service

Very friendly service from the two flight attendants serving in business class, a man and a woman this time, who were both very polite but also pleasant and easy-going. It was a nice atmosphere in the cabin and of course they provided a very impressive service level for such a short flight.
Arrival experience

We landed in Windhoek right on time at 2.15 pm. There are two airports in Windhoek, a domestic airport and an international airport. As the flight originated in Cape Town in South Africa we landed at the larger international airport called Hosea Kutako, named after one of the Namibian national heroes.
There are no passenger bridges at Windhoek airport, and usually no buses either. You just take a leisurely walk on the apron from the aircraft to the terminal building with about 5-6 people standing along the path to make sure you do not get lost or go anywhere where you should not.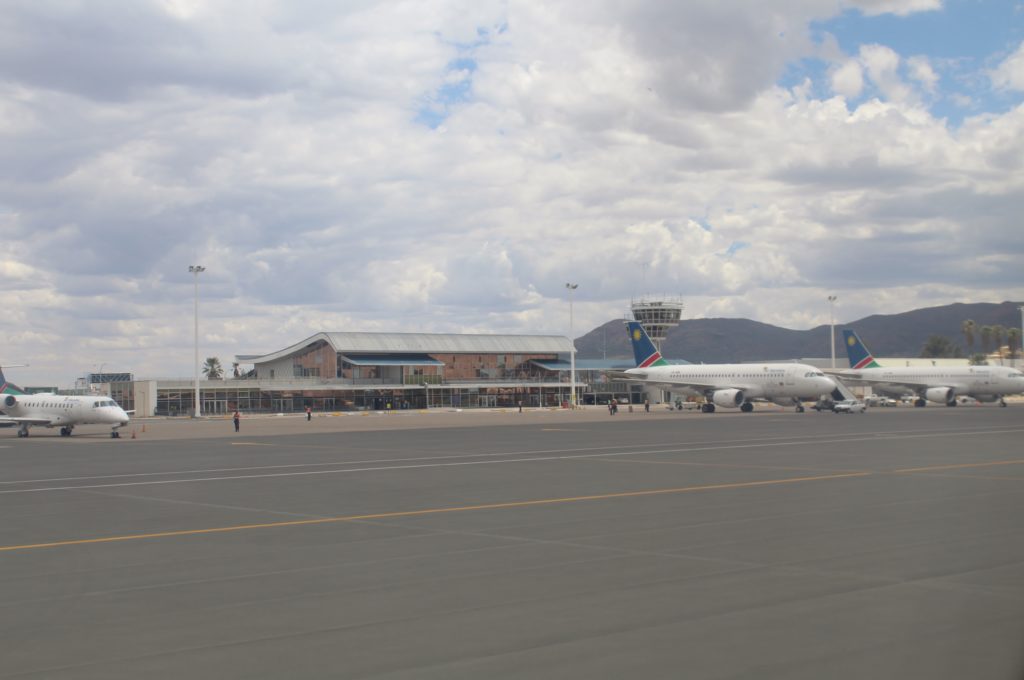 Once again the issue with immigration for me as a domestic passenger turned out to be completely hassle-free. I just showed my boarding pass at passport control, told the officer I had arrived from Walvis Bay, and two seconds later I was waived through. Again, why make things more complicated than they have to? But I suppose this fairly relaxed approach would not really work in some other parts of the world.
Final impression

Another very pleasant flight with Air Namibia in their business class. Impressive inflight service for a very short flight, friendly crew and a very comfortable seat with plenty of legroom. Air Namibia impress again!