Where is it?

There is only one lounge at London Southend Airport located airside after security control, in the transit hall used for both domestic and international departures.
The entrance to the lounge is on the upper floor, right opposite the exit from the security control, just before the escalator to the departure lounge and the gate areas. The entrance is impossible to miss.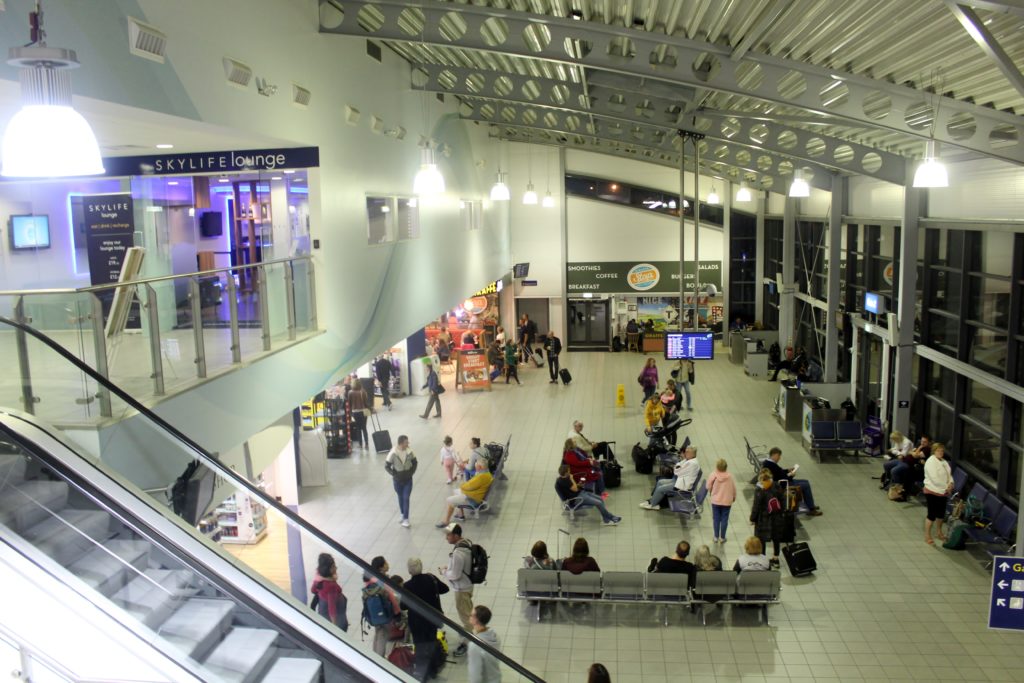 How do I get in?

This is a third-party pay-in lounge which is available to all passengers, either by booking in advance (usually a bit cheaper) or by purchasing access at the reception desk on the day of departure.
The lounge can also be accessed using various lounge schemes such as Priority Pass and Dragon Pass.
There are few full-service airlines operating at London Southend airport and at the moment Flybe does not provide lounge access to their All In passengers.
What's it like?

For a third-party lounge at a small regional airport, Skylife Lounge turned out to be a rather pleasant surprise. The interior is spotless, tidy and very well-maintained and the design is both modern and innovative.
Straight after the entrance doors there is a lobby area with a small reception desk where all guests are registered. There is also a bar table in this area.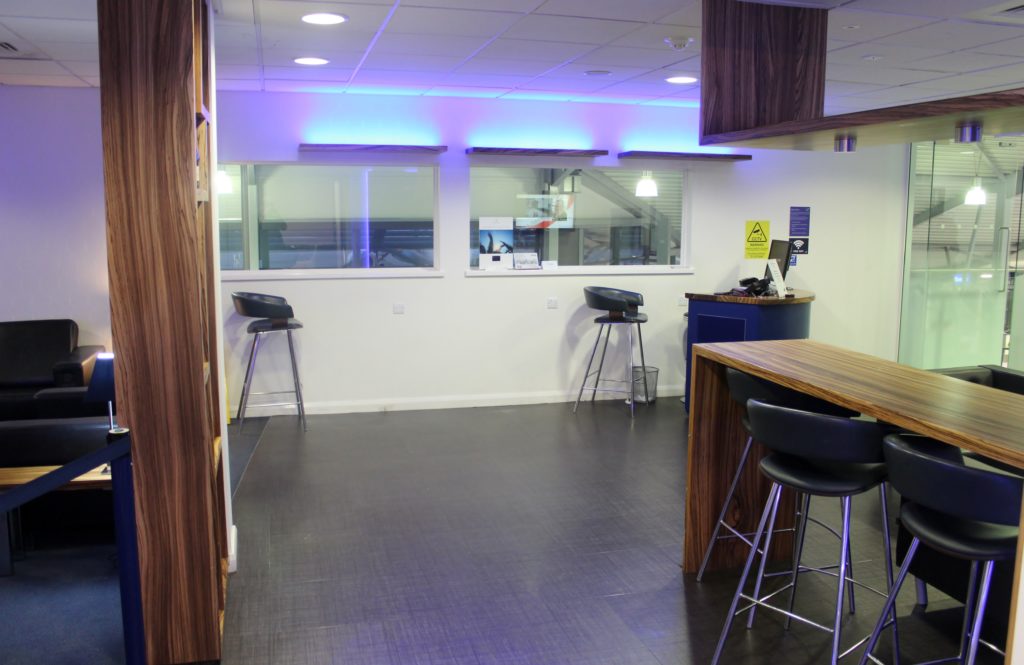 Right behind the reception desk there is a room with black leather armchairs and also a small bar counter, all lit up with blue neon lighting, like a bar or a nightclub. This room was closed for guests during the visit and most likely they only keep it open when there is not sufficient seating in the rest of the lounge.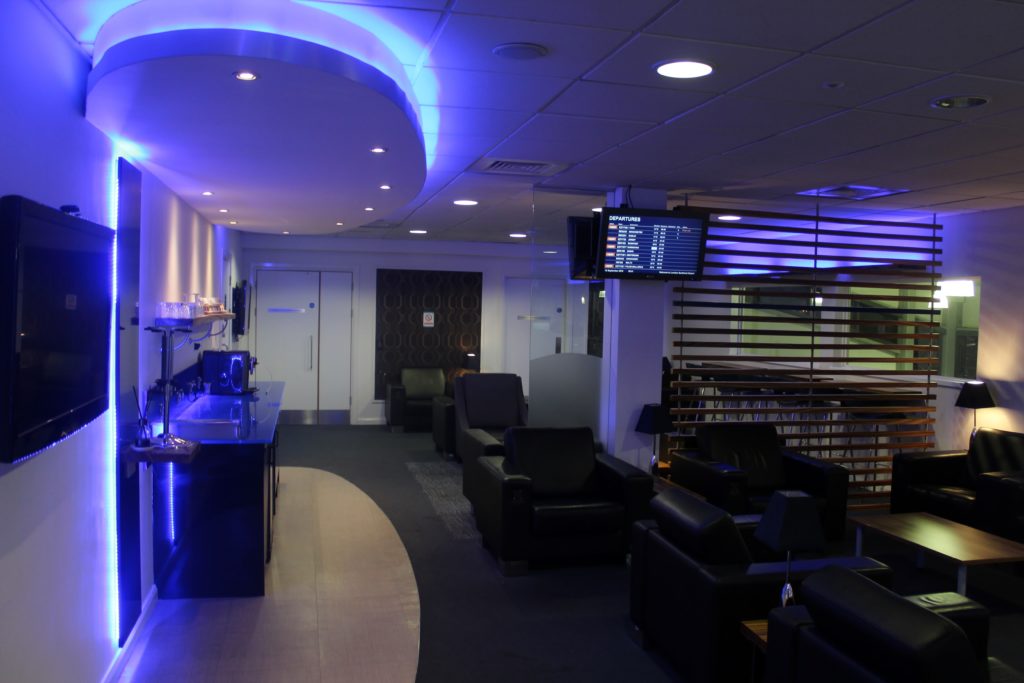 Since the room was closed during my visit I turned left after the reception, where the main lounge is located as well as the buffet area.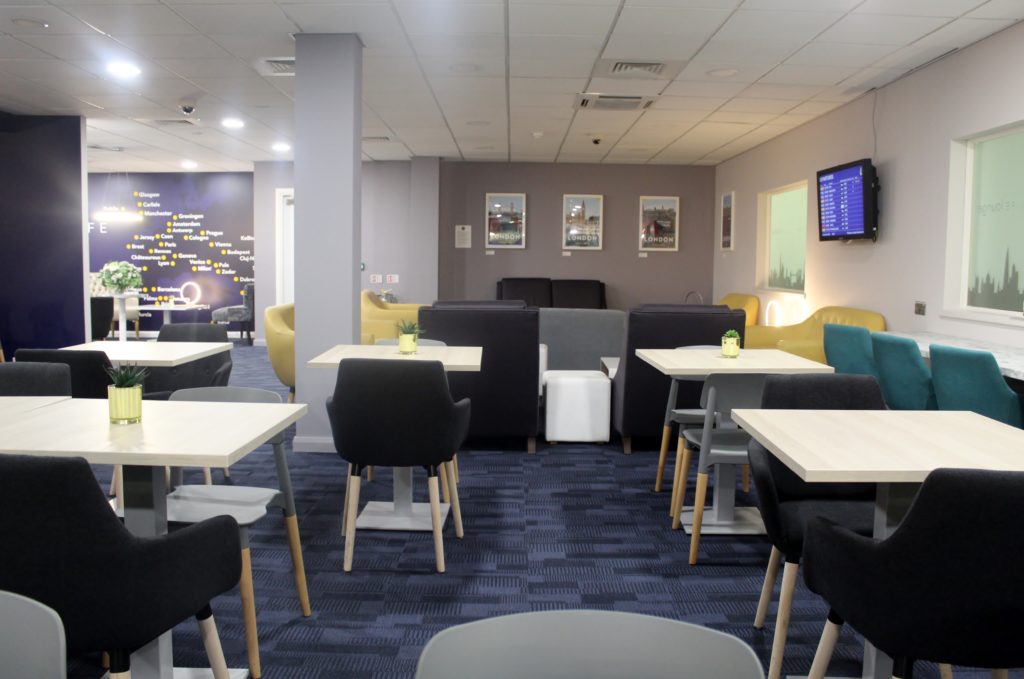 The contemporary interior is very stylish with sofas and armchairs in black, grey, dark blue and yellow and there are plenty of nice design details as well such as some nice pictures on the walls.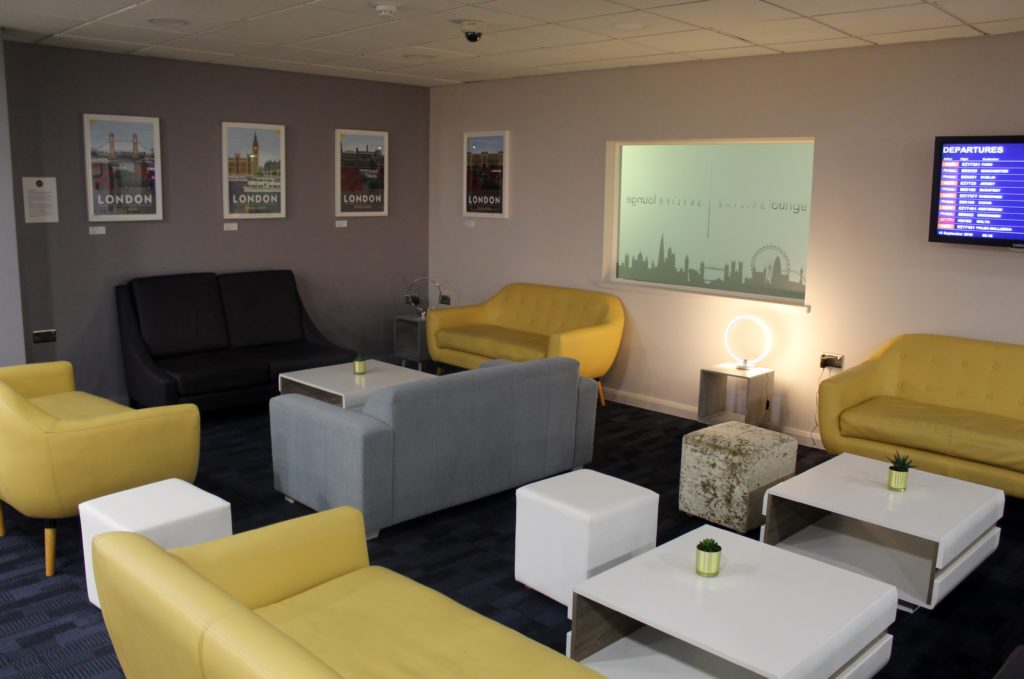 The lounge is completely windowless but in order to create a pleasant and and a more homey atmosphere they have installed fake windows. The design is surely both fun and very innovative.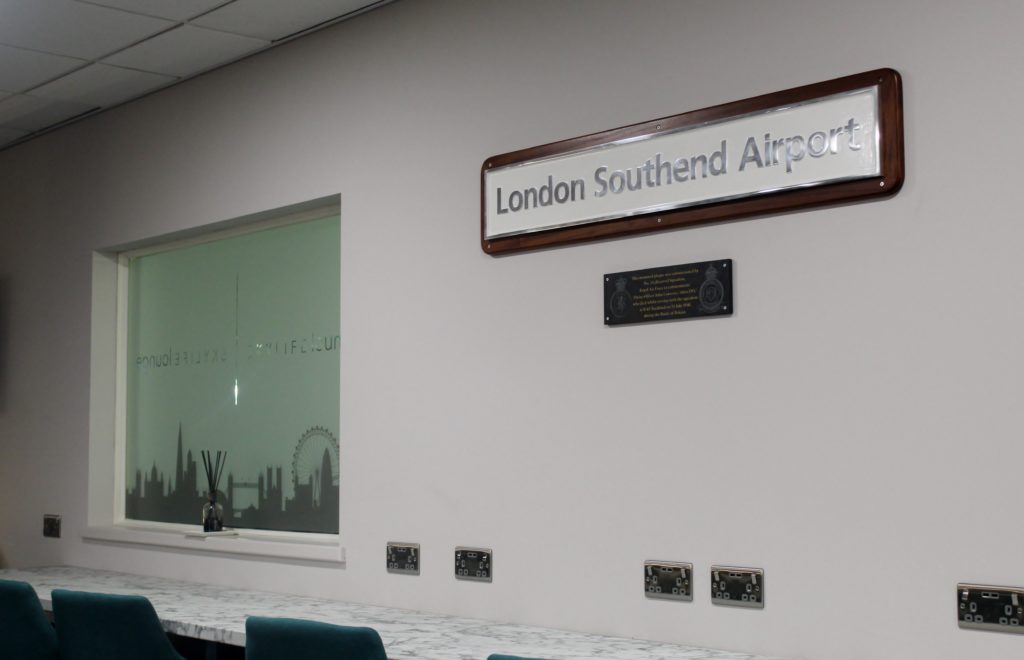 Food and drinks

The self-service buffet area is located in the main section of the lounge where there is also a spacious dining area.
The food selection varies depending on the time of the day. The visit took place in the morning when they offered breakfast items including milk and cereals, yoghurt, bread rolls, fresh fruits and various cakes, cookies and pastries.
There is no proper hot food served but they do have a pancake machine.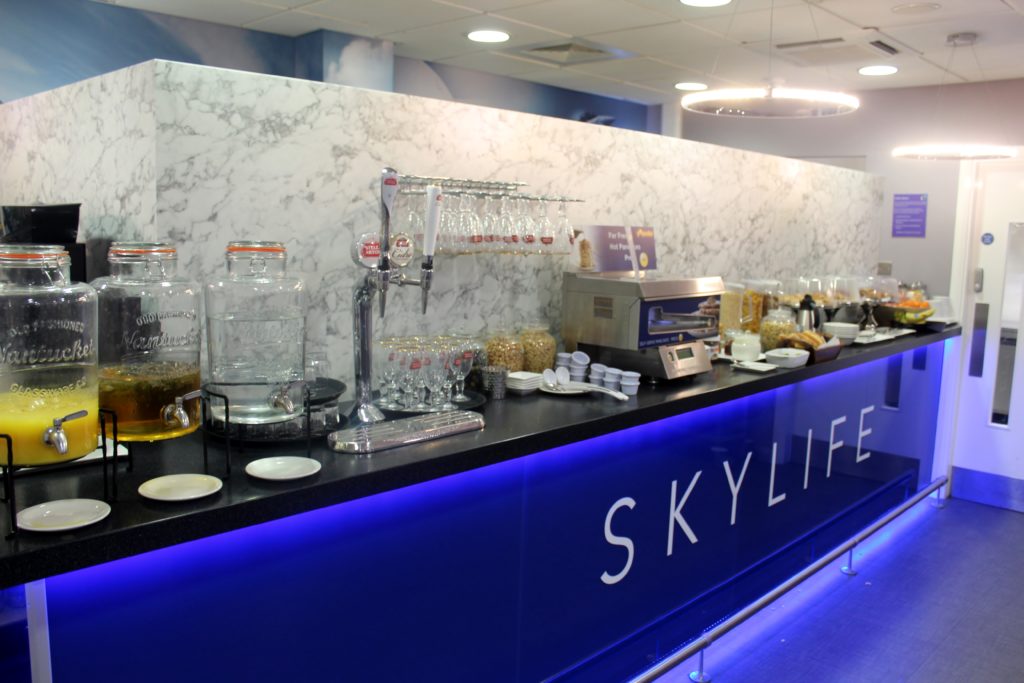 There is a reasonable drinks selection for self service and you can also purchase champagne and prosecco.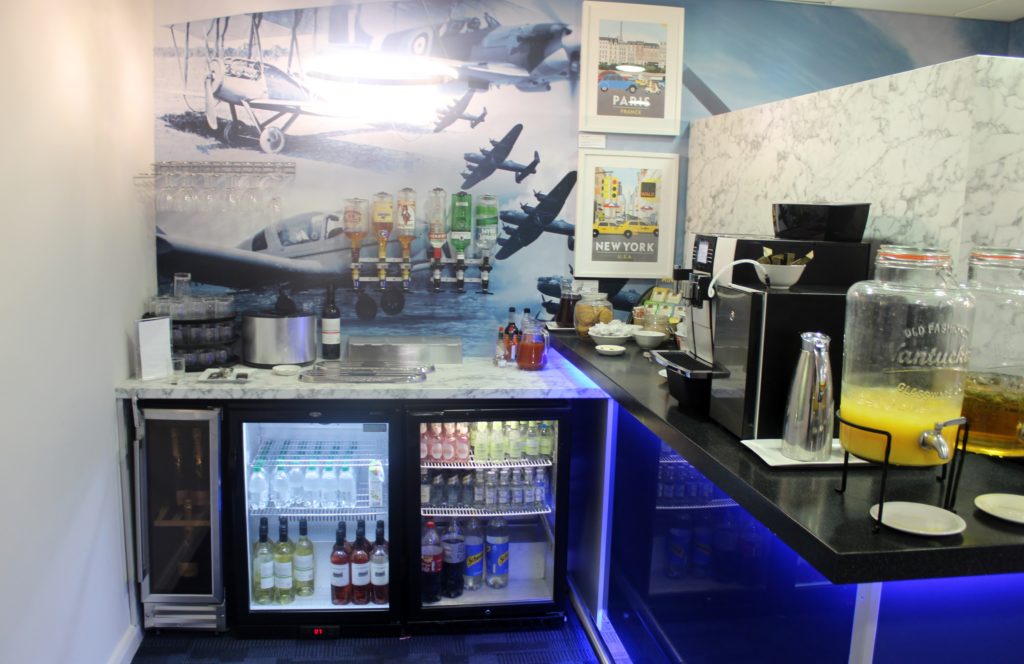 There are white, red and rose wine in bottles (one brand of each) as well as Stella Artois beer and cider on tap. There is also a coffee machine and a standard selection of juices and soft drinks.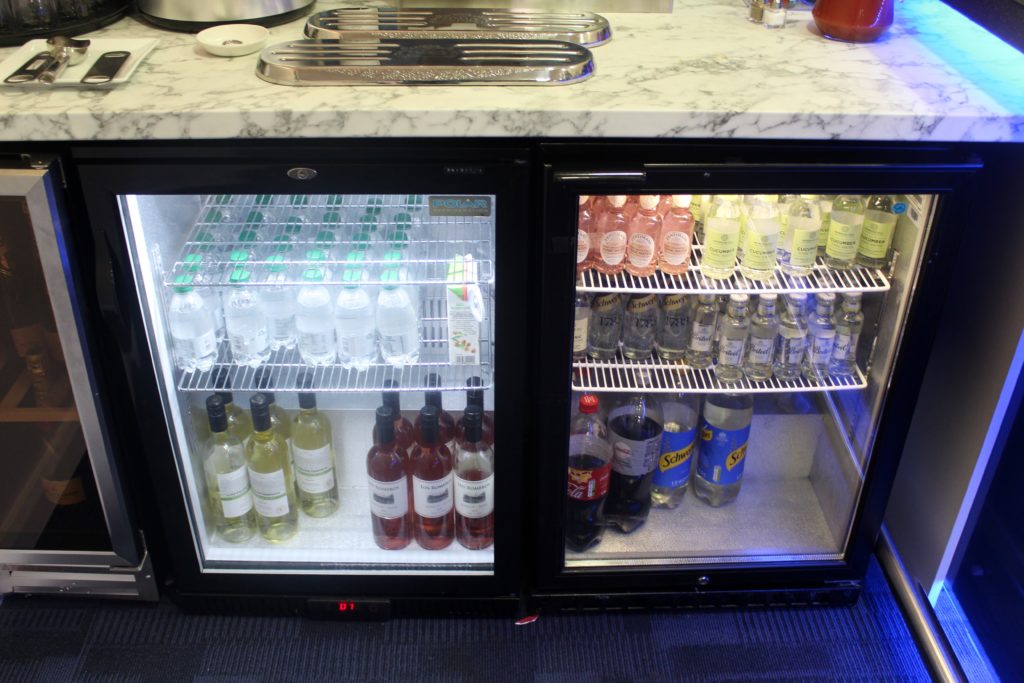 There is also a standard selection of spirits including gin, vodka, whisky and brandy.
Facilities

Free wireless internet is available, there is a TV and a standard selection of newspapers. There is also a quiet zone.
Restrooms are available but there are no showers.
Anything else not to miss?
The destination map is quite fun to have a look at, but it will be hard to keep it up to date.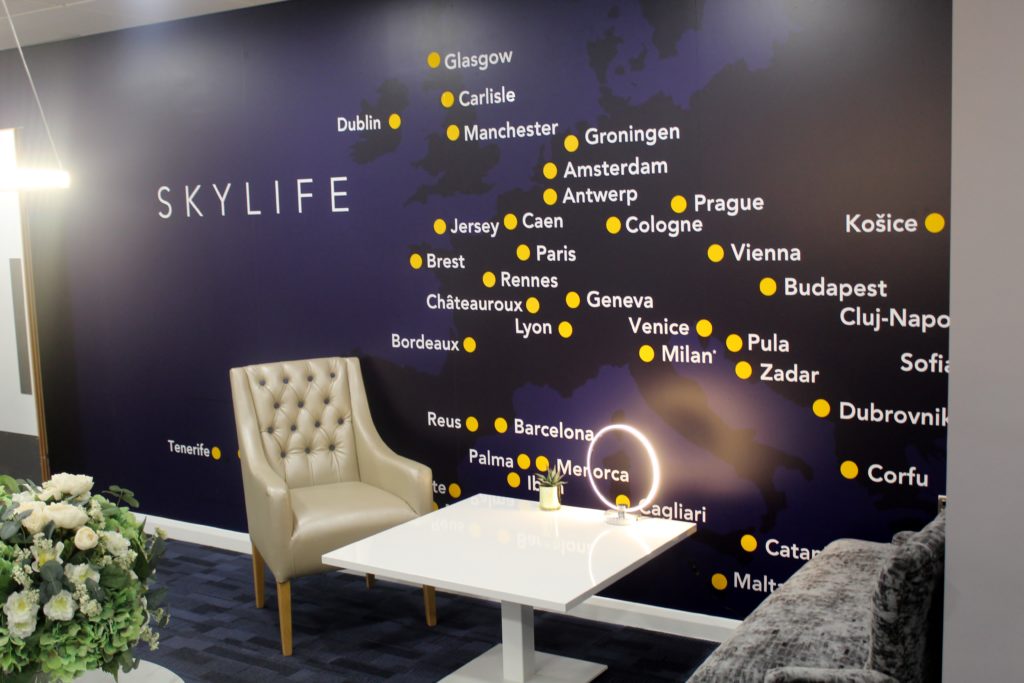 Final impression

A modern, stylish, very well-maintained and actually rather cool lounge. A pleasant surprise for a small regional airport. Friendly staff and a reasonable selection of drinks and snacks. including a pancake machine.