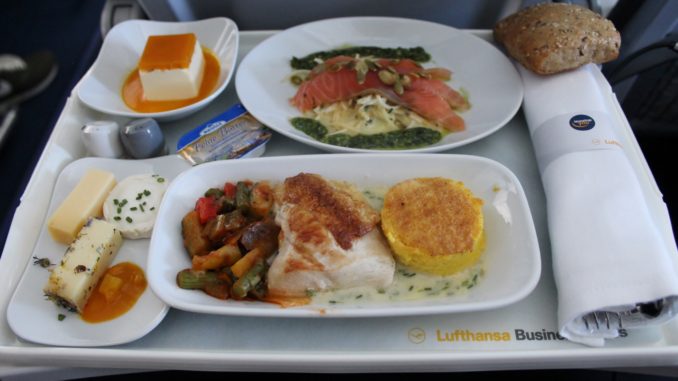 Lufthansa, the main carrier of Germany, needs to further introduction. They are part of the Lufthansa Group which is now one of the largest airline group in Europe. However while their shorthaul business class is usually nothing to get terribly excited about, on some longer intra-European flights they offer an extended meal service, which is significantly better. Among the destinations where this is offered is Portugal and Lisbon.
This is a review of a flight between Munich and Lisbon in business class.
Departure experience

Check-in was done online on the Lufthansa webpage and as I had no luggage to check I could simply download my boarding pass to my mobile phone.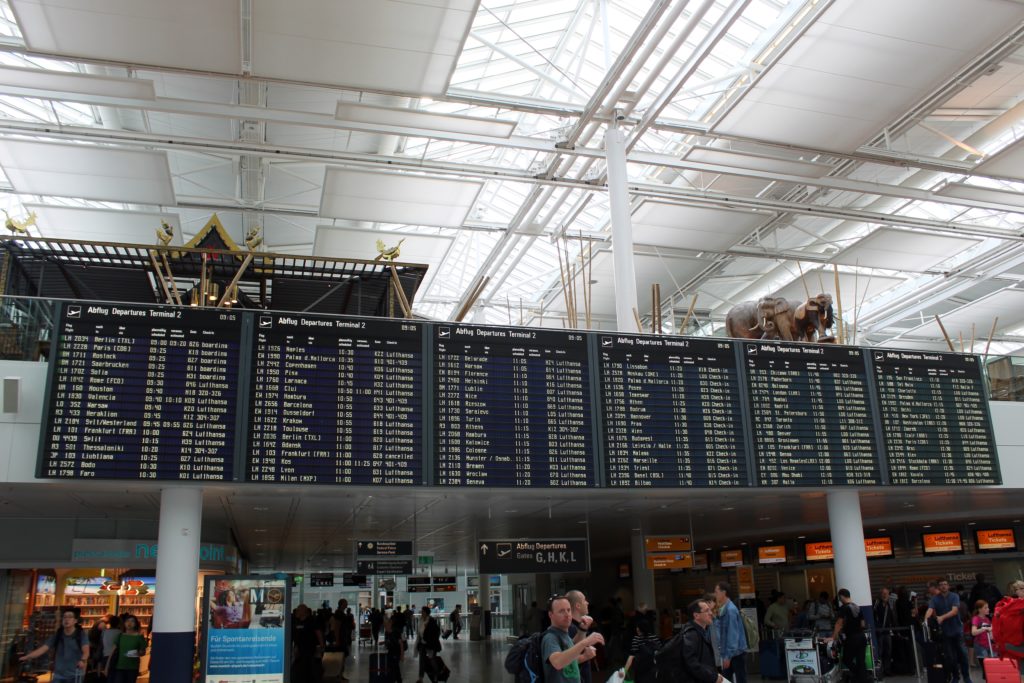 I stayed at the Hilton Hotel at Munich airport during the night prior to departure, which is located literally around the corner from terminal 2. Since breakfast was not included in the hotel rate I decided to skip the hotel breakfast to eat in the lounge instead.
Passengers with a Star Alliance Gold card can use the Lufthansa first class check-in, which at terminal 2 is a small but rather nicely furnished room with red carpets and even some armchairs. Just after the check-in room there is a fast track channel through the security control, where there was only one person in line. On the whole the check-in process for gold card holders is quite decent in Munich.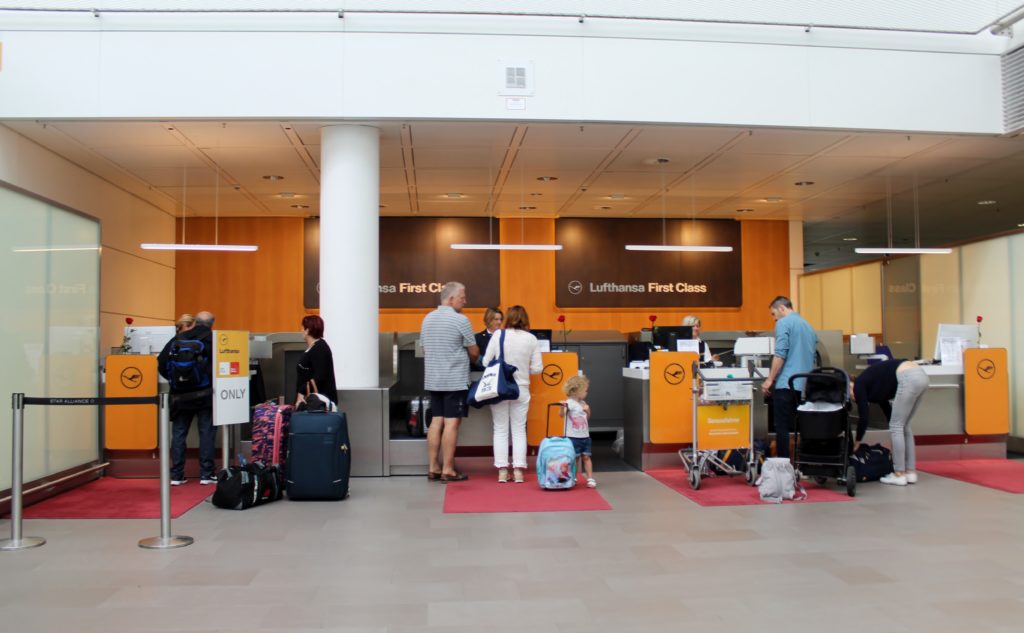 Since the flight was leaving from a K gate, which meant a gate in the newer satellite concourse, I decided to take the train there straight away to have breakfast in the Lufthansa Senator Lounge, which is the gold card lounge. There are business and Senator lounges in both buildings, so you can use either.
The Senator Lounge in the satellite is far more modern and also has a view of the apron, which none of the Senator lounges in the main terminal building offer. It was not too crowded when I arrived just before 10 am.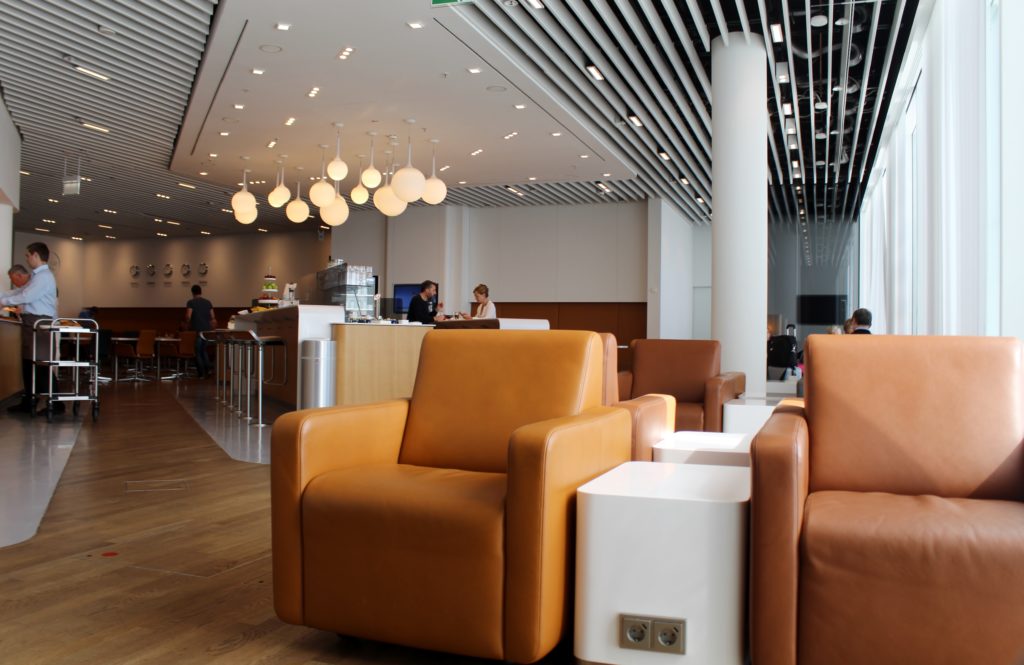 The food offerings in the Lufthansa Senator lounges have really improved in recent years. Nowadays the breakfast selection is well comparable to a smaller hotel breakfast buffet with everything from Full English with scrambled eggs, sausages and tomatoes to some cold cuts, yoghurt, fruit salad, muffins and pastries. You can definitely have a proper breakfast in the lounge.
The flight
Munich-Lisbon
Lufthansa flight LH 1790
Departure: 11.20
Arrival: 13.30
Business Class
Airbus A321
Seat 07D

The gate used to Lisbon was just around the corner from the lounge entrance. An Airbus A321 was to take us to Lisbon this morning.
Proper priority boarding was offered for business class and Star Alliance gold. The weather at Munich airport was excellent, bright and sunny.
First impression

The flight seemed completely full in both economy class and business class, the latter stretching as far as row 9. I was seated in 07D.
As usual on Lufthansa intra-European flight there were no newspapers and no pre-departure drink. Newspapers can be downloaded before departure using the Lufthansa app.
Punctual pushback with a flight time of around two hours and 50 minutes to Lisbon.
Seat and cabin

Standard intra-Europe setup with blocked middle seats on the Airbus A321, which meant a 2-2 configuration.
The seats were the standard Recaro seats used on most (all?) Lufthansa Airbus A319/A320/A321 aircrafts.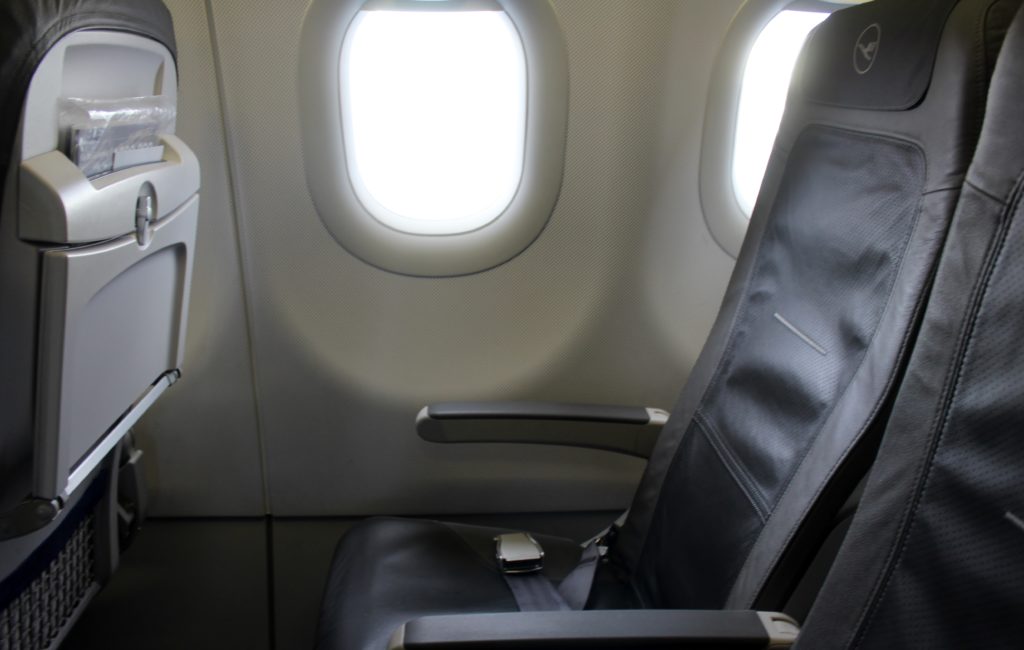 Food and drinks

Lisbon is one of the destinations where the mediumhaul service concept is offered, and the difference in inflight experience between a mediumhaul and a shorthaul flight is massive.
Proper menus were handed out after takeoff with both the food and drink options.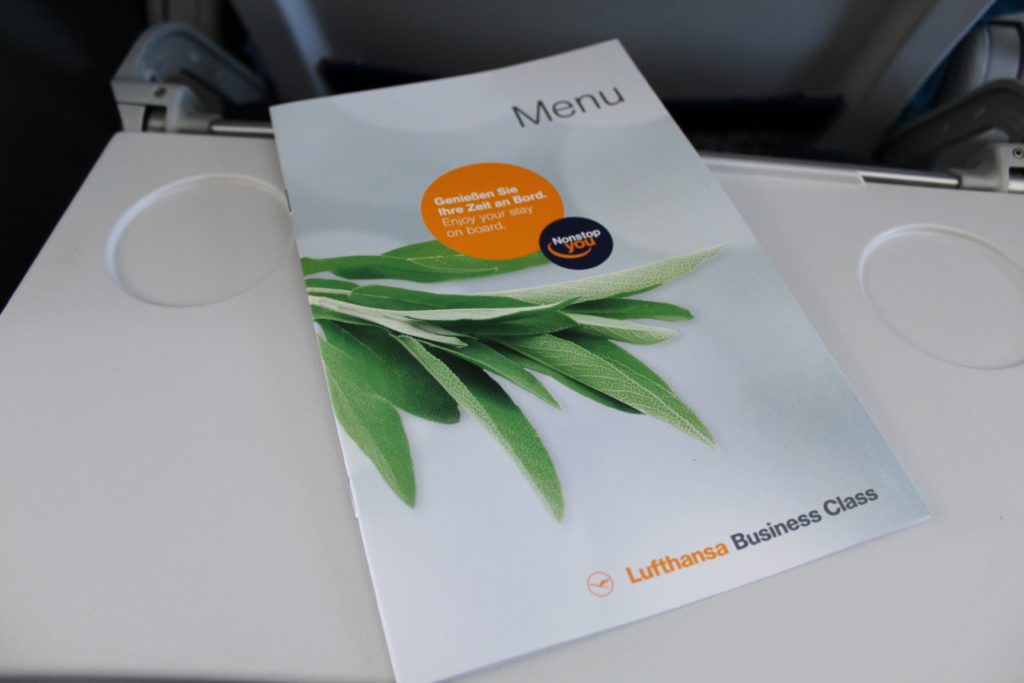 Shortly afterwards a first drinks service was done in business class. I ordered a gin & tonic which was served with some almonds. They serve the Bombay Sapphire on all intra-European flights.
According to the menu there would be a full three-courses lunch service with starter, three choices of main course followed by cheese and dessert.
The drink list included beer and wine, spirits, juices and soft drinks, tea and coffee. However there was no wine list, the wines are usually the same ones served in economy class.
The drink list was probably no different compared to shorthaul business class flights, everything from domestic flights in Germany to shorter international flights, however it was nice to have everything listed.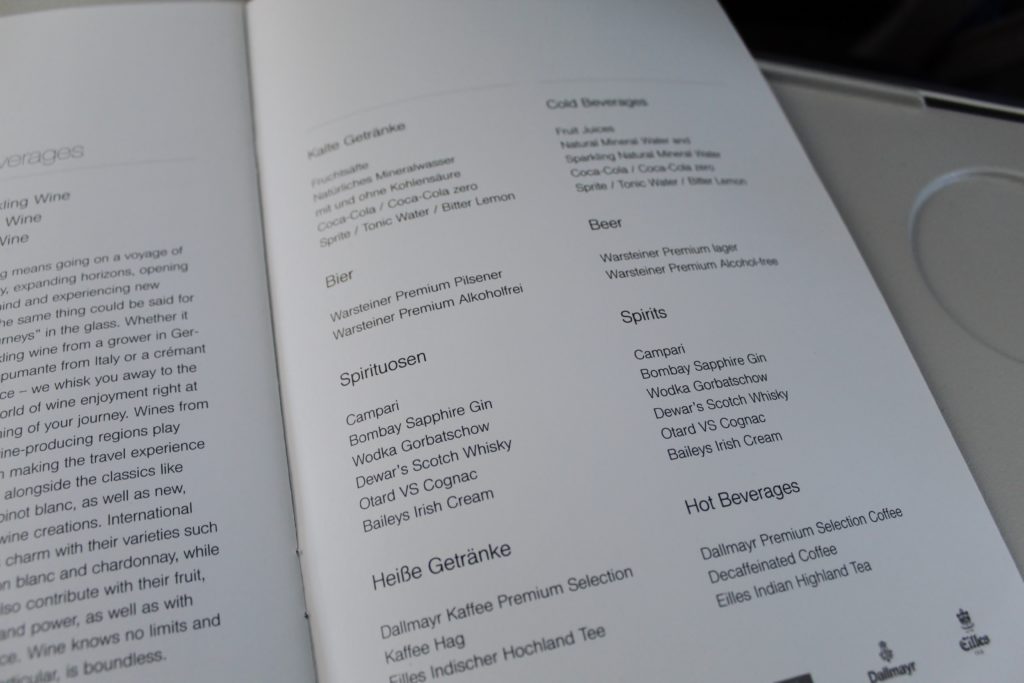 After the first drink service had been completed the trolley passed through the cabin with the meal tray, with unfortunately all courses served at the same time rather than separately.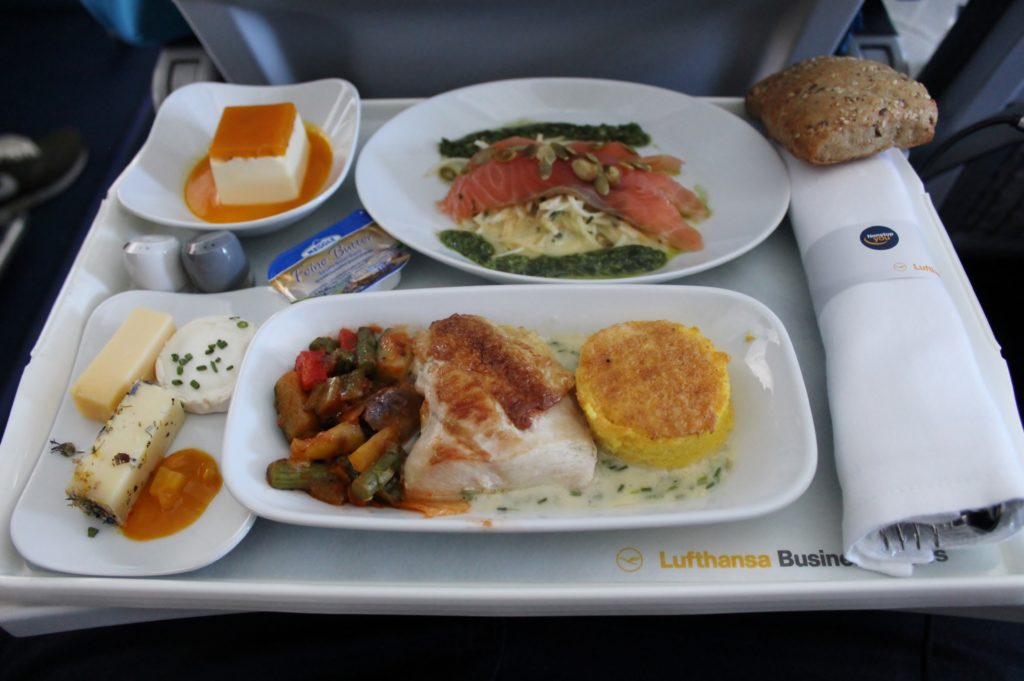 The starter was Spiced salmon on turnip celery salad, served with 7 herbs mustard pesto Frankfurt style and roasted pumpkin seeds. Bread rolls were also offered from a basket.
There were three choices of main course – Chicken with polenta, Cod with rice, or Shapipaneer korma with vegetables and Basmati rice. I decided to go for the chicken, or Corn-fed poulard with grilled vegetables and polenta, as was written in the menu. It was very tasty.
To finish there was a selection of cheeses followed by an apricot mousse dessert. Since there were no crackers on the tray I pressed the call button to get some more bread rolls.
Finally the trays were cleared and coffee and tea were offered.
Overall this was far better than what is usually offered in Lufthansa business class in Europe. The cold plates offered on shorthaul flights is rarely anything to get excited about, but this was excellent.
The service

With a full business class cabin of nine rows, which meant well over 30 passengers, the service was friendly and polite but perhaps not as attentive and personalised as is the case when you are only a dozen passengers, or less, in the cabin.
Although everything was done by the book, with nothing to complain about, it took quite some time before I was offered a refill of the post-departure cocktail, the wine with the meal or the coffee. But of course the reason for this was understandable.
Arrival experience

I spent most of the remaining flight time reading a book. Of course with so many passengers in business class there were also rather long lines for the lavatory, even with a dedicated one for business class  at the front. A second drink round was done as we approached Lisbon.
We landed at Lisbon Portela airport according to timetable. Lisbon has one of the most beautiful approaches in Europe, but this requires landing from the south, and of course no clouds. This day the winds favoured a landing from the north, and as it was rather cloudy I did not miss much sitting by the aisle anyway.
With only hand luggage I was on my way from the airport within a few minutes after landing. Portela airport is just a few kilometres from downtown Lisbon so with a taxi you are in the city centre in no time. There is also a good metro service to the airport.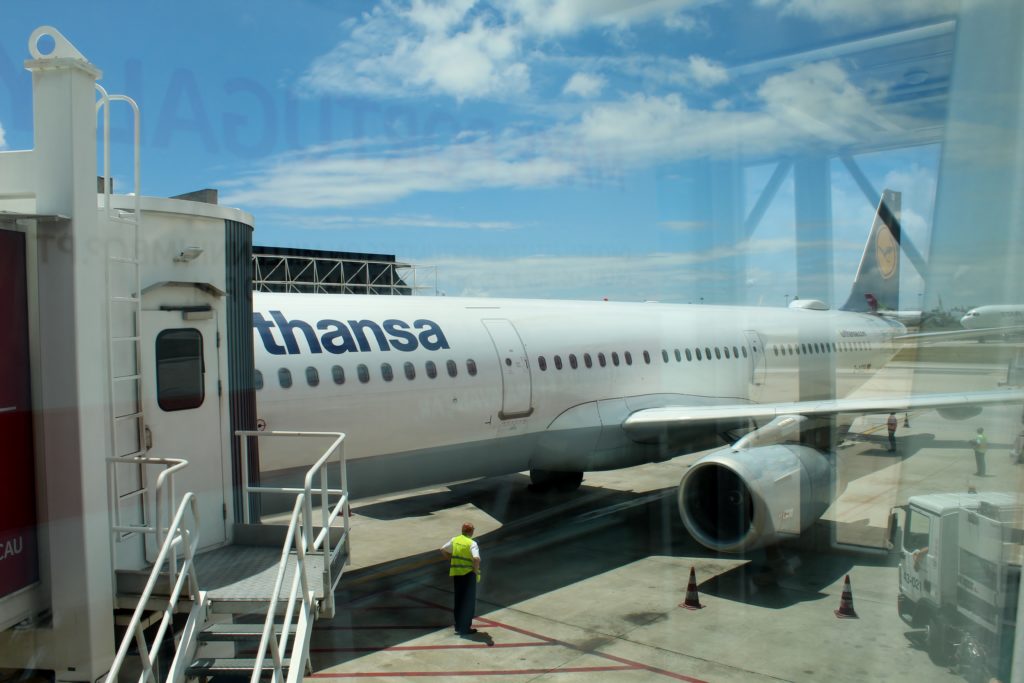 Final impression

The Lufthansa mediumhaul inflight concept is vastly better than the one offered on shorthaul flights. Printed menu and an excellent three-courses meal with three choices of main course. Friendly service from the crew, even though it was not as attentive as it could have been due to the large number of passengers in business class.