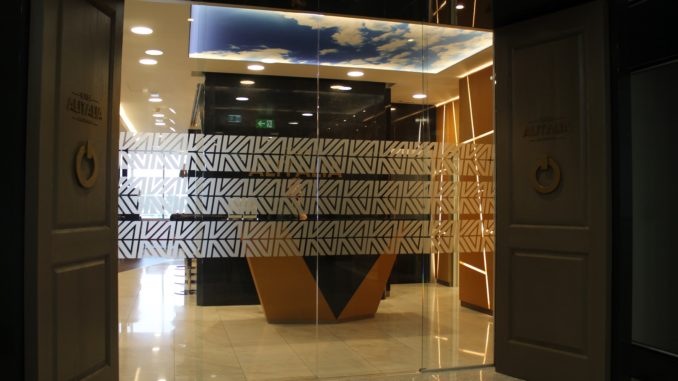 The new Casa Alitalia Lounges are superb and there are currently two 'real' Casa Alitalia lounges, one in Rome and one at Milan Malpensa, both located in the non-Schengen areas. I had already visited the Casa Alitalia in Rome and enjoyed it a lot, even though the visit was quite short. Needless to say I was very much looking forward to visiting the second proper Casa Alitalia at Milan Malpensa.
The Casa Alitalia in Rome is accessible to premium passengers of all Skyteam airlines, as long as you travel in business class or have a Skyteam Elite Plus card. So in short the standard Skyteam access rules apply. However to my utter surprise this did not turn out to be the case in Milan.
I was travelling with Aeroflot from Milan Malpensa, holding a same-day boarding pass for an international Skyteam flight as well as a valid Skyteam Elite Plus card, and I was promptly denied access. I asked about the reason, I could see the lounge was pretty much empty. She informed me Aeroflot uses the Pergolesi Lounge and that I should go there.
I pointed out that the Casa Alitalia Lounge surely must be regarded a Skyteam Lounge with Alitalia being in the Skyteam alliance, and I had a same-day boarding pass with a Skyteam carrier and the correct card. She repeated that Aeroflot had contracted the Pergolesi lounge and further mentioned the contract lounges used by the other Skyteam carriers at Malpensa airport, such as Delta and Korean Air.
As I eventually had no other choice but to accept my fate, realising that there was no point in arguing and that she would not give in, before leaving I just had to ask the woman at the reception, so what do you actually need to fly to get access?
Well the reply was, Alitalia. But the interesting part is that all the Alitalia domestic and European flights from Milan depart from Linate airport, the second airport of the city. There are exactly two daily Alitalia flights from Malpensa airport, one to New York and one to Abu Dhabi.
At the end she remembered one more way to get in, you also get access flying Etihad. Well there is exactly one daily Etihad flight from Malpensa, so that would mean three flights a day.
So the question is, why on has Alitalia, an airline which is not exactly doing great economically, decided to operate a lounge at an airport for just three flights? That is surely an interesting question. And why on earth do they not take the opportunity to accept passengers from other Skyteam carriers? There was plenty of space inside, and they will get paid for the visits. It would give them much needed extra revenues, and there were of course staff in there anyway, who they have to pay and who probably did not have much to do.