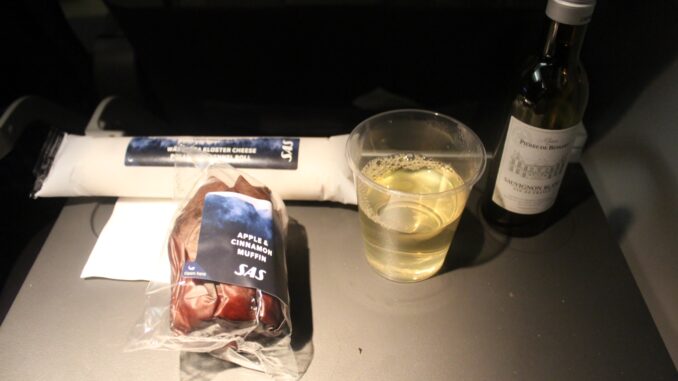 You might think that Stockholm-Berlin would be an important route for SAS, linking two major capitals, both located in northern Europe. In reality it is not. Or frankly, it might be, but the timetable for the route is just lousy. There is no early morning departure for example. But on the positive side, perhaps as a consequence, the SAS fares on this route are incredibly competitive.
On top of the regular routes Stockholm-Berlin and Copenhagen-Berlin SAS also offers a seasonal route from Gothenburg to Berlin, operated three times per week. And it turned out the very cheapest way to get from Stockholm to Berlin was actually to fly via Gothenburg with a transfer of 35 minutes at Landvetter airport. It was dirt cheap, even in SAS Plus, the premium cabin of SAS, which also meant a very decent number of EuroBonus points.
Since SAS has no base at Gothenburg it meant that the aircraft which was to operate the evening flight from Gothenburg to Berlin had to come in from somewhere else, and based on the timetable it could either be from Stockholm or from Luleå in northern Sweden. Both flights arriving 35-45 minutes before the departure time of the flight to Berlin. When I checked the flights in the morning, looking at the aircrafts operating the respective flights as well as the seat maps for all the flight, I concluded it would be the aircraft arriving from Stockholm that would continue to Berlin, hence I would be flying on the same aircraft all the way.
Stockholm Arlanda Airport and the SAS Gold Lounge and SAS Domestic Lounge
I arrived at Arlanda airport already around 5 pm and started by visiting the SAS Gold Lounge in terminal 5. Something which is technically possible to do even though it means you will need to go back lanside after the visit, exit through customs and then pass through security control a second time in terminal 4, where the staff will need to process your boarding pass manually, since you have already scanned it. But it works and you get to enjoy better food and drinks in the SAS Gold Lounge.
I left the Gold Lounge early to have sufficient time to make my way from terminal 5 to terminal 4 as well as to pass through security a second time. The fast track was completely empty so it meant I even had time for a quick visit to the SAS Domestic Lounge in terminal 4. They had run out of white wine this Friday evening, which the lounge attendant joked about, so I had to settle with a glass of red wine.
As I was sitting in the lounge I could see the aircraft arriving from a hangar, parking right below the lounge. The crew was waiting in the passenger bridge, ready to prepare the aircraft for the flight.
Flight 1 Stockholm-Gothenburg
Stockholm-Gothenburg
SAS flight SK 169
Departure: 18.50
Arrival: 19.50
SAS Plus / Premium Economy
Airbus A320NEO
Seat 02D
I had selected seat 02D on the Airbus A320NEO and was happy to get my own row, which meant that I later moved to the window seat to get some more space. The good thing about the Airbus A320NEO is also that several of these aircrafts are equipped with high-speed Wi-Fi, which you can access free of charge in SAS Plus. It works really well with a speed sufficient to stream TV-programs with a good quality.
Standard inflight service on the domestic flight to Gothenburg, which means you get to choose something to eat and drink from the sales cart. I had a Polarbröd sourdough roll and chose the one with egg salad, which is actually my favourite of those I have tried. I also asked for one of their excellent Hedh Escalante chocolate balls, which are delicious.
To drink I ordered a bottle of white wine and a cup of coffee. In SAS Plus they are allowed to serve you one bottle of wine or one can of beer free of charge on domestic flights, but if you want a refill you will need to pay for it. This is due to Swedish alcohol laws. For a 45-minute flight one bottle of wine was more than adequate.
As the purser passed through the cabin collecting the rubbish I asked if she was to work on the flight to Berlin at 8.25 pm and she confirmed what I already knew. She actually looked quite amused that I had already looked up the flight details and knew that the same aircraft would be used for both flights.
We landed a few minutes early at Gothenburg airport. The weather in Gothenburg was rainy and windy.
SAS Lounge, Gothenburg Landvetter Airport
Arriving slightly early and sitting on the second row I knew there would be enough time for a few minutes in the SAS Lounge, located not far from gate 16 where we parked. The last passengers inside the lounge were just about to leave when I arrived, heading for the Berlin gate where 'Go to gate was now displayed. This was the last SAS and Star Alliance flight for the day from Gothenburg and it meant I ended up being the very last lounge guest of the day.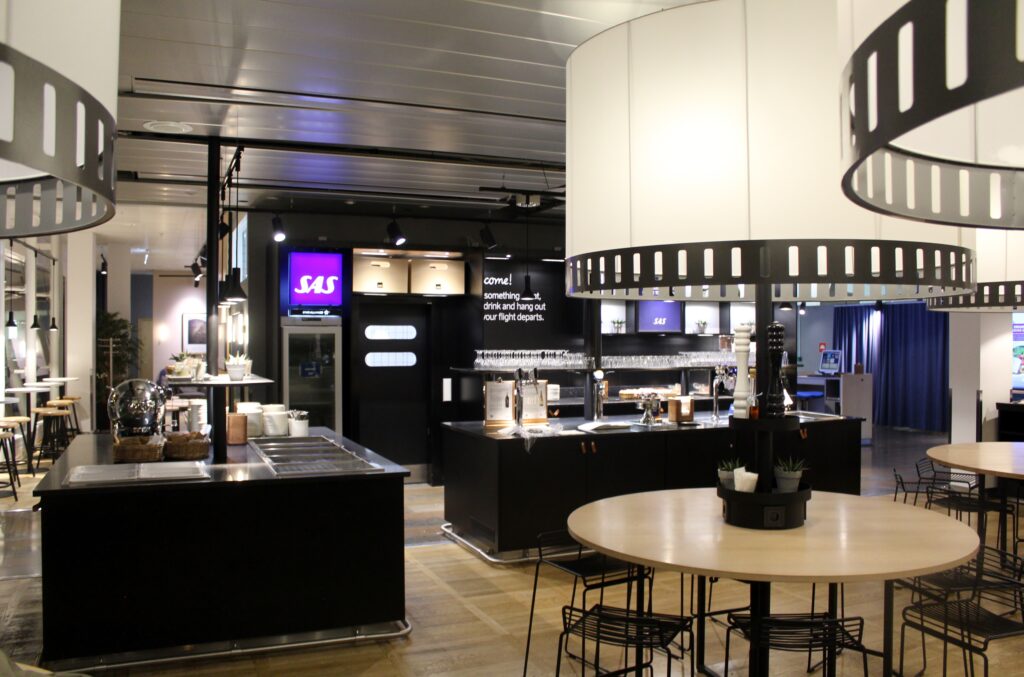 The lounge attendant was busy clearing away the food and was a bit puzzled about my visit but he checked my boarding pass and let me stay when I explained I just wanted to have a quick glass of wine before the flight, which was not a problem. There was nothing left to eat though, but that was fine.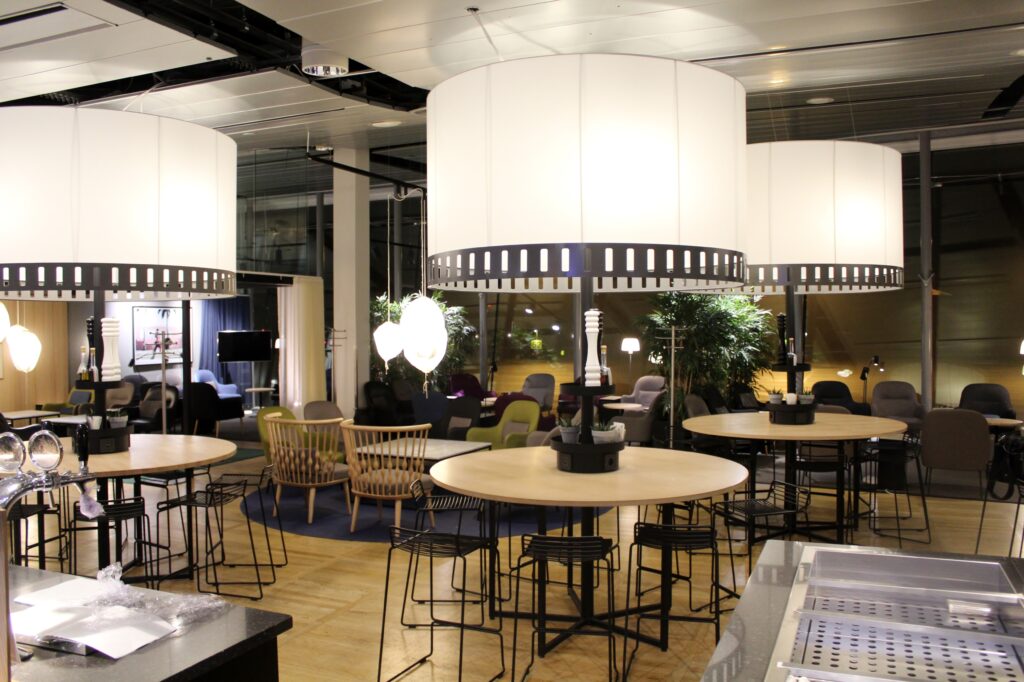 The lounge was really completely empty. Usually there is a very pleasant apron view from the lounge, but there was not much to see at this time of the day as it was pitch-dark outside. There was just enough time to have a glass of white wine, without any rush, before I had to return to gate 16 where they were just about to start the boarding.
Flight 2 Gothenburg-Berlin Tegel
Gothenburg-Berlin Tegel
SAS flight SK 2839
Departure: 20.25
Arrival: 21.35
SAS Plus / Premium Economy
Airbus A320NEO
Seat 02D
I was greeted with a pleasant "Welcome back" and a big smile from the purser at the aircraft door and I took my seat 02D on the second row. The same seat I had left 25 minutes earlier. It was all great fun and the crew seemed rather amused as well.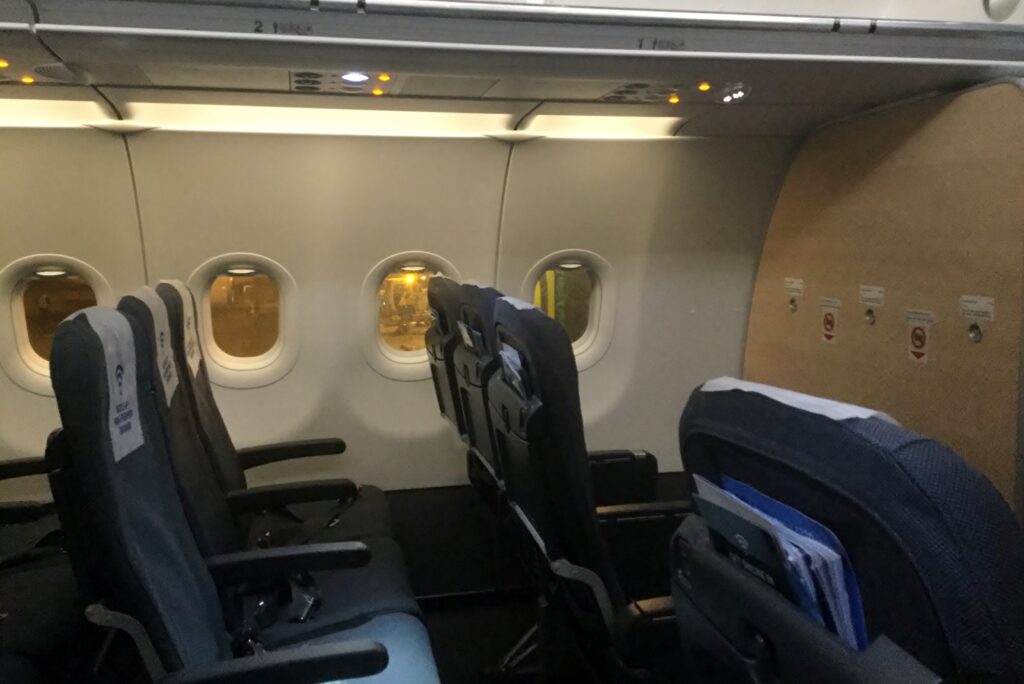 In contrast to the rather full flight from Stockholm to Gothenburg the load from Gothenburg to Berlin was very light with only a handful of passengers in SAS Plus, which now stretched nearly half the cabin. So obviously very quiet at the front.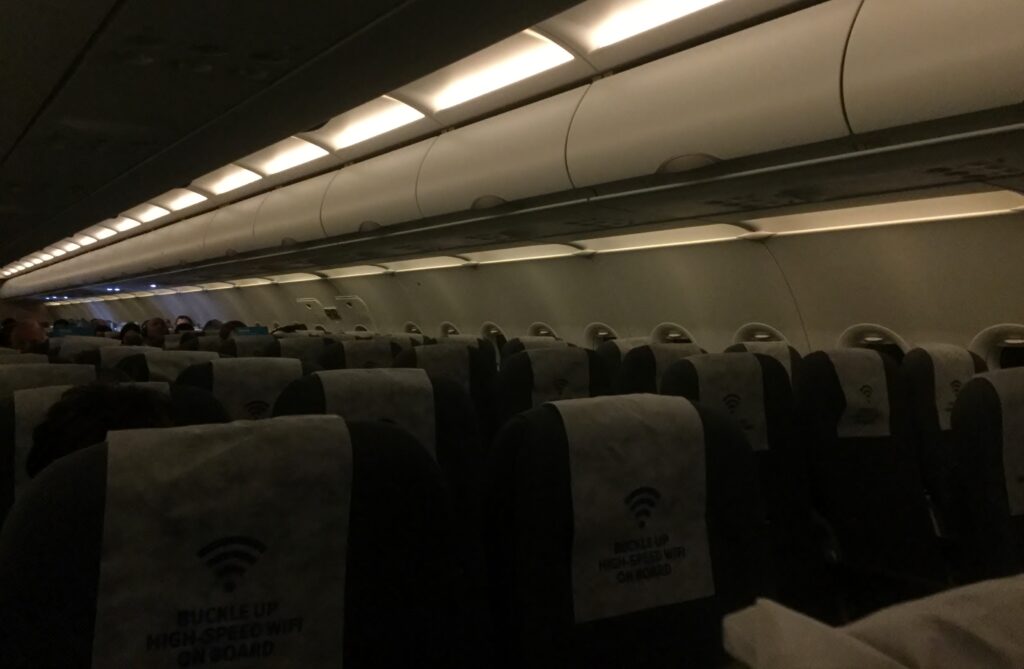 Gothenburg-Berlin is a 'mixed flight'. Usually on flight outside of Scandinavia they serve the signature SAS cube with a full cold meal in SAS Plus. However there was no cube on this flight, just the same selection of snacks as on the previous flight from Stockholm, where you can choose what you want from the selection in the sales cart. But on the other hand, in contrast to Stockholm-Gothenburg where only beer and wine were available, on this flight the full bar service was offered, including for example spirits. So it was really a 'mixed flight'. An improved drinks selection but not the kind of food service you would usually get on a similar international flight.
The crew were delightful though and really seemed to enjoy having me back onboard, having someone genuinely interested in their work and the rotations they were to work, which probably does not happen every day, and of course the light load meant that they had plenty of time to provide a good service level.
The purser even described the very busy schedule they had. Leaving Stockholm Friday at noon and returning back home Sunday evening, with several flights during this time, including some charter flights.
Another Polarbröd sourdough roll, this time with salmon, and a muffin. And a gin and tonic to drink with the excellent Norwegian Harahorn gin. I even had time for a refill, even though the flight was only 55 minutes.
Landing right on time at Berlin Tegel. Many people like to complain about Tegel and how small and dated it is, but how many capitals in Europe offer such a convenient airport? It took me 12 minutes from the moment we touched down until I had reached the bus stop of the airport bus in front of the terminal building, of course with only hand luggage though. And it costs 3.5 euro to get from Tegel airport to Zoologischer Garten using the X9 Express Bus, which takes about 15 minutes. How many airports in Europe offer such a convenient airport transportation at such a competitive price?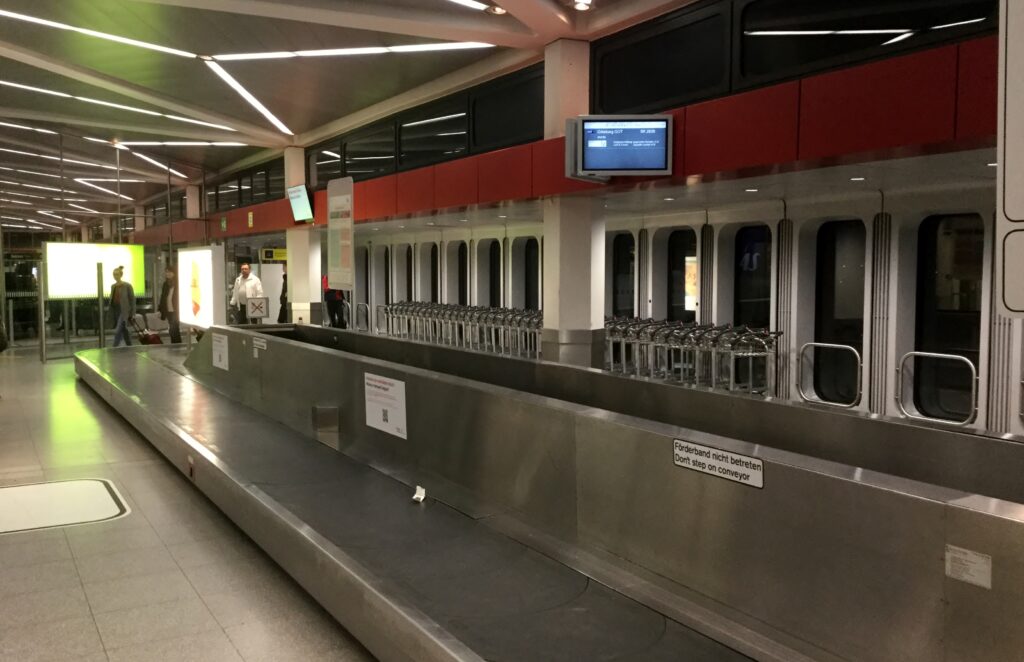 Final impression
A great and very fun evening of travelling. Flying Stockholm-Gothenburg-Berlin is not that much of a detour and the timetable was perfect with 35 minutes in Gothenburg. And great fun travelling on the same aircraft with the same excellent cabin crew all the way, with free Wi-Fi during the flight with just a brief stop in Gothenburg to have a drink in the lounge.
SAS Plus on these shorter flights is nothing exceptional but it works just fine when the flight time is less than an hour. And the Harahorn gin they serve onboard is great.