A short review of a flight in SAS Plus between Bergen in Norway and Copenhagen also visiting the new SAS Cafe Lounge in Bergen and seeing the brand new terminal building at Bergen Flesland airport.
Departure experience

Since August 2017 Bergen Flesland airport has a brand new terminal building which has significantly increased the capacity at the airport. The new terminal building is used for check-in and baggage reclaim and is also used as the main transit hall and shopping area for all flights. All domestic flights also depart from the new building whereas the old terminal building is used for international flights.
In the departure hall the check-in process has been completely automated with self-service check-in machines and baggage drop counters in two waves. Staff are on hand to assist but generally most desks seemed to be unmanned. I was only travelling with hand luggage and had already checked in on the SAS webpage so there was no need for any further formalities. However I noticed they had a dedicated premium check-in desk (baggage drop) for SAS and Widerøe premium passengers.
There was a separate fast track lane through security which was accessible to SAS Plus passengers although the regular lines were very short this afternoon.
The same day the terminal building opened SAS also opened a Cafe Lounge at the airport. The Cafe lounges are smaller lounges at regional airports in the Nordic countries. These are mostly unmanned, smaller in size and the selection of food and drinks is smaller compared to the regular lounges with coffee, tea, soft drinks, snacks and fresh fruits. A place to grab a coffee or check the e-mails before boarding the flight.
The new Cafe Lounge in Bergen was a very positive surprise with a completely new design. A cup of coffee, a glass of orange juice and a cinnamon bun was the perfect way to kill an hour while waiting for the flight, although of course it would have been nice with a beer or a glass of wine as well.
Read the full lounge review here!
The flight
Bergen-Copenhagen
SAS flight SK 2873
Departure: 16:05
Arrival: 17:25
SAS Plus/Premium Economy
CRJ-900
Seat 05A

Boarding for the flight was announced already 35 minutes before departure. The incoming flight was early and the captain wanted to get the flight airborne early if possible.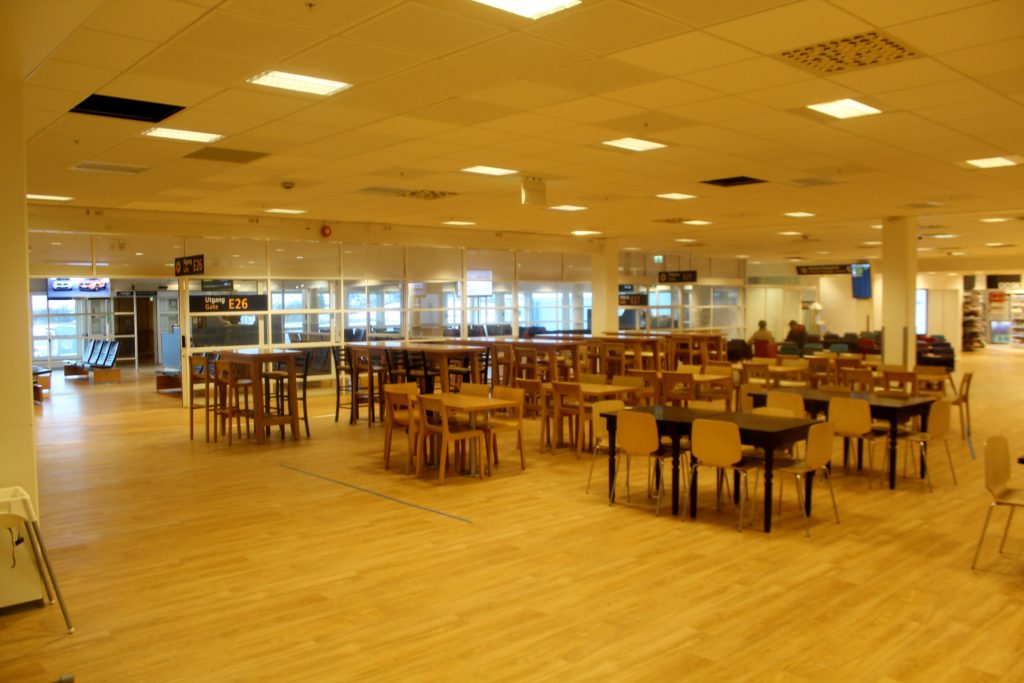 As Copenhagen is an international destination boarding took place in the old terminal building, which feels really old and worn compared to the new building. It took about five minutes to reach gate E26 from the lounge. Most passengers had already boarded and the gate area was completely empty.
First impression

The flight to Copenhagen was operated by a modern CRJ-900, wet-leased from Cityjet, however the staff always wear SAS uniforms and the inflight concept is the same as on flights operated by SAS aircrafts.
The premium economy cabin, SAS Plus, stretched all the way to row 8 but was just half full, so there was plenty of space. I had seat 05A for the flight and got an empty adjacent seat, which seemed to have been blocked off for me as a gold card holder.
As expected boarding was completed well ahead of timetable and we took off from Bergen airport just before 4 pm with a flight time of one hour and ten minutes to Copenhagen.
Seat and cabin

The CRJ-900 is a modern and comfortable aircraft to fly on and a perfect aircraft for these shorter regional routes. The grey leather seats are comfortable and the legroom is acceptable.
Food and drinks

SAS Plus passengers can select something to eat and drink from the onboard menu, the same assortment available for purchase to passengers in SAS Go, economy class.
Sandwiches, Polarbröd sourdough rolls, were available with either smoked reindeer or cheese. There were also cookies, crips and chocolate bars. Beer, wine, soft drinks, coffee and tea were also available and as this flight had a flight time above 80 minutes they also had miniature bottles of spirits onboard.
I had a bottle of white wine, a cheese sourdough roll and a chocolate bar.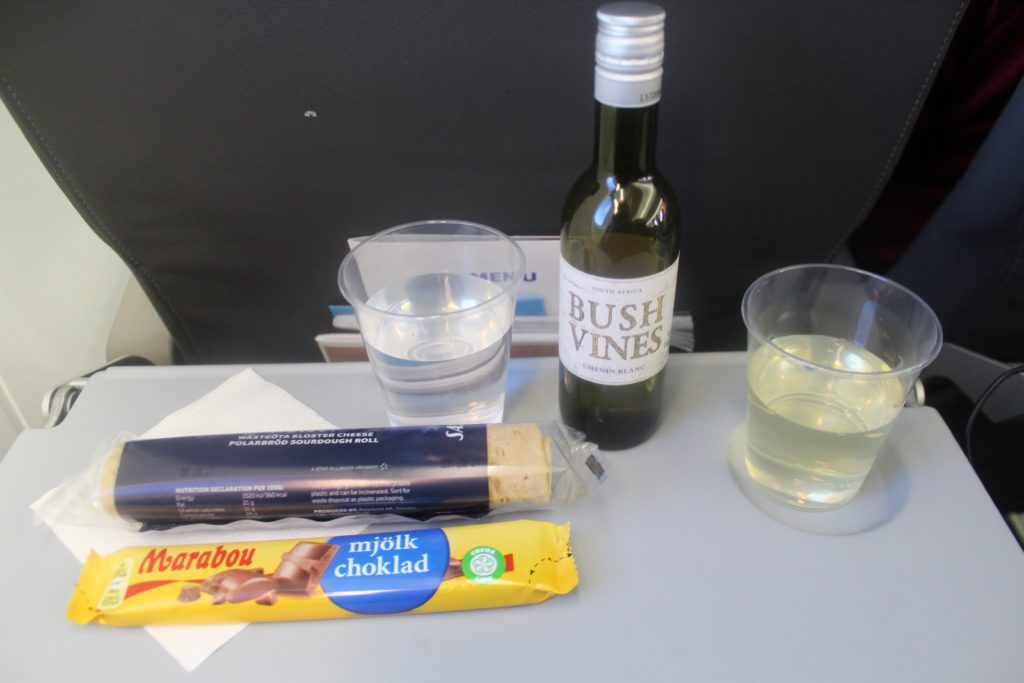 Later during the flight I ordered a gin and tonic. The gin they serve onboard is a Norwegian brand called Harahorn, and it is very tasty. Fever Tree is used for the tonic water.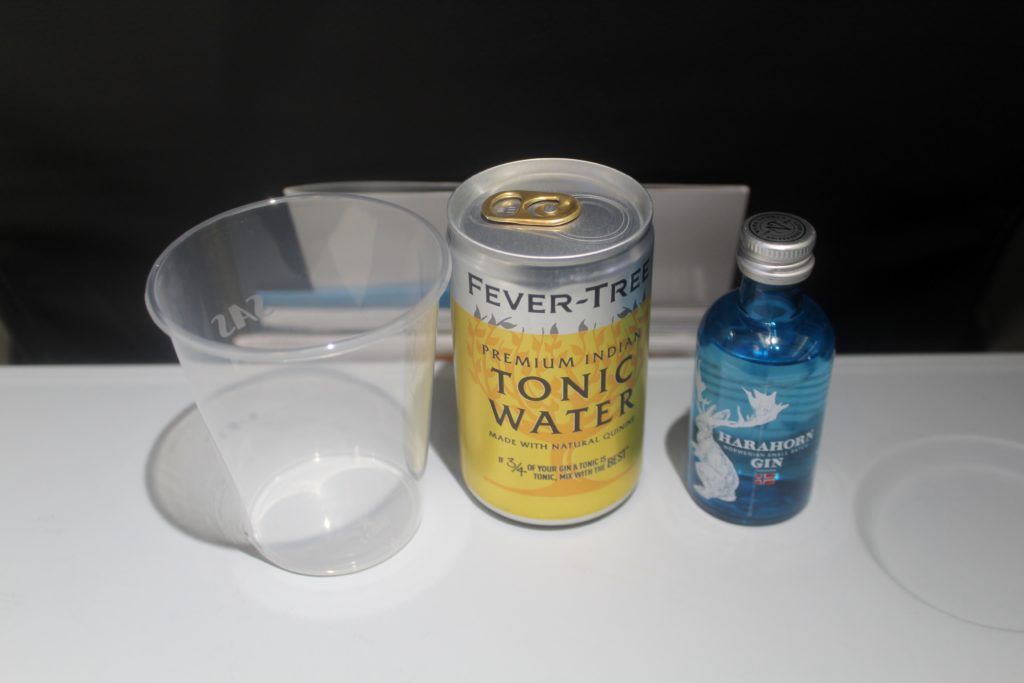 Inflight entertainment
Newspapers and magazines in several languages could be downloaded free of charge from the SAS app from 22 hours until departure time but this obviously requires a tablet or a smartphone with the SAS app. No printed newspapers were available onboard or at the gate.
The service

Two Danish female flight attendants served onboard with the purser mainly responsible for SAS Plus. The light load made the service very attentive.
Arrival experience

We arrived in Copenhagen well ahead of timetable but for some reason we had to do a go-around. Most passengers probably did not even noticed it until the captain made the announcement in the cabin. It was completely uneventful. No exact reason was given though.
We made a new approach for the airport and still managed to land a few minutes early. We were assigned a remote stand and taken to the terminal by bus.
Final impression

A short one-hour flight with friendly service, comfortable seats on a modern aircraft and reasonable food and snacks for a short regional flight in a premium cabin.