Where is it?

There are in fact two Casa Alitalia lounges at Milan Linate airport but the best and the largest one is located in the Schengen transit hall, on a balcony just above a restaurant. This is the one covered in this review. The second Casa Alitalia lounge is located at the opposite end of the transit hall, next to the staircase to the basement and the bus gates.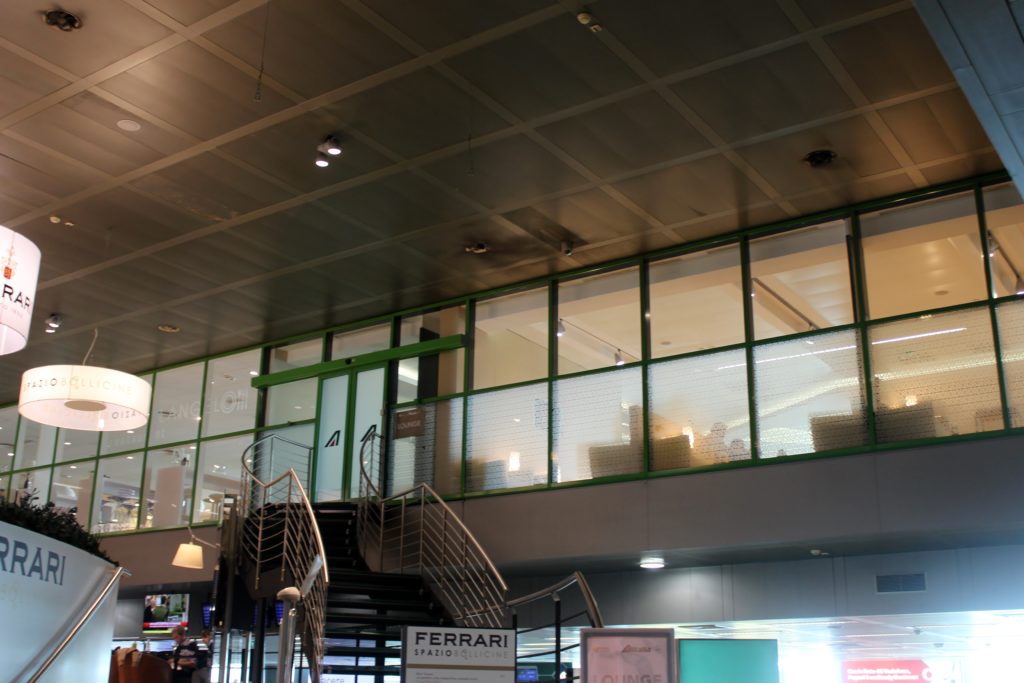 How do I get in?

The lounge is open to business class passengers and Skyteam Elite Plus passengers travelling on Alitalia or another Skyteam airline. The lounge can also be accessed by top-tier members of the Etihad Guest program.
What's it like?

The lounge does not have the newest Casa Alitalia concept and lounge design, the one available in the non-Schengen area in Rome, but it does have a very nice, modern and contemporary interior. A great improvement compared to the old lounge design, the new one makes an excellent first impression.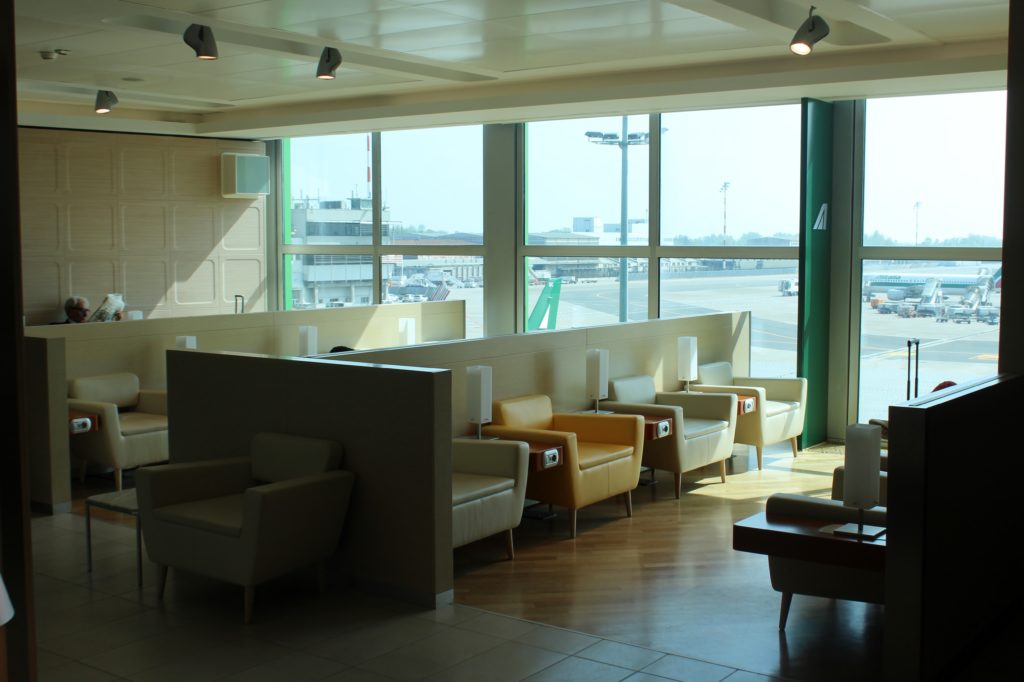 The lounge is actually not that large, divided into three different rooms, but the design and the large panorama windows (with a great apron view) make it feel fairly airy and spacious and actually a bit larger than it really is.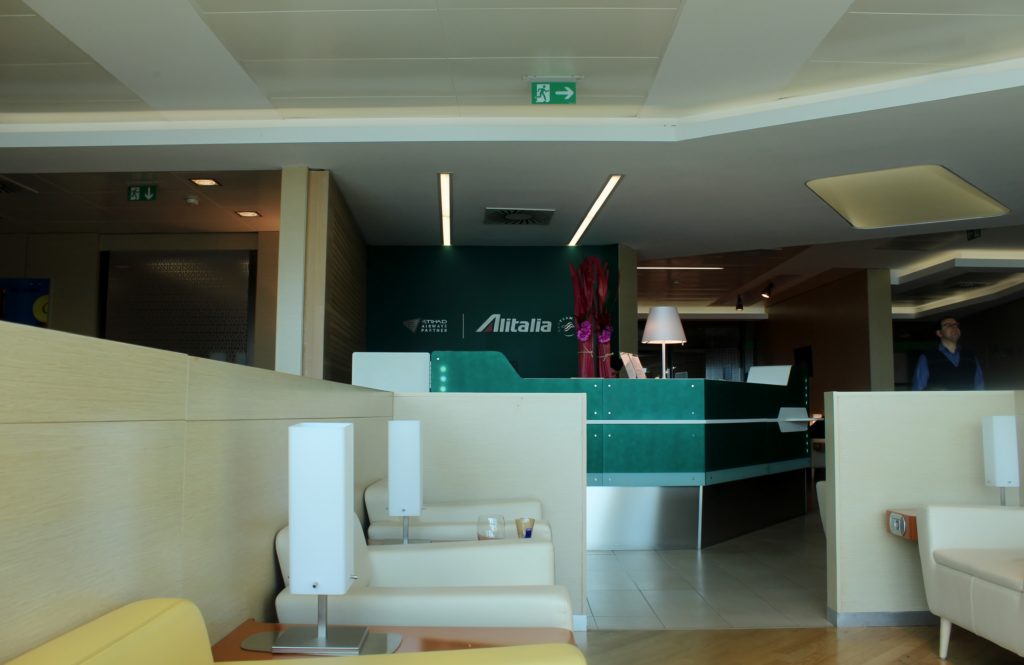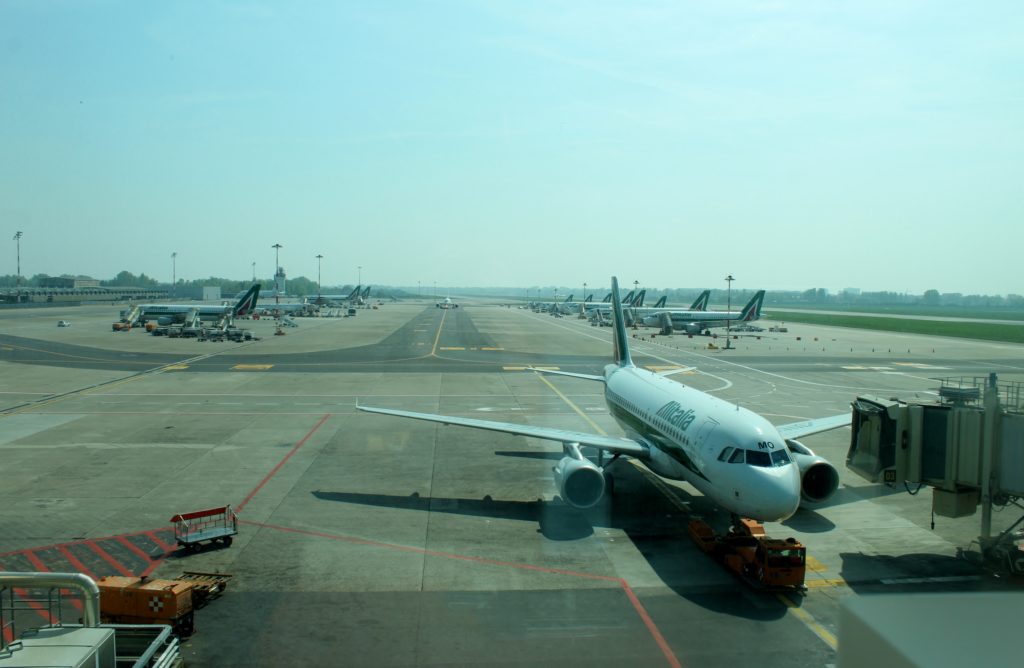 The furniture are rather nice as well in different pastel colours, with nice decoration lamps on the tables and a few historical Alitalia pictures and posters on the walls.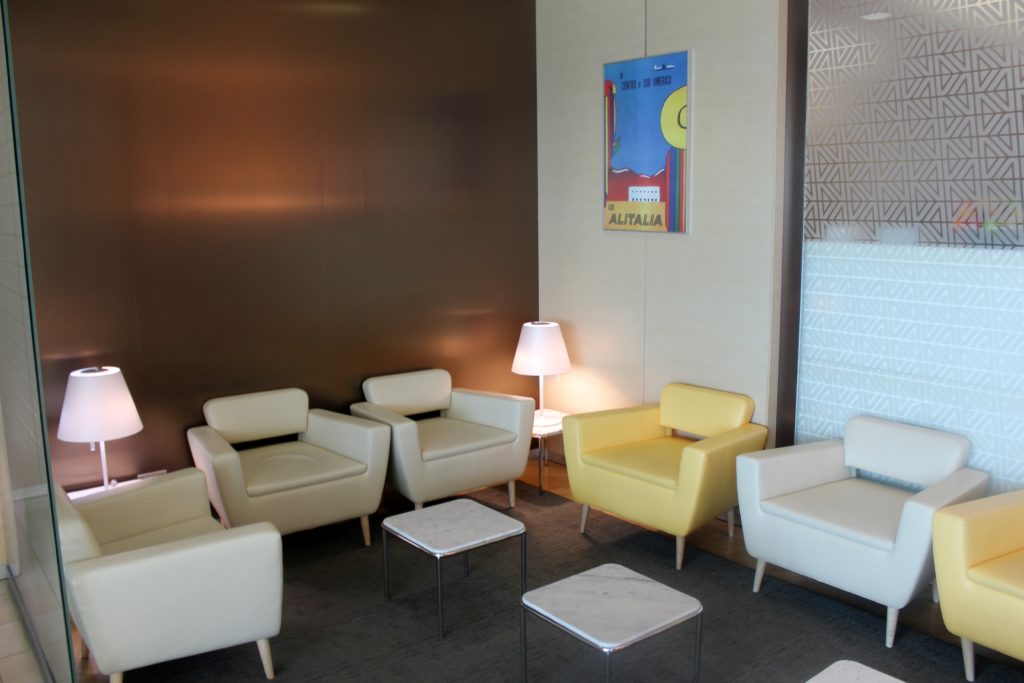 Food and drinks

The buffet area is located in the room to the right of the reception desk and is also very stylish. There is a manned bar where there are plenty of alcoholic drinks available and it is also possible to order fresh coffee from a barista, including several types of coffee. These are indicated on the coffee menu on the wall.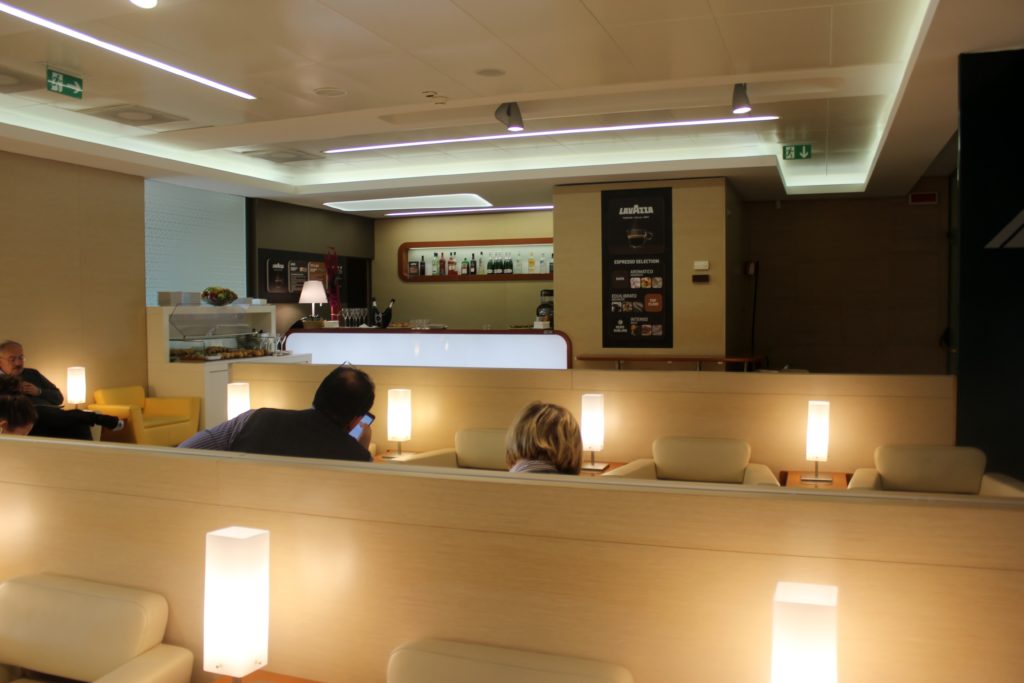 Wine and soft drinks are available for self service, including the excellent prosecco (sparkling wine) from Ferrari, which has won several awards.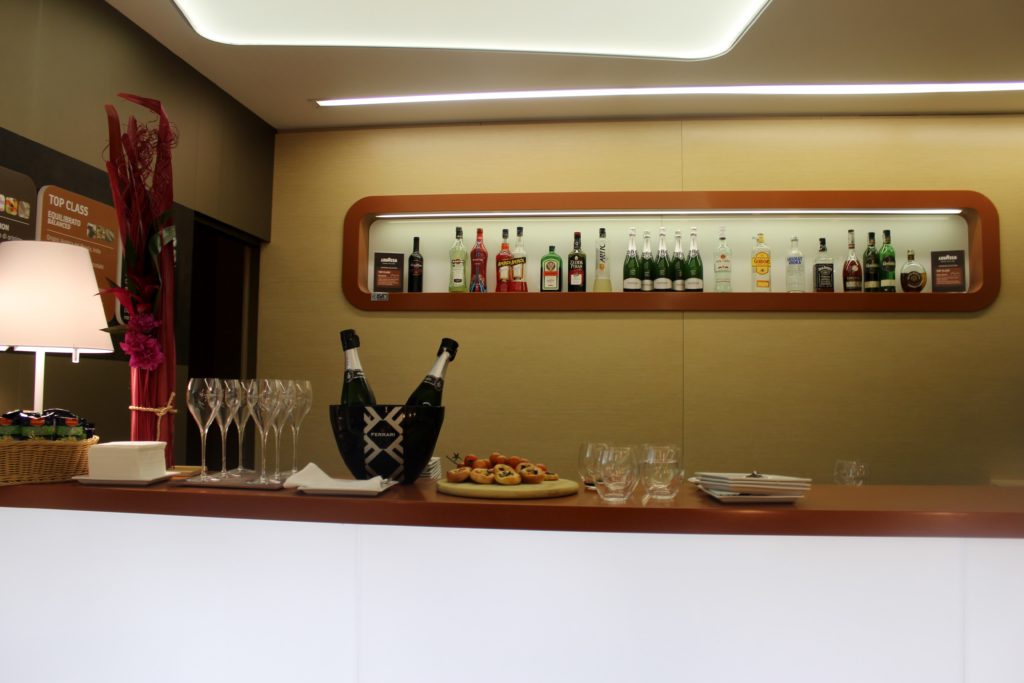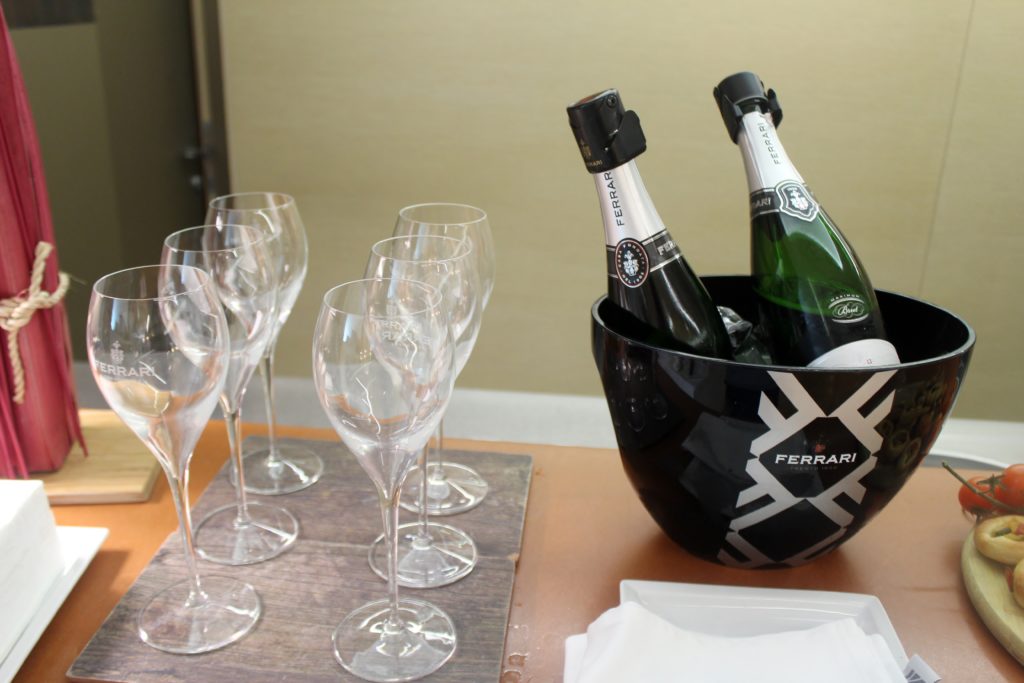 There is also a buffet with different cold Italian snacks such pasta salad and mini pizzas. There are also some desserts and pastries.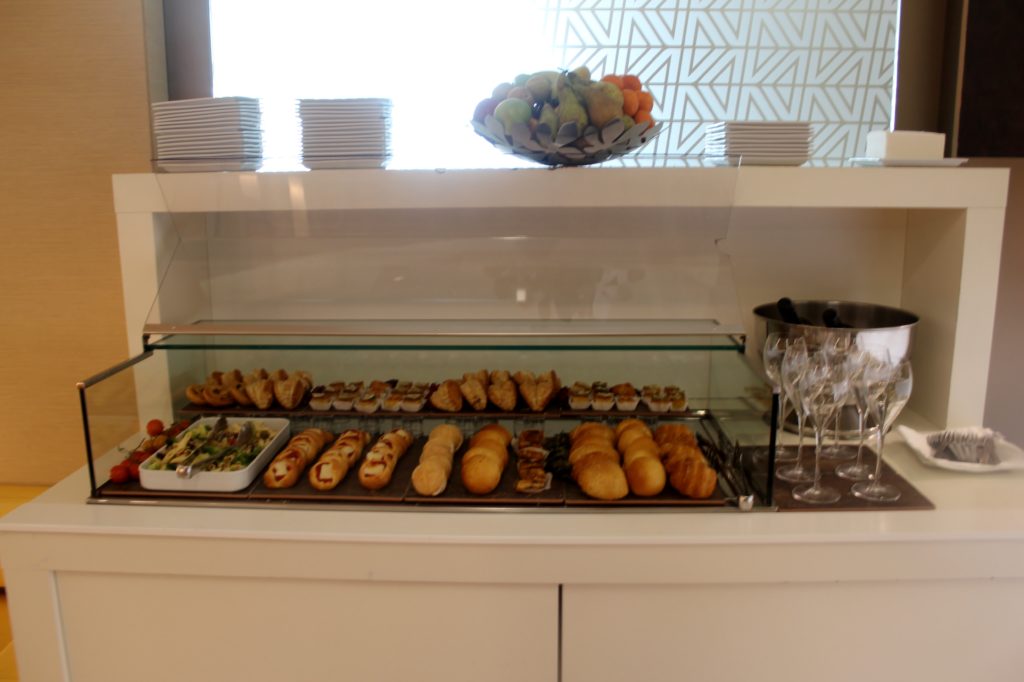 Facilities

Free wireless internet is available, there are some newspapers by the reception desk and there are several TVs in the lounge.
Restrooms are located inside the lounge.
Final impression

This is a very elegant and stylish lounge and Alitalia has done a great job with the design. The staff are friendly, there is an excellent apron view, a manned bar with a barista making tasy coffee, there are nice Italian snacks and very tasty prosecco. Overall, much better than expected.