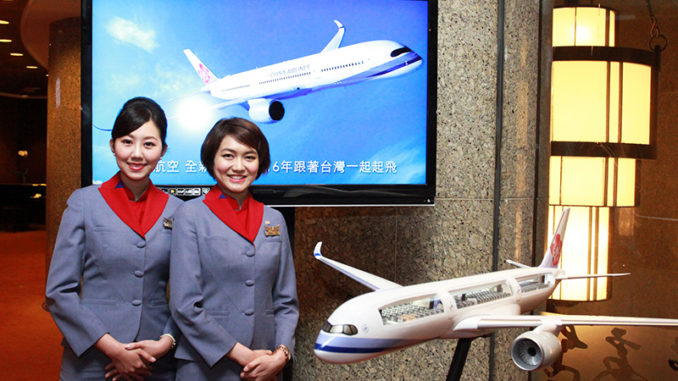 In August this year the Taiwanese airline China Airlines will take delivery of its first Airbus A350-900 which will initially be used on the important Taipei-Hong Kong route. Now the airline has also outlined some of its future longhaul operations with the Airbus A350, which will be deployed on a number of European routes.
In December later this year the new Airbus A350-900 XWB will be used on flights from Taipei to Amsterdam and Rome, switching the current operations, with a stop enroute, to nonstop services to both cities. During the same month the route to Vienna will switch to an Airbus A350. There will be three weekly flights to Vienna, four weekly flights to Amsterdam and two weekly flights to Rome.
The new A350 is also part of an increased focus on the European market. The Taipei-Frankfurt route will also be increased later this year to a total of 16 flights per week with at least two nonstop flights a day.
The cabins of the China Airlines Airbus A350 aircraft used on the direct European flights will use the five senses of sight, hearing, smell, touch and taste to create what the airline calls a "European Style". This will include the cabin design, boarding/takeoff music, cabin fragrance and European cuisine served in the Sky Bistro,
The first China Airlines A350 commercial flight is expected to take place on 1 August 2016 operating twice daily between Taipei and Hong Kong on CI 641/CI 642 and CI 915/CI 916. The first A350 nonstop flight to Rome is expected to depart on 3 December 2016, replacing the current schedule with a stop in Delhi.