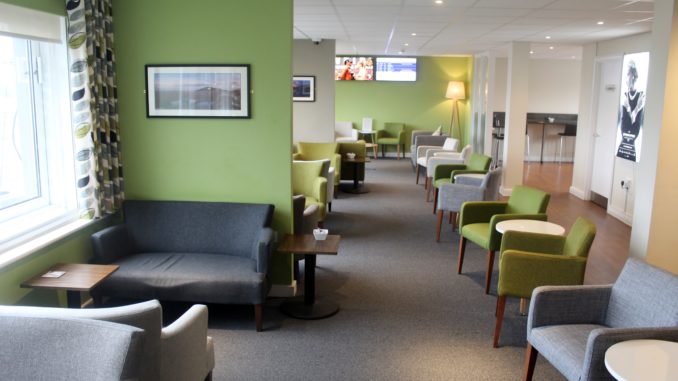 Where is it?

The Executive Lounge is located airside in the transit hall which is used for both domestic and international departures.
After security control, turn left and head towards the restaurant and use the stairs in the middle of the room to get to the upstairs bar. The entrance to the lounge is just around the corner.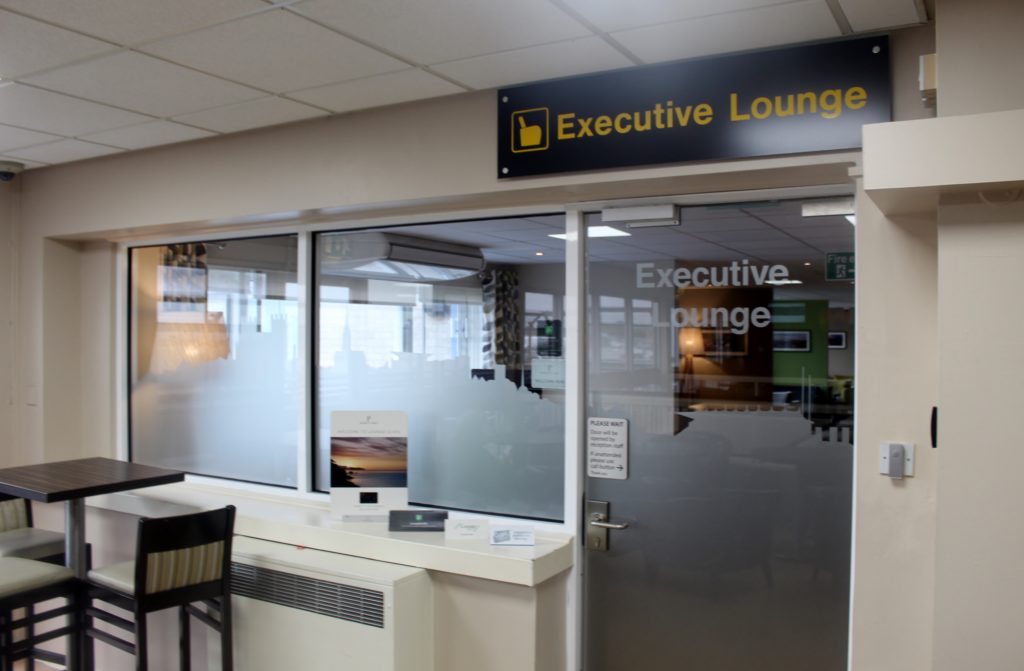 How do I get in?

The lounge is used by most full-service airlines for premium passengers and status customers, including for example Flybe on All-in tickets.
It is also possible to pay to enter the lounge, either at the reception, at a self-service kiosk in the departure hall or on the airport webpage in advance.
It is also possible to enter using Priority Pass.
What's it like?

The lounge is a very pleasant one for a small regional airport like Exeter. It is very well-maintained with friendly and helpful staff who give a brief introduction to the lounge upon arrival.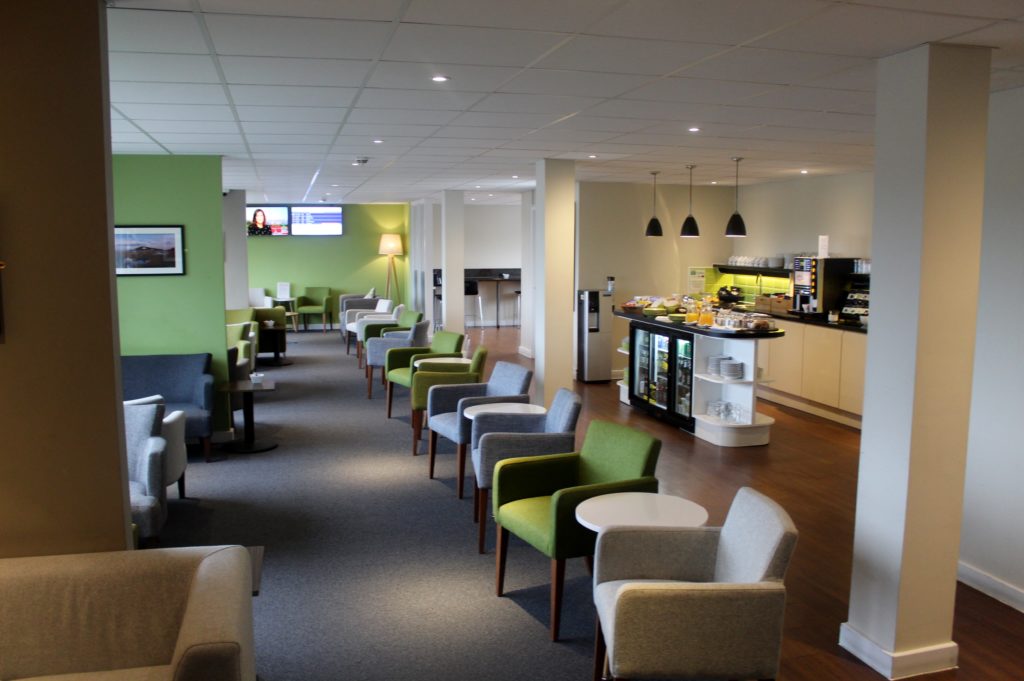 It has a warm design with grey-coloured floors, green walls and with the furniture in green, grey and blue. The design works quite well and the lounge has a very pleasant and homey feeling to it.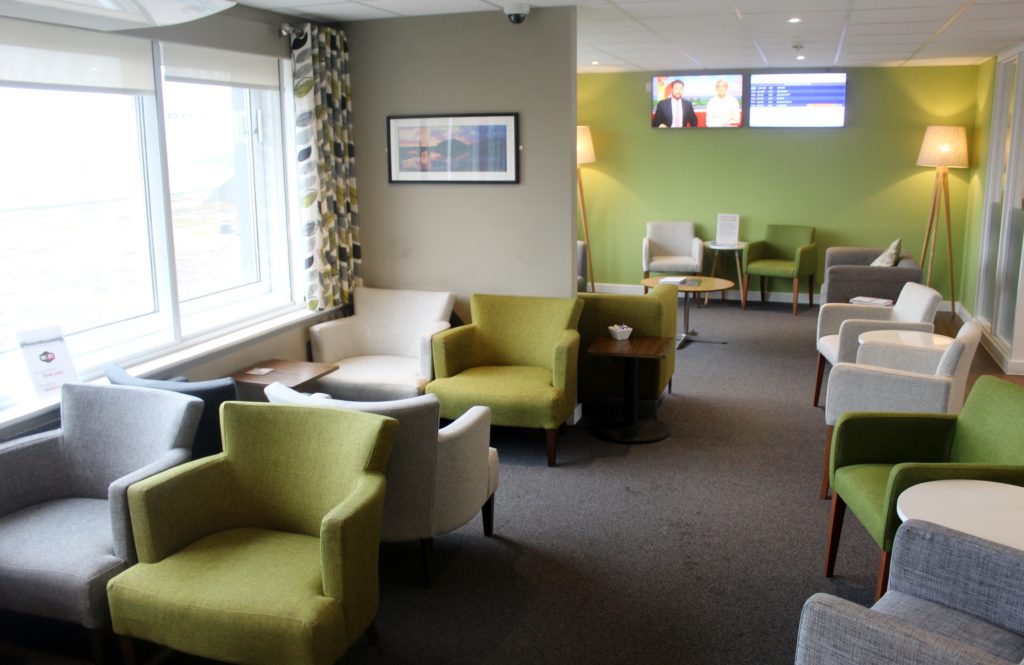 There are several seating areas which are divided into different sections. The layout is quite innovative and the lounge actually feels much larger than it really is. There is seating for probably around 30-40 guests.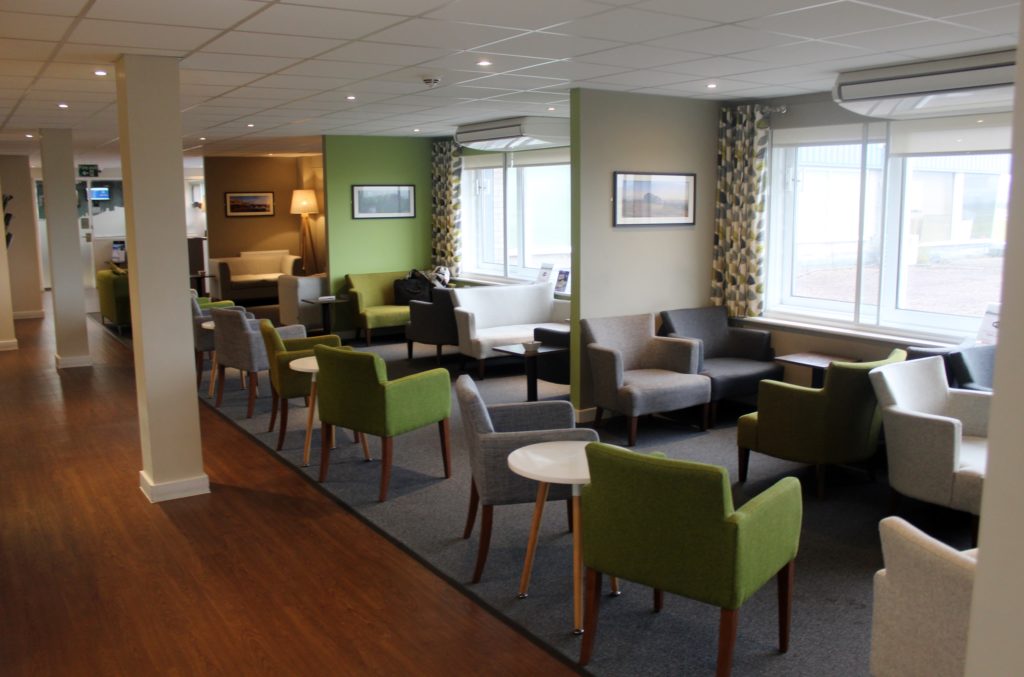 Food and drinks

There is a fairly spacious self-service buffet area with food offerings which change depending on the time of the day.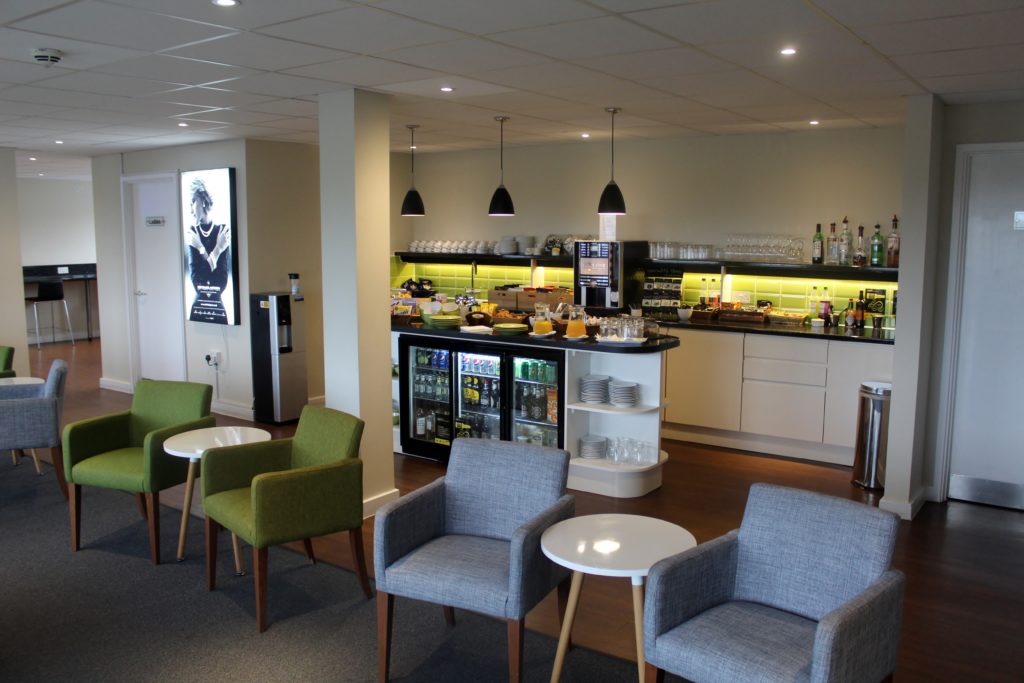 As the test visit took place in the morning a breakfast spread was on offer including yoghurt, milk and cereals, bread rolls, cold cuts, croissants and other pastries. However there was nothing hot to eat.
According to the lounge website it should be possible to order hot food to the lounge from the restaurant downstairs, but this would be at the guest's expense and would not be included in the price of the lounge entry.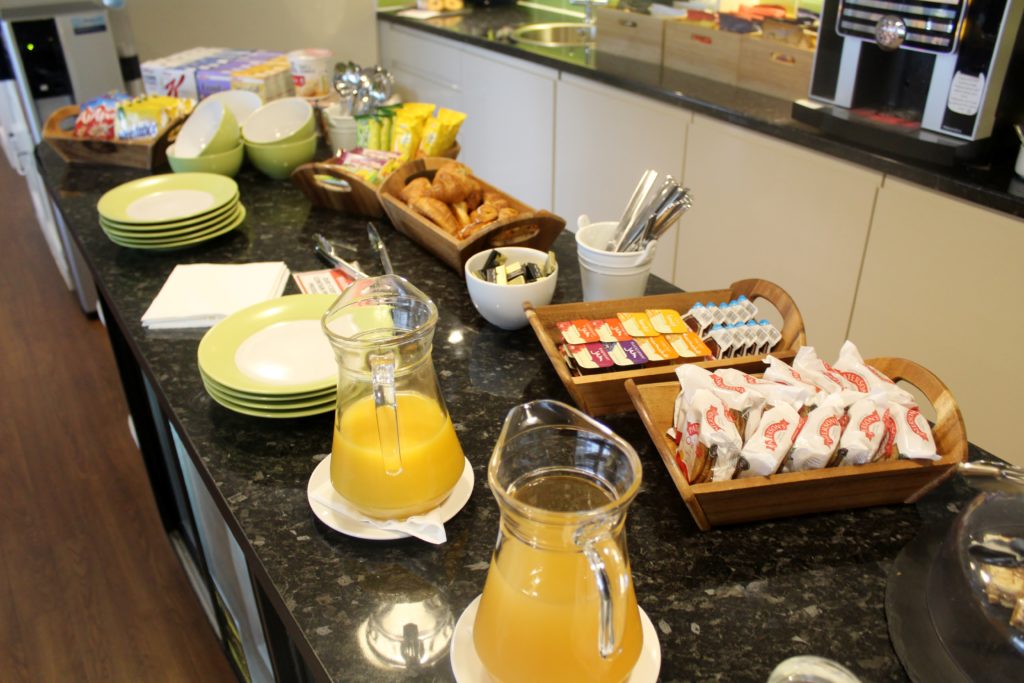 The drinks selection includes a good selection of various beers, red, white and rose wine, juices, soft drinks and a coffee machine.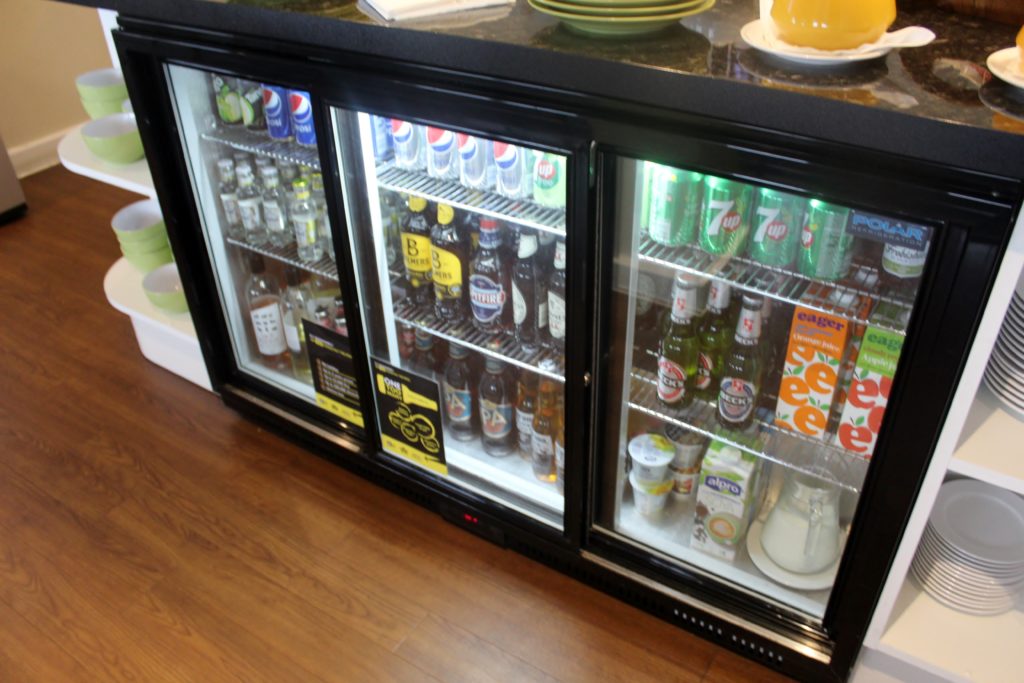 There is also a standard selection of spirits.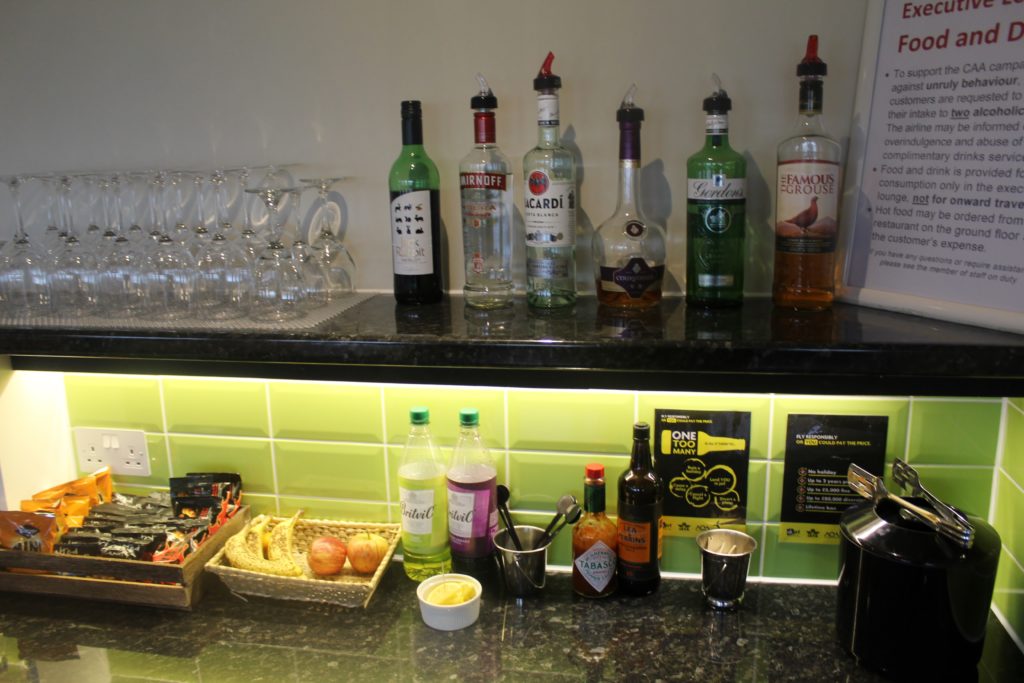 According to signs in the lounge alcoholic drinks are limited to two per person.
Facilities

Free wireless internet is available in the lounge and there is a small business centre in a quiet corner of the lounge with work desks.
There are two TVs in the lounge and a standard selection of newspapers.
The lounge also has a limited view of the runway.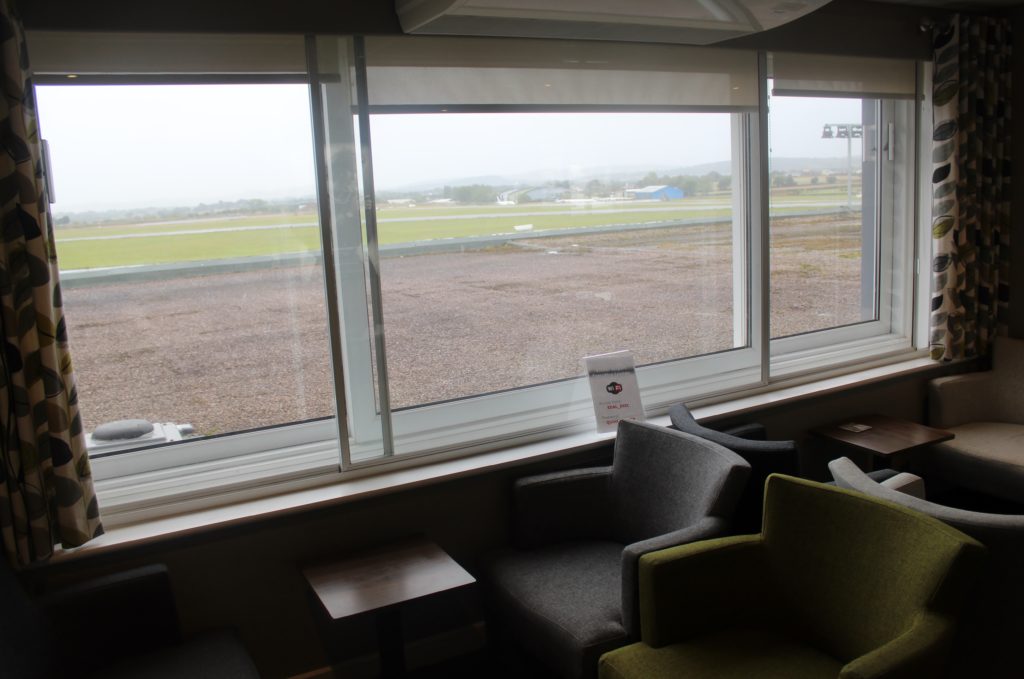 Final impression

A rather pleasant lounge with a warm design and a relaxed and homey atmosphere. Reasonable selection of snacks and drinks. Surprisingly pleasant for a small regional airport like Exeter.