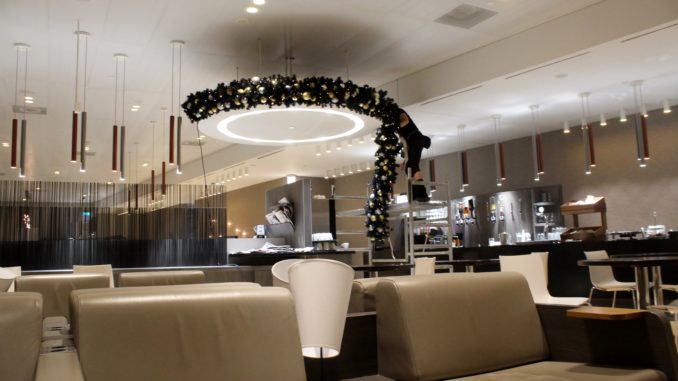 A late evening visit to the Aspire Lounge No 41 at Amsterdam Schiphol airport. The last day and the last evening of November. Tomorrow the month of December is finally here and it means it is officially Christmas time, whether you like it or not.
The Aspire Lounge no 41 in the non-Schengen area is open until 10.30 pm and they usually accept late evening guests with a boarding pass for a flight the following day, although all food and drinks are cleared away at 10 pm and after that time no more guests are admitted even if they technically stay open for another 30 minutes. Perfect if you are staying in one of the nearby transit hotels and want a drink or a snack before going to bed.
There were not many passengers left in the lounge when I arrived at 9.30 pm. The last longhaul flights were just about to leave according to the screens and by 9.45 I was the only remaining guest, enjoying a late beer, a sandwich and some cookies.
With the lounge nearly empty it was then time for the staff to start working, giving the lounge a proper facelift for Christmas. And it was in fact quite fun to watch, getting those Christmas garlands in place is not an easy task.
I could also see a large Christmas tree arriving, I presume a plastic one. I am sure it will all be much appreciated tomorrow morning.