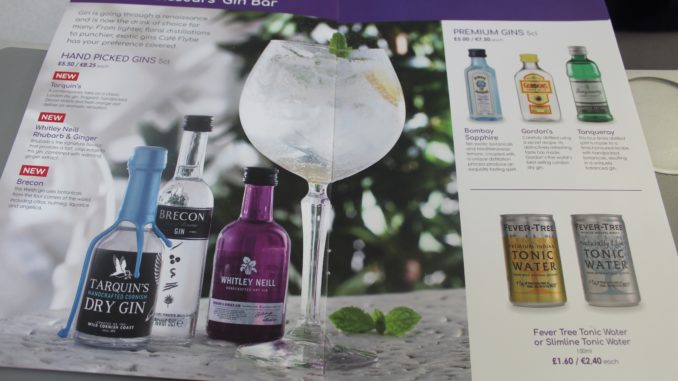 Although it is getting more and more common for airlines to go no-frills onboard, especially in economy class on shorthaul intra-European flights, at least it is great to see when an airline actually makes an effort to offer something nice, interesting and unusual onboard.
This is the case with Flybe, a regional British airline offering both domestic and international flights from mainly regional airports around the United Kingdom.
Being the airline of the country of gin they offer a very nice selection of different gins from its "Connoisseur's Gin Bar" and there are no less than six different ones to choose between. All served with the decent Fever-Tree tonic water.
There are three standard gins – Bombay Sapphire, Gordon's and Tanqueray. All well-known to most people who enjoy a gin and tonic every now and then. But there are also three other three far more unusual brands.
Whitley Neill rhubarb and ginger gin is produced by Johnny Neill not far from Birmingham and according to the distillery they get a lot of inspiration from Africa. The rhubarb and ginger gin is a very fruity and tasty one. And it seems to be popular as also British Airways has introduced it in its onboard menu.
Tarquin's is produced in Cornwall using handpicked violets and fresh orange zest. And it has a fabulous bottle, a truly unusual one. And it really looks exactly the same as on the photo in the menu.
Brecon Special Reserve Gin is produced in the Brecon Beacons National Park in Wales using ten different botanicals and offers a lot of citrus taste. Another unusual but tasty gin worth a try.