Aer Lingus is the national carrier of Ireland with its headquarters and main base in Dublin. They also have bases in Shannon, Cork and Belfast. The airline is now a subsidiary of the IAG group, the same group as British Airways and Iberia, however Aer Lingus not a member of the OneWorld alliance, at least not yet.
Although Aer Lingus is not a OneWorld member they do have a cooperation with British Airways and also operate most routes between Ireland and the United Kingdom with BA codeshare.
This is a review of a flight with Aer Lingus from London Heathrow to Belfast George Best airport (City airport). Although Belfast is obviously located in Northern Ireland and not in the Republic of Ireland Aer Lingus has a small base there as well and operate the London-Belfast route in cooperation with British Airways.
Departure experience

I arrived at London Heathrow on a connecting flight at terminal 5. Connecting to the Aer Lingus flight to Belfast was an interesting and unusual experience. First of all Aer Lingus uses terminal 2, in contrast to the other IAG airlines British Airways and Iberia who use terminal 5 for most flights. Secondly London-Belfast is a domestic route which means you need to pass passport control in terminal 2, one of the very few UK domestic flights departing from terminal 2.
In my case the trip meant an even stranger experience as I was arriving on a domestic flight in terminal 5 and was transfering to a another domestic flight in terminal 2, but as there is no way to do an airside domestic transfer between terminal 5 and terminal 2 I had to join the international transfer passengers in terminal 5 and ended up at passport control in terminal 2, even though I never left the United Kingdom. With an EU passport it did not matter but I wonder what would have happened if I had arrived with a different passport where a visa f0r the UK would have been needed. In those cases I suppose it would have been easier to go landside and take a train to avoid problems.
Nevertheless transfer security in terminal 2 was quick, I followed the signs for domestic departures, had my boarding pass scanned, passport checked and photo taken (a requirement when travelling on a domestic flight from London) and was then allowed to pass into the transit hall.
Aer Lingus runs a Gold Circle Lounge at London Heathrow terminal 2 and fortunately there is an agreement with British Airways regarding access. This means British Airways Silver and Gold members get in when flying Aer Lingus, irrespective of cabin class and irrespective of how the ticket has been booked.
The Gold Circle Lounge at Heathrow airport was surprisingly nice and very spacious with a good view of the northern runway and parts of the apron. The lounge also has the signature Irish feature wall, which also exists in the Gold Circle Lounge in Dublin. We were only about a handful guests in the lounge so there was plenty of space and the lounge was very quiet.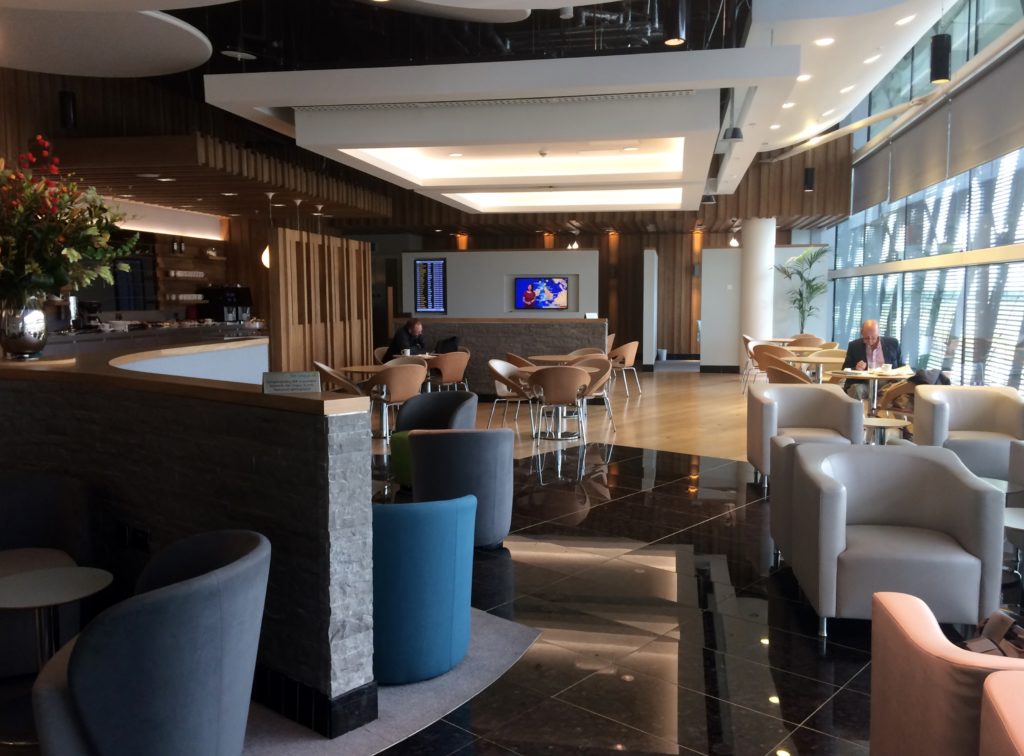 The food selection was quite limited though with mostly snacks to eat and very little substantial. The drinks selection was slightly better, adequate but not exceptional by any means.
Read the full lounge review here!
The flight
London Heathrow-Belfast George Best City Airport
Aer Lingus flight EI 39
Departure: 11.10
Arrival: 12.30
Economy Class
Airbus A320
Seat 15D

Interestingly the departure board indicated the flight was boarding already 50 minutes before departure. Knowing they often want passengers to go to the gate early to avoid delays I approached the woman at the reception desk to enquire what the situation was really like. The gate was right below the lounge, about 30 seconds away, and I was not tempted hang around the gate when I could wait in the lounge.
She had a look through the window (where you could actually see the aircraft), made a phone call and then informed me the incoming flight was early and that they expected an early departure but that I still should be able to stay another 15 minutes in the lounge. I appreciated her effort and stayed a couple of more minutes before leaving.
First impression

Boarding had just started when I reached the gate. As this was a domestic departure a photo was once again taken during the boarding process to match the photo which was taken at the security control.
An Airbus A320 was used to Belfast. There was just one cabin class onboard, economy class. Neither business class nor premium economy are offered on Aer Lingus intra-European flights (business class is available on longhaul flights though) and as a non-status passenger I had automatically been assigned a seat during the check-in process, which I could not change. I had 15D for the flight, an aisle seat right in the middle of the cabin.
The load was around 70% and as expected we departed slightly early.
Seat and cabin

There were 29 rows onboard in a 3-3 configuration. As there was no premium economy or business class the configuration was 3-3 throughout the cabin.
The seats were in dark blue leather and quite comfortable. The seat pitch was also acceptable.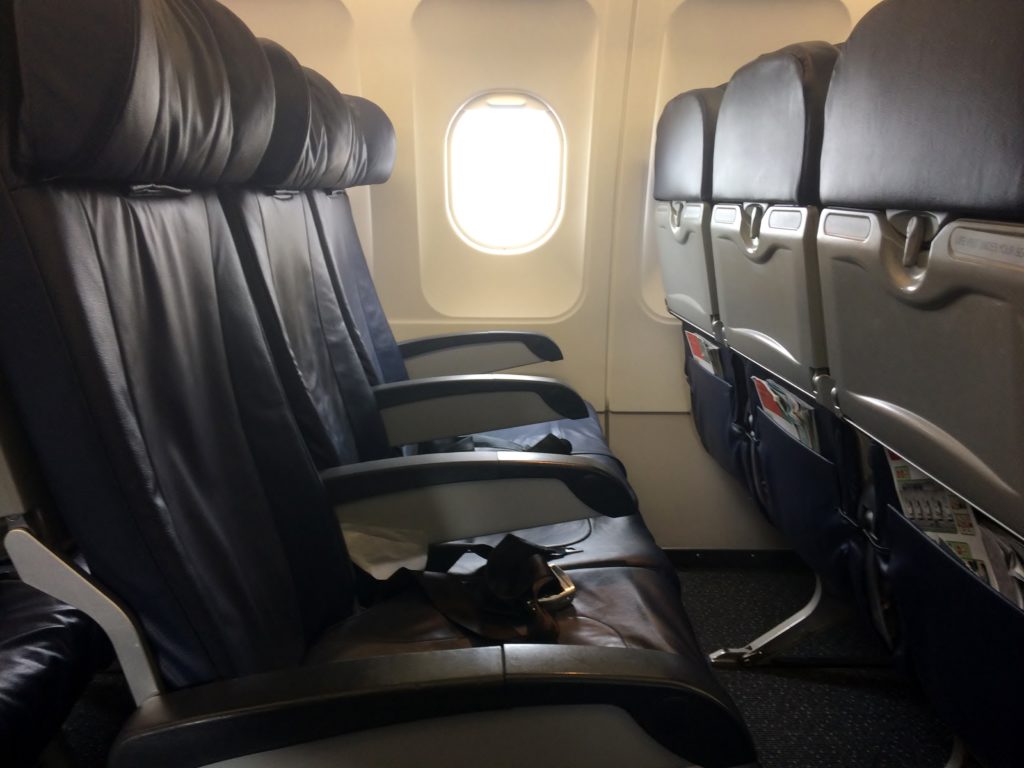 Food and drinks

Aer Lingus on intra-European flights is a no-frills airline nowadays. Nothing is free onboard, not even coffee or water, and there is no premium cabin. This is most likely a result of the massive expansion of the main Irish competitor Ryanair. On longhaul flight however there is a proper business class cabin so the situation there is a bit different.
As we reached cruising altitude sandwiches, drinks and snacks were offered from the trolley but as this was a short flight and as I already had something to eat and drink in the lounge I declined.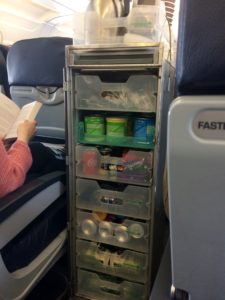 The service

The crew were friendly but as this was a short economy class-only flight with nothing offered for free there was very little interaction with the crew.
Arrival experience

We landed a few minutes early at Belfast City airport, nowadays called Belfast George Best airport. This is a small airport located conveniently in the port just a short drive from the city centre. Quite a contrast to the second airport of Belfast.
There is just one parking position at the airport with a jet bridge and it is always used by British Airways, so we were assigned an apron position and walked the short distance from the aircraft stairs to the small terminal building. on the apron. George Best airport is still a small and very compact airport and with only hand luggage I was landside in about ten minutes after landing.
Final impression

Aer Lingus has a strange position being a mix of of a full-service airline and a low-cost airline. And although owned by IAG they are not part of OneWorld. But everything worked fine, the flight was on time and I was happy to be able to use the Aer Lingus lounge at Heathrow.